Boston Celtics Coach Doc Rivers' Worst Moves of the Season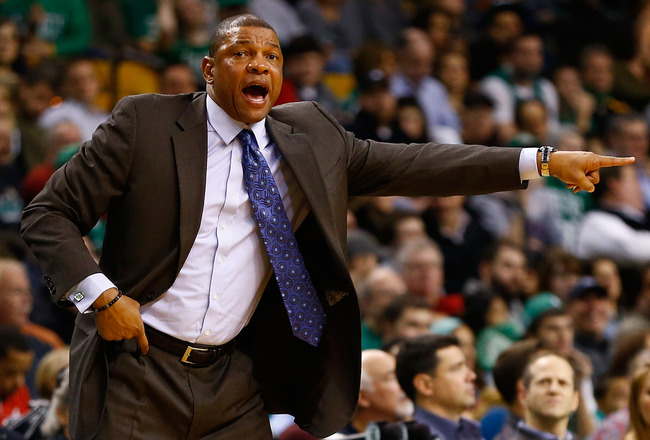 Rivers has struggled to get it together this season.
Jared Wickerham/Getty Images
There are absolutely no words that can describe this year's Boston Celtics. They'll win six games in a row—then drop their next seven.
Simply put, these Celtics are far more unpredictable than New England weather.
Head coach Doc Rivers has to be held accountable for that.
As a coach, your job is to take the roster you're given and mold out an identity. If you're lucky, that identity will hold consistent throughout the season and the victories will follow.
Thus far this season, Boston is still struggling to find one.
Sure, a string of injuries has hampered that search. But the Celtics were a puzzle long before Rondo tore his ACL.
In fact, they have played a lot more consistently after all these injuries.
But really, Boston's troubles should not come as a surprise to anyone.
Rivers noted near the beginning of the season that he would continue to tinker with his lineup throughout the year. (via ESPN Boston's Michael Wallace)
One can argue that that might not have been the best decision.
Here are some of Rivers' worst moves this season.
Not Finding Minutes for Leandro Barbosa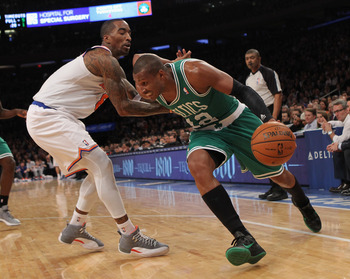 Barbosa shined post-Rondo injury.
Bruce Bennett/Getty Images
Before Leandro Barbosa was utilized as the centerpiece of the deal that brought Jordan Crawford to the Celtics, he was often seen leading the cheers among the Boston bench.
That is, until Rondo went down for the remainder of the season on Jan. 27.
In the eight games following the injury, Barbosa thrived, averaging 8.1 points, 2.7 assists and 2.7 rebounds in 20.8 minutes a night. He also shot 43.4 percent from the field during that span.
It's a solid increase from his season averages of 5.2 points, 1.4 assists and 1.1 rebounds per game in 12.5 minutes a night.
Barbosa was a much-needed spark for the Celtics off the bench. His hustle and aggressiveness went a long way in helping aid Boston win seven of those eight games.
Unfortunately, the resurgence was short-lived, as he suffered an ACL tear of his own against the Charlotte Bobcats on Feb. 11—ironically, the first game the Celtics lost post-Rondo.
We can only imagine just how different Boston's season would have gone had Rivers found some minutes for Barbosa.
Moving Jason Terry into the Starting Lineup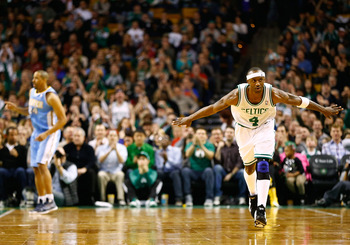 Terry was a flop in the starting lineup for the C's.
Jared Wickerham/Getty Images
Nowadays, Jason Terry is coming up with big shot after big shot for the Celtics.
However, that was not always the case.
Following a dismal stint at shooting guard by Courtney Lee to start the season, Rivers decided to give Terry a crack at the starting lineup.
It was a move that did not reap the rewards.
In 23 games as a starter this season, Terry has averaged 11.1 points and 2.6 assists per game in 32.1 minutes a night. But while those numbers are decent, his shooting has been abysmal—41.8 percent from the field and 35.1 percent from three-point range.
To put it bluntly, the 14-year veteran has not shot that bad since his rookie season.
Terry seems to be at home, coming off the bench. I mean, he did win the 2009 Sixth Man of the Year award.
In Rondo's absence, Terry has finally seemed to realize his role with the Celtics.
In 13 games, Terry has averaged 11.7 points and 3.1 assists per game in 26.5 minutes a night. He's shooting 51.1 percent from the field and 39.8 percent from beyond the arc.
It's only sad that it took Rivers this long to figure out the best way to utilize Terry.
Starting Brandon Bass over Jared Sullinger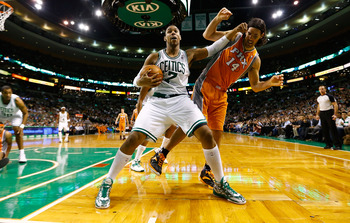 Sullinger proved to be Boston's most aggressive rebounder.
Jared Wickerham/Getty Images
During the 2011-12 season, Brandon Bass was a vital piece towards Boston's success. He averaged 12.5 points and 6.2 rebounds over 31.7 minutes per game, while shooting 47.9 percent from the floor.
This season, Bass has struggled to find that same success.
Through 56 games, Bass is averaging 7.6 points and 5.1 rebounds over 26.6 minutes per game, while shooting 45.1 percent from the floor.
What made it worse was the fact that Rivers had a player more deserving of a start, sitting on the bench: Rookie Jared Sullinger.
While his season stats of 6.1 points and 5.9 rebounds per game were not all that impressive, Sullinger really turned it up during the month of January.
In 14 games, Sullinger averaged 7.1 points and 7.2 rebounds per game in 23.2 minutes a night. That also includes a five-game stretch from Jan. 4 to Jan. 11 where he averaged an impressive 10.2 points and 10.2 rebounds per game.
However, after three starts during the beginning of the season, Sullinger never saw the starting lineup again until Jan. 27. Unfortunately, he would suffer a season-ending back injury in his next game.
Why did Rivers wait so long before making the swap?
Your guess is as good as mine.
Limiting Jeff Green's Playing Time
Green has been turning it on for the C's.
Jared Wickerham/Getty Images
Coming into the season, Jeff Green was the feel-good story of the year for the Celtics.
This was a player who missed a year due to heart surgery, yet was attempting to come back better than before.
At the beginning, things did not go as planned.
Through the first three months of the season, Green struggled. He was averaging just under 10 points a game and shooting less than 45 percent from the field.
This was hardly the player he was with the Oklahoma City Thunder in 2011, when he averaged 15.2 points and 5.6 rebounds per game.
But maybe it had a lot to do with how little Rivers utilized the 26 year old.
Through Boston's first 42 games of the season, Green only had 13 games where he played 27 minutes or more.
However, during the team's last 14 games, a lot has changed.
Green has played 27 or more minutes in 11 of those games, averaging 15.6 points and 4.6 rebounds per game in 32.3 minutes a night during that span. Furthermore, Green is shooting 53 percent from the floor and 46.2 percent from distance.
He's finally starting to play a lot more and the Celtics are better because of it.
According to Hoopsstats.com, when Green scores 12 or more points, Boston is 15-9. The team is also 8-3 when he makes six or more field goals and 5-1 when he attempts 13 or more shots.
Did it really take Rivers until the team had 10 healthy players on the roster to realize this?
C'mon, Doc.
Moving Kevin Garnett to Power Forward and Jason Collins to Center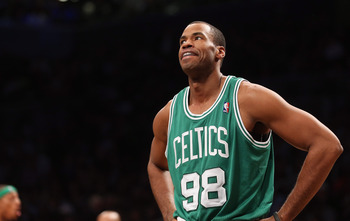 What to say about Jason Collins?
Bruce Bennett/Getty Images
No one player has given Celtics fans a headache more than Jason Collins.
It only got worse when Rivers decided Collins deserved a spot in the starting rotation.
In 32 games this season, Collins averaged just 1.2 points and 1.6 rebounds per game in 10.3 minutes a night. He also only shot at a 34.8 percent clip from the field.
In seven starts, he did not fare too much better, averaging a mere 1.6 points and 1.7 rebounds over 19 minutes a night.
Sure, Rivers has argued that Collins brings a lot to the defensive side of the ball—he was the only seven-footer on the roster—but is that enough to make up for his lack of offensive talent?
Not quite.
But if giving Collins an increase in playing time was not bad enough, there was the added fact that Kevin Garnett would have to move from center to power forward.
While he has played at power forward for the majority of his career, Garnett has played a lot better at center over the last two years.
In six games at forward this season, Garnett averaged just 11.7 points and 7.2 rebounds per game, while shooting 41.9 percent from the floor. On the other hand, in 49 games at center, Garnett has averaged 15.5 points and 7.7 rebounds per game, while shooting 50.9 percent from the floor.
The same held true all of last season.
In 24 games at power forward, Garnett averaged 14.3 points and 7.5 rebounds per game, while shooting 49.6 percent from the floor. In 36 games at center, he averaged 16.8 points and 8.7 rebounds per game, while shooting 50.7 percent from the field.
So what exactly prompted Rivers to make the switch?
Who knows. But don't count me as one of those missing Collins in a Boston uniform.
Summing It All Up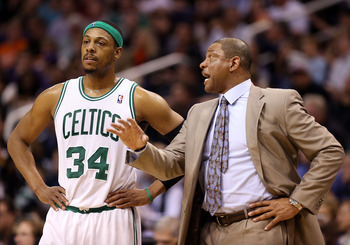 Time is running out for Rivers.
Christian Petersen/Getty Images
The Celtics are 29-27, in seventh place in the Eastern Conference and trail the Atlantic Division-leading New York Knicks by 5.5 games.
Fortunately, they have 26 games to make up some ground.
However, it's imperative for Rivers to discover this team's identity. Otherwise, the tipsy-turvy season Boston has been enduring will only continue. It will also likely result in a first-round exit.
Coming into this season, the Celtics expectations were higher than that.
This was supposed to be the team that stood in the way of the Miami Heat becoming repeat-champions.
Time has not run out on those hopes.
But if Rivers does not make some changes soon, it certainly will.
Tick. Tock. Tick. Tock.
All stats used in this article are accurate as of February 24
Also check out: Grading Boston Celtics' Trade Deadline Performance
For complete team coverage and everything Celtics, follow Sebastian on Facebook and on Twitter
Keep Reading

Boston Celtics: Like this team?