Rating the Barcelona Players in Their 2-1 Comeback Win Against Sevilla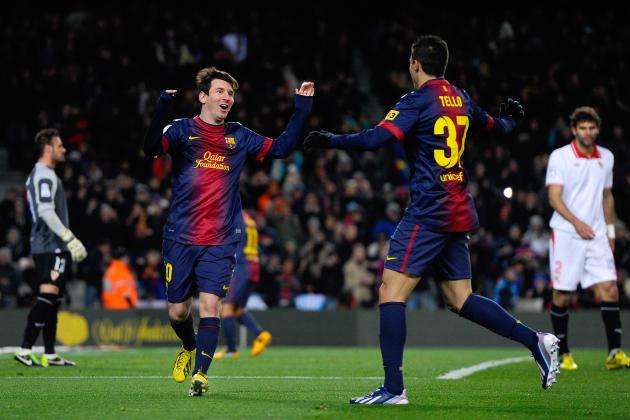 David Ramos/Getty Images

Barcelona followed the example of their Clasico rivals when they came back to overturn a 1-0 score. Goals from David Villa and Lionel Messi lifted La Blaugrana to a victory at the Camp Nou in thrilling fashion.
After Barcelona conceded the opening goal, shadows of the San Siro appeared. But the comforts of the Camp Nou urged Barcelona to a comeback that gives hope ahead of a busy two weeks.
The Catalans controlled much of the game despite a few defensive lapses. But the biggest takeaway from the victory will be the confidence and unity the result brings.
In this article, we will take a look at the player ratings for La Blaugrana based on a scale from one to 10. Of course, 10 is a perfect score with seven being an average night. Let's begin, shall we?
Note: all statistics courtesy of WhoScored.com.
Begin Slideshow

»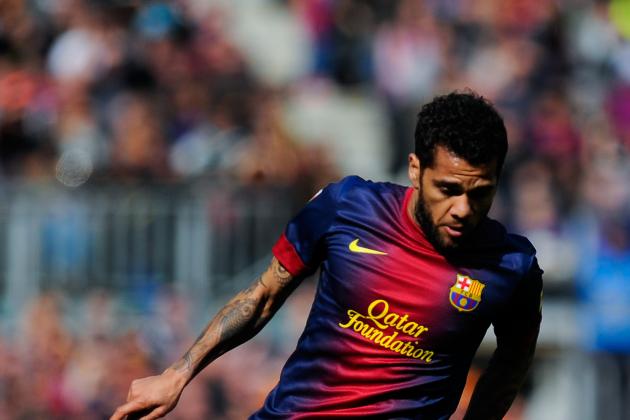 David Ramos/Getty Images

Victor Valdes: 7/10
The Catalan keeper put in a solid performance between the sticks. He made three great saves with one keeping Sevilla from leveling the score. But he just missed saving the opening goal, which sees Valdes receive an average score despite a solid game.
Dani Alves: 10/10 and Man of the Match
The Brazilian full-back continued his extraordinary form against Sevilla. With four tackles and 132 touches on the night, Alves was everywhere. His assist to David Villa leveled the game and brought life back to Barcelona. He was easily the most dominant player on the pitch.
Martin Montoya: 8/10
The young Catalan defender again showed that he deserves more minutes on the pitch. With a 96 percent pass completion and countless dispossessions, Montoya was a force in defense.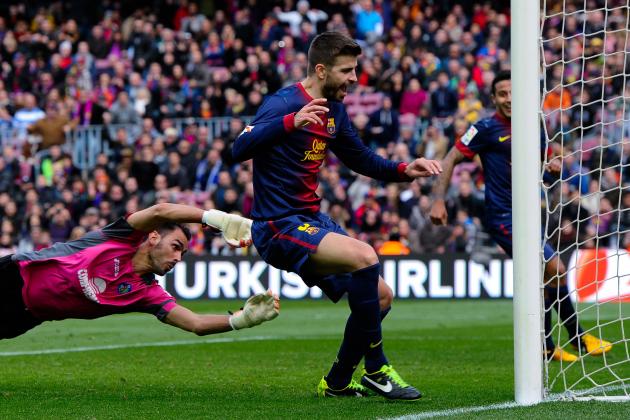 David Ramos/Getty Images

Gerard Pique: 8/10
The tall defender is having a very strong season anchoring Barcelona's defense. Pique shut down many attempts from Sevilla and even got forward in attack. His 96 percent passing percentage and constant aerial battles won give the Catalan a strong rating.
Javier Mascherano: 6.5/10
Mascherano continues to be the odd man out in defense. Though the Argentine had a very good night breaking up passes and stealing the ball back, he was found out multiple times that nearly resulted in a goal for Sevilla.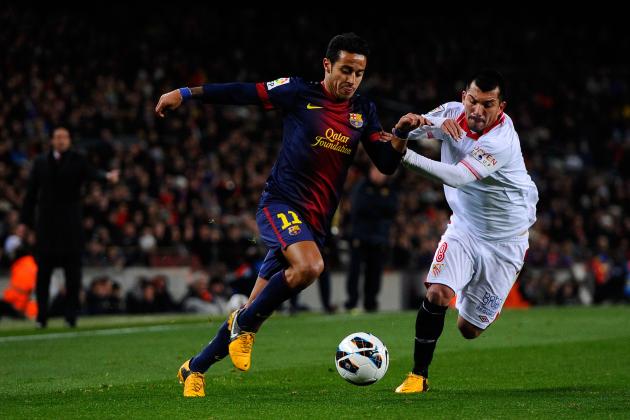 David Ramos/Getty Images

Alex Song: 7/10
The Cameroon international is proving to be a very strong backup for Sergio Busquets. Song was vital in winning balls back for Barcelona but was often caught out of position, which made things difficult. Overall, it was a good performance but nothing great.
Andres Iniesta: 8/10
Whether on the wing or in the midfield, Iniesta dazzles. Against Sevilla, he got behind the defense many times and nearly gave a couple of assists. This was yet another very strong showing from the Spaniard with very little mistakes.
Thiago: 7/10
Young Thiago again filled in well for Xavi, who started the match on the bench. The Spaniard had a wonderful 95 percent passing percentage as well as 132 touches. He kept possession very well, but nothing very special was produced on the night.
David Ramos/Getty Images

Lionel Messi: 8/10
Once again it was Lionel Messi who delivered the winning goal for Barcelona. He answered back to critics after a dismal performance against AC Milan and linked up well in attack. This was another great performance from the Argentine.
Alexis Sanchez: 6/10
The Chilean international began the game very well. His great speed and pace troubled the Sevilla defense. But Alexis rarely did anything once he was isolated with a defender and gave away possession a few too many times.
David Villa: 9/10
The Spanish striker certainly delivered in his start. Villa created great space in attack, and his tremendous header drew Barcelona level with Sevilla. David Villa definitely deserves to feature in the upcoming features.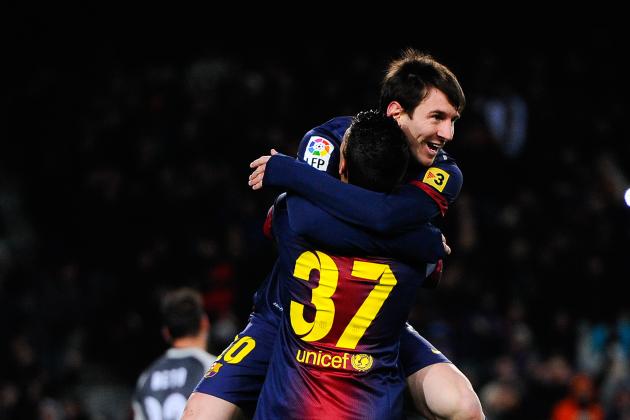 David Ramos/Getty Images

Cristian Tello: 9/10
Tello entered the match at half-time and had an immediate impact on the game. Using his speed and dribbling to get past the defense, the winger created a lot of space and chances. His assist gave Barcelona the lead, as Tello has earned more minutes.
Xavi: 7/10
The Catalan maestro kept possession as he usually does. His passing and vision opened things up for La Blaugrana. But without enough time to do much, Xavi still receives a strong rating.
Sergio Busquets: 7.5/10
Jordi Roura brought on Busquets in a move to create a double pivot for Barcelona. The move was seen as a way to hold the lead and it worked. Busquets stopped many chances in his short time on the pitch, but did little else.
Which players stood out for Barcelona? Who was the man of the match and what does the victory mean for the Catalans? Don't forget to leave your thoughts and comments below.
Tre' Atkinson. Follow me on twitter for more discussions on Barcelona, Sevilla and La Liga.