Chelsea: 5 Famous Faces Who Keep the Blue Flag Flying High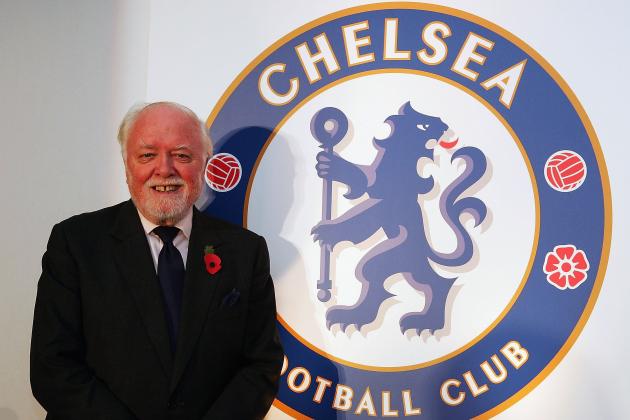 Mike Hewitt/Getty Images
Lord Richard Attenborough is among the famous faces who follow Chelsea.
Chelsea supporters are known the world over for their passionate following of the club. But while the Blues faithful get plenty of attention wherever they travel to follow the team, some fans are more used to life in the limelight.
Based in West London, Chelsea has a glamorous appeal that dates much further back than the current squad of big-name players, with famous faces often a feature at Stamford Bridge. In the '60s and '70s the likes of Steve McQueen were spotted taking in games, while in the modern era famous names such as Michael Caine and even Zac Efron have been seen rubbing shoulders with the crowd.
The club's official website has an extensive list of its famous fans, but Bleacher Report has highlighted five who catch the eye a little more than most.
Begin Slideshow

»
He's one of the funniest men in Hollywood, but as we all know, when it comes to football, it's no laughing matter.
Will Ferrell had long been seen donning a Chelsea shirt (circa 2003/04 and 2004/05) on the streets of Los Angeles, but had maintained in interviews that he had no allegiance to a particular club. That was until the summer of 2012 when he couldn't resist the urge to meet some Chelsea heroes, including Petr Cech and Frank Lampard while they were on a preseason tour of the U.S.
As the above YouTube clip outlines, Ferrell is up to speed with the current Blues squad, quipping to Petr Cech: "Where is your helmet?"
Frank Lampard clearly enjoyed entertaining Ferrell, who it must be said could very easily pass for a manager. After his performance in the football movie Kicking and Screaming, however, we're not too sure he'd be Roman Abramovich's ideal coach.
Pele once coined the term the "beautiful game" when referring to football, but it takes on a whole new meaning where Raquel Welch is concerned.
The American actress, now 72 years old and was one of the biggest stars of her era, but that didn't stop her from paying homage to some fellow famous names in West London.
Welch was no stranger to Stamford Bridge during the '60s and '70s, with former Fulham striker Jimmy Hill once recalling taking her to a game there. The actress evidently took a liking to Blues hero Peter Osgood, too, bidding him a special farewell from the sidelines as she exited during a game.
Hill explained: "Raquel screamed out, 'Ossie! Goodbye!'"
Her support for the Blues stretched much further than attending the odd game, however, with Welch once participating in a photo shoot in full Chelsea regalia.
You can view some images from that shoot here.
Ask any Chelsea fan their dream way to spend an afternoon and it will probably involve having a game of football with their Blues heroes on the Stamford Bridge pitch.
Well, when you're Justin Bieber, it's a little easier to have that wish granted.
The Canadian pop star was in London filming a reality TV series and took the opportunity to visit the Blues and enjoy a kick around with Frank Lampard and Fernando Torres.
He didn't hold back, either, turning up in full Chelsea kit to make the most of the afternoon.
For Chelsea fans of a certain generation, they will remember spending nights in disco halls dancing to the music of Madness, with frontman Suggs leading them on a merry dance.
Now, Blues fans are still dancing to his music, but at Stamford Bridge after he fronted the club's 1997 FA Cup Final song, "Blue Day."
Suggs and his bandmate Woody have long been Chelsea fans, but the latter earned his place in the club's folklore with his 1997 hit to celebrate reaching the FA Cup Final.
The song sang about the club having some great memories, "albeit from the '70s/When Ossie and Co. restored our pride."
Since then Chelsea have won three Premier League titles, six FA Cups, two League Cups and of course the Champions League with "Blue Day" often providing the soundtrack over stadium tannoy systems.
It makes Suggs a more-than-worthy Blues fan.
Mike Hewitt/Getty Images
Lord Attenborough with Jose Mourinho at the launch of Chelsea's redesigned club crest in 2004
Honorary life president and a fan since his days as a student at RADA in the '40s, Chelsea fans do not come much bigger than Lord Richard Attenborough.
His family name is a beacon of 20th-century British culture—with his brother David, the much celebrated naturist—while Lord Attenborough himself has enjoyed a successful career in the movies.
It was he who attracted the likes of Steve McQueen to Stamford Bridge in the past, too, using his contacts and friendships in the showbiz world to bring an added touch of glamor to Stamford Bridge.
He has long played an active part in the club and was made honorary life president in 2008 to mark his lifelong commitment to being a Blue, and he is more than deserving of such a title.