South Carolina Football: Why 12-0 Is Not Out of the Question for the Gamecocks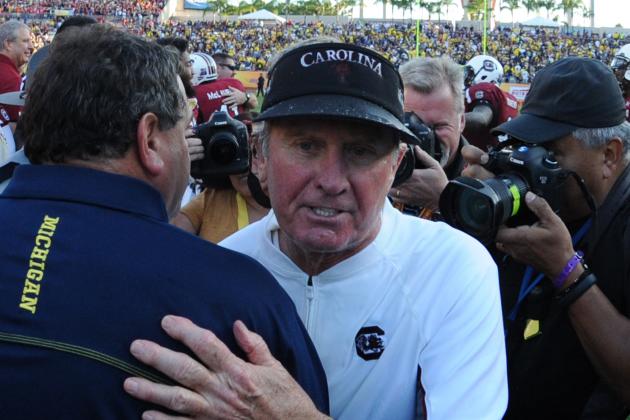 Al Messerschmidt/Getty Images

In a recent article, I predicted the South Carolina Gamecocks to go 12-0 in 2013. As expected, shouts of delusion and "homerism" came in to play.
That's OK. I'm OK with the fact that you use history as an indicator for the present and can't see the forest through the trees.
For those who have followed my writing over the years, they know that I'm pretty even keeled when it comes to predicting the Gamecocks. This year, however, there are many reasons to honestly believe that 12-0 isn't some wildly fantastical dream.
Yes, it will be difficult. Yes, the percentages are not in the Gamecocks' favor. Injuries and insane situations can occur at any moment changing the course of the season. A dream season can turn into a nightmare quickly. Just ask Southern Cal last year.
But with all that said... it can still happen.
Here's why.
Begin Slideshow

»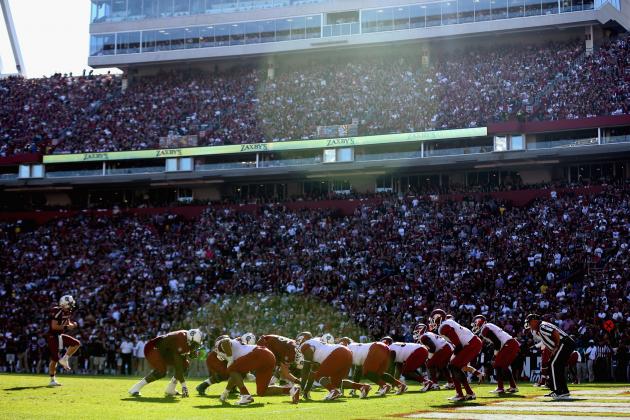 Streeter Lecka/Getty Images

There's only one way to put this.
For an SEC schedule, the Gamecocks have it easy. Much like the Georgia Bulldogs for the past two years, the Gamecocks should have the opportunity to win every single game on the schedule.
The toughest game will be against the Florida Gators, and that's at home. Georgia hasn't been able to beat South Carolina for the past three years. South Carolina's strengths match up almost perfectly to Georgia's weaknesses along the offensive line.
The rest of the year the Gamecocks will probably be favored to win. There are some tough games, but if you look at South Carolina's schedule and see any guaranteed losses, then you are just fooling yourself.
2013 Schedule:
August 31 NORTH CAROLINA
September 7 at Georgia
September 14 VANDERBILT
September 21 Open
September 28 at Central Florida
October 5 KENTUCKY
October 12 at Arkansas
October 19 at Tennessee
October 26 at Missouri
November 2 MISSISSIPPI STATE
November 9 Open
November 16 FLORIDA
November 23 COASTAL CAROLINA
November 30 CLEMSON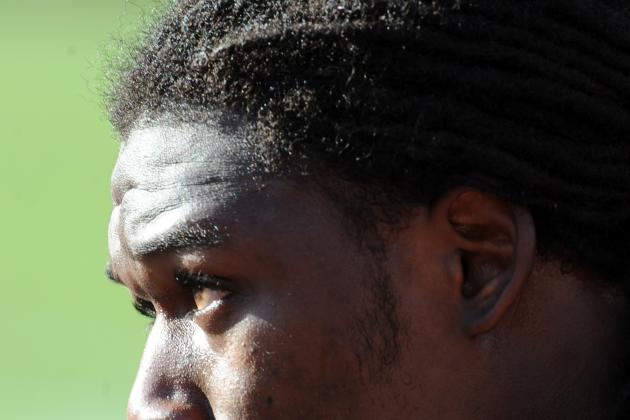 Al Messerschmidt/Getty Images

If you've ever seen Jadeveon Clowney, you know he's one of the most special players to ever play the game of college football.
His explosiveness, speed, strength and his on-field intelligence are off the charts. He can make things happen on every play. He seems to play bigger on the bigger stages as well.
While Georgia fans celebrate the loss of Marcus Lattimore (more on that later), they seem to have forgotten No. 7.
He's a defensive end that is good enough to actually win games for the Gamecocks. He'll be looking to have a massive year, and he could single-handedly lead the Gamecocks to 12-0.
If you don't believe that, then you've obviously never watched him play.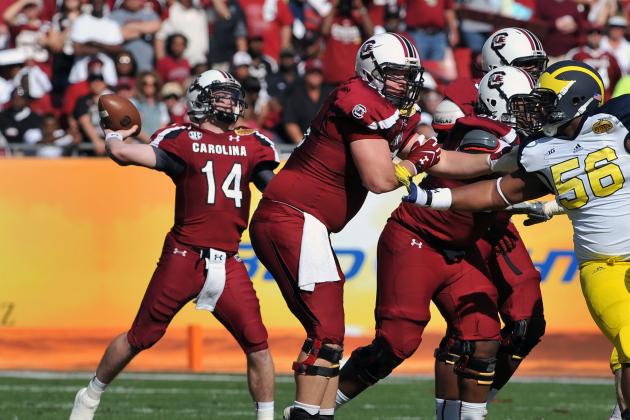 Al Messerschmidt/Getty Images

In recent years, a major topic of discussion has been regarding where Steve Spurrier's great quarterbacks have gone.
Blake Mitchell, Syvelle Newton, Chris Smelley and Stephen Garcia just don't bring forth many positive feelings regarding the quarterback position.
Enter Connor Shaw and Dylan Thompson.
A healthy Connor Shaw this season could spell trouble for defenders. A hobbled version was excellent throughout the season throwing 17 touchdown passes to seven interceptions while rushing for over 400 yards. He's an excellent and underrated player who is as intelligent as he is physically gifted.
Dylan Thompson is the pocket passing gunslinger. He threw eight touchdowns to only two interceptions. While he isn't the runner that Shaw is, he's mobile enough to make some plays with his feet. He's also intelligent.
The bottom line is that the Gamecocks have two legitimate leaders who study film and are excellent on the field.
Some teams don't even have one.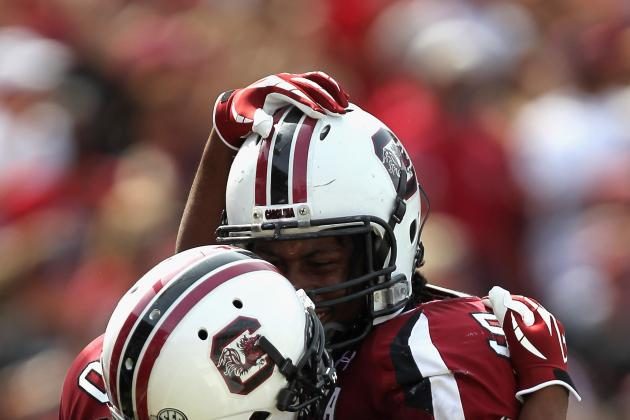 Streeter Lecka/Getty Images

Coach Shawn Elliot has improved the Gamecocks' offensive line every year that he's been a member of the program. After interviewing with Alabama for the same position, he decided to come back to Columbia and finish what he started.
Four out of five starters are returning along the line. Including potential all-conference players Brandon Shell and A.J. Cann.
These guys will be joined by one of the best freshmen classes of linemen in recent memory. D.J. Park could be an impact player right away.
The offensive line will be noticeably better in 2013. These younger guys that have made up the line in the past two years are growing up, and the talented youth bring depth to the unit.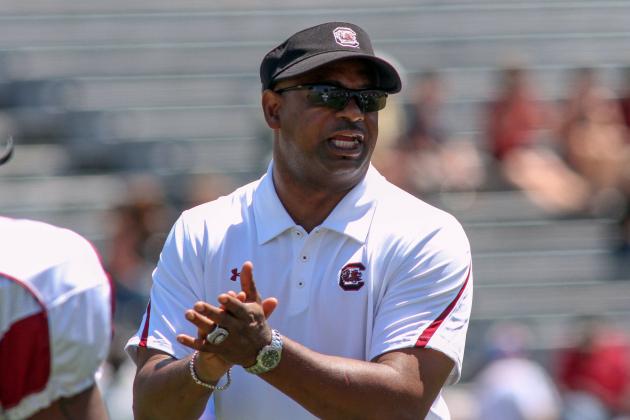 Jeremy Brevard-USA TODAY Sports

New defensive coordinator Lorenzo Ward brought a more aggressive style of play-calling to the play field. He called more blitzes and utilized his talent much more than Ellis Johnson did before him. Without a doubt, he improved the defense.
His second year as the main play-caller will be even better. He's going to have more athleticism at linebacker, even if it's youthful athleticism. This will allow him to be more creative with his defensive schemes and will cause even more havoc for passing offenses.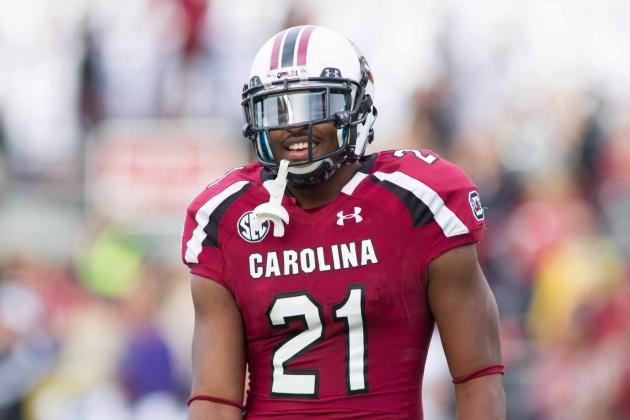 Jeremy Brevard-USA TODAY Sports

The linebackers are a major question mark heading into the season. However, the Gamecocks did very well for themselves in the recruiting cycle and grabbed a few good players who could play right away.
Lorenz Bryant and Skai Moore can contribute right away. Cedric Cooper, T.J. Holloman and Kawain Lewis can also be playmakers from the linebacker position.
Then there is the wild-card in converted tight end Kelvin Rainey.
They're all fast and athletic and can make an impact as long as they can wrap their minds around the college game. While that is a truly big if, their potential is enormous.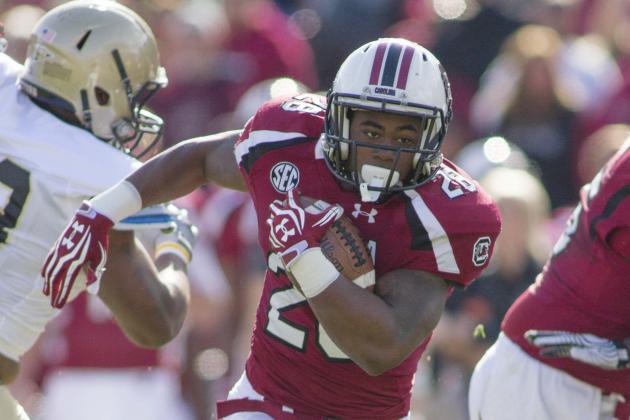 Jeremy Brevard-USA TODAY Sports

While Marcus Lattimore was an incredible player and role model to all of the Gamecocks on the team, his presence made the offense entirely too predictable.
Good teams could key in on Lattimore and stop him, forcing the Gamecocks to look elsewhere.
When he got injured, the offense opened up. Connor Shaw and Dylan Thompson got to pass more. The wide receivers got into the game. Bruce Ellington and Ace Sanders finished the year off strong. They rotated backs and had more fresh legs in the games.
Once the offense adjusted to not having Lattimore as a go-to player, they actually improved. By the end of the season, they were a dynamic and unpredictable group.
This could be the norm this year. This seems crazy, but the offense will be much better this season without the great number 21.
Don't forget that the Gamecocks have a stable of really good running backs to handle the actual running. Not having a workhorse that you must feed could be a blessing in disguise for this talented group.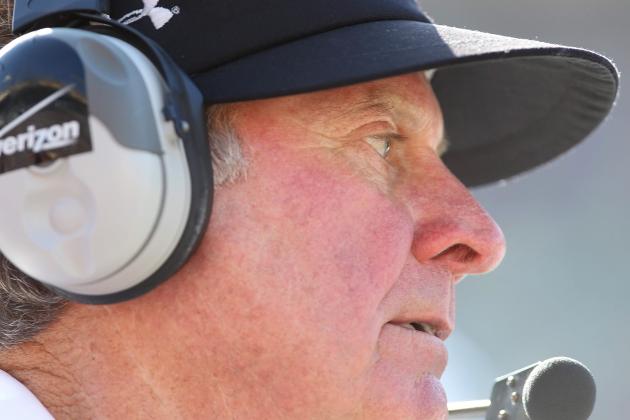 Kim Klement-USA TODAY Sports

Steve Spurrier knows that his time is running out. He doesn't have 20 more years in him. Jadeveon Clowney will be gone after this year and who knows how long Spurrier will be around.
While I hope he sticks around forever, we know that's not going to be the case.
Even if he has three to five more years left, 2013 may be his best shot at winning the SEC. He knows this. He'll be coaching with a sense of urgency. Not desperation, because that's not the Spurrier way. However, this team will be more focused and more energized because of this.
While you may think that it's delusion to view the Gamecocks as an SEC contender, one must only look at the roster and recent history to know that's not the case. The facilities are now some of the best in the country and the most recent thing on younger kids' minds is the fact that the Gamecocks have been all over the place on national TV.
From Clowney, to Lattimore, to Steve Spurrier himself, the new generation of football players have seen all kinds of stars pass through South Carolina.
That's the only history that's really needed.
You know the old adage, "what have you done for me lately" actually carries some weight.
Luckily for South Carolina that answer is simple, thanks to Steve Spurrier.
A lot.