Ranking the 10 Golfers Most Likely to Win the Masters in 2013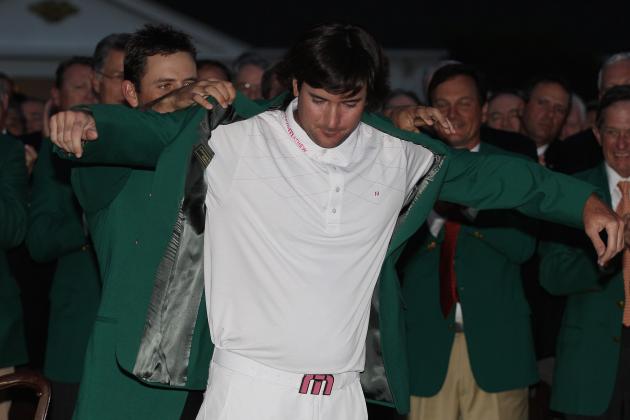 Scott Halleran/Getty Images
Who'll be getting the green jacket from defending champion Bubba Watson in April?
It's still nine weeks until the azaleas will be blooming, the grass will be the greenest you'll see all year and the Masters will be held at Augusta National Golf Club.
So it's a perfect time to start looking at who are the guys most likely to win the 2013 Masters.
This list could change a lot as February turns to March and March turns to April.
But hey, that's what makes it fun, right?
Begin Slideshow

»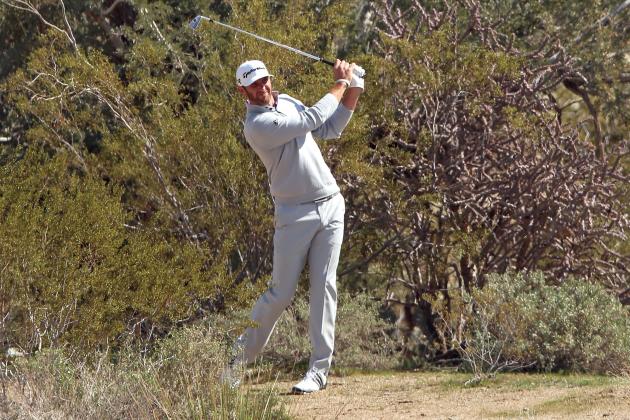 Jed Jacobsohn/Getty Images
Dustin Johnson hits it long, not always straight
This season, we may get a good look at where Dustin Johnson's career is going.
The man has had a pair of opportunities to grab major championships but didn't close the deal in either.
There's no doubt that his length will be a great weapon in his golf bag. He doesn't always find fairways but does hit a lot of greens in regulation.
He's a reasonably efficient putter. A player with this much talent needs to start focusing on bigger and better things and should do so starting with Augusta.
Stuart Franklin/Getty Images
Jason Dufner needs to warm up to Augusta National.
The quiet and stoic Jason Dufner has played in two Masters and has not done anything in either to justify much consideration as a guy to win the 2013 Masters.
Call it a hunch.
The 35-year-old has managed to get his game together, adding to a strong tee-to-green game with a much-improved short game.
Augusta National is a great place to show off all of that, and don't be surprised if Dufner is hanging around late Sunday afternoon.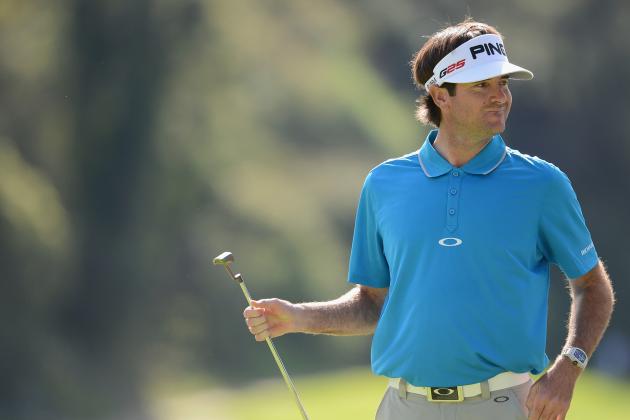 Harry How/Getty Images
Bubba Watson hasn't gotten his game yet, but still has time.
The defending champion should make the list somewhere, and Bubba Watson does just that, as one of the top 10 picks.
He parlayed that hooked wedge shot from 140 yards last year and secured his first green jacket.
He didn't win again for the rest of the season; however, he did have a pair of runner-up finishes.
Watson tied for fourth in the 2013 season-opener in Hawaii but missed the cut in the Northern Trust Open last week.
I'm not feeling Bubba doing much in Augusta this year.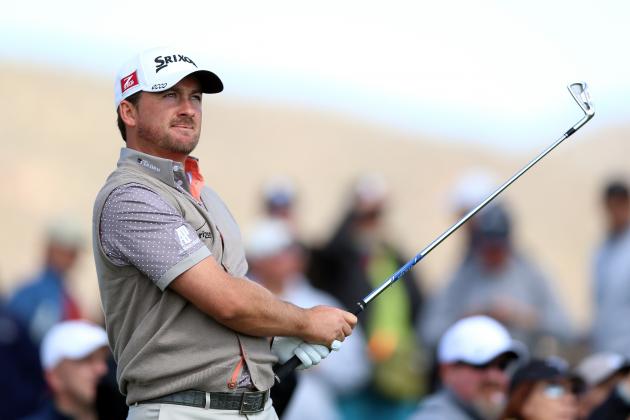 Jed Jacobsohn/Getty Images
Graeme McDowell proved in 2010 he has game enough to win a major.
The 2010 U.S. Open champion disappeared for the most part following that win at Pebble Beach but came back a bit last year and is looking for big things this year.
He tied for 12th in the Masters last year and tied for second and fifth in the U.S. Open and Open Championship respectively.
His gritty attitude has returned, and he's focused on regaining championship status.
A guy with as much game as he showed in 2010 is a definite candidate to be a contender for a green jacket.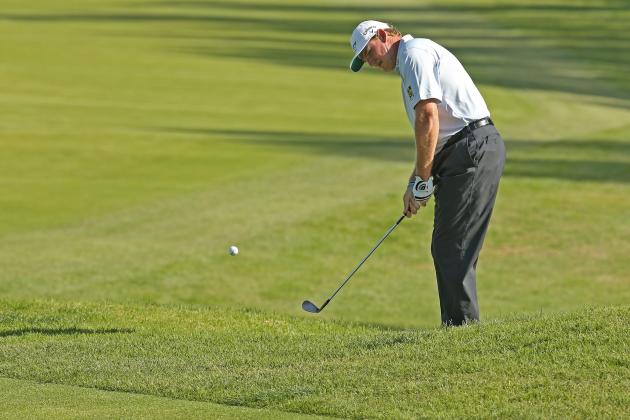 Stephen Dunn/Getty Images
Ernie Els has won enough majors to be able to handle Augusta National.
Every one of the players who tees it up on Thursday of Masters week is determined to do his very best on one of the biggest stages in the game.
Ernie Els will not only be determined but will also have a very large chip on his shoulder.
He didn't qualify for the Masters a year ago and didn't receive a special invitation, and he was not very happy about that.
Els thought one might have been coming, especially since he had played in 18 consecutive Masters since 1994 and had recorded six top 10s there, including a pair of runner-up finishes.
Don't be surprised if Els plays very well that week and is in contention to win there for the first time.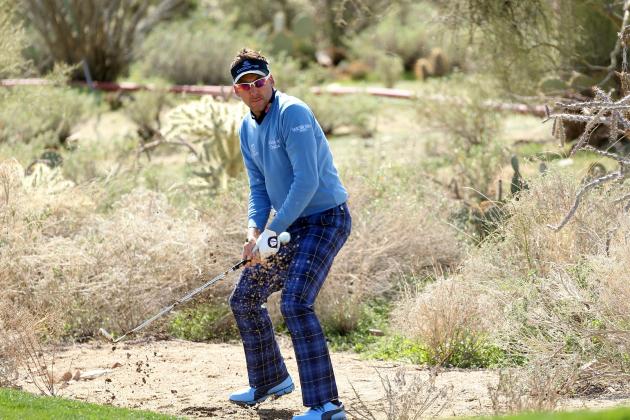 Andy Lyons/Getty Images
Ian Poulter would definitely be a colorful Masters champion.
The man with the bugged-out eyes and primal screams during Ryder Cup play is on a mission: channel some of that amazing energy and passion into golf's major championships.
He contended in last year's Masters, finishing seventh.
Poulter is one of the best ball-strikers in the game, is plenty long and shows the world every couple of years just how good of a putter he is.
The question is, "What color plaid pants would go with a green jacket?"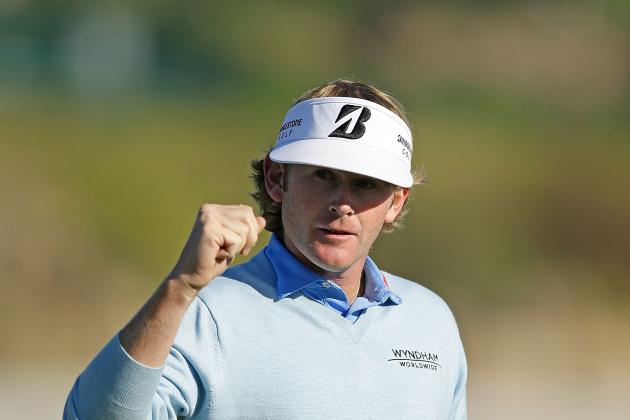 Ezra Shaw/Getty Images
Brandt Snedeker hopes to still be on a roll when it's time for the Masters.
Who's the best golfer in the world right now?
There's plenty of evidence to support saying that it's not Tiger Woods or Rory McIlroy but rather the strawberry blonde guy from Nashville, Tenn., Brandt Snedeker.
The guy has played in five tournaments this year, made all five cuts and finished in the top five each time.
He has a win, two runner-up finishes and one third.
On top of all that, he's one of the best putters in the game at the moment, and if he putts well at Augusta, he has a great chance to win.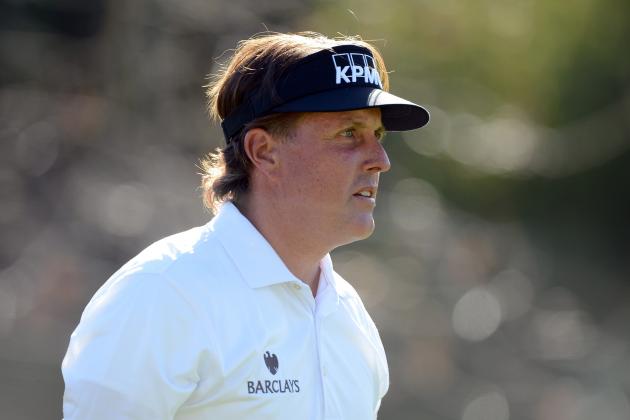 Harry How/Getty Images
Phil Mickelson could tie Tiger Woods at four Masters titles if he wins.
Another member of the multi-jacket gang, Phil Mickelson knows a little about how to maneuver around that beautiful piece of property, having won the Masters three times.
With the big lefty, however, it's all about where his game is that week.
If he plays like he did in winning the Waste Management Phoenix Open, he'll be in the mix Sunday afternoon.
But he could show up with drives flying left and right, short putts avoiding the hole and a puzzled look for four days.
That's what makes him what he is: a great champion, but one who is often very inconsistent.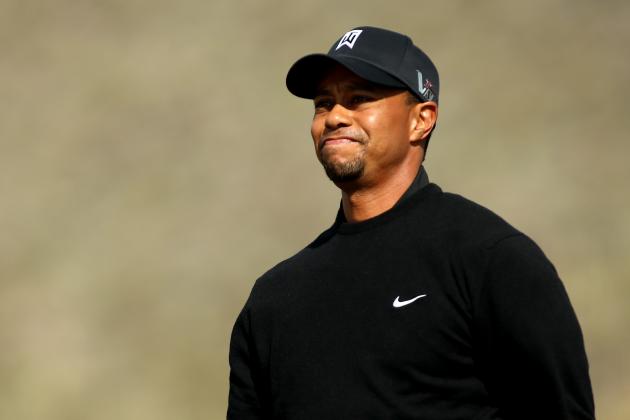 Darren Carroll/Getty Images
Tiger Woods has had plenty of these looks over the last few years.
While Rory McIlroy looks to make his mark, Tiger Woods will be trying update his green jacket collection to the second-largest in the history of the tournament: five.
That would put him one jacket short of tying Jack Nicklaus as the most prolific Masters champion.
Woods, who played very well in 2012, won again in the Farmers Insurance Open, and his game seems solid again.
He obviously knows his way around the golf course better than most in the field.
It will be fun watching how it unfolds.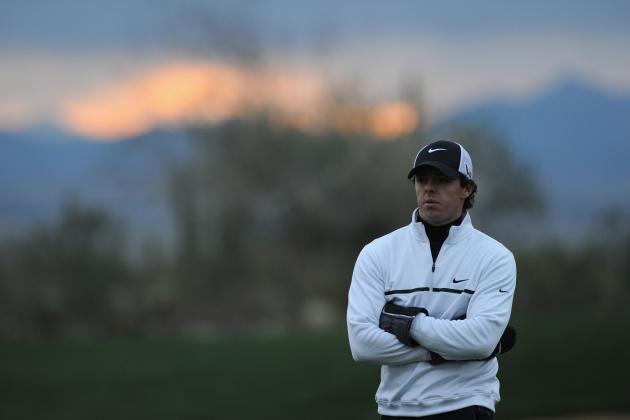 Stuart Franklin/Getty Images
Rory McIlroy didn't like the cold of Arizona, but will turn up the heat at Augusta National.
Assuming Rory McIlroy has fully awakened from his six-week break after one tournament this year, he'll be the co-favorite with Tiger Woods in the first major championship of the year.
He was in the process of taking the golf world by storm in 2011, stepping onto the 10th tee Sunday afternoon with the lead. But the snap-hook into the area where the cabins are at Augusta National threw that train off the tracks, and he collapsed.
Given what he's accomplished since then and how his game has developed, McIlroy is due to make his mark at the Masters.