5 Personal Milestones for LeBron James to Accomplish in 2013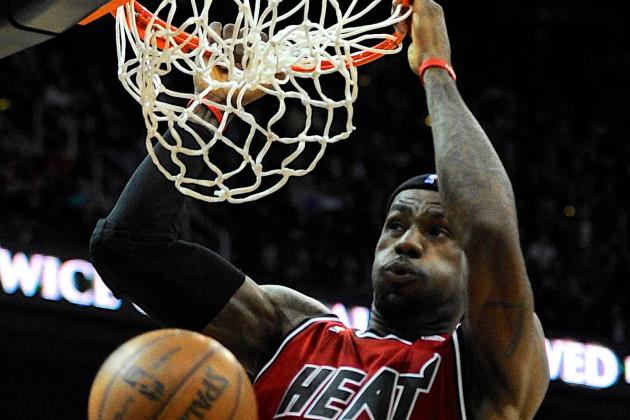 USA TODAY Sports
A man and his rim: little has gotten in LeBron James's way
Obscure references and even more obscure records.
If you've followed LeBron James of late, you've heard him make plenty of the former and take runs at plenty of the latter.
Thursday, after shooting 11-of-15 to score 26 points with 12 rebounds and seven assists in a 86-67 dismantling of the sloppy Bulls, James explained why he's been pressing his open palms toward the floor after made jumpers on the road.
"Yeah, I'm on my Nick Van Exel thing right now, anybody who knows the history of the game," James said. "The fans are always on me on the road, they stay on me, they continue to say I can't shoot the ball, I can't shoot."
James said he would eschew Van Exel's trademark high socks. Even so, it was an impressive pull from the NBA's past, ranking up there with James mentioning Jud Buechler during an All-Star Weekend interview.
Even more impressive?
James' recent run of accomplishments.
Every couple of weeks, it seems, he's chasing history, with some remarkable milestone or streak.
He went 254 minutes at one point without committing a foul.
He went 33 straight games to start with the season without scoring fewer than 20 points.
And then, in six straight games, he scored at least 30 points while shooting 60 percent.
"Just when you think he's done it all, he does something else that you didn't even know existed," Bosh said. "I didn't even know there's a stat for 60 percent, 30 points a game."
In Bosh's view, "The only way you can get better breaking that record is to do it eight times, nine times, or 10 times, or nine out of 10."
The next five slides include some other ideas for the next statistical standards James can stalk.
(All quotes for this piece were collected through the course of the author's coverage of the Miami Heat for the Palm Beach Post.)
Begin Slideshow

»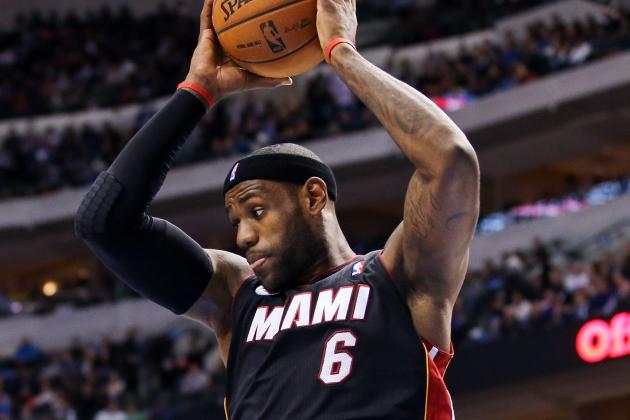 Kevin Jairaj-USA TODAY Sports
When he commits to it, LeBron James can board with anyone.
For much of his career, it seemed as if LeBron James didn't recognize his own size and strength.
Playing mostly out on the perimeter, James wasn't in position for all that many putbacks.
Anxious to explode into the open floor, he didn't often stick around long enough to clear the defensive glass either.
During the 2012 postseason, however, James increased his post presence on the offense end. And, with the Miami Heat's small lineups getting exploited for second-chance points, James has been part of what Dwyane Wade calls "a collective effort" to assist the Heat's so-called "bigs."
"I thought early in the season, we were trying to get out, we were trying to run," Wade said. "In the sense of that our mindstate when the ball went up was to get out, as opposed to helping to block out or rebound. We've done a better job as the season's gone on."
That was evident as James (12) and Wade (eight) had 20 of the Heat's 36 in Thursday's win against Chicago.
James has 18 double-digit rebound games this season, three this month.
And he is averaging a career-high 8.2 for the season.
He has maxed out, however, at 16, only topping 12 on that one occasion.
And he has never had more than 19 in an NBA game.
So what would grab some attention?
Grabbing 20.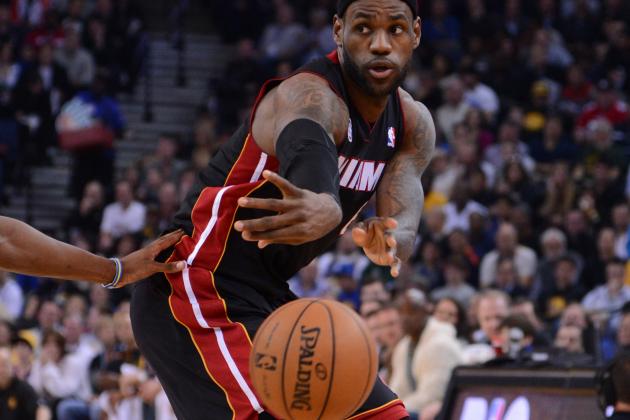 Kyle Terada-USA TODAY Sports
The ball doesn't always go in the direction LeBron James is looking.
Mike Krzyzewski expects plenty from LeBron James.
That was clear during the Olympic tournament, when "Coach K" played the Miami Heat star everywhere from point guard to center, trusting James to run the offense and anchor the defense.
That trust was rewarded with a gold medal.
Krzyzewski raised the bar even higher, however, in an October interview with SunSports, as he watched the Heat play the Charlotte Bobcats.
Don't be surprised with a 20-assist game. I'm telling you, because he has all these shooters and he's going to get easy assists.
It hasn't happened quite yet.
James, who has accrued 15 assists in three career outings, has dished out 12 once this season and 11 in six other games.
So could he get 20?
"That's a lot of pressure," James said at the time of Coach K's prediction. "But it's more pressure on our shooters. I'm going to get them the ball."
He has done that in countless ways, perfecting the cross-court, no-look whip pass to the corner for an open three-pointer for either Ray Allen or Shane Battier or Mario Chalmers.
Wednesday in Atlanta, he had eight assists in the fourth quarter alone.
Thursday against Chicago, he fired a dart to Dwyane Wade through the tightest of spaces, something that Jay Cutler might not have been capable of replicating.
Someday, he'll do it.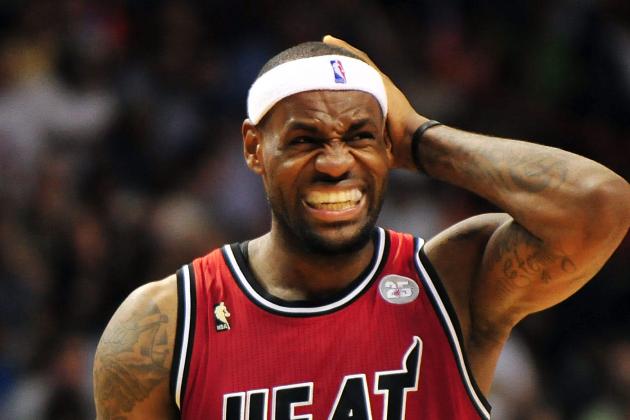 USA TODAY Sports
It's even more mind-boggling now, after watching LeBron James just miss so many triple-doubles, to consider what Oscar Robertson accomplished.
LeBron James knows his basketball history.
Pat Riley knew that when they met in the summer of 2010, and he used that understanding in his appeal for James to join the Miami Heat. The Heat president spoke with James about taking on less scoring burden, surrounded by other stars, but perhaps taking a shot at Oscar Robertson's remarkable accomplishment of averaging a triple-double over the course of a season.
James soon acknowledged that it might not be realistic.
"Unbelievable feat," he said. "I don't believe it will ever be matched."
So far, he's been correct.
James had four triple-doubles in his first season, none in his second Heat season (until the championship clincher against Oklahoma City) and has two this season.
Over and over, he's been close.
Sometimes big leads have benched him early.
Sometimes he's emphasized one area over the other.
For instance, this season, he's had double-digit scoring in every game, double-digit rebounds in 18 games and double-digit assists in eight games.
And yet, those last two categories have only matched up twice.
So let's not set the goal quite so high.
Only once in his career has James recorded triple-doubles in three straight games, back in 2009.
How about trying to make it five?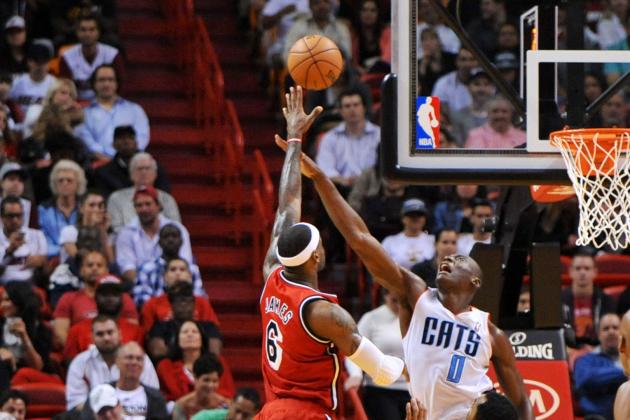 USA TODAY Sports
Against Charlotte, LeBron James got everything he wanted, except on two attempts.
Sure, it was against Charlotte at home, but LeBron James had still done plenty to spike the degree of difficulty.
He had pushed for the Miami Heat to stay to watch the Super Bowl after a game in Toronto, which meant arriving at home after 4 a.m. And he had taken his kids to school a few hours later, leaving him sleepy when the second game of the back-to-back started.
Then he made 13-of-14 shots.
The one he missed?
"I don't cry about fouls, but I got fouled on it," James said. "It never stopped me before. But I missed a layup. It sucks."
Rest assured, the Bobcats felt worse about his evening.
That was part of a stretch in which James converted a ridiculous 60-of-80 shots.
And it was one of five games this season—including Thursday in Chicago—that he has made at least 70 percent of his shots. Thursday, he managed to make 11-of-15 even while one attempt, a flubbed dunk as he lost the ball on the leap, was initially ruled a turnover and probably should have stayed as such.
This leaves only one thing left:
Can he get out of a game, while taking at least 10 shots, and not missing any?
If Pau Gasol did it in 2010, James can too.
And, one of these nights, when he shows the selectivity that he has so frequently of late, he will.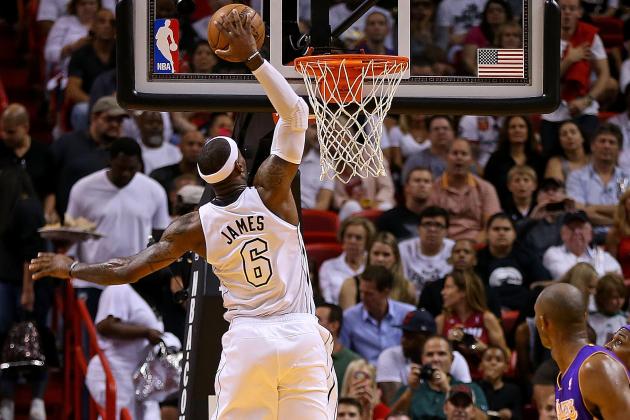 Mike Ehrmann/Getty Images
Great at home? Sure. But historically, LeBron James's greatest offensive explosions have come on the road.
LeBron James is averaging 27.2 points per game for the Miami Heat this season.
He has yet to crack 40 in any contest.
That might seem a surprise, but here's an even bigger one:
Over the course of his career, James has scored at least 50 points in nine games.
And none of those came at home.
Toronto.
Utah.
New York.
Milwaukee.
(With the latter being his lone time with the Heat.)
James has spoken often of his preference for playing on the road, and for his career, he's scored more in hostile arenas (28.4 versus 26.8). Yet this season, he's actually been equally productive at home and on the road, and he's been more efficient when inside AmericanAirlines Arena, shooting a staggering 59 percent, including 43 percent from behind the arc.
So maybe it happens this season in front of the Miami fans.
Maybe even this Sunday, with Cleveland visiting.