What Do the Raiders Have to Lose By Turning to Terrelle Pryor?
Use your ← → (arrow) keys to browse more stories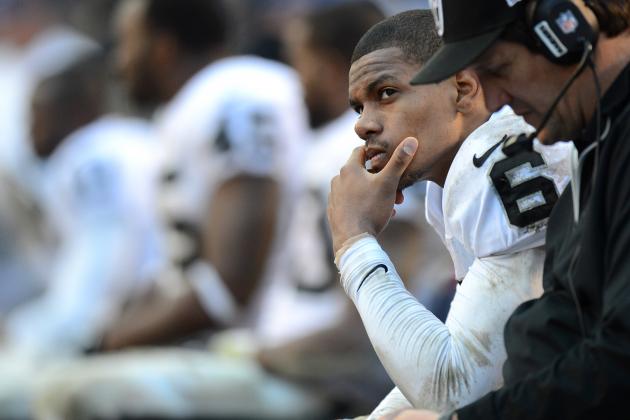 Jake Roth-USA TODAY Sports

There are very few teams in the NFL that have as messy a quarterback situation as the one currently sitting on the doorstep of the Oakland Raiders.
Carson Palmer, last year's starter, is owed $13 million in 2013 and another $15 million in 2014, despite a career that is clearly trending downwards.
Over 25 games in Oakland, Palmer has thrown 30 interceptions and delivered just eight wins. He'll also be 34 years old by the end of 2013.
Instead of wasting another year with an expensive and aging Palmer under center, the Raiders should really think about cutting all ties with a bad trade and moving forward with his backup, the 23-year-old Terrelle Pryor.
Do the Raiders really have anything to lose by making that choice?
Palmer, despite a 4,000-yard season in 2012, is not the long-term answer in Oakland or elsewhere. Few will argue that the Raiders are any closer to competing for a Super Bowl with Palmer under center.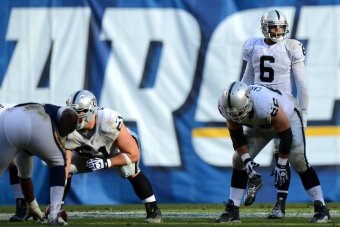 Jake Roth-USA TODAY Sports
Trading for Palmer was a poor management decision made during desperate times from the last regime. Former head coach Hue Jackson unwisely sent two high picks to the Cincinnati Bengals for the then-retired Palmer, with the hope that he could save a season that started 4-2 but saw starting quarterback Jason Campbell break his collarbone.
That bad decision shouldn't force another one on the Raiders two years later.
Pryor may not be ready to save the Raiders franchise from the get-go, but sooner or later general manager Reggie McKenzie has to find out what kind of quarterback he has in the former Ohio State star. Now entering his second NFL season, Pryor should be ready to take the next step from shaky backup to legitimate NFL quarterback.
Spoiling away in the hope of mediocrity with Palmer, while failing to figure out what Pryor brings to the table in the process, simply isn't smart business.
Instead, the Raiders should throw Pryor into the fire head-first, alongside a different, less expensive veteran quarterback and potentially a mid-round quarterback from April's draft. This scenario would improve the outlook of the position in Oakland for the future.
Who should be the Raiders starting quarterback in 2013?
And even if Pryor is a complete bust as the starter in 2013, the Raiders will still be in position to take a top quarterback with a high pick in the 2014 NFL draft.
The most important piece to any NFL rebuilding team is the quarterback, and the Raiders can feel confident that they haven't found an answer there in Palmer. Pryor is still raw, but Oakland likely doesn't have a good feel for whether or not they have a potential piece of the puzzle in the 23-year-old.
Starting Pryor in 2013 answers that question and then leaves two outcomes: Either Pryor is the real deal (could he blossom using the read-option?), or the Raiders suffer through another tough season and have the opportunity to draft the future next April.
Either way, the Raiders get one step closer to becoming a contender. Isn't that the real goal here, even if the process isn't working at supersonic speeds?
Pieces such as Darrius Heyward-Bey, Darren McFadden, Jacoby Ford and Denarius Moore are still young and trending upward. The Raiders can afford to take a year or two to get this right, even if Pryor struggles.
Without much doubt, Palmer starting for the Raiders in 2013 is a step sideways. Going with Pryor moves the franchise forward. I'm confident a smart football man like Reggie McKenzie can see that difference.