10 NFL Combine Prospects the Arizona Cardinals Must Closely Watch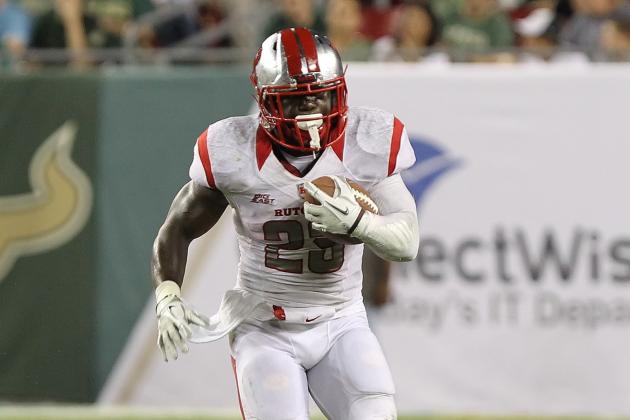 Kim Klement-USA TODAY Sports
Former Rutgers Scarlet Knight RB Jawan Jamison reminds some of Ray Rice.
The Arizona Cardinals have a difficult task ahead of them in late April. But before the NFL draft, the Scouting Combine must take place, and we will be highlighting 10 prospects the Cardinals must watch in Indianapolis.
Round 1 is where most fans place the majority of their time and efforts when discussing their favorite team's draft. And while it is an important pick—17.2 percent of first-round picks (71-of-413) since 2000 started at least 90 percent (44-of-48) of regular-season games during their first three seasons—the six other rounds of picks are nearly as important.
Though teams generally will not find the same kind of production in later rounds as they do in early rounds, there are "diamonds in the rough" in every draft class.
Guys like Kansas City Chiefs cornerback Brandon Carr (Round 5, 2008), New Orleans Saints left guard Carl Nicks (Round 5, 2008), Seattle Seahawks cornerback Brandon Browner (undrafted, 2011) and the Cardinals' own center, Lyle Sendlein (undrafted, 2007), all have proven to be gems among rocks.
These are the prospects the Cardinals must closely watch during combine week. Could there be another Jared Allen (Round 4, 2004) or Marques Colston (Round 7, 2006) hiding somewhere, waiting for their opportunity to burst onto the NFL scene?
Begin Slideshow

»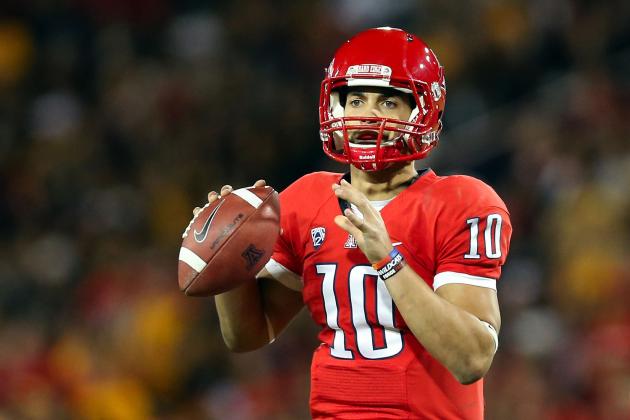 Christian Petersen/Getty Images

In watching Matt Scott play the quarterback position, you have to take out most of the dink-and-dunk stuff he throws, as his senior season at the University of Arizona was full of check-downs and screen-passes.
It's not his fault, as that is the offense Rich Rodriguez employs.
One-step drop, wide receiver slant; one-step drop, screen to the back; one-step drop, tight end in the flat. Those are dime-a-dozen calls in Rodriguez's playbook.
I am looking for NFL-type routes. The comebacks, back-shoulder fades, seams and posts. Anything that requires Scott to drop back three or more steps. Those are the types of throws scouts, coaches and GMs want to see.
Watching Scott throw those routes, you can see he has potential. His accuracy wanes at times, especially on his deep ball. But the skills are there.
What is in question with Scott is the offense in which he played. The spread offense is not popular in the NFL, and quarterbacks who stem from the college spread still for the most part have trouble adapting to pro-style offenses run by their drafting teams.
Scott is athletic. He is tall enough at 6'3" to play the position at the next level given his raw talent. He is very light, however. He played last season at just 197 pounds, a weight far too low for a coach to feel comfortable putting him in the way of 300-pound pass-rushers who are as fast as he is.
If he shows up to the combine beefier and shows he can make all the throws, Scott could be a late-round add for the Cardinals to develop.
I know, I know. You've heard the term "late-round developmental quarterback" before, and it hasn't ever worked out for Arizona.
But that was the last coaching regime. A regime too stubborn for its own good.
New head coach Bruce Arians and his team of like-minded offensive coaches have made their names developing quarterbacks by calling plays that fit what their signal-callers have the ability to master.
This regime is nothing like the one prior. If anyone can develop a quarterback, it is Arians and his staff.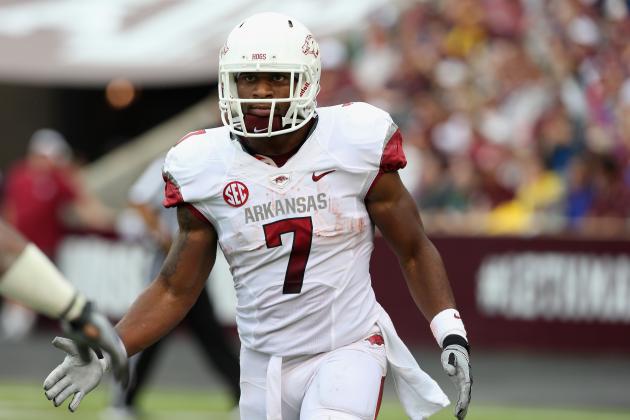 Ronald Martinez/Getty Images

Before suffering a season-ending ankle injury before the 2011 season, Knile Davis had first-round talent written all over him.
He led the SEC with 1,322 yards rushing and 14 total touchdowns as a sophomore in 2010, leading his team to the first BCS bowl game in school history.
He ended that season gaining at least 100 yards on the ground in six of his final seven games, including the final five, gaining 1,028 yards and scoring 13 touchdowns over that time.
Davis' injury held him back after his medical redshirt 2011 season. His yards-per-carry average dropped from 6.5 as a true sophomore to just 3.4 as a redshirt junior. His explosion through the line was gone for most of the season. He flashed it from time to time, but he did not have it every time out as he did prior to the injury.
According to NFL Draft Breakdown, Davis is the No. 20 running back in the class, ranked behind backs such as Zac Stacy of Vanderbilt and Robbie Rouse of Fresno State.
If healthy and confident once again, Davis will be a far better NFL back than either of those two will be.
Davis is expected to run in the 4.5-second range at the combine, and at 6'0" and 226 pounds, he has plenty of agility to go with the speed. He is not the ultimate home run hitter he used to be, but he still has plenty of get-up-and-go to make an NFL team happy.
His pad-level gets too high at times—he sometimes reminds me of former Arkansas great Darren McFadden—and he must learn to hit open lanes with the violence and disregard he once showed, but as a late-round pick one cannot go wrong with this pick.
If he shows up to the combine and is athletic as he was before his injury, he may begin climbing draft boards. I expect his pass-catching to be better than some expect, and he should be among the strongest backs in Indianapolis. His bench-press total could be near the top-3 for his position.
Getting Davis to compete with habitually-recovering running backs Ryan Williams and Beanie Wells—the latter in his final contract year—would be a good thing. Davis may even be better than both if he gets to his pre-injury form.
Ray Rice has been reincarnated, and his name is now Jawan Jamison.
There are more similarities between Rice and Jamison than just their alma mater. Jamison (5'8", 200) is nearly identical in size to Rice (5'9", 195), and they share similar running styles.
An ability to make something out of nothing was key for Jamison rushing for 1,075 yards last season. Rutgers' offensive line was shaky at best, and the shakiness of Jamison was on full display the majority of the year.
For Jamison, his game includes more than just Rice-like quickness in holes with the ability to rattle off 15 yards when it appeared he would be stopped for a loss—he is also keen on pass-blocking.
A running back who is willing and able to chip pass-rushing linebackers and safeties is a major asset to have. NFL teams without at least a decent pass-blocking running back wish they had one and are always searching for a back who can do it.
But enough about pass-blocking. This kid is a running back first, and an underrated one at that.
His physical strength, awareness and never-give-up mentality were made apparent in one clip from the 2012 season, and it came against Arkansas. Late in the game and clinging to a nine-point lead, the Scarlet Knights turned to Jamison on a 3rd-and-6 play from the Razorbacks' 45-yard line.
Jamison was handed the ball by Knights quarterback Gary Nova on an off-tackle play to the short side of the field. After cutting up the field behind a wall of Rutgers blockers, he encountered 6'3", 232-pound Arkansas senior linebacker Terrell Williams.
Being outweighed by over 30 pounds was no issue for Jamison, as he ran right through Williams, sending the two-time varsity letterman to his backside.
But the play was not over. Jamison immediately encountered both Razorbacks safeties, Rohan Gaines (5'11", 190) and Ross Rasner (6'0", 212) as he put Williams to the turf.
They sandwiched the back, but somehow Jamison broke free from their grasp, gaining seven yards to pick up the first down.
In one play, we were able to see everything Jamison is as a runner. His vision, agility and quickness led him from a mass of humanity into a small and shrinking lane. His raw power helped him continue the play by removing a bigger, stronger man from his way. His sheer will to lead his team to victory pushed him through four arms and carried him across the first-down marker and out of bounds, all but sealing a big victory.
And he did all that in one play during a clutch moment when failure was not an option.
Sign me up for 16 games of that every season.
We can expect the team to re-sign free agent LaRod Stephens-Howling at some point this offseason. But the sketchy past of Arizona's top two backs leads me to believe they may draft a guy.
This mid- to late-round option could be a budding star in a season or two.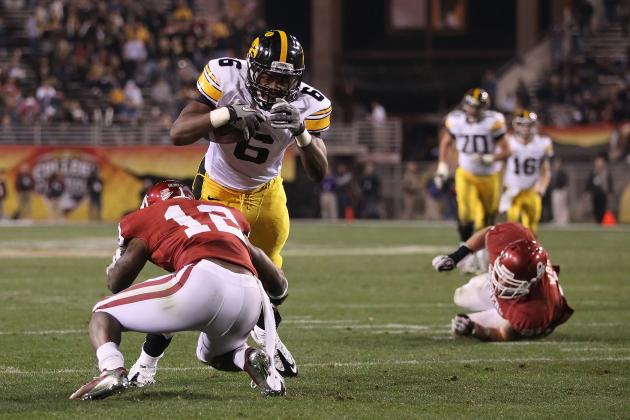 Christian Petersen/Getty Images

Iowa's Keenan Davis is as under the radar as you can get for a 6'3", 215-pound pass-catcher in the Big Ten.
The reason? Production.
The Hawkeyes' offense was stagnant in 2012, with Davis catching passes from James Vandenberg, a senior quarterback with no NFL potential.
Vandenberg started all 12 games last season for Iowa, throwing only seven touchdowns to eight interceptions. Sophomore receiver Kevonte Martin-Manley was the only player on the receiving end of more than one Vandenberg touchdown pass, leading the Hawkeyes with two. Iowa finished No. 114 in total points last year, averaging just over 19 points per game.
The Hawkeyes ranked No. 11 in the Big Ten. Only Illinois' 200 total points were less than Iowa's 232.
Despite Davis' lack of production in the defense-heavy Big Ten, he shows all the necessary skills to produce at the next level.
He uses his size well and can get vertical in a hurry. He has enormous hands (10 3/8 inches) and uses them well when catching passes. At times, he will allow the ball to get into his chest rather than extending his massive mitts, but that can be fixed with coaching.
Davis has plenty of burst and runs very clean, crisp routes—the plant-and-cut he shows on his out-route is a sight to behold.
He could be one of the fastest big receivers at this year's combine, and that will certainly help his draft stock. What else will help is the aforementioned route-running and his nearly foot-long finger-span.
Want to know how big your hands are compared to Davis'? Grab a ruler and with your palm up, measure from the tip of your pinky to the tip of your thumb. That is how they determine hand size—for the record, my hands are 8.5 inches.
The measurables will be important for Davis, it seems. There is talk every offseason calling into question the validity of the numbers these athletes show at the pre-draft NFL combine. But in cases such as this, a player truly can help or hurt his draft stock by his performance during combine week.
In Davis' case, his stock can only go up. As of the last active roster, Arizona has six tight ends and receivers standing at least 6'3". Add Davis to that mix, and the Cardinals would have a number of different matchups they can utilize to gain an advantage—especially in the red zone.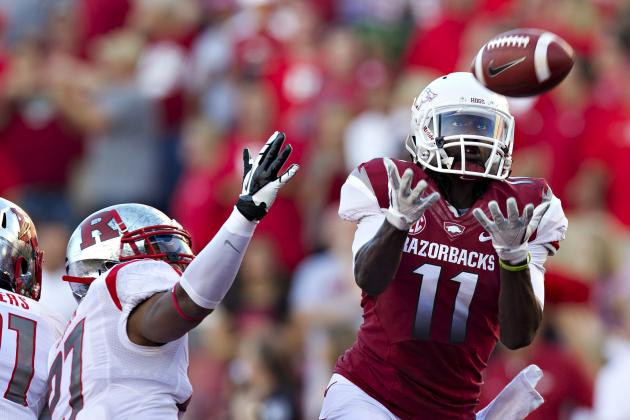 Wesley Hitt/Getty Images

Cobi Hamilton runs many short routes across the middle. His 6'2", 191-pound frame allows him to use his body to shield defenders when catching passes.
He does so well enough for him to succeed in the NFL.
Tyler Wilson's No. 1 target last season finished second in the SEC with 90 catches and led the conference with 1,335 yards. He caught five touchdown passes as a senior, giving him 18 for his career.
Hamilton is a deep threat, but he doesn't beat defenders deep just with speed. Rather, he gets off the ball well and uses his body to shield opposing cornerbacks as he gets by them. He does have plenty of speed to take it the distance—eight of his 18 scores came from at least 54 yards, including two games with two.
With his ability to play outside, inside, left and right, Hamilton can be used anywhere at any time. This is important because it will help him get on the field early in his NFL career.
At the combine, watch Hamilton catch passes. If there's one area in which he needs work, it is in catching the ball. He lost sight of the ball on deep routes at times and could not wrangle in a pass because his hands couldn't get there in time.
Also, extending his hands to catch passes is important. He reportedly has 8 5/8-inch hands, which is small for a receiver.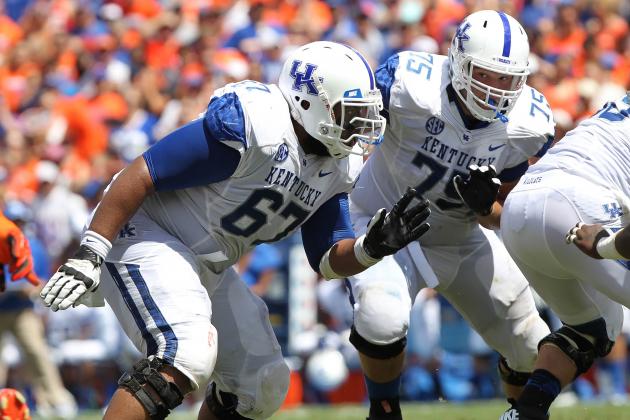 Kim Klement-USA TODAY Sports

If you have paid attention to my writing over the last few weeks, you have heard this name before.
If you follow me on Twitter, you know this is my man-crush of the 2013 NFL draft.
Larry Warford played right guard for Kentucky, earning three letters and being named to numerous all-SEC teams over three college seasons.
His best work came against the best competition last year. Against Georgia, Florida and Missouri, Warford demonstrated the ability to manhandle even the best defensive linemen. Georgia's Jon Jenkins (351 pounds), Florida's Sharrif Floyd (303) and Missouri's Sheldon Richardson (295) all are considered first-round locks in April.
Warford had no problem with any of them, routinely blowing each one so far off the ball they were rendered useless to the point that coaches had to move them to the other side of the line just to get them away from No. 67.
He stands 6'3" and weighs in at 333 pounds, but he moves as though he were much lighter. His nimble feet make him dangerous when he pulls and is on the move. His ability to get to space to set the edge for running backs is exceptional, and it will benefit him greatly in the NFL.
Because of his position, he will not be drafted where he should be. His talent-level should have him firmly in Round 1, but guards are undervalued in the draft. I briefly covered that in my Cards' Round 1 strategy article, but I will divulge a bit more here.
Since 2006, just six guards have been made first-round picks. A total of 22 tackles—nearly four times the amount—have been taken in Round 1 over that time.
Warford is worth a first-round pick, but he likely will fall to the second round, where the Cardinals must grab him. If they are able to select two of the top offensive linemen in a talent-laden draft, things will begin happening for them on offense in the near future.
Side note: As some of you know, I've said my ideas and opinions on Arizona's first pick would change many times from the end of the season to the NFL draft. My latest idea—the very first-round strategy of "must take tackle if one of two are available" is slowly changing.
Unless Luke Joeckel falls to No. 7 for them, the Cardinals may want to take Alabama's Chance Warmack with the hopes that Warford is there at No. 38 in Round 2. These will be two of the best offensive guards in the NFL for the next dozen years; having them both on one roster would make things much, much easier for the next Cards quarterback.
Nelson Chenault-USA TODAY Sports

A small-school gem, Quanterus Smith tied for ninth in the FBS with 12.5 sacks despite playing in only 10 games in 2012.
He tied for 15th with 18.5 tackles for a loss.
Smith tore the ACL in his left knee against Louisiana-Lafayette on November 17, ending what was a superb senior season.
In Week 1 against eventual national champion Alabama—against one of the best offensive lines in college football—Smith sacked AJ McCarron three times, using an array of moves to get to the Crimson Tide signal-caller.
He set a Sun Belt Conference single-game record with five sacks against Florida International in late October, one sack shy of tying current Denver Broncos defensive end Elvis Dumervil for the NCAA record, which Dumervil set against Kentucky on September 4, 2005.
Despite his torn ACL just over three months ago, Smith reportedly will participate at the combine, according to bgdailynews.com.
It would help his draft stock if he were indeed healthy enough to show up and put on a show. A "small school" pass-rusher in a class such as this may get buried among other popular "big school" names, especially if he is unable to give it a go in Indianapolis.
Smith has an unrelenting motor. His will to get to the quarterback or ball-carrier is fun to watch. Bleacher Report NFL draft lead writer Matt Miller put it this way:
Had it not been for a late-season injury, Quanterus Smith is a guy who was ready to shoot up draft boards. Now, a bum knee has pushed him down to the fourth or fifth round. Before injury, Smith's raw pass-rushing potential had him compared to [former first-round pick] Brandon Graham of the Philadelphia Eagles—who is a bit undersized as a defensive end but has a great ability to stun offensive tackles with quickness off the line and good hand use. […] Don't be surprised if Smith is picked up in the mid- to late-rounds of the 2013 draft and has a big impact once he can get on the field, because guys with pass-rushing potential like this are never on the board this long.
I do not expect Smith to participate fully in combine activities. He may not run the 40-yard dash and he may not do any of the shuttle drills. Three months removed from major knee surgery may inhibit his abilities and may even cause further damage.
This is all my own speculation at this point, as I do not have access to Smith, nor have I heard his plans.
This productive pass-rusher notched at least two sacks in six games throughout his four-year college career—two per season his final three years at Stanford.
He registered 27.5 sacks and 50.5 tackles for loss, also forcing nine fumbles while wearing cardinal and white.
Chase Thomas has an array of moves that allow him to get to quarterbacks, but his best move seems to be anything that takes him to the inside shoulder of an offensive tackle.
This video of such an occurrence starts at a point in which Thomas comes off the edge against UCLA left tackle Torian White. He plants his right foot as he gets into White's body, spins around him and uses his right shoulder and elbow to move White out of the way in order to sack Bruins quarterback Brett Hundley.
Miller states in the video above that Thomas is comparable to Houston Texans outside linebacker Brooks Reed and has upside "off the charts." Miller said Thomas has violent athletic skills and can be a playmaker coming off the edge in a 3-4 defense.
He also believes Thomas should be a late first- or early second-round pick, so if the Cardinals want him, they may have to use their No. 38 overall pick in Round 2 to get him.
Look for the 6'4", 248-pound pass-rusher to show excellent strength and quickness in Indianapolis. He will not grade out as the most agile rusher nor the fastest, but his great hand skills and top-notch technique will show.
Here's to hoping other players impress so much that Thomas falls to the Cardinals at No. 71 so they can have both he and Warford. Selfish? Yes. But we Cardinals fans deserve it.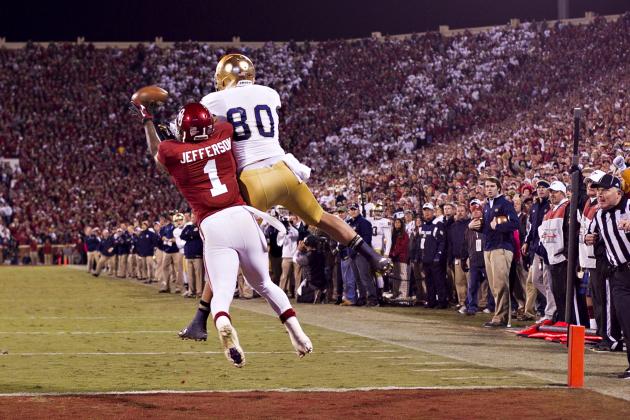 Wesley Hitt/Getty Images

Oklahoma safety Tony Jefferson is an intriguing athlete. He enters the 2013 NFL draft with a year of eligibility left in hopes of becoming some franchise's next big-hitting center fielder.
He does flash the ability to lay the boom on receivers, though not consistently enough at times.
On one play he will light someone up; then, on the next play, he will lower his body to near-ground-level, drop his head and miss a tackle while swiping at a ball-carrier's feet.
He flies to the ball far more often than not, however, and he knows how to handle the ball after an interception. He is a good athlete.
Jefferson recorded seven sacks and 18 tackles for loss in three seasons, a sign that he plays well when asked to drop into the box to play the run and rush the passer. The 5'11", 212-pound safety also recorded eight interceptions while at Oklahoma.
One area in which he needs work is in the angles he takes to the ball.
Sometimes, he will over-anticipate a play and get burned by a ball-carrier or be blocked out of a play. In coverage, his poor angles leave his teammates on an island with receivers, and that led to too many big plays.
He can play either safety position, which could attract a team in the middle rounds. He reminds me of current Cardinals free agent Rashad Johnson in his versatility and ability to be a big-hitter when he wants to be.
If Johnson were not re-signed, Jefferson would be able to fill in as a backup to both Adrian Wilson and Kerry Rhodes. If developed properly, he has the potential to be a future replacement for either player.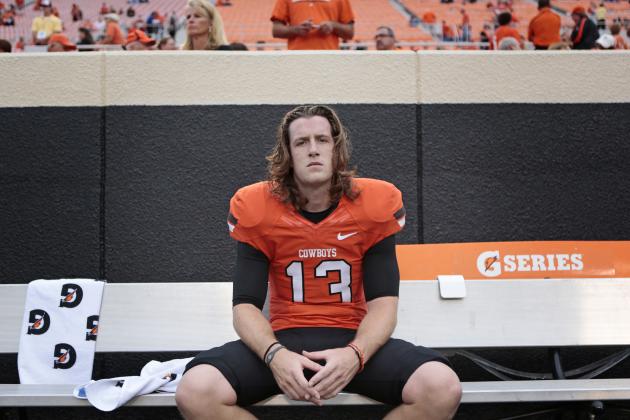 Brett Deering/Getty Images

It may seem odd to recommend the Cardinals watch a kicker at the combine, but hear me out on this one.
Quinn Sharp has led all Division I kickers in scoring each of the last two years—his only two seasons of booting field goals.
He also finished no worse than sixth (twice) in average yards per kick during his four seasons as the Cowboys' punter. Twice—as a sophomore and again as a junior—he finished in the top three.
Sharp hit on 151-of-152 extra points in two seasons, his only miss coming during his second-ever game as OSU's kicker. He is one of only 10 NCAA kickers since 2000 to convert over 99 percent of his extra points and over 80 percent of his field goals (minimum 100 extra-point attempts).
No one comes close to matching his 301 points from kicking over the last two years. The next closest is former Florida State kicker and fellow combine invitee Dustin Hopkins, who managed 250 kicking points from 2011 to 2012.
In fact, no one in the SportsReference.com database (since 2000) came close to matching the two-year production put forth by Sharp. Tyler Jones is closest, scoring 273 points from 2003 to 2004 with Boise State.
Sharp has plenty of leg, though he was not asked to unleash it much. He was just 2-of-5 from 50-plus yards at Oklahoma State with a long of 51 (twice). He has the leg to do it, but what Arizona must watch at the combine is if he can do it consistently.
The atmosphere in Indy certainly will not be anything like live game action, but a good showing might instill confidence in the kid.
Is he worthy of a draft pick? I say yes only because the team has not drafted a kicker since Bill Gramatica in 2001. Since he left following the 2004 season and one unfortunate field-goal celebration, the team has relied on free agents and retreads to do the job.
That has worked out OK so far, as it seems every kicker who enters through the tunnel at University of Phoenix Stadium is a fan favorite. But at some point, it will be time to get younger at the position and not have to worry about which kicker they must sign next.
The team also has not drafted a punter since Chris Becker in 1989. Taking care of both the positions in one draft pick would be to the franchise's benefit. Jay Feely and Dave Zastudil are not getting any younger.