Rating the Arsenal Players Against Bayern Munich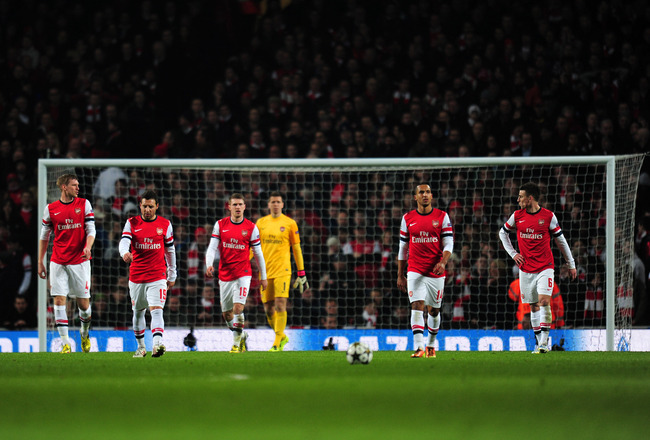 Shaun Botterill/Getty Images
Arsenal are all but out of the Champions League after losing 3-1 to a rampant Bayern Munich side at the Emirates Stadium.
Bayern dominated the first half in an embarrassing fashion while the Gunners defended woefully and offered nothing going forward.
Munich took the lead through an early goal from Toni Kroos, and from then on there was only going to be one result. Thomas Muller doubled the lead just 12 minutes later and all of a sudden a rout was on the cards.
Arsenal pulled one back and began to dominate the game before two bizarre substitutions by Arsene Wenger swung the game back in the Germans' favor. Mario Mandzukic then put the tie all but beyond the Gunners with a late third.
Here, Bleacher Report rates the Arsenal players and manager in yet another game and performance they will want to forget as soon as possible.
Wojciech Szczesny (G): 5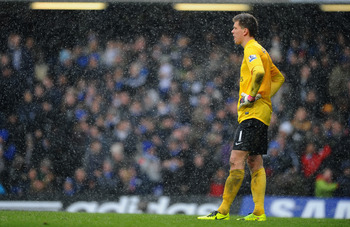 Laurence Griffiths/Getty Images
Wojciech Szczesny had another poor night between the posts at the Emirates.
The Arsenal stopper could not be blamed for either Bayern's first or third goals, but his error in the second played a major part in deciding the match.
His distribution was poor. He put his defenders under pressure with short balls when they were surrounded by Bayern players on more than one occasion. At this stage of his career it looks like he is not progressing at the rate Arsenal would have hoped.
Bacary Sagna (RB): 6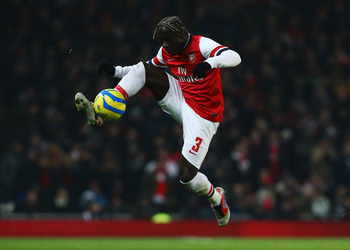 Jan Kruger/Getty Images
Bacary Sagna was just about an army of one in terms of drive and determination in the Arsenal team.
The French full-back was unlucky to be booked in the first half following a tackle on Thomas Muller. Between him and Aaron Ramsey they more or less controlled the Gunners' right flank and restricted Bayern Munich's attacks completely in the first period.
Thomas Vermaelen (LB): 3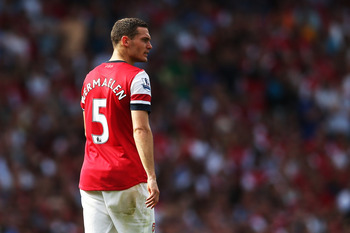 Julian Finney/Getty Images
Thomas Vermaelen started at left-back against Bayern Munich and put in another dreadful performance in his worst season ever for the Gunners.
The Arsenal captain was constantly caught out of position and was badly at fault for Toni Kroos' opening goal when he was caught out of position completely in the middle of the box.
That poor form continued and he was reluctant to pressure the cross that led to the corner for the second goal. He was then overloaded by Bayern's attack for the third.
It will be a game he will want to forget and won't go down in his book of memories.
Laurent Koscielny (CB): 5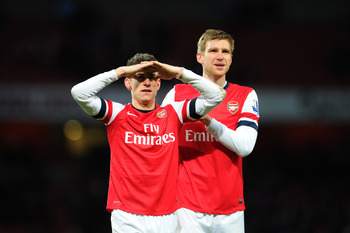 Michael Regan/Getty Images
Laurent Koscielny put in another inept performance and one must wonder if the Frenchman has much of a future at the club after a season of mishaps.
Mario Mandzukic manhandled him throughout.
His lack of defensive ability was highlighted by the amount of attacks Bayern launched down the middle. Once again his distribution was suspect and the fact that he was the Gunners' highest tackle merchant in the entire match, with just three, should not be lost on anyone.
Per Mertesacker (CB): 4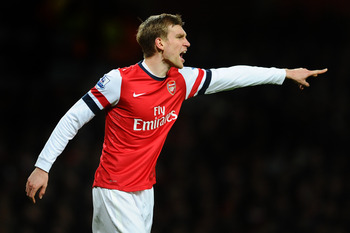 Laurence Griffiths/Getty Images
Has Arsene Wenger made a worse signing in the last couple of years than Per Mertesacker?
If there was a case of a game too far then this was it. The giant German was his usual ponderous self, but this time it was against the machine-like Bayern Munich, who exposed him ruthlessly.
He made two huge errors for the opening two goals. On the first goal his challenge on Kroos was very weak, while he stood still and lost Daniel van Buyten for the second goal.
He was in panic mode both on and off the ball and offered little or nothing to the Arsenal cause all night as Mario Mandzukic made both Mertesacker and Koscielny look very, very ordinary.
Jack Wilshere (CM): 7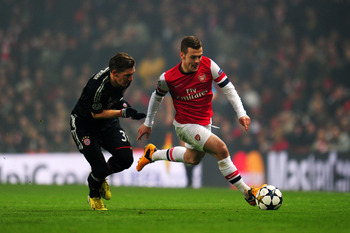 Shaun Botterill/Getty Images
Jack Wilshere was Arsenal's best performer, as expected, against Bayern Munich.
In a poor first half the English international showed no sign whatsoever that he is the future of English football by playing in an incredibly undisciplined way.
Both he and Mikel Arteta were tasked with offering a defensive wall in central midfield to stop Munich getting at the Gunners' cumbersome centre-halves. He did not live up to his end of the bargain and seemed intent on getting involved further up the pitch rather than doing the nuts-and-bolts job he was expected to do.
In the second half with Arsenal chasing the game he was the only leader Arsenal had on the pitch and was a danger anytime he got on the ball. His brilliant dribbles up through the centre of Bayern's team created space out wide for Podolski and Ramsey to expose.
It was with Wilshere's drive that Arsenal almost got back into the game. But in the end it was just too much to ask from just one brave young man.
Mikel Arteta (CM): 6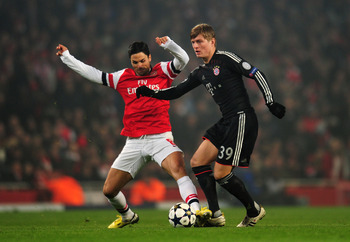 Shaun Botterill/Getty Images
Mikel Arteta and Jack Wilshere versus Bastian Schweinsteiger and Toni Kroos was a complete and total mismatch in the first half.
Arteta was pulled all over the place by the rampant Kroos and was 30 yards away from his man in the left-back position when his man scored the opening goal from the edge of the 18-yard box.
He improved off the back of Jack Wilshere in the second half and got much closer to his defence, but by then the damage was already done.
Aaron Ramsey (AM-R): 6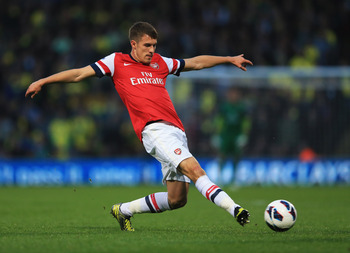 Richard Heathcote/Getty Images
Aaron Ramsey was a surprise addition to the starting XI as Olivier Giroud was forced to take a place on bench-warming duty.
In fairness to the Welsh international, he helped Bacary Sagna control Arsenal's right-flank and kept the irrepressible David Alaba and Franck Ribery quiet for much of the night. If there was one major negative for Ramsey to take note of, was his part in Bayern's second goal, where he failed to block the run of Thomas Muller.
He was quietly effective in possession and rarely tried to go for the superstar pass, which was exactly what the rest of his team needed to do on a trying night.
Lukas Podolski (AM-L): 6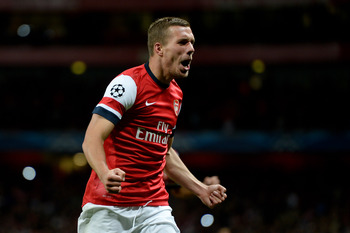 Mike Hewitt/Getty Images
The German international will be happy that he scored against his old team. However, there can be little doubt that Lukas Podolski will be most unhappy with the level of his performance.
Up until his goal he was completely anonymous and was little more than a spectator as Philipp Lahm controlled the left flank.
After the goal he was a man transformed and started to offer a threat that Arsenal had not shown all night.
And then he was substituted...
Santi Cazorla (AM-C): 6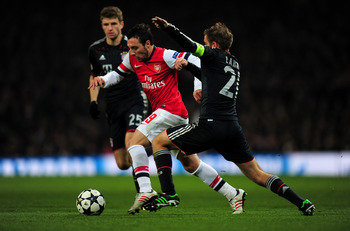 Shaun Botterill/Getty Images
Santi Cazorla was easily Arsenal's best player in the first half but faded in the second.
The minute Spaniard made Bayern commit players all evening through his intelligent dribbling and eye for a pass. He ploughed a lone furrow behind Theo Walcott for the most part and was always a danger that Bayern were more than aware of.
He was inexplicably moved out to the left after Lukas Podolski made way for Tomas Rosicky.
The move took the effective Podolski out of the game completely and then moved their next most effective player out of position.
His first act on the left was to lose the ball to Philipp Lahm, who initiated the move that led to Bayern's third goal.
Theo Walcott (CF): 4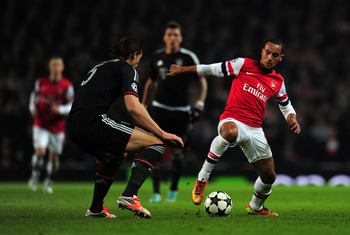 Shaun Botterill/Getty Images
Theo Walcott offered nothing against Bayern Munich.
Going into the game, the only weapon in his armory at the highest level was his pace. Bayern dealt with it expertly after a brief early flurry and from there Walcott offered nothing until a late cross for Olivier Giroud.
He ran into cul-de-sacs constantly and never troubled Manuel Neuer in the Bayern goal all night.
Olivier Giroud (Sub): 5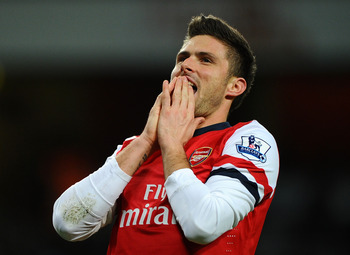 Laurence Griffiths/Getty Images
Olivier Giroud was a surprise exclusion for Arsenal against Bayern Munich.
Despite his late miss, there is no doubt that the Frenchman should have started.
His positioning up front as a natural centre-forward would have offered Arsenal a far better shape defensively, as Theo Walcott failed to hold the ball up or pressurise Bayern's defence.
Tomas Rosicky (Sub): 3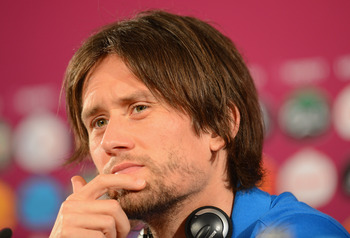 Handout/Getty Images
Tomas Rosicky was another late substitution for Arsenal that made little sense.
It came just as the Gunners were enjoying their best spell of the match and threw the balance of their attacking midfield trio out the window.
He offered nothing and at times it actually looked like he wasn't even on the pitch.
Arsene Wenger (M): 3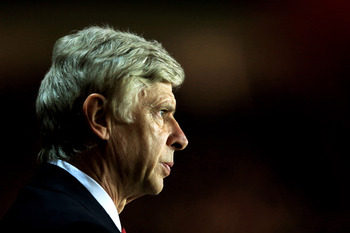 Richard Heathcote/Getty Images
This will be a night to forget for Arsene Wenger.
The Frenchman bears the most responsibility for disrupting the momentum his team had built up prior to their shock defeat to Blackburn Rovers in the FA Cup.
His decision to rest key players sent the message out to the team that the result was academic. The level of performance against Rovers reflects this.
Heading into a heavyweight clash against the likes of Bayern Munich, the last thing Arsenal needed was to have to be built up from such a low position. It can happen, but not against top-class sides like Bayern Munich.
Arsenal's flat performance in the first half comes directly from the loss of morale against Rovers and by the strangely shaped team Arsene Wenger chose to start with.
Theo Walcott offered nothing up top all night and Kieran Gibbs was so badly missed at left back it beggars belief. That statement is made all the more amazing when you realise that Thomas Vermaelen, the club captain, had a nightmare performance there.
Jack Wilshere remains the bright spot for Arsenal and drove his team back into the game, but just as the Gunners were getting on top Wenger made two amazing substitutions that changed the game back in the visiting team's direction.
It is fair to say that Arsenal had no leadership on the pitch in the first half.
Leadership starts on the bench with the manager and Arsene Wenger must accept a huge portion of the blame for this defeat.
You can find Willie on Twitter @WillieGannon
Keep Reading

Arsenal: Like this team?