Texas A&M Football: 5 Aggies to Watch During Spring Practice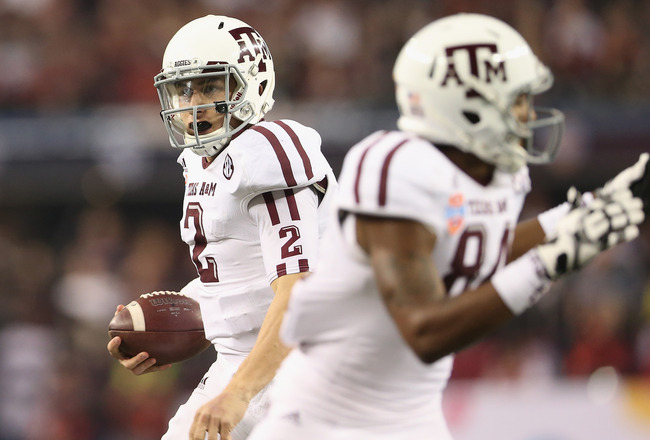 Ronald Martinez/Getty Images
The Texas A&M football team will begin spring practice on Saturday, March 2. There is a small group of Aggie players who will need to seize the opportunity available this spring to grab a starting position.
The team lost 12 starters from the 2012 squad that went 11-2, and it will begin the process of finding replacements for those players in two weeks. The practices during the spring will go a long way towards determining what kind of team the Ags are going to field in 2013.
The Aggies have major question marks at wide receiver, defensive line, linebacker and in the secondary. If they can adequately answer those questions, then they should be able to compete for a national title in 2013.
If not, then they will be another in a long line of teams that entered the season ranked in the top five who failed to live up to expectations. The Aggie coaches and players will attempt to answer those questions during spring practice.
This is a look at five players that Aggie fans should keep an eye on during the spring practices.
WR JaQuay Williams

JaQuay Williams highlights

The Ags lose three starting wide receivers off the 2012 squad. JaQuay Williams was one of the top wide receiver prospects in the nation when he committed to Auburn in 2012. He was not able to qualify academically to get into Auburn so he spent the fall in prep school.
Williams has the size at 6'3" 205 pounds to be an instant mismatch with Southeastern Conference secondaries. He has exceptional body control in the air.
If Williams can pick up the offense, then there is no reason why he cannot start at the outside receiver spot opposite Mike Evans. In Evans and Williams, Aggie quarterback Johnny Manziel will have two big targets who will be mismatches for whoever is covering them, on the field at the same time.
Williams should be a starting receiver coming out of the spring. If he picks up the offense, then he will have the biggest impact on the team out of any member of the 2013 recruiting class.
OG Kimo Tipoti

Kimo Tipoti highlights

Kimo Tipoti is a 6'3" 320-pound redshirt freshman offensive guard from Hurst, Texas. With Cedric Ogbuehi moving outside to right tackle, the right guard spot on the offensive line is open.
Tipoti was one of the more dominating high school offensive linemen in the nation in 2011 as a junior. He put on some bad weight as a senior and was not quite as effective on the field.
Tipoti lost around 30 pounds after arriving in Aggieland last June. He is at a good playing weight now and has the size and strength to be an effective interior offensive lineman in the SEC.
The Aggies offensive line was the best in the country in 2012. That line lost two starters to the NFL with Luke Joeckel entering the draft early and Patrick Lewis graduating.
If the Ags want to compete for an SEC and national title in 2013, then they need their offensive line to be just as effective. Tipoti needs to step it up and show the coaches that he can get the job done during the spring, because Joas Aguilar will arrive on campus in June.
Aguilar looks like a high school version of Larry Allen on video. Tipoti needs to claim the right guard spot before Aguilar takes it over during two-a-days in August.
DL Polo Manukainiu

Polo Manukainiu highlights

The Aggies lost stud pass-rusher Damontre Moore to the NFL draft. They also lost Spencer Nealy to graduation. That means that two starting spots on the Aggies' defensive line are open for competition.
Polo Mankainiu is a 6'5" 270-pound defensive lineman from Euless (TX) Trinity High School. He played defensive end in the Trojans 3-4 scheme in high school. Manukainiu redshirted during the 2012 seasons so he could add some size and strength.
Moore was a weak-side defensive end and you will not see Manukainiu playing on the weak side. He is not a fast-twitch pass-rusher. With his length and size he should be a candidate to play on the strong side if 2012 starter Julien Obioha moves over to the weak side.
Manukainiu will also get a look at the defensive tackle spot vacated by Nealy. The Ags just signed three stud defensive tackle recruits in the 2013 recruiting class. Manukainiu finds himself in the same position as Kimo Tipoti.
He needs to use the spring to show the coaches that he can get the job done as a starter in the SEC. In the Fall the coaches are going to be focusing on what the freshmen have to offer. This is Manukainiu's best chance to claim a starting spot.
LB Donnie Baggs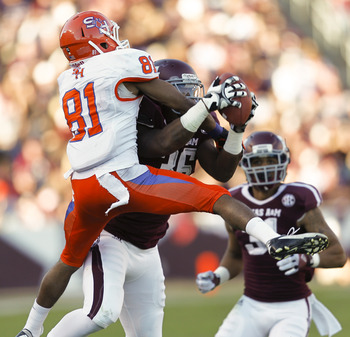 Donnie Baggs snags an interception against SHSU
Bob Levey/Getty Images
Donnie Baggs was a backup outside linebacker for the Aggies in 2012. He started one out of 12 games, and finished the season with 27 tackles including 4.5 for loss and an interception.
Baggs has great speed for a linebacker and flashes a lot of potential when he is in the game. He was solid against Louisiana Tech when he got the start due to Steven Jenkins' suspension. He had eight tackles with two tackles for loss and half a sack against the Bulldogs.
There is no doubt that Baggs can play linebacker in the SEC. The question is, will he start at inside or outside linebacker in 2013? If Baggs shows the instincts and ability to hold up against the run at middle linebacker, he will start start at middle linebacker. If not, he will start on the outside opposite Jenkins.
If Baggs stays at outside linebacker then expect true freshman Reggie Chevis to get a serious look in the middle. He enrolled at A&M in January and is currently participating in team workouts.
If Chevis and Baggs do not work out, then you could see Jenkins in the middle with Baggs and junior college transfer Tommy Sanders manning the outside spots. It all depends on how Baggs performs during the spring.
DB Floyd Raven
USA TODAY Sports
Floyd Raven started his A&M career much the same way that Alex Collins started his career at the University of Arkansas. Raven's mom wanted her son to go to Ole Miss so she signed his name on the Ole Miss LOI.
Raven was viewed as a top cornerback recruit coming out of high school. At 6'1" 190 pounds, he has the size that pro scouts drool over. Raven has the speed to be an effective cornerback in the SEC.
The issue with Raven is that he does not play within Mark Snyder's defensive scheme. He freelances too much so he remains on the bench. Raven is a tremendous tackler and is very physical against the run.
That is a great attribute to have when you play in the SEC. If Raven shows a willingness to play within the parameters of Snyder's defense this spring, he could step into the starting spot that was vacated when Dustin Harris graduated.
De'Vante Harris started seven games at corner in 2012 but lost his starting spot when he got frustrated against Ole Miss. Harris was not physical enough for the coaches liking. Raven will stick his nose in there unlike De'Vante Harris.
Raven will also likely get a look at free safety. He has the size and the mentality to play safety. Raven will definitely one to watch during the spring.
Keep Reading

Texas A&M Football: Like this team?