Ranking LA Lakers' Biggest Needs Heading into 2013 NBA Trade Deadline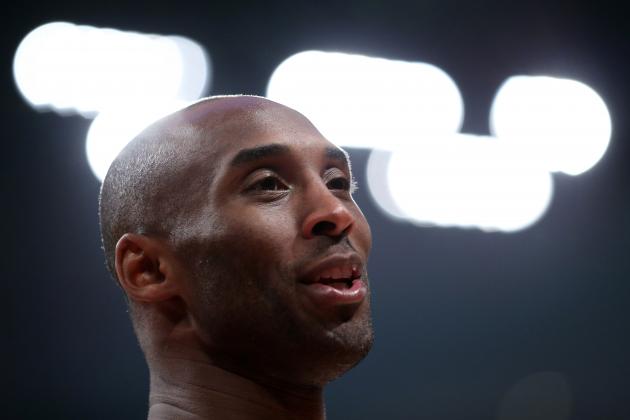 Ronald Martinez/Getty Images

The Los Angeles Lakers are 25-29 after the All-Star Break and have a lot of questions to answer going into the February 21st trade deadline.
With Pau Gasol out for the time being, Dwight Howard constantly ailing and things seemingly going bad for the Lakers every time they have the tiniest bit of a breakthrough, something else comes along to knock them down another peg.
There's no reward for missing the playoffs this year. They have no draft pick to fall back on and no real salary cap flexibility to rely on to fix the team this summer, so they're going to have to try to do what they can this season, or be labeled as a complete failure.
The Lakers have a few needs to address, and they actually have a bit to work with in terms of money to spend.
Along with the $1.2 million injured player exception that they received for Jordan Hill, they've got $1.4 million, $1.2 million and $544 thousand trade exceptions, meaning they can wriggle around a bit if another team is looking to shed some salary.
Begin Slideshow

»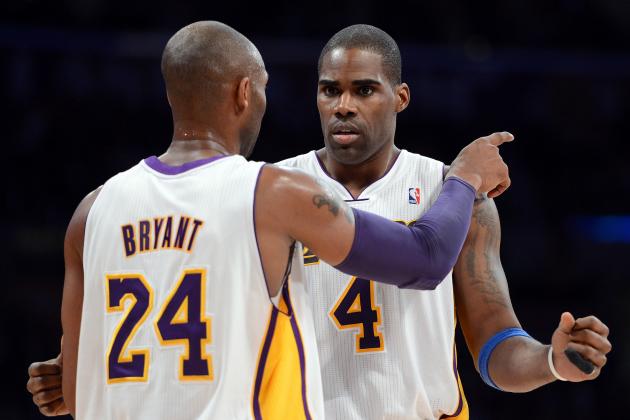 Harry How/Getty Images

The Los Angeles Lakers have had a rough time all season long attempting to get that Mike D'Antoni offense vibe down perfectly, but they are on the way.
If the Lakers could somehow land a solid spot-up shooter to throw in the corner and bring off the bench for Kobe Bryant, Steve Nash could run an offense similar to the one he's run in the past in Phoenix.
The biggest tool he needs for that is a spot-up shooter that is more of a threat to consistently hit three-pointers more than Jodie Meeks, Darius Morris or Chris Duhon.
Obviously a guy like Kyle Korver or Steve Novak would be a perfect fit for this system. The only problem is neither of those guys are on the market.
It would be great if they could land J.J. Redick, but there doesn't seem to be anything they have that could entice Orlando enough to bring Redick to L.A. However, perhaps an Anthony Morrow could be a possibility, who would be easier to get than Redick, and an improvement over Morris or Duhon.
The Lakers have some room to wriggle around with, and if they find a team willing to shed a decent three-point shooter for the price of a second-round pick and a combination of their exceptions, there's no reason not to open up those ventures.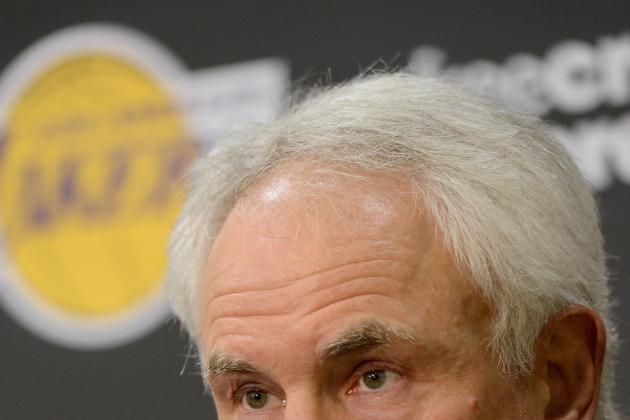 Kevork Djansezian/Getty Images

Thankfully for the Los Angeles Lakers, Jim Buss isn't the guy making the trade deadline moves.
He completely mangled the deal that brought Mike D'Antoni to Los Angeles, ruining any kind of relationship that Phil Jackson had left with the team in the process.
That's about the opposite of what the team needs right now.
This isn't exactly an acquisition they can make, but the biggest asset they have over the course of the next few days is the brilliance of General Manager Mitch Kupchak.
Not only does it seem like he can turn fools gold into diamonds, but he generally knows when it's the right time to make a trade and when it's the right time to let the team grow on it's own merit.
He's not going to throw players around willy-nilly without first examining all outlets, and right now that's more important to the team than Dwight Howard getting healthy.
At least they know they have a steady mind in the front office who can determine exactly what it is that can fix this train wreck of a team.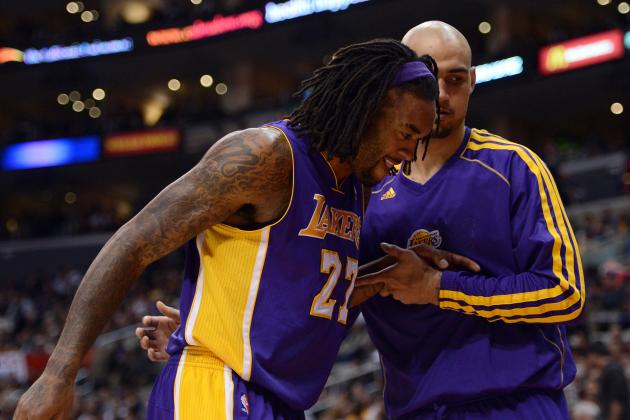 Harry How/Getty Images

After Jordan Hill went down it seemed like a moderate-sized loss for the Lakers, and it was something they were going to have to address along the way.
A combination of Antawn Jamison stretching the floor on offense and Earl Clark spreading out with his youth and versatility on both sides of the floor really solved the problem for the Lakers, as Pau Gasol played the bench role as best he could.
Unfortunately, the Lakers are down to three solid big men after the Gasol injury with Clark, Jamison and Dwight Howard.
Robert Sacre exists, but he's more useful chilling on the end of the bench and dancing than he is actually playing, and Devin Ebanks is a biggish small forward, but they don't have an enforcer in the post outside of the occasional bump from Howard.
With the exceptions that the Lakers have to work with, there are a few players they can take a look at if they really want to go down that route.
If a trade is a possibility, looking into Dejuan Blair might be a fine idea, as the San Antonio Spurs have been shopping him around for a while now. They may be able to put together a package that gives them a few second round picks and saves the Spurs a few dollars in the process that would be enticing enough to lure the big man to Los Angeles.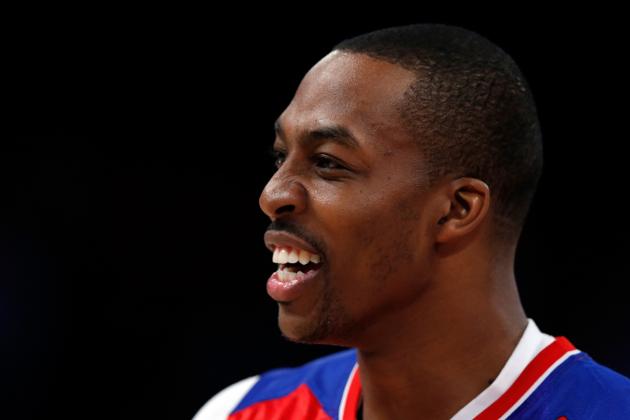 Scott Halleran/Getty Images

If there's one thing that the Los Angeles Lakers should trade for if it were at all possible, it would be a remedy for all their health issues.
A completely healthy Dwight Howard, a cured Pau Gasol, and just a team full of spry guys ready to play basketball would go farther than any trade would realistically take them at this point.
Perhaps a trade for the Phoenix Suns' medical staff is an option they can look to, although I'm not so sure the Suns would be willing to part with their best asset at this point.
If the Lakers don't make a trade, it's not something that should necessarily be looked at as a negative in the long-run.
Los Angeles' main foe is chemistry. They're still very much in the process of figuring out just how to work with Dwight Howard, and they're relying on quite a few young players to have some sort of success down the stretch.
The biggest acquisition the Lakers could make would be a form of camaraderie between Howard and the rest of the team, and then in the process a way to completely work him into an offense heavy in pick-and-roll plays between himself and Steve Nash.
Howard is a huge resource that they still haven't completely tapped, and the biggest trade they could make would be one of continual on-court confusion for familiarity.