NFL Combine Prospects That the Baltimore Ravens Must Closely Watch
J. Meric/Getty Images
Speed. Strength. Athleticism. All will be on display in Indianapolis at the NFL Combine, and millions of dollars are at stake. A player can lose millions thanks to a slow 40 time or a poor bench-press performance.
Some players will wow the scouts, though, rocketing up draft boards. The Baltimore Ravens will be sure to pay attention to both such players.
Every day of the combine will offer new intrigue for the Ravens.
On Saturday, Ozzie Newsome and Co. will be sure to check out the many offensive linemen to be had. The Ravens have a gaping hole at left tackle and they need more depth across the board. Expect the Ravens to play close attention.
The next day will see the Ravens focus largely on the receiving corps. The offensive skill positions will be on display on Sunday, but the Ravens are set (hopefully) at quarterback and running back. They could always use another weapon in the receiving corps, though, so be sure to check out some of the fastest players in the draft.
Monday will be perhaps the most important day for the Ravens. The defensive linemen and linebackers will be on display, and the Ravens have big needs at both positions. They had a sieve at nose tackle all season, while their linebackers struggled in coverage and in run defense. The Ravens could also use a boost to a pass rush that didn't produce a double-digit sacker in 2012.
Finally, Tuesday will see the defensive backs work out. The Ravens could use both cornerback depth and a talented young safety, so again, this will be a position of priority.
Every day of this combine, the Ravens will be checking on a multitude of prospects. They're going to end up drafting several of them. Get a head start on the NFL draft by watching the combine, and focus on these players. The Ravens will definitely be doing just that.
Offensive Line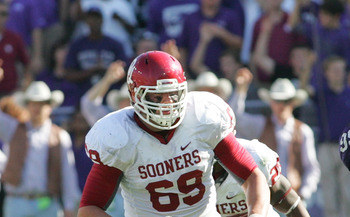 R. Yeatts/Getty Images
One of the Ravens' top priorities has to be the left-tackle position. Here are a few players they could check out:
Lane Johnson, Oklahoma
There is a good chance Johnson will be off the board by the Ravens' pick, but if he's there, the Ravens should not hesitate to call his name. He is an elite pass blocker and a solid run blocker as well.
If there is one knock on Johnson, it's his relatively thin frame. At 6'6" and 302 pounds, Johnson will need to add weight to handle NFL bull rushes. The combine will be a good chance for Johnson to display some increased muscle and his ability to handle that weight.
Menelik Watson, Florida State
Though Watson was a right tackle at Florida State, he has the athleticism and skills to transfer to the left side. Watson has a chance to blow up the combine with excellent strength and speed, but it will be his performance in the positional drills that will be most important.
Chris Faulk, LSU
Faulk was injured and didn't play in 2012, but his 2011 season and overall skill set has made him a solid prospect. There is no word yet on whether Faulk will compete at the combine, but the Ravens will still want to see whether he's taken care of himself during the season.

Tight Ends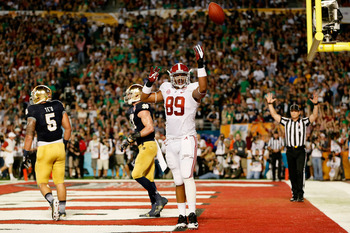 Kevin C. Cox/Getty Images
In an ideal world, the Ravens will have no need at tight end. Realistically, though, both Ed Dickson and Dennis Pitta are restricted free agents. I'd be surprised if they retained both, but Pitta should be back.
The Ravens could still use a blocking tight end, as Dickson tried to fill that role with poor results. Here are some guys who could fill that role:
Michael Williams, Alabama
Ozzie Newsome should be champing at the bit to get this Alabama tight end. Built like a brick house and with surprising athleticism, Williams is an elite blocker and a sneaky receiver.
The drills to watch for Williams are the speed and quickness drills, such as the 40-yard dash, the shuttle runs and the three-cone drill.
I'll also be interested to see how he performs in the positional drills. If he displays polished receiving skills, Wilson could cement his status as a middle-round selection.
Wide Receivers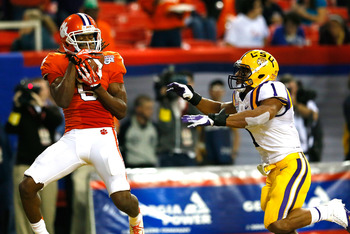 Kevin C. Cox/Getty Images
The Ravens don't necessarily need a wide receiver, but if the value is there, they'll pull the trigger. I wouldn't expect them to take any developmental receivers: They already have Deonte Thompson, Tommy Streeter and Tandon Doss.
If the Ravens do go receiver, I'd expect them to do it early and get a likely starter. With that in mind, here are a few they could look at early:
Cordarrelle Patterson, Tennessee
Big, fast and smooth, Cordarrelle Patterson is the prototypical NFL receiver. There is one big knock on him, though: Patterson only has one season of starting experience, and he only had limited production in that time.
Patterson could be a combine warrior who excels in the various drills. If that's the case, he could go before the Ravens pick, but he's worth a look. What I'll be watching, though, is how he performs in the positional drills. Is Patterson a natural route runner? A natural hand catcher? We'll find out.
DeAndre Hopkins, Clemson
Hopkins was already an excellent receiver heading into 2012, but then he just exploded for one of the biggest seasons in the nation. His 1,405 yards were fourth in the country, and his 18 touchdowns were second.
The physical receiver is relatively polished and will probably time very well in the 40. I'll be interested to see his times, since I already think very highly of his overall skill set.
Terrance Williams, Baylor
No RGIII, no problem for Terrance Williams, who dominated opposition to lead the nation in receiving. Unfortunately, Williams measured poorly at the Senior Bowl, measuring shorter than advertised and having very small hands.
Williams can put those issues aside, though, with a strong performance at the combine. He needs to show that despite his hand size, Williams is a strong hand catcher. He also needs to display that he can run the full route tree effectively after running Baylor's gimmicky offense.
Defensive Line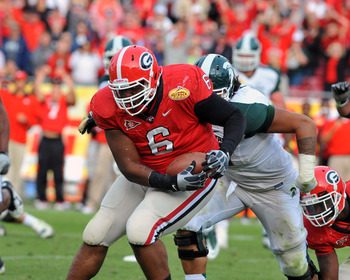 Al Messerschmidt/Getty Images
The Ravens will be looking defensive line early and often in the draft this year. They have a glaring need at nose tackle, and they could also use some depth at defensive end as well.
With that in mind, don't be surprised if the Ravens take multiple players at the position. Here are a few to watch:
John Jenkins, NT, Georgia
The Ravens have a gaping hole at nose tackle, and John Jenkins is accustomed to filling gaping holes. He's a massive space eater, capable of clogging running lanes and forcing surprising pressure as well.
When looking at nose tackles, scouts are looking at burst off the line, strength and body type. They are prone to looking sloppy, so scouts will want to see that Jenkins carries his weight well. They'll also pay close attention to his burst in the first 10 yards of the 40-yard dash.
Jesse Williams, NT, Alabama
The Australian nose tackle is renowned for his strength and size. Despite his inexperience, Williams is also a solid all-around football player capable of clogging running lanes and pushing the pocket.
Like Jenkins, scouts will want to see Williams' body type and burst. The Ravens love their Alabama products, so keep an eye on Williams.
Datone Jones, DE, UCLA
Datone Jones is an athletic freak, with solid speed at 280 pounds and elite strength. There is a very good chance he will blow up the combine after a solid performance at the Senior Bowl.
The Ravens will keep an eye on Jones, who could provide an excellent rotational defensive linemen early in the draft. He could be a workout warrior, so he'll definitely be fun to watch.
Margus Hunt, DE, SMU
If the Ravens are looking for an athletic freak, then Margus Hunt is the stud of the draft. He is huge at 6'8" and 280 pounds, freakishly strong and extremely fast as well. All that has translated into Hunt being both an excellent, but raw football player, and a world-class thrower in track and field.
His testing numbers will be through the roof. What will be really interesting to watch will be how Hunt performs in the positional drills. I want to see if he's fluid, explosive off the line and quick with his hands. If he does well in those regards, Hunt is worthy of a first-round pick.
Devin Taylor, DE, South Carolina
While we're talking about freakish athletes, Devin Taylor has to come to mind. He is enormous, at 6'8" and 267 pounds, with the room to grow significantly. With his ability to cause disruption, Taylor is reminiscent of Arizona Cardinals stud defensive end Calais Campbell.
Like with Hunt, I have concerns about Taylor's ability to move with fluidity. If he can display solid quickness, Taylor could prove to be worth a shot.
Joe Kruger, DE, Utah
The Ravens might lose a Kruger this offseason, as Paul Kruger hits free agency. Why not add another Kruger to take his place?
Paul's brother, Joe Kruger, is bigger and stronger, with the frame to become a defensive end in the Ravens' 3-4 scheme.
Kruger is not exactly renowned for his athleticism. He needs to display burst and quickness to move into the middle rounds.
Linebacker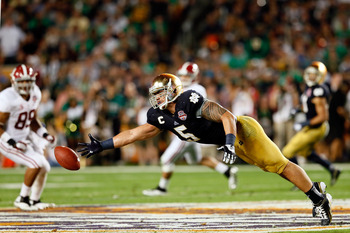 Kevin C. Cox/Getty Images
The Ravens have a big need at inside linebacker, and they need some pass-rushing help. Needless to say, they'll be taking multiple linebackers in this draft. Here are a few to watch:
Alec Ogletree, ILB, Georgia
I've gone on the record many times about how much I dislike Ogletree as a prospect. He gets engulfed by blockers way too easily to be a quality run defender in the NFL.
That having been said, I'm in the minority. Ogletree is a well-regarded prospect who should blow up the combine with an excellent 40-yard dash. His interviews will be more important, though, as he's had multiple run-ins with the law.
Manti Te'o, ILB, Notre Dame
Like Ogletree, Te'o needs to ace the interviews and prove that he won't be a distraction in an NFL locker room.
Unlike Ogletree, Te'o also has a lot to prove in the athletic drills. His speed and quickness are both questionable, so he needs to perform well to cement his first-round status.
Jarvis Jones, OLB, Georgia
Surprisingly, Jarvis Jones is falling down draft boards. If he falls far enough, the Ravens could manage to get the steal of the draft in the Georgia linebacker.
Jones has nothing to prove on the field, but his health is a concern. At the combine, he can prove beyond a shadow of a doubt that he is healthy and ready to perform in the NFL.
Chase Thomas, OLB, Stanford
The Ravens could use more speed and athleticism in their linebacking corps, and Chase Thomas offers that. He is smaller than the Ravens' prototypical edge-defender, but he is explosive and a sound football player.
Since the Ravens value strength at outside linebacker, they'll want to see Thomas perform well in the bench press and show some pop in the positional drills as well.
Brandon Jenkins, OLB, Florida State
One of the most underrated prospects in the draft is Brandon Jenkins. Once a potential first-round prospect, Jenkins endured a foot injury that sidelined him for most of the season and destroyed his draft stock in the process.
If healthy, Jenkins should display excellent burst. The Ravens will want to see if he's healthy and in shape.
Cornerback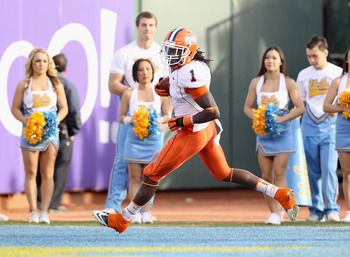 Ezra Shaw/Getty Images
The Ravens don't have a glaring need at cornerback, as Lardarius Webb, Corey Graham and Jimmy Smith should form a decent trio. They could look for depth, though, and these two players are especially intriguing:
Terry Hawthorne, Illinois
Terry Hawthorne has the ideal size and man-coverage ability to compete in the NFL. He had an excellent 2012 season, but his lack of ball skills has resulted in Hawthorne being considered a mid-round prospect.
The Ravens will want to make sure Hawthorne has the requisite quickness, but they'll be more interested in how he performs in the positional drills, especially those that emphasize ball skills.
Jordan Poyer, Oregon State
Like Hawthorne, Poyer is an ideal man defender, capable of shadowing opposing receivers. Poyer's main knock is his size. At 182 pounds, Poyer is extremely thin.
The Ravens will want to see that he looks solidly built and has the frame to add weight.

Safety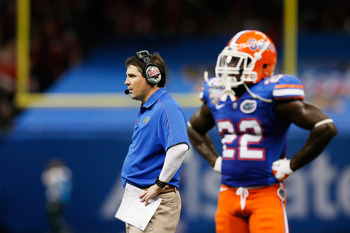 Kevin C. Cox/Getty Images
If Ed Reed moves on as expected, the Ravens will need a replacement. There are a few players that could fill that role:
Matt Elam, Florida
Perhaps the most complete safety in this draft, Matt Elam can hit hard, play the run and play excellent pass defense. There really are few negatives with Elam.
The Ravens will be interested to check in with Elam in the interviews. He has had two alcohol-related incidents on campus, so teams will be sure to ask about them.
Bacarri Rambo, Georgia
Like Elam, Rambo is an SEC safety who stands out on tape. He flies around the field and makes splash plays. Further, Rambo could be on the board in the middle rounds for the Ravens.
Like Elam, though, Rambo has had some personal issues, and his athleticism isn't quite as good as Elam's. He will need to show quickness and fluidity to cement his middle-round status.
Jonathan Cyprien, Florida International
Cyprien gained some recognition when he was listed as Mike Mayock's No. 3 safety. To be honest, I don't know much about this kid, so I'll be looking forward to seeing him in action.
No doubt the Ravens have done their research about Cyprien, though. They'll be looking forward to seeing the rising prospect in person.
Keep Reading

Baltimore Ravens: Like this team?