Virginia vs. Duke Basketball: 5 Keys to the Game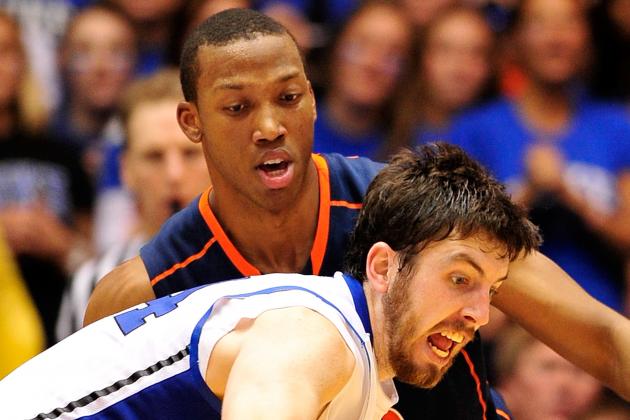 Grant Halverson/Getty Images

With February quickly marching to a close, teams are desperate for wins entering the most important stretch of the season.
For Duke, Miami's stumble at Wake Forest gave the Blue Devils hope in stealing the regular-season ACC title with a huge showdown with the Hurricanes this weekend in Cameron Indoor.
Duke needs to cement their place as a top seed come March, and reports of Ryan Kelly's wish to return to the team for the senior night finale against Virginia Tech (h/t Associated Press) provides quite the wind to the sails of the Blue Devil race toward greatness.
Standing in their path, though, are the Virginia Cavaliers.
Mike Scott's graduation has not slowed the surprising Charlottesville bunch, as a strong freshman class and the maturation of junior shooter Joe Harris has made Virginia a pesky team threatening for an NCAA tournament bid of their own.
They know the importance of this matchup in the John Paul Jones Arena, a place where Virginia has won a school-record 15 games in a row.
These two teams certainly have everything to play for and are both coming into this game in great form.
So what does Duke have to do to avoid a potential road stumble?
How can Virginia blow up the ACC standings?
Let's look at the keys to the game.
Begin Slideshow

»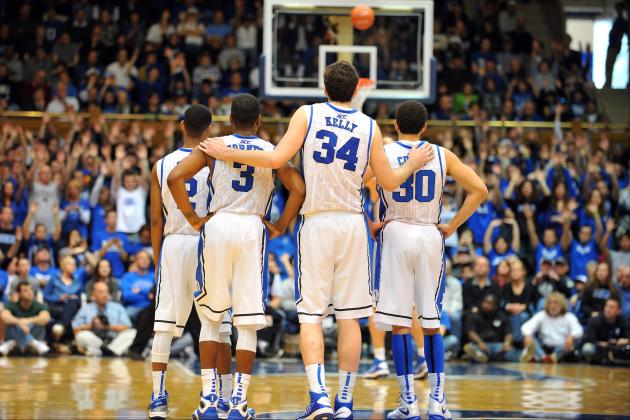 Lance King/Getty Images

Given the potential for a close game, free throws are going to play a critical role for both teams.
Great teams find ways to end games on the line, and Duke certainly has plenty of experience doing that over the years. The Blue Devils are third in the ACC at the line, shooting nearly 72 percent.
Virginia is just a few tenths of a percentage point behind at No. 4 in the ACC, but have shot 179 fewer attempts at the line than their counterparts.
Seth Curry leads Duke with the second-best percentage in the ACC, having made 80-of-97 at the line. Virginia's Joe Harris is 74-of-97, but has missed some front ends of one-and-ones in big games this season. His tendency to rush the shot late in the game has given Virginia fans grey hairs over the years.
The Cavaliers have been erratic at the line this season—seven times Virginia has shot over 80 percent at the line, and nine times they've shot under 65 percent.
Duke, by comparison, has eerily similar numbers with eight games over 80 percent, but had six games under 65 percent.
Whichever team gets into a rhythm at the line and can make sure the right guys are getting there in key stretches can control momentum. That precision could go a long way in affecting the result.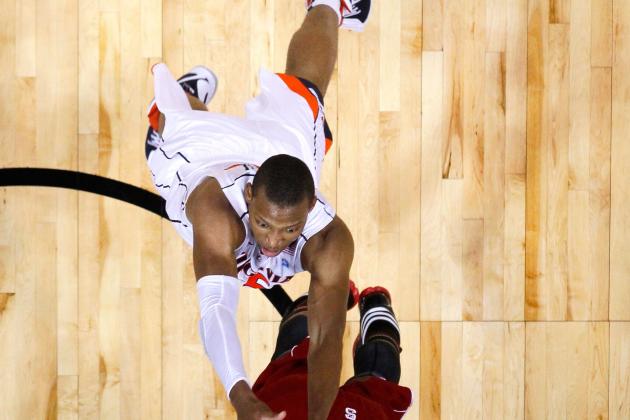 Kevin C. Cox/Getty Images

Rebounds are always going to keep teams in the game.
Virginia is desperate to limit possessions and keep the scoring low. Therefore, its defense has to be able to limit the Blue Devils to one-and-done possessions, while converting on its own end to avoid transition baskets.
The Cavaliers and Blue Devils have both had travails rebounding the ball at times. Virginia got an unexpected boost when backup big man Mike Tobey returned from a bout of mononucleosis last Sunday against Georgia Tech.
Tobey's shooting touch and aggressiveness on rebounds has been an excellent complement to the veteran Akil Mitchell, who has been the sole healthy big man on the roster for the past few weeks.
Virginia will need depth in that position to take on Mason Plumlee. Mitchell struggled against Reggie Johnson of Miami and committed mental errors and silly fouls against North Carolina the game before.
He returned to form with a dominant performance against Georgia Tech, but will need to stay in the right mindset against the talented Duke squad. Mitchell cannot afford cheap moving screen calls and getting lost on switches.
Duke will also need to watch the boards due to Virginia's deadly sharpshooters behind the arc. If Duke gives up offensive boards, Joe Harris and Evan Nolte can make them pay from deep.
Rebounds will be a key to either taking the air out of Charlottesville or keeping the noise level up.
Big players step up in big games.
For Virginia, this is the most talented team the Cavaliers have played all season, and defending these types of athletes is going to be a difficult task.
We all know the talent and ability of All-ACC defender Jontel Evans of the Cavaliers, but Justin Anderson has the spectacular athleticism to be the difference-maker for Virginia in this contest.
Not since Adam Hall has Virginia had a highlight-reel player of Anderson's caliber. It was Hall's two slam dunks in the 91-89 victory over Duke in 2001 at University Hall that catapulted the team to the top and sent the crowd into a frenzy.
Anderson blossomed in ACC play, scoring in double figures five times in a six-game stretch to boost Virginia's ranking.
However, in the biggest games, Anderson's box score is strangely absent. In Virginia's victories against Wisconsin, North Carolina and North Carolina State, the freshman swingman scored six points combined.
Anderson has moved to the power forward position due to the injuries sustained to the Cavalier lineup and has battled hard, despite being outsized. His passing and discipline have improved, but they are going to be under intense pressure on Thursday.
It will take more than hustle on defense, though, for a Virginia victory. Anderson's offensive passing and scoring will be required to push the Cavaliers over the hump.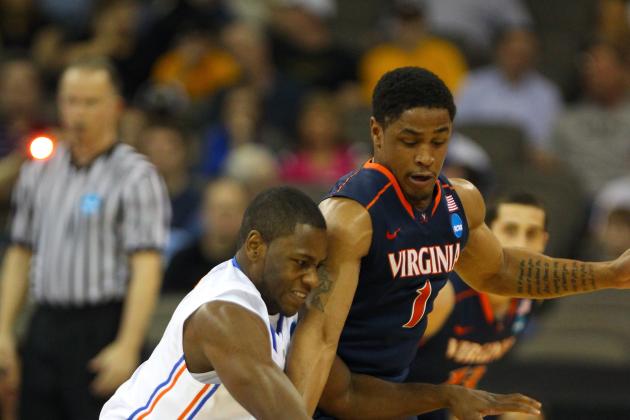 Doug Pensinger/Getty Images

There are contrasts in style, and then, there is this particular game.
Duke shoots the ball almost as well as any team in the country. The Blue Devils average just over 78 points per game—ninth most in the country.
Virginia, by comparison, takes the air out of the ball and grinds it out. Their 64.4 points per game is 253rd in the country.
While the Cavaliers have proven they have enough offense this year to play a higher-paced game, Virginia knows that it is ultimately not the game they want to play.
Hopefully, they learned that lesson after their road loss to North Carolina. Virginia entered the locker room at the Dean Dome tied 40-40 at the half before falling behind the pace and losing 93-81.
It was the first time in coach Tony Bennett's four seasons that Virginia had scored at least 80 points and lost. The message was clear: time to tighten up the celebrated pack-line defense.
Duke will try their best to rush Virginia, and an early lead could play right into their hands.
Duke has done a good job establishing those early advantages in years past, forcing the Cavaliers out of their game.
A strong start is vital to a Duke victory on the road.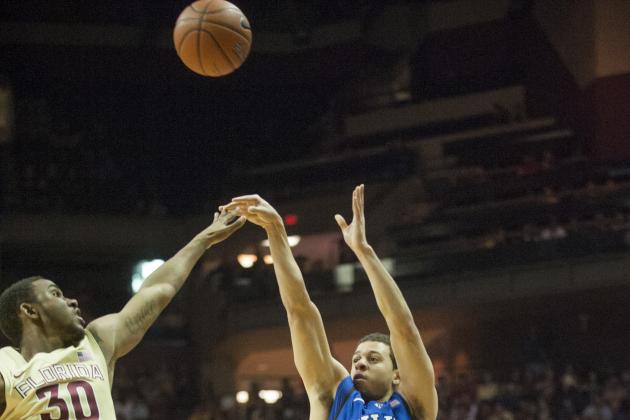 Jeff Gammons/Getty Images

No teams in the ACC love putting up treys more than these two ballclubs.
Duke has shot 485 three-pointers and leads the ACC with a shooting percentage just over 41.
Virginia is second, just a few tenths of a percentage back.
While the Cavaliers are 10th in the league overall with the number of threes attempted, but that fails to take into account their slower style of play.
Thirty-one percent of Virginia's shots have been from behind the arc, Duke, by comparison, is at 32 percent.
Ironically, Virginia's top long-range assassin Joe Harris actually broke a record for consecutive games with a three-pointer Sunday against Georgia Tech. Unlike in his first two seasons, Harris has proven to be a much more versatile offensive player this year and will drive to the basket more readily this season.
Still, his long-range prowess will be called upon, if he can get some help from Evan Nolte, Paul Jesperson, and perhaps, the hidden sharpshooter Taylor Barnette, who is a stunning 15-of-32 from behind the arc.
Duke has their own three amigos in Seth Curry, Quinn Cook and Rasheed Sulaimon. Each has over 41 treys on the year. Virginia has only one player to surpass that mark.
Home rims might be an edge for the Cavaliers, but the Blue Devils have proven that they bring their game throughout the country. Despite a road loss to Maryland and a scary scene against Boston College, they have the No. 1 RPI and constantly find a way to outplay their opponents in "winning time."
Can they do it this time?