How Does Robert Griffin III's Injury Change Redskins' Offseason Plans?
Use your ← → (arrow) keys to browse more stories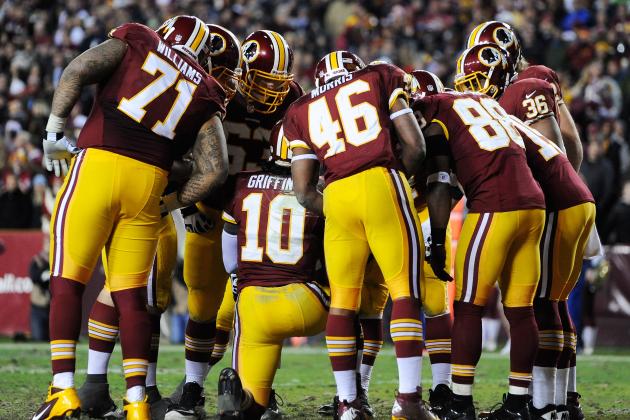 Patrick McDermott/Getty Images

While the Redskins were putting together their seven-game win streak to close the regular season and earn themselves a spot in the playoffs, fans weren't necessarily focused on offseason team needs or potential areas of improvement. They were simply enjoying the remarkable ride.
That ride, of course, has since come to an end by way of a first-round loss to the Seattle Seahawks and a crippling injury suffered by All-Pro quarterback Robert Griffin III.
Although it's reassuring to hear Griffin's rehab is coming along better than expected, be careful not to make it your football gospel. There's a reason why these particular team "sources" decided to make note of the Pro Bowler's injury status just two weeks before the team's season ticket renewals are due.
Whether RG3 is ready to go by late August or not, the Redskins' offseason plans have taken on a new direction following the injury to the most electrifying player to ever put on the burgundy and gold.
The Redskins defense has obvious holes, particularly in the secondary at both the cornerback and safety positions. And while no one should expect the front office to ignore it, focusing on RG3 will be the team's first priority.
As mentioned in last week's article, the Redskins will need to make sure their new version quarterback is well-protected. Left guard Kory Lichtensteiger didn't show well in his contract year after returning from ACL surgery, and right tackle Tyler Polumbus was statistically one of the worst tackles in football last year.
The team seems to like last year's draft pick Tom Compton to play the right tackle spot, but do they trust him enough (yet) to step in and start the season? He played against weaker competition at South Dakota in college and was a sixth-rounder that didn't see a single snap last year.
Matt Sullivan/Getty Images
Despite the glaring weakness at cornerback, if the Redskins plan on using more of Griffin from a traditional pocket, the offensive line takes the lead.
In addition to protection, a more indirect asset for Griffin and the Redskins will the quarterback's arsenal on offense. Landing Pierre Garcon and Joshua Morgan last summer paid dividends for the Redskins, but the position isn't fully solidified. There appears to be a lack of confidence in Leonard Hankerson as he enters his third season, veteran Santana Moss will be 34 in July and counts more than $6 million against the cap, and the team could desperately use a receiver with consistently sticky hands.
Because head coach Mike Shanahan has a reputation for taking late-round shots on running back prospects, most will assume the Redskins take that route come April. But I wouldn't expect the running back in this Redskins class to be a flier.
Assuming they use one of their seven draft choices to select one, a running back will be taken solely for the reason of necessity. The Redskins offense needs speed, some sort of receiving threat out of the backfield and a guy that can help lighten the load for the workhorse Alfred Morris. If the Redskins are lucky, they find all of those things in one player.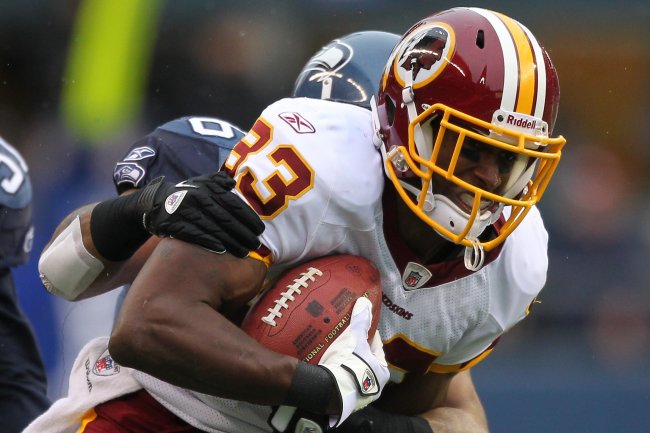 Otto Greule Jr/Getty Images
With an $18 million cap penalty looming, the Redskins will also need to get creative with their finances this spring. In addition to Santana Moss, veterans London Fletcher and DeAngelo Hall are heavy against the cap next year. While Fletcher is set to make $5.5 million in the final year of his current deal and turns 38 in May, Hall is due $7.5 in 2013 and anything less than cutting and re-signing him to a new, more team-friendly deal would appear to be a gunshot in the financial foot.
If the Redskins are going all in on Griffin's protection, the future of those two veterans is in serious jeopardy. They're aging, they're pricey and they could very well become casualties of the unannounced "Protect RG3" campaign.
Tight end Fred Davis could be another guy that doesn't return next season. Although he's a direct asset for Griffin and the Redskins offense, he's coming off a serious Achilles injury and without contract. Hitting him with the franchise tag wouldn't make for the friendliest of cap numbers and the team may view paying a right tackle as money better spent.
Despite a season that took the most unexpected of turns and resulted in a division title and trip to the playoffs, RG3's injury changes things. It changes the way the Redskins shape their priority list.
I'm not implying the team ignores addressing the defense, or passes up a top-tier safety if he lasts to the latter part of the second round, but the Redskins' analysis and strategy has been altered following such a crucial blow to the franchise's most important asset.
With how effective the offense was last season, and how regularly porous the defense was, the assumption is that the Redskins plug holes on the defensive side and allow the offense to develop and progress with the unit in place. But let this be the first bug in your ear to suggest a draft and free-agency period that's heavy with offense and focused on improving the surroundings for RG3.