San Francisco Giants: 4 Most Intriguing Position Battles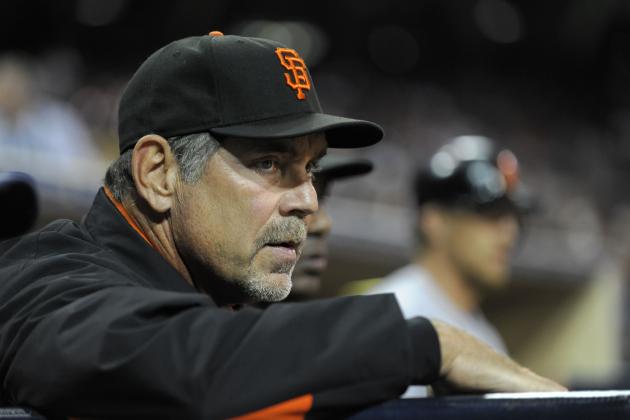 Denis Poroy/Getty Images
Bruce Bochy is back for his seventh season leading the Giants.
The San Francisco Giants are fresh off their second World Series championship in three seasons. GM Brian Sabean was able to retain all of their top position players and 11 of their 12 pitchers from 2012.
This should have been a fairly relaxed spring for Sabean and manager Bruce Bochy. However, due to the World Baseball Classic, that will be far from reality.
Ten Giants players will be participating in the WBC and the concern is whether these players will get in the work necessary to start the season in proper condition and ready to go.
Bochy and pitching coach Dave Righetti are most concerned with six pitchers, Vogelsong, Romo, Casilla, Affeldt, Lopez and Mijares, all of whom are playing in the WBC. After a long winter break, these pitchers will be gearing it up much more quickly than they would under normal spring training circumstances.
Injuries and fatigue can play a major role in any season, and it bears watching whether any of these six will have trouble this year.
The absence of the 10 players from many of the Giants' normal spring training games means other players will get more of a chance to display their abilities against major league competition.
With the core of the team returning, there are not many roster spots with open competition is prevalent. Barring injury, the Giants have four intriguing battles that will determine who makes the team and what their role will be. Let's take a closer look at these four roster spots.
Begin Slideshow

»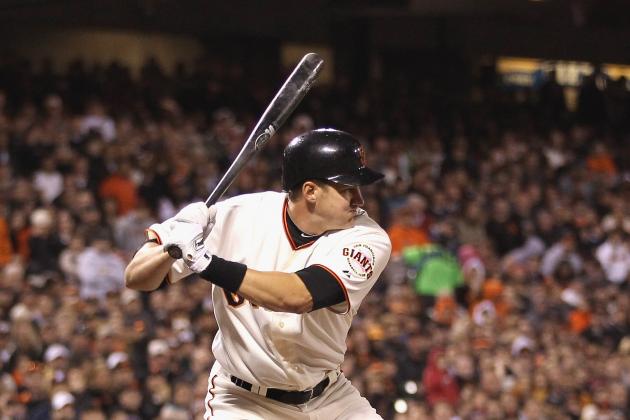 Ezra Shaw/Getty Images
Brett Pill hit four home runs in 2012.
The San Francisco Giants will most likely carry six infielders. The starters appear set with Brandon Belt, Marco Scutaro, Pablo Sandoval and Brandon Crawford. One of the utility jobs will go to Joaquin Arias, who can play second, short or third.
This leaves one potential utility job available in the infield. After the Giants acquired Scutaro prior to the trade deadline in 2012, Arias and Ryan Theriot held two of these spots. Theriot is currently unsigned and would like to find a situation where he will have a greater opportunity to play.
This leaves few options for this final roster spot. Infielders Nick Noonan and Conor Gillaspie are candidates, but they both look like Triple-A talent at this stage.
Brett Pill had some flashes for the Giants in 2012 as he hit four home runs and drove in 11 runs. Pill has good power, but pitchers quickly found holes in his swing and reduced him to a .210 batting average.
Pill is primarily a first baseman, and although he can play left field and second base, would be a defensive liability at either of those positions. With the Giants planning to play Buster Posey at first base periodically, it'll be difficult for Pill to see any time on the field this season.
Wilson Valdez is a veteran and if none of the younger players step up, could win the job by default. He will be 35 years of age in May and has virtually no upside. Valdez has been a career utility-man and is not a good hitter. He is a good defensive player and would provide value defensively in double-switch situations.
Brock Bond, who last year in Fresno played mostly second and third base, is also in the mix for this job. Bond had a good offensive year, hitting .332 with an OBP of .422 and OPS of .820. Bond will not provide any power as his four home runs in six minor league seasons proves.
In 2012, Bond had an excellent walk rate, as he drew 48 walks compared to only 41 strikeouts, in 395 plate appearances. Defensively, Bond is a better at second base and below average at third.
Tony Abreu was recently claimed off waivers from the Kansas City Royals. He is 28 years of age and split time between between Kansas City and Omaha, the Royals' Triple-A affiliate. Abreu is a career .252 hitter over parts of four big-league seasons.
Abreu did hit .322 at Omaha last year, but only drew 14 walks in 453 plate appearances. As a free-swinger with little power, Abreu must do a better job of getting on base consistently.
The most intriguing possibility is Japanese infielder Kensuke Tanaka, who the Giants signed to a minor league contract in January. Tanaka is 31 years of age and has played his entire career in Japan with the Nippon Ham Fighters.
In 2012, the second baseman hit .300, with three home runs, 32 RBI and 13 steals. Tanaka had his best season in 2010, when he batted .335 with five home runs, 54 RBI and 34 steals.
A fundamentally solid player, Tanaka would be asked to pinch hit, get on base, bunt runners along, play solid defense and also provide some speed off the bench.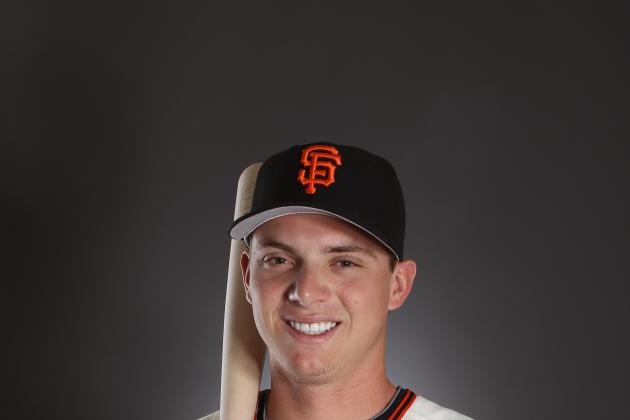 Ezra Shaw/Getty Images
If Gary Brown has a big spring he has a chance to make it.
The Giants appear set with four of their five outfield positions. Angel Pagan, Hunter Pence and Gregor Blanco should start most games with Andres Torres platooning with Blanco and playing against left-handed pitchers.
That leaves the fifth outfielder as the only remaining job among position players. There are several candidates for this coveted spot on the major league roster.
Brett Pill, who was discussed earlier, is one option. His weak defensive skills in the outfield minimize his chances, unless he tears the cover off the ball this spring.
Francisco Peguero is an intriguing option. A notorious free swinger, Peguero needs to gain a better command of the strike zone, or he will never see a decent pitch to hit.
Peguero is a gap-to-gap hitter without a lot of power; he has a lifetime average of .305 in seven minor league seasons. Now 24, it's time for Peguero to take the next positive step in his career. He is a good defensive player with a very strong arm. Peguero also runs well, which is an asset both on the bases and defensively.
Roger Kieschnick had his progress hindered by injuries in 2012. He has always shown good offensive skills and an ability to drive in runs. In 55 Triple-A games and only 222 at-bats last year, Kieschnick hit .306 with 15 home runs and 40 RBI.
Kieschnick had an good OBP of .376 and his OPS of .980 was outstanding. Defensively, Kieschnick is average at best, but if he has a good spring he could win a position on the big league roster.
Gary Brown is the wild card in the outfield mix. He is the Giants' top prospect among their position players and has had some extremely good stretches in the minors thus far in his career.
In 2012, Brown played with the Giants' Double-A affiliate, the Richmond Flying Squirrels. He got off to a slow start, but came on as the season progressed. Brown finished 2012 with a batting average of .279, seven home runs, 42 RBI, 73 runs score and 33 stolen bases.
Brown's OBP was .347 with an OPS of .731. The Giants are grooming Brown to be their center fielder and leadoff hitter within the next year or two.
Ideally, the Giants want Brown to get at least half a season at Triple-A Fresno. The Pacific Coast League is a hitters league and the Giants would like to see Brown excel before they make the move to bring him to San Francisco.
Of all the prospects for this job, Brown is the best defensive player. However, if he's not going to play regularly for the Giants, it would be beneficial for them to give him more Triple-A at-bats.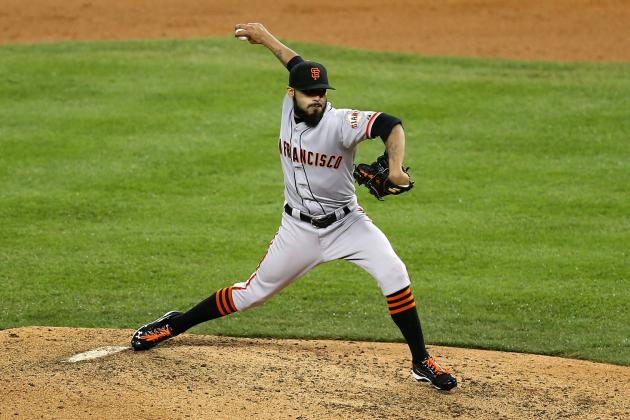 Christian Petersen/Getty Images
Sergio Romo will take over the closer job full-time in 2013.
The Giants have historically carried 12 pitchers and we should expect nothing different in 2013. After the five-man starting rotation, there will be seven relief pitchers on the squad.
Barring injury, six of the positions are already occupied by Romo, Jeremy Affeldt, Javier Lopez, Santiago Casilla, Jose Mijares and George Kontos. This leaves only one remaining available spot.
There are several candidates for the final spot in the bullpen. This pitcher would ideally be able to throw more than one inning and also be utilized as a spot-starter, should the need arise due to a rainout, an illness or injury.
The candidates for the final spot include Scott Procter, Jean Machi, Dan Otero, Dan Runzler, Steve Edlefsen, Yusmeiro Petit, Ramon Ramirez, Chad Gaudin, Brett Bochy and Heath Hembree.
Proctor is a 36-year-old journeyman who pitched in Korea in 2012. In 2011, his last season in the majors, Proctor was ineffective with an ERA of 7.14 and a WHIP of 2.008. Proctor's last good season in the majors was in 2007, so he is definitely a long shot.
Machi is also a journeyman and finally made it to the majors in 2012. He is 31 years of age and needs to break through and solidify his status as a big league pitcher.
Otero and Edlefsen appear to be Triple-A level pitchers, but they will have a chance to compete for the job nonetheless.
Runzler has outstanding stuff and can be dominant when he's on. However, he has struggled with his consistency and staying healthy. He's also a lefty, so his best chance would be if he can beat out Mijares. It's highly doubtful the Giants will keep four lefties in the bullpen.
Petit could be a valuable addition as he has experience as a starter and a reliever. He spent most of 2012 as a starter with the Giants' Triple-A affiliate in Fresno, and even got a call-up for one start, which occurred due to a rainout.
Ramirez was a contributor to the Giants' 2010 world championship, then was traded, along with Andres Torres, following the 2011 season to the Mets for Angel Pagan. Ramirez had a subpar year in 2012, with an ERA of 4.24 and 1.461 WHIP, the highest of his career.
If Ramirez can regain his form of 2010 and 2011, when he was with the Giants, he has a good chance to make the opening day roster.
Gaudin signed a minor-league deal with the Giants and will get his shot to compete for the final relief role. He is a true journeyman, having played with 8 different organizations in his ten year career. He also spent two separate stints with the A's and Yankees.
Gaudin will need to do much better for the Giants than he has done in recent history. Not since 2006, with six full seasons in between, has Gaudin crafted an ERA below 4.40.
The other Bochy in camp is Bruce's son Brett, who is a hard-throwing right-hander. Brett earned his way to spring training with a very strong 2012 showing at Richmond, the Giants' Double-A affiliate. Bochy threw 53.1 innings and allowed only 29 hits, while walking 18 and striking out 69.
Bochy was forced to miss the latter part of the season due to arm fatigue. He had Tommy John surgery in 2010, but has recovered nicely, as his 2.53 ERA and 0.881 WHIP proves. Bochy was the closer for Richmond, collecting 14 saves.
Brett has a definite chance to make the roster, regardless of whether his dad is the manager.
The Giants are really hoping that Heath Hembree seizes the job. Hembree has a live arm and could be a closer in the future. In three minor league seasons covering 107.1 innings, Hembree struck out 143 hitters. His WHIP is a very solid 1.118.
Hembree suffered from elbow trouble which forced him to miss some time last season. If he's healthy and proves he's ready for the majors, he would be a big addition to the Giants' bullpen.
Although it's very unlikely, there is the outside chance that Brian Wilson will opt to return to the Giants. If that were to occur, Wilson would definitely capture one of the relief roles, provided that he's healthy.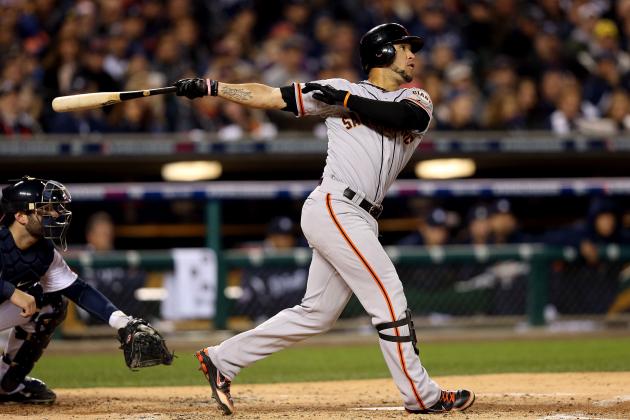 Ezra Shaw/Getty Images
Gregor Blanco will open the season as the starting left fielder.
Gregor Blanco stepped to the forefront for the Giants after Melky Cabrera was suspended. Blanco hit only .244 last year, but did have an OBP of .333. He is a base stealing threat and had 26 steals in 2012.
The Giants had hoped to add a strong right-handed bat in left field, but were unsuccessful. They did acquire Andres Torres, who was a key performer in the Giants' 2010 world championship season; however, Torres is coming off two consecutive poor seasons.
If Torres plays well, Blanco will need to perform up to his capabilities in order to keep the starting job. Ideally, Blanco is a fourth outfielder and Torres a fifth, but they will each move up one notch.
Defensively, both Blanco and Torres are outstanding and the hope is that they can combine to provide enough offense to merit their place in the lineup.
The wild card in the outfield could be Gary Brown. The Giants would like to see Brown play at least half the season and have success at the Triple-A level. However, if he has a big spring, he could make the Opening Day roster.
Brown needs to play more than anything else, which makes it even more likely that he starts the season in Fresno.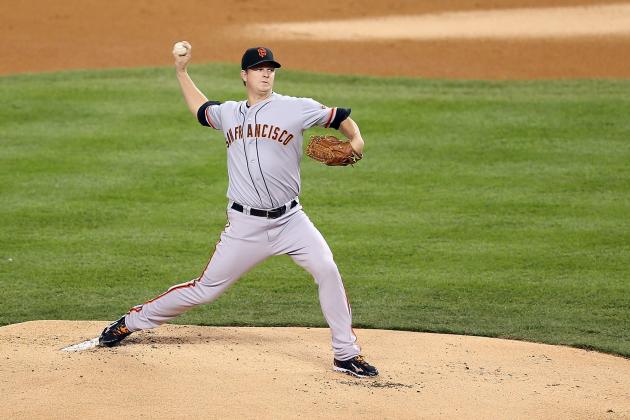 Christian Petersen/Getty Images
Matt Cain has become the leader of the Giants pitching staff.
The San Francisco Giants have their work cut out for them this year. They return all of the key players that contributed to the 2012 World Series championship team. They were unable to add any players that could be considered difference-makers in the offseason, however.
The Giants will face stiff competition from the Dodgers and Diamondbacks for the NL West crown. Los Angeles is spending money like no other team in baseball. They have several All-Star-caliber players including Adrian Gonzalez, Matt Kemp, Andre Ethier and Hanley Ramirez, and also have two of the best pitchers in baseball with Zack Greinke and Clayton Kershaw.
This is a deep and talented roster with money to burn. The real question is whether Don Mattingly get the most out of these individual stars and bring them together as a team.
Arizona is much improved and has a good, young pitching staff. They also jettisoned the mercurial Justin Upton and are hoping for addition by subtraction.
With the change to two wild-card entries for the playoffs, the Giants should have an excellent chance to make the postseason even if they don't win the division. Once in the playoffs, as we saw last year, anything can happen.