5 NFL Trades That Make Sense This Offseason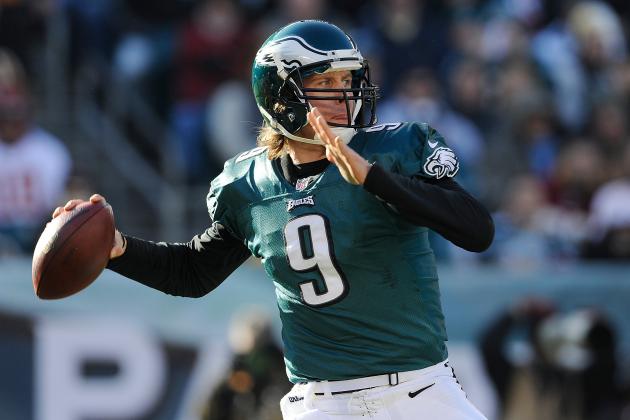 Patrick McDermott/Getty Images

With free agency and the 2013 NFL Draft quickly approaching, every NFL team will do what it deems necessary to improve the state of its franchise.
However, teams and players may benefit from trades this offseason.
This list looks at potential NFL trades that make sense this offseason. Some players need a fresh start and some teams need a fresh spark this upcoming season. With trades, both sides believe they will be benefiting and will do whatever it takes to take their franchise to the next level.
Here are some trades that make a lot of sense heading into the 2013-14 NFL Season.
Begin Slideshow

»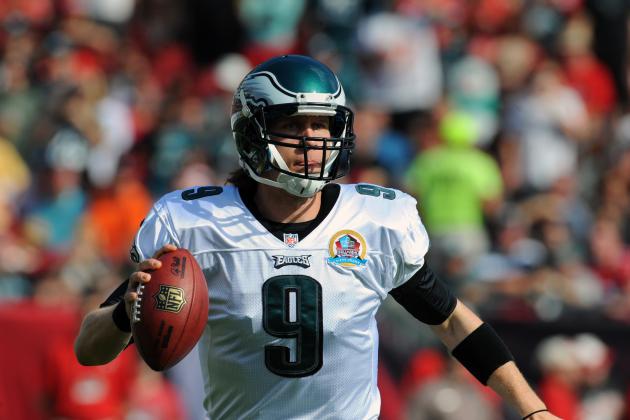 Al Messerschmidt/Getty Images

2012 Stats: Seven games played, six starts, six touchdown passes, five interceptions, 1,699 passing yards, 79.1 passer rating
The Skinny: Nick Foles is a young quarterback who generally impressed last season. The Philadelphia Eagles have a new explosive offense from new head coach Chip Kelly and the team reworked Michael Vick's contract and added Dennis Dixon, who played for Kelly at Oregon, to the roster. Having three quarterbacks makes Foles expendable and due to the fact that Vick and Dixon are more athletic than Foles, the two may be a bitter fit in the new offense.
Kansas City won't go to the promise land under Matt Cassel and own the No. 1 pick in the 2013 NFL Draft. New head coach Andy Reid coached Foles in Philly last season and knows what he would be working with. Like the Eagles did with Kevin Kolb a few years back, the organization has the opportunity to sell a relatively unproven player for a high cost.
What it will cost: Philadelphia has made it very clear that if they are going to make Foles available in a trade, it will come at a high cost. Kansas City will most likely have to surrender its No. 1 overall draft pick this year or a second round pick this year and first round selection in the 2014 NFL Draft. The Eagles want a first or second round pick and the Chiefs want a franchise quarterback. Given the history between Reid and Foles, and ability for Kansas City to trade for him, a potential deal is possible this offseason.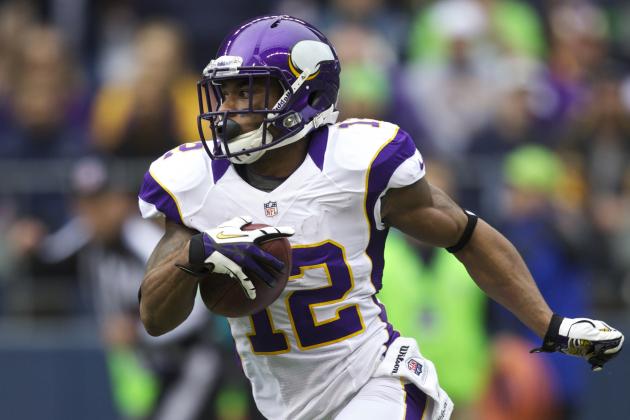 Stephen Brashear/Getty Images

2012 Stats: Nine games played, eight starts, 62 receptions, 677 receiving yards, three receiving touchdowns, 96 rushing yards, one rushing touchdown
The Skinny: Percy Harvin is one of the most athletic players in all of football. Before injuries cut short his 2012-13 NFL season, Harvin was in the MVP conversation. He makes deep plays in the passing game, can be used in special formations to rush the ball and is extremely elusive returning punts and kickoffs.
However, Harvin is not happy with his role in the Minnesota Vikings offense and deserves to be featured more on a pass happy team. The Vikings will always be a run-first team for as long as Adrian Peterson wears No. 28 for the purple and gold and that will hinder Harvin's opportunities on offense.
The St. Louis Rams have a franchise quarterback in Sam Bradford, but no targets or playmakers around him. Steven Jackson will be in a different uniform in 2013 and the Rams will be more involved in the passing game this season. Harvin would be the featured player who defenses game plan around, and offenses mold their system around.
What it will cost: The Vikings will not just give a high caliber player away and any potential deal figures to cost St. Louis a fortune. But let us not forgot that the Rams got filthy rich in the 2013 NFL Draft from the Washington Redskins in 2012. The Rams are in dire need of a premier threat on offense and have the 16th and 22nd overall selections in the 2013 NFL Draft plus the luxury of a handful of future selections. The Vikings will only be willing to sell Harvin at a high cost and the needy Rams have the capability to give Minnesota what they will want in compensation.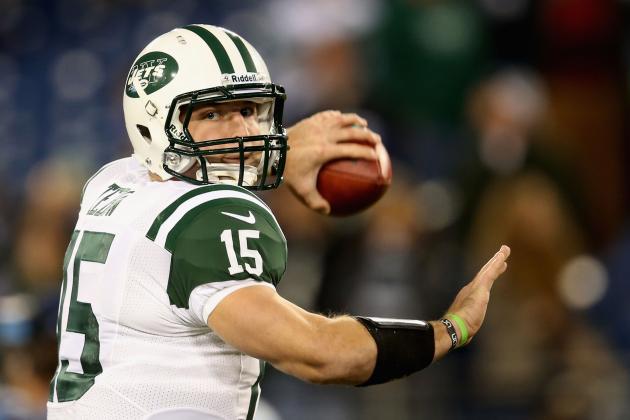 Andy Lyons/Getty Images

2012 Stats: 12 games played, two starts, 39 passing yards, 84.9 passer rating, 102 rushing yards
The Skinny: Love him or hate him, the way the New York Jets dealt with Tim Tebow last season was an absolute crime. In the 2011-12 NFL Season, Tebow took over the 1-4 Denver Broncos, led them to the AFC West title, earned a thrilling Wild Card victory over the highly touted Pittsburgh Steelers and led the team in New England for the Divisional Round.
Tebow was a decoy, if anything, last year for the Jets. His work ethic is second to none and while he was disrespected throughout the entire process, he stayed respectful and mature. Having said that, Tebow cannot wait to get a fresh start and the Jets cannot wait to rid themselves of the media frenzy that comes with Tebow.
Believe it or not, there actually are football teams that respect and value Tebow for the man he is and the player he is. The Jets would be wise to shop Tebow to get at least something back in compensation and the Arizona Cardinals are an intriguing landing spot.
The Cardinals are currently stuck in a messy quarterback situation with Kevin Kolb, Ryan Lindley and John Skelton. New head coach Bruce Arians is an offensive guru and would be able to utilize Tebow's talents into the offense. That could mean a variety of things for Tebow and the Cardinals but Arians is much too wise to keep such a talent rotting on the bench and a fresh start in a new conference will benefit Tebow.
Tebow might get a shot to be the quarterback or might have a unique package meant to glorify his skill-set. The Cardinals are a class act with a classy coach in Arians and regardless if Tebow is the starter from day one or water boy from day one, the team and organization will treat him with respect.
What it will cost: The Jets will probably be more than happy to deal Tebow for a 6th or 7th round draft pick. The Jets want to rid themselves of Tebow just as much as Tebow wants to go somewhere where he is respected and valued. The low cost for Tebow will come with high upside and potential for the Cardinals, who would give up a late round selection only to guarantee that No. 15 doesn't wonder off in free agency. The Cardinals could be getting the 2011 version of Tebow which was the winning version and the Jets get something for someone they value at nothing. Win-win.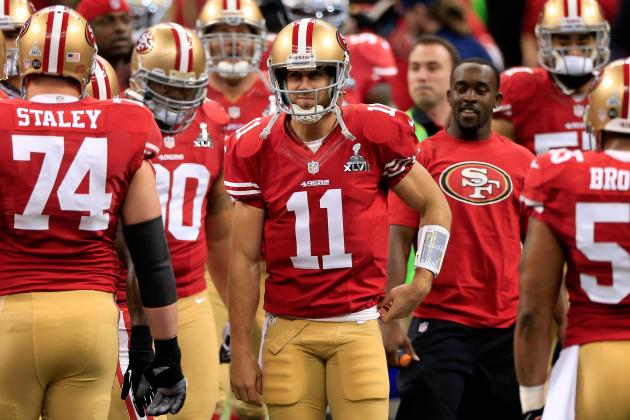 Jamie Squire/Getty Images

2012 Stats: 10 games played, nine starts, 13 touchdown passes, five interceptions, 1,737 passing yards, 104.1 passer rating
The Skinny: Alex Smith proved he was a very capable quarterback in the 2011-12 season when he threw for 3,144 yards, 17 touchdowns, five interceptions, a 90.7 passer rating and was one score away from reaching the super Bowl. He had another strong start to the 2012-2013 Season before an injury led to the incredible Colin Kaepernick taking over and leading the San Francisco 49ers to the Super Bowl.
The emergence of Kaepernick left Smith in the dust but he shouldn't find himself holding a clipboard this season. Smith will try his best to test the open market this March, but the NFL is a business and San Francisco might try to guarantee his rights to a team by dealing him in a trade to obtain something in return.
The Cleveland Browns don't appear happy with giving Brandon Weeden the job this season and Weeden expects there to be a quarterback competition. Smith would provide Cleveland a smart player who doesn't turn the ball over and moves the chains on long scoring drives.
Smith might have benefited from a strong ground game in San Francisco but has the smarts to be a good player in Cleveland. He has playoff experience and leadership that would be instrumental in helping a young football team grow into AFC North contenders. There continue to be unofficial rumors swirling around about Weeden's future in Cleveland and until they cease, Smith will continue to be linked to the Browns.
What it will cost: The 49ers won't be particularly greedy in any trade, if they trade Smith at all. They do have the right to shop Smith to benefit their squad, but it will come at a mid-round draft pick, possibly a 4th or a 5th round selection. The Browns are still looking for a quarterback and Smith is a smart and capable player that doesn't make many mistakes. San Francisco would be happy to get something for Smith and the Browns would welcome the improvement at the quarterback position.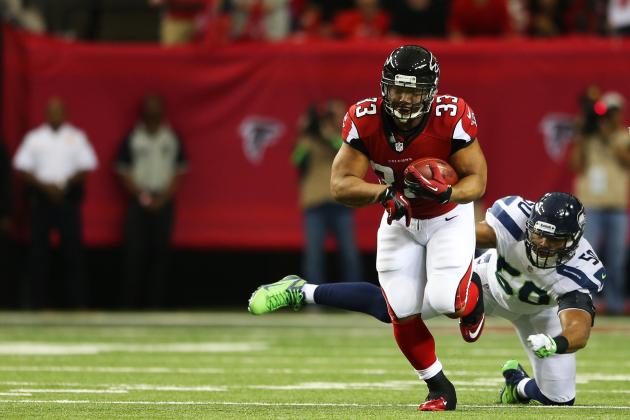 Mike Ehrmann/Getty Images

2012 Stats: 16 games played, 16 starts, 800 rushing yards, 3.6 yards per carry average, 10 rushing touchdowns, 128 receiving yards, one receiving touchdown
The Skinny: The Atlanta Falcons have gotten a lot out of Michael Turner, as he has racked up 1,411 carries and 6,081 rushing yards in five seasons. All of the wear and tear has taken its tole on Turner and his 3.6 yards per carry average is the worst it has been in his nine year career.
The Falcons have a young and explosive player in Jacquizz Rodgers and Rodgers has slowly but surely been chipping away at Turner's carries in Atlanta.
The Falcons may straight up release Turner and his contract heading into this upcoming season, but would be wise to get some compensation for him.
The Green Bay Packers are a pass-first team but when that phase of the game is struggling, they need a capable back to run effectively. Turner has enough left in the tank to allow for the Packers to become less predictable and to give Green Bay quality touches every game.
Since his role won't be to carry 25 times a game, Turner will be fresh and effective whenever called on and his presence alone could put the Packer offense over the top and back into Super Bowl contention.
What it will cost: Turner would probably be available at a 4th or 5th round draft selection, as he isn't the elite player he once was but his career is far from finished. The Falcons appear primed to take off with Rodgers running the ball and Green Bay hasn't had a quality running back since Ahman Green was in his prime. This trade gives Atlanta some value for a player that may be straight up released and gives the Packers a legitimate threat in the rushing attack.