Arsenal vs. Bayern Munich: What Wenger's Key Players Must Do to Win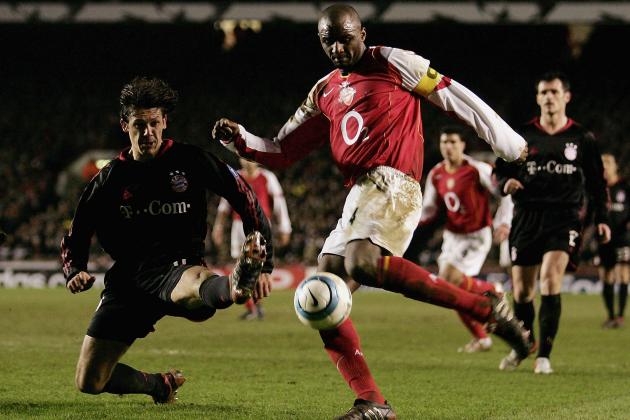 Shaun Botterill/Getty Images
Arsenal's last meeting with Bayern ended in defeat
Two very different teams will line-up in the Emirates stadium on Tuesday night: Arsene Wenger's Arsenal, a team consisting—in almost equal parts—of extraordinary talent and youthful naivety; and Jupp Heynckes' Bayern Munich, a team that positively bristles with German steel and industry.
Both sides have endured contrasting campaigns.
Bayern sit comfortably on top of the Bundesliga, with 14 points separating them and second-place Borussia Dortmund, and are undefeated away from home in the league all season with only one defeat overall.
Meanwhile, Arsenal flounder just outside the Champions League places with only three wins and two defeats in their last six games.
As with any Champions League knockout round, both teams have a fair chance of progression, but there are a number of factors that are potentially decisive. Despite it feeling like we will be saying this indefinitely, Arsenal are a team in transition—at least, far more so than Bayern.
For the North London club to break Bayern's typically steely resolve (strengthened by their fantastic form), it is going to take star turns from several key players.
Begin Slideshow

»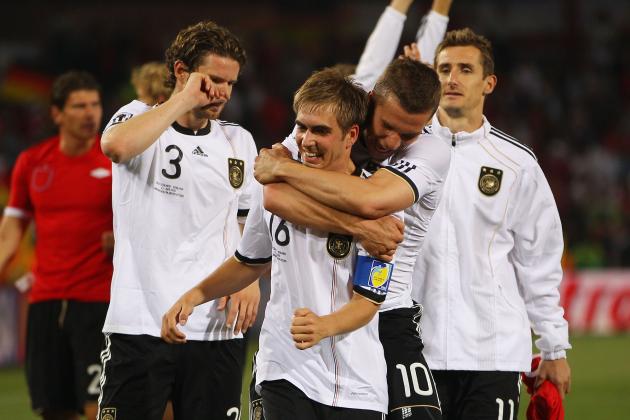 Michael Steele/Getty Images
Podolski knows Lahm well from Bundesliga and international appearances
An interesting battle will be the one between Lukas Podolski and Philip Lahm.
Podolski is well-acquainted with many of the Bayern squad from his time with Cologne and the German national team, and therefore finds himself with a distinct advantage over the rest of his side. Arsenal and Bayern have not met since 2005, so Podolski must make the most of his knowledge of the opposition and use his experience to help out his relatively novice team-mates.
However, breaking down Lahm on his own is a task enough.
Bayern manager Jupp Heynckes will be aware of Podolski's threat, and will no doubt deploy midfield rock Javi Martinez as support for the Bayern left-back. Podolski needs to be wary of Lahm's speed and being caught on his heels should he be dispossessed down the left; recreating his Premier League form (he is currently joint highest on assists with nine) is a minimum requirement for this fixture.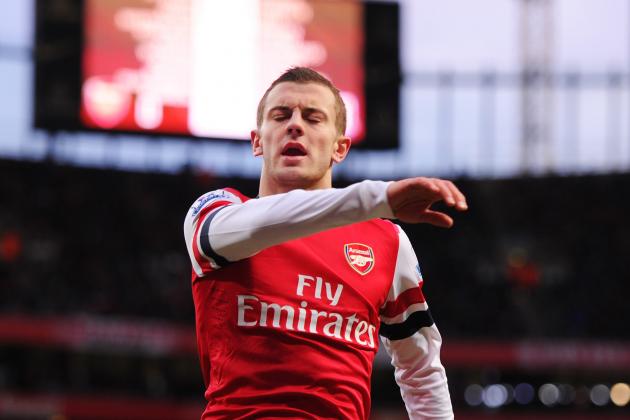 Michael Regan/Getty Images
Wilshere will find himself at the centre of Arsenal's plans
Arguably both Arsenal's finest and most promising player, Jack Wilshere is the key to bypassing Javi Martinez and Bastian Schweinsteiger.
The 21-year-old came off 15 months on the sidelines to re-establish himself as Arsenal's first choice midfielder, and though currently out injured (while he is a doubt for this weekend's FA Cup match against Blackburn, it is possible he will return for Tuesday), he has been proving his reputation as a complete footballer.
Wilshere's slight frame when squared up against the imposing (to put it minimally) Schweinsteiger and Martinez will be a concern for Wenger, but for a manager who has always valued technical ability over force, Wilshere is one of the best he could rely on.
With the even smaller Santi Cazorla by his side, Arsenal's talisman just needs to keep his opponents on the move and not allow them to get face-on. Wilshere and Cazorla will have to depend on Podolski to draw Martinez out of his pocket, and then effectively exploit the space that opens up as a result.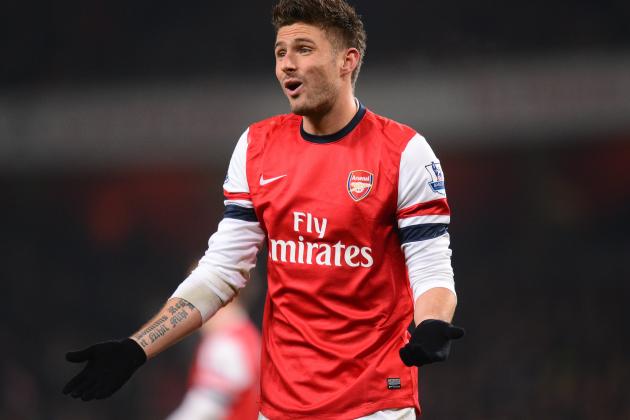 Mike Hewitt/Getty Images
Olivier Giroud could find himself omitted from the starting line-up
Choosing whether to select Olivier Giroud must be causing Arsene Wenger a headache.
The Frenchman has netted nine times in 25 appearances since joining from Montpellier in the summer, but for every chance taken there are plenty that weren't. Giroud's main asset is his head, but up against the might of Dante or Van Buyten, who are both adept in the air, he may quickly become a peripheral figure.
Two recent goals in the Premier League may have increased his stock, but they have done little to dispel the widespread belief that when it comes to the big games, the Frenchman seems to always be a couple of inches lower than he should be.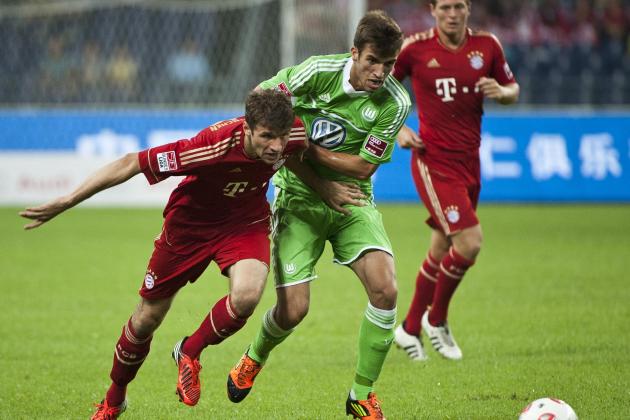 Victor Fraile/Getty Images
Bayern's attacking power is propelled by the speed of Muller and Ribery
Arsenal's first priority should be not to concede, as letting Bayern take an away goal to the Allianz Arena would lower their chances of stealing a victory there from miniscule to nil.
There is a debate over who will fill the left-back role on Tuesday, a decision for Wenger that could very likely determine the outcome of the tie, let alone the first leg. Kieran Gibbs, albeit not the most solid, would probably be the first-choice if he was fit.
Unfortunately for Wenger, his back-up options are even less convincing. Arsenal will probably be forced to choose an experienced centre-back over an inexperienced natural left-back, though it probably will not make a difference either way.
Thomas Muller, Franck Ribery and Arjen Robben are all superior players to any defender that Arsenal could oppose them with—not only do all three have astonishing pace and ability, they are all established internationals with stellar resumes. Up against an Arsenal back four that has been too easily breached this season, the Bayern forwards will know that the left-back position is there to be exploited.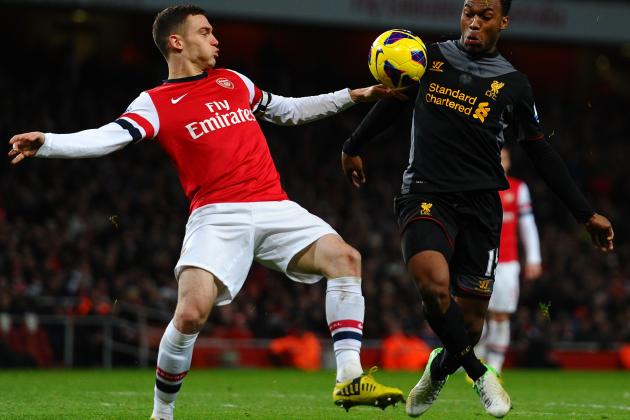 Laurence Griffiths/Getty Images
Thomas Vermaelen, if fit, will have to find the form that has eluded him this season
Regardless of the hammering they can expect at both full-back positions, Arsenal's central buffer needs to turn in a flawless performance. With Thomas Vermaelen awaiting a fitness test and even then quite likely to start at full-back, it is up to Koscielny, Mertesacker and Arteta to hold the line.
However leaky Arsenal's defence has appeared this season, that all needs to be forgotten against a team in such startling form that one mistake could prove to be the killer.
Mario Manzukic has been unerring, scoring 14 in 19 appearances. Mario Gomez, who may not have been getting the game time he would like, is more than capable of providing goals on big occasions.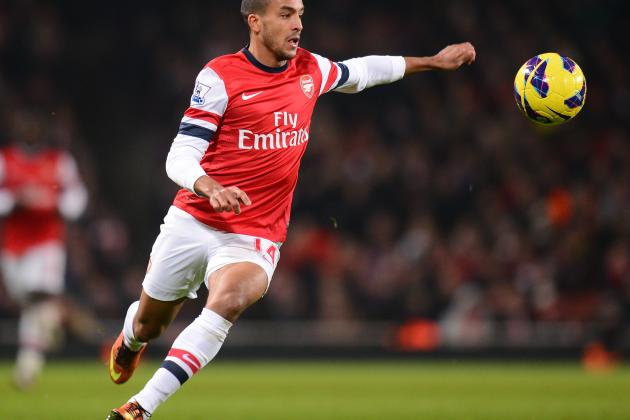 Mike Hewitt/Getty Images
Theo Walcott must have a dead-eye in front of goal
With all that said, how much pressure is there on Theo Walcott?
The forward is enjoying the more central role that he so desired, repaying Wenger's trust in goals, which is in turn making his confidence soar. In one year, Walcott has gone from a 'cross-cum-shot' erratic winger to a forward with a lethal eye for goal—but he's not the complete package yet.
Walcott has the pace to get behind Alaba, but, taking Manuel Neuer's aerial ability into account, will need to cut low balls across the area with pinpoint accuracy.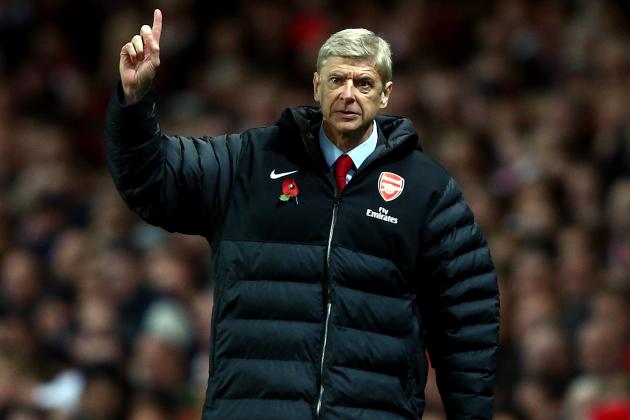 Clive Rose/Getty Images
Arsene Wenger must instill confidence in his players
What Wenger needs is for his best players to hit the top of their ability. To do that, he must convince them that the eleven men opposite them are not superstars, but merely footballers, and beatable ones at that.
If Arsenal, who have struggled against some of the Premier League's apparently inferior opposition, are to defeat one of Europe's best and most rounded sides, they will have to perform better than they have all season. Even in the home leg the odds are stacked against them, but as it's been said before, anyone can win it on the night—just think of Barcelona at the Emirates in 2011.
Wenger's boys will have to become men if they are to have any chance at all (as well as quieten the rumour mongers that point to a lack of effort as the reason for their lacklustre season). There can be no room for errors that necessitate late heroics, as so many of their games have required this season.
The spectacular comeback from 4-0 down to a 7-5 victory in the League Cup at Reading? Concede one in this game, and the tie could already be over.