Golden State Warriors: How One Play Can Save the Season
Ezra Shaw/Getty Images

The NBA All-Star break was supposed to be a chance to sit back, bask in the glow of the franchise renaissance and root for the first Warrior All-Star since the Clinton administration.
Instead, a five-game losing streak has left Dub Nation wondering: "Should we freak out? I'm kind of freaking out."
Well, worried Warriors fans, step back from the ledge and realize this club is still incredibly young, has exceeded all expectations and remains on track to make the playoffs for the second time in 20 years.
But while you are back there taking in this broader positive perspective, you can't ignore that this Warriors team has the same fundamental flaw that doomed so many other Golden State squads – they don't get easy buckets.
Over the past month the Warriors have devolved back to a team that wins when their shooters are hot and loses when they go cold. Even with elite long-range guys like Thompson and Curry, that's a recipe for a .500 record, which would be a serious bummer after such a hope-filled start.
Mark Jackson and Co. need to get back in the kitchen over the break and cook up a way to come up with wins, even on a less-than-stellar offensive night.
Begin Slideshow

»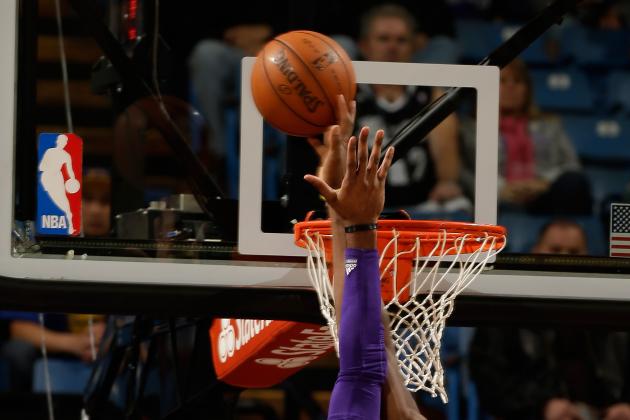 Ezra Shaw/Getty Images

The best remedy for a cold shooting streak is to play great defense, which at one point seemed like a viable option for Golden State.
In hindsight, the Warriors early run of superior defense was an illusion created by inferior opponents and unsustainable effort.
The Dubs rely on three players who are terrible one-on-one defenders (Lee, Curry, Thompson), and over the grind of the NBA season, eventually they were going to be exposed.
The Warriors will need to improve their team D in the second half in order to stay competitive, but they won't be able to lean on it consistently to get W's.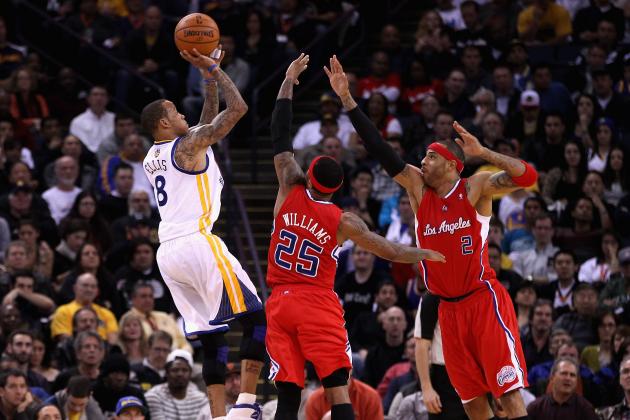 Ezra Shaw/Getty Images

The second-best way to respond when the shooting goes south is give the ball to an elite offensive player and get out of the way.
Kevin Durant on the wing, Zach Randolph on the block, LeBron James anywhere on the court – these are offensive options that consistently result in a bucket or a foul, regardless of how the defense is playing.
Though strange to say for a team as offensively talented as the Warriors, they don't have anyone who can create his own high-percentage shot on a regular basis.
Curry and Klay rely too much on deep jumpers and Lee and Landry can be shut down by longer defenders.
If Jarrett Jack could switch bodies with Harrison Barnes, that would work, but as it stands Jack's shots require too much degree of difficulty to count on consistently.
After the days of watching Monta Ellis run the clock down and heave up a runner, I can't say I'm crushed to say that hero ball is no longer an option for Golden State.
Jim McIsaac/Getty Images

Without the ability to lock down on defense, or an elite scorer to lean on in crunch time, the Warriors have to develop a bread-and-butter offensive set they can turn to when the going gets tough.
No more clear-outs for Jack. No more Curry and Klay fall-away threes.
The Warriors need an offensive initiative that can consistently deliver high-percentage looks, even when the defense knows it's coming.
The obvious option for the Warriors should be the high pick and roll. Curry's ceiling was always supposed to be Nash 2.0, so why can't he execute the pick game with Lee like Nash did with Stoudemire?
My guess is the Warriors don't push the pick and roll because Jackson doesn't trust Curry handling the ball in the clutch—which is a valid concern—but they could swap with Jack during crunch minutes and still run essentially the same thing.
For the moment, let's assume the pick and roll game is out for some reason. Next option could be to run the offense through Bogut and Lee on the block, à la Divac and Webber on the cowbell Kings.
This would, of course, require Bogut to be healthy, but both Dubs big men are good passers capable of being offensive cogs in a crunch-time offense. Both guys are also skilled enough offensively to punish defenders who cheat off them to clog passing lanes.
Curry and Klay could also excel in this system, running through handoffs and flare screens, and punishing defenders backdoor who overplay to stop them from getting wide open threes.
Ultimately, the onus is on Jackson and his coaching staff to identify and install an offensive set that works for this roster.
Whether that means calling up Rick Adelman or coming up with something really cool that I don't even know about, it has to happen fast.
A slow start to the second half, and it really will be time to panic around the Oracle.