WWE: 4 Reasons Why Ryback's Moment of Fame Has Come and Gone
Photo Courtesy CreativelyEndeavored.com
Ryback is in a match against The Shield while teaming with John Cena and Sheamus, showing WWE believes he could be one of the top three faces.
But for all his recent main event involvement, Ryback's moment of fame has come and gone for the time being. That isn't to say that he will never be a main event wrestler again.
However, with The Rock, John Cena and CM Punk tying up the WWE title, and Dolph Ziggler, Mark Henry, Big Show, Sheamus and Alberto Del Rio in the World heavyweight championship, Ryback may have a difficult time staying relevant as a top-card talent (unless this happens and Ryback can get involved).
Here are four reasons why.
Begin Slideshow

»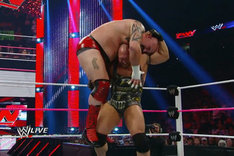 Photo Courtesy WWE
Unfortunately for Ryback, he has (perhaps unfairly) garnered a reputation for botching moves.
His infamous botch of the Shell Shock on Tensai is something every member of the Internet Wrestling Community has seen. While many will argue that Tensai "sandbagged" on the move, Ryback also botched the same move against Paul Heyman at a house show a few weeks later.
As with Tensai, many people argue that Ryback got no assistance from Heyman.

Regardless of whether or not Ryback got "sandbagged" on one or both moves, he's now unfortunately got the stigma of botching moves. WWE may not trust him in big moments again until he can prove consistently that he won't botch another big spot.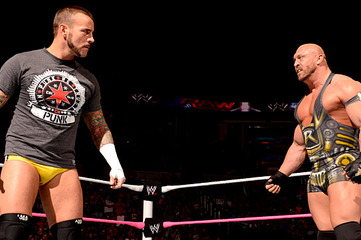 Photo Courtesy WWE
In the last few months, WWE has shown a willingness to have Ryback in big moments.
He has been one of the final two people in the Royal Rumble. Now he's in a six-man tag team match with the top two faces in WWE, Sheamus and John Cena, and will face perhaps the top heel group in WWE today, The Shield.

Beyond that match, Ryback doesn't seem to have anywhere to go. There are no obvious feuds in the near future for him, and just throwing him into another group feud will only further marginalize him.

Without a complimentary wrestler, Ryback could easily fade into obscurity.
John Cena, CM Punk and The Rock are busy for the next month and a half with their WWE championship feud. If Undertaker can't return, then CM Punk could feud with Lesnar until after WrestleMania, when he can then feud with Cena once again when The Rock leaves.

And with the World heavyweight championship picture already crowded, Ryback does not seem to have a top heel to feud with.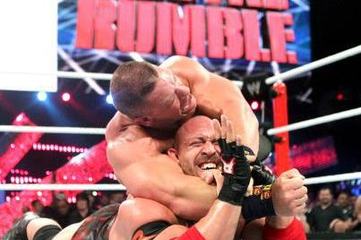 Photo Courtesy WWE
Fans may love Ryback, but that hasn't translated into big wins.
Unless I am forgetting something, Ryback has not won a big match in months. Why would WWE keep having Ryback lose, like to Cena in the Royal Rumble or CM Punk numerous times?

The answer is that WWE is afraid to pull the trigger on him.
Sheamus is arguably the top face on SmackDown, and John Cena is the same for Raw. That leaves Ryback in a tough spot. In the opinion of WWE creative, elevating Ryback to a top spot could hurt Sheamus or even Cena.

Seeing as both Sheamus and Cena are cash cows for WWE in merchandise sales, doing anything to jeopardize Cena and Sheamus' spots in the company may be a risk they aren't willing to take.
Photo Courtesy Helen Robinson/sltdwrestling.co.uk
The biggest roadblock to Ryback this year is John Cena. His detractors will often call him "SuperCena," and we should expect to see him a lot this year.

With The Rock as WWE champion, Cena is poised to gain his rematch from last year's "Once in a Lifetime" match against The Rock. But that all depends if The Rock can get past CM Punk this Sunday.
If The Rock walks out as WWE champion, it could be due to a Paul Heyman betrayal, maybe even involving Brock Lesnar. If so, CM Punk will feud with Lesnar going into WrestleMania, and Cena will face The Rock.

If Cena wins the WWE championship at WrestleMania, Ryback could then, in theory, feud with him. But that would likely mean one of them will likely be a heel, and that probably won't be Cena.

Again, with the World heavyweight championship picture so crowded, it's unlikely WWE will toss Ryback into a feud there.
None of this bodes well for Ryback, but Cena seemingly ready to take the WWE title is perhaps the biggest obstacle for Ryback. It's the primary reason that at least for now, his moment of fame has come and gone.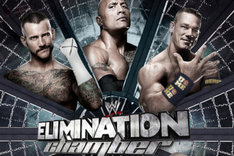 Photo Courtesy WWE
So what do you think?
Going into Elimination Chamber, will this be Ryback's last big chance to shine for a long time? Or does WWE have big plans for the Big Hungry? Discuss below.
Your comments are always appreciated.