Why Felix Hernandez Will Live Up to His New Record Contract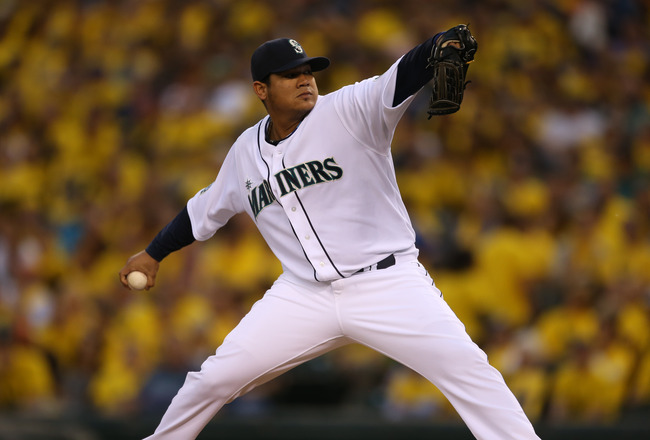 Otto Greule Jr/Getty Images
Let me be the first person to say that $175 million is a lot of money for one player, especially one who only plays every five days. But with the news that Felix Hernandez and the Seattle Mariners had finally come to an agreement on a contract, the city of Seattle isn't thinking about that quite yet. The Pacific Northwest faithful are feeling the euphoria knowing that Felix is theirs for a very long time, and that alone is enough to forget that general manager Jack Zduriencik just made Felix the highest-paid pitcher of all time.
With a contract that size, many people will wonder if Felix can ever do enough to truly live up to the money he will be receiving. It's tough to make the argument that any athlete has ever lived up to being the highest-paid ever, which is the title Felix holds now.
To outsiders and analysts, Felix will only be able to live up to this contract if he becomes one of the best pitchers to ever play the game. To them, awards and statistics are the only ways to measure success, and whether Felix will truly be a "wise" $25 million investment each of the next seven years.
But to the city of Seattle, Felix is so much more than numbers and statistics. He's more than just strikeouts, Cy Young Awards and perfect games, but that is just one of the reasons that he will live up to his new, record deal.
Let's take a look:
He's Still in His Prime
Otto Greule Jr/Getty Images
Felix Hernandez may be going into his ninth season in the big leagues, but a lot of people forget that Felix only turns 27 this upcoming April. Seattle may be giving Felix a lot of money, but there is no better time in his career to give it to him than now.
Even when the contract runs up, Felix will only be 32 years old, which is only a year older than CC Sabathia was when he signed his current extension with the New York Yankees that will run until 2016. Seattle was wise to give Felix the money now because they will be getting him in his best years.
Felix has been nothing but consistent for the Mariners throughout his eight-year career, averaging 203.1 innings pitched and nearly 30 starts a season. Sure, Mariners fans were scared recently when reports originally delayed the contract signing because of the King's elbow, but Felix has been nothing but a workhorse for the Mariners his entire career. There's no reason to think Felix will break down during his prime.
Felix has been brilliant so far in his young career. And if he was this good when he was growing up...
He's Only Going to Get Better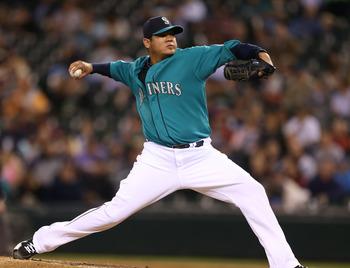 Otto Greule Jr/Getty Images
The one thing that never ceases to amaze people about Felix is that he is always finding a way to get better.
At the beginning of the 2012 season, Dave Cameron wrote on FanGraphs that he had shown some concern on Felix's velocity. Cameron pointed out that Felix came into the league throwing 95-100 mph when he was 19 but was now only throwing 90-93.
Cameron goes into more detail as the article progresses, but the point here is that Felix statistically didn't have the electric fastball that many are used to seeing. Regardless, Felix found a way to remain one of the best pitchers in the game without being able to hit triple digits on the radar gun by posting a 13-9 record with a 3.06 ERA and 223 strikeouts last season.
Truly great pitchers find ways to adjust their game to stay on top, even when they don't have the game that got them there in the first place. Felix is one of those pitchers.
Of course, it doesn't hurt proving analysts wrong, either.
Because He's Felix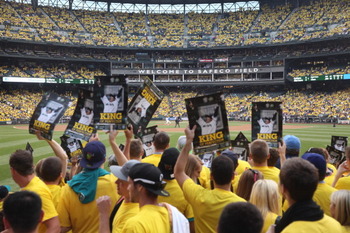 Otto Greule Jr/Getty Images
Seattle fans may honestly believe that $175 million was the least the Mariners could do to try and keep Felix in town, and who's to blame them?
Honestly, if the Mariners had given Felix $300 million over 10 years, the fans may still not have been upset. This is more than an investment for the Mariners fanbase—it's a thank you.
A thank you for sticking it out with an organization that hasn't seen the playoffs since Felix was 15. A thank you for reminding reporters after every start that he loves the city of Seattle and doesn't want to be traded. A thank you for being a part of some of the darkest times in franchise history and at points being the only shred of light a desperate fanbase had.
From attendance to merchandise to his performance on the field, Felix Hernandez is worth his weight in gold to the Seattle Mariners, and the organization knew that. In all honesty, the city of Seattle's love for Felix may border on Derek Jeter territory with the Yankees—that's how important he is.
Even if Felix doesn't become the greatest pitcher to ever play the game, there may be no way that Mariners fans ever feel that he didn't live up to the contract he was given. The devotion that Felix has for his craft and his city maybe unmatched in franchise history, and it may not be a surprise to anyone if Felix goes down as the most loved Mariner of all time.
So on April 11, when Felix walks out to toe the rubber for the first time in 2013 in front of his beloved city of Seattle, expect a long standing ovation for the one they call the King.
Because at that moment, fans won't be thinking about whether or not Felix will live up to his record-breaking contract. They will be thinking something entirely different:
All Hail the King.
Keep Reading

Seattle Mariners: Like this team?