UCLA Basketball: 5 Reasons Bruins Are Falling Short of Expectations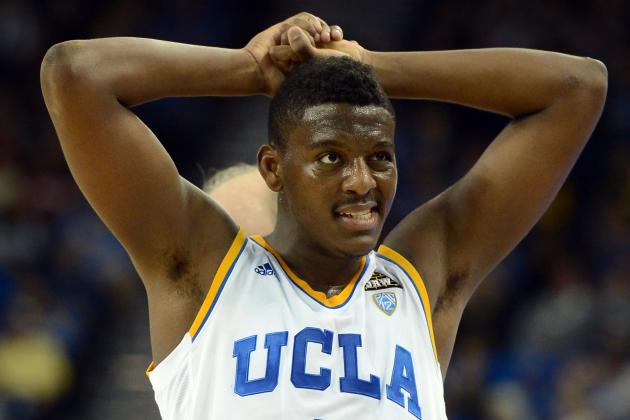 Harry How/Getty Images
Much was expected from this UCLA team, but was the bar set too high?
UCLA improved to 18-6 overall and 8-3 in Pac-12 conference play over the weekend with a 14-point victory in New Pauley against Washington State.
It wasn't a very inspired win, but a much-improved display from the Bruins' lackluster, sloppy play against Washington. Such recent struggles seem like distant history since redshirt senior point guard Larry Drew II drained a step-back jumper at the buzzer to win the game.
Yet, despite UCLA's average record and mixed collection of quality wins, this team has fallen short of expectations.
With the No. 2 recruiting class in the nation that boasted four Top 50 recruits, including the No. 1 overall recruit Shabazz Muhammad, in addition to the fact North Carolina transfer Drew's manning point guard for the Bruins, this team was expected to do some serious damage.
Bruins fans weren't the only ones who felt that way.
UCLA's top-notch recruiting class boosted Coach Ben Howland's team to No. 13 in both the AP and USA Today Coaches preseason polls and the team was consistently mentioned as a legitimate NCAA Championship contender.
Three months and a few nauseating rollercoaster rides later, this team is nowhere near achieving that goal.
The peculiar concoction of unsettling home losses to Cal-Poly and USC and wins over then-Top-10 Missouri and Arizona doesn't sit well on the stomach on the stomach of a team that showed so much promise heading into the season.
So, what exactly is the deal with UCLA? Why is this team struggling to meet its original expectations?
Begin Slideshow

»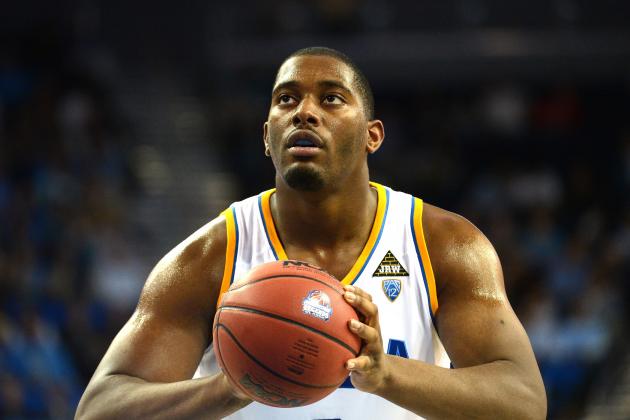 Harry How/Getty Images

The early-season transfers of center Josh Smith and guard Tyler Lamb didn't seem like they would affect UCLA much, given the talent of their freshmen. However, they have proven to be a huge blow to the team.
The two juniors were both average players and Smith never fulfilled his potential, so it isn't necessarily talent that the Bruins are lacking.
Nevertheless, their absence has thinned UCLA into a very shallow team, shortening its bench to three primary subs: forwards David Wear and Tony Parker and guard Norman Powell.
This lack of depth has forced Howland to keep his starters on the court for too long. Every one of the Bruins' starters plays an average of around 30 minutes per game (Larry Drew II: 35 min. per game), which renders them fatigued halfway through the second half.
While Smith's transfer was ultimately beneficial for UCLA, the team misses his size at 6'10", 310 pounds, realistically 340 in actuality. The extent to which his absence is missed was demonstrated in a loss to Arizona State, whose 7'2" center Jordan Bachynski tore up the Bruins in the paint.
Smith and Lamb may not have been Naismith Player of the Year candidates, but their absence has prevented the team from fulfilling expectations.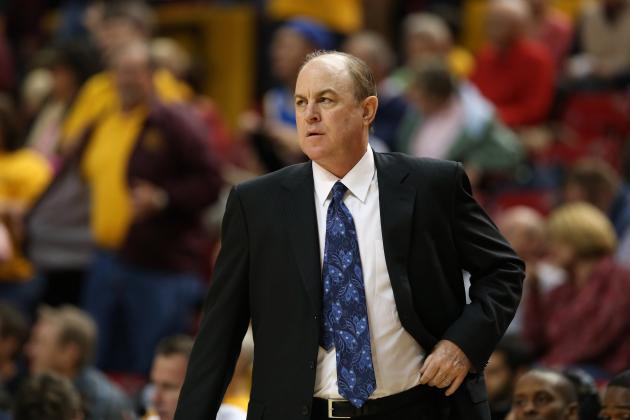 Mark J. Rebilas-USA TODAY Sports

A college coach can always expect some criticism. Disgruntled moans from fans in the crowd, fuming sports columnists all come with the territory of leading a program with such high standards.
Little did Howland know, he was only adding logs to the fire under his hot seat on UCLA's bench when he brought the nation's No. 2 recruiting class to Westwood.
Criticism has become the norm, but the degree to which Howland has been subjected to it this season is unprecedented in his tenure.
With high expectations in mind from the onset of the 2012-13 season, Bruins fans, including alumni commentators Don MacLean and Bill Walton, have been ruthlessly bashing Howland with criticism when UCLA has fallen short.
Howland knew, based on the past few lackluster seasons, that his job was on the line heading into this season. The lack of support from fans and noteworthy alumni doesn't aid him or the team.
There are some valid arguments among the spears of criticism that have been launched at Howland this season (e.g., his style of play and management of timeouts), but discussions around the particular shortcomings of a coach are best reserved until the end of the season, when the picture has taken full shape.
To his credit, coach Howland has made the transition from a half-court to a run-and-gun offense and has developed UCLA into a solid defensive team, all with one starter from the previous season.
Without the support of Westwood backing him, Coach Howland increasingly feels the overbearing pressure to win on his shoulders, which doesn't aid a man who is already a micromanager.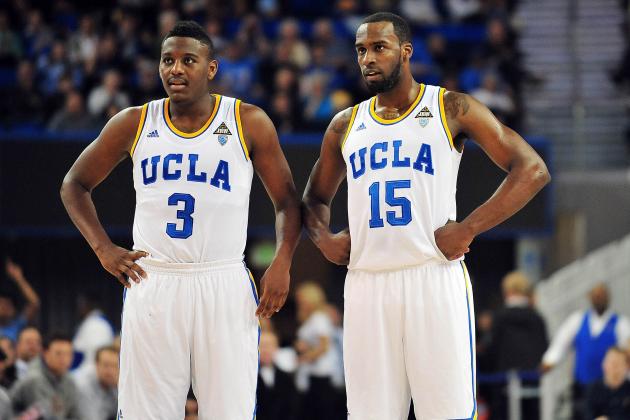 Gary A. Vasquez-USA TODAY Sports

Regardless of how touted UCLA's freshman class was, Shabazz Muhammad, Jordan Adams, Kyle Anderson and Tony Parker are still 18 and 19-year-old men who are playing their first seasons of college basketball.
While the freshmen stars continue to improve with each game, they still commit their fair share of freshmen follies.
Amid needle-threading passes from Anderson, shake-and-bake drives to the hoop from Muhammad, knock-down jumpers from Adams and emphatic slams from Parker are the typical mental errors the vast of majority of college freshmen are prone to.
Interspersed between the freshmens' finer moments are ill-advised outside shots from Anderson (a 17 percent three-point shooter) in key moments in the game, lackluster play from Muhammad in the defensive rotation, overly aggressive drives in transition from Adams leading to offensive fouls and overly ambitious defense from Parker that leads to fouls that limit his playing time.
These errors are expected from freshmen. They aren't an alarming issue unless they persist in later season.
However, that UCLA depends so highly upon this corps of talented, mistake-prone freshmen to carry this team has become detrimental to its overall success this season.
There has been no grace period for UCLA's freshmen in their first year in Westwood. The high expectations were set and these young players are expected to go out and achieve them, with alley-oops and cartwheels and the like.
To the delight of Bruins' fans, Muhammad and Adams have met or even exceeded expectations, but Anderson and Parker are both works-in-progress.
Over midway through Pac-12 conference play, the freshmen have come a long way, but it can't be forgotten that they are still in their first years of playing college basketball.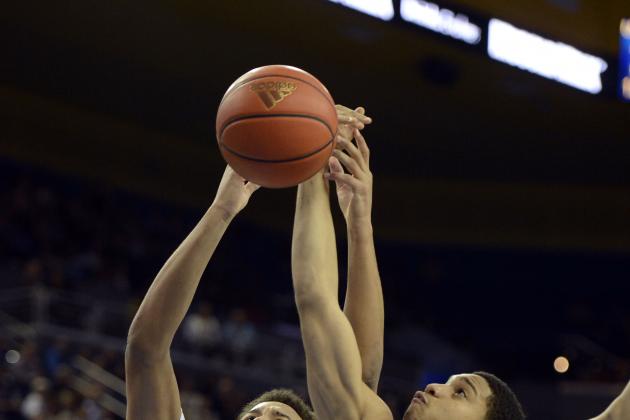 Richard Mackson-USA TODAY Sports

As talented as UCLA's star players are, the team hasn't jelled as a cohesive unit, which prevents it from achieving its full potential.
Whether the apparent disconnect between the Bruins' coach and his players sets the tone for the team or the players simply don't meld well as a unit, it's halting UCLA from becoming a national contender.
This was never more evident than after UCLA's buzzer-beater win at home against Washington.
After senior point guard Larry Drew II drained a fall-away jumper just before the buzzer sounded, he was hugged by a few teammates like freshmen Kyle Anderson and Jordan Adams and a few bench players, but it was a generally pathetic celebration given that the Bruins had just won the game.
Shabazz Muhammad, who later said he didn't join the celebration because he didn't want to risk injury, and Travis Wear didn't seem very inspired by the thrilling win, nor did the majority of the bench players.
Granted it was a sloppy game in which UCLA should have annihilated its opponent on its home court, but it nevertheless exposed the team's lack of chemistry.
Not only is this team's chemistry off, but it can't seem to find any flow on the court, which may be a byproduct of its uninspiring chemistry.
This UCLA is a very streaky team that has spurts of excellent and horrendous play within minutes. Bursts of scoring are bogged by sloppy turnovers. Impressive runs are often halted by timeouts called from the Bruins bench.
There simply is no rhythm.
Not only has this team not found rhythm in games, but it also hasn't found rhythm in the entire season as a whole.
A five-game winning streak to start conference play was followed by a loss at home to Oregon, to which UCLA responded by beating Arizona on the road—and then losing to ASU a few days later and then suffering a disappointing defeat to USC in Pauley.
Regardless of tallies in the win or loss columns, the Bruins haven't played consistently good basketball for more than a half at a time.
It's been a nauseating stop-and-go ride for this team so far.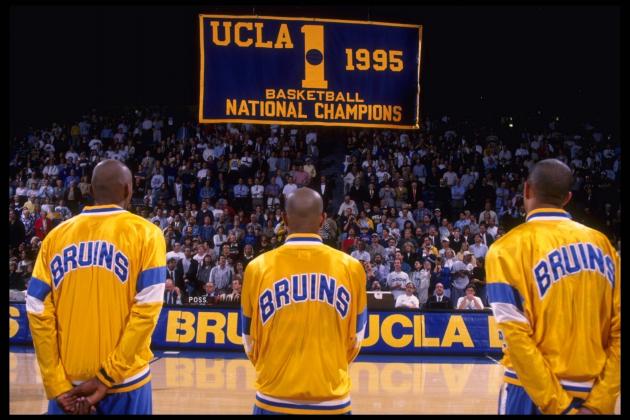 Stephen Dunn/Getty Images

There is a reciprocal relationship between the expectations and the failure to achieve them.
The Bruins are aware of the high expectations that have been set for them for this season. They understand that they are expected to finish atop the Pac-12 and make a deep run into the NCAA Tournament.
These expectations made for this team were projections from the preseason, when Josh Smith and Tyler Lamb were still wearing UCLA uniforms.
Now, only in retrospect, do we wonder: Were the expectations for this team too high to begin with? Can we now expect the same from a team that lost two players?
Bruins fans would reply with a resounding "no" because it's been a long time coming for this program. A few years of Tournament success have been followed by increasingly sub-par seasons.
Although the one-and-done culture of college basketball has made fans more eager than ever for instant gratification, it may have been overly ambitious to expect nothing but excellence who's success hinges largely on the play of three starting freshmen.
That Kentucky won the NCAA Championship with a core group of freshmen amped up the expectations even higher. However there are few similarities between that squad and this UCLA team beyond the academic years of key players.
Playing at a consistently high level with four solid players (three of whom are freshmen) is no easy task. Kentucky can attest to that this season as well. These are college players, not professional athletes.
The expectations that UCLA would win its conference are understandable, as they have the talent to do so, but the expectations that it would happen without a hiccup or two are outlandish.
Yes, the Bruins are falling short of expectations, but the expectations themselves should be reexamined before fans begin to boo and call for the coach's dismissal.