Odds on Each Non-Roster Phillies Invitee Making the Team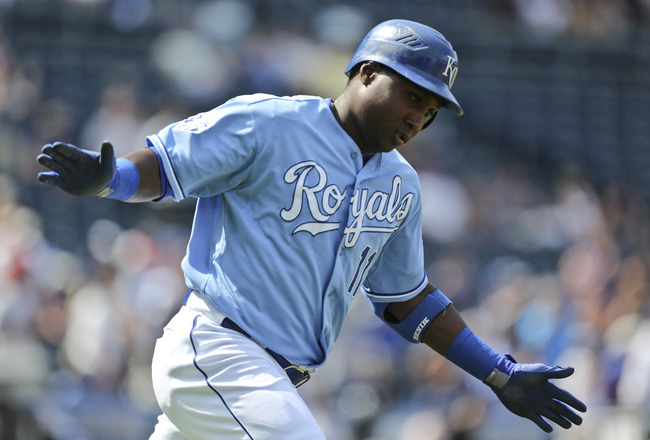 Ed Zurga/Getty Images
Spring training isn't a month to prepare for the upcoming season for everyone in camp. For some, it's a fight to make the club. It's a hard-fought battle to make sure that when the club heads north, their name is on the Opening Day roster.
Players labeled as "non-roster invitees" are guys with something to prove. They have not been added to the 40-man roster. Their contracts are not guaranteed at the major league level. These are the players who have to play some of their best baseball coming right off of the offseason if they want to play in Major League Baseball when camp breaks.
The Philadelphia Phillies will have quite a few non-roster players in camp this spring. They will be looking for the next Juan Pierre—a player that joined the Phillies on a minor league deal last spring to become one of their best performers that season.
With spring training officially underway, the Phillies have 20 non-roster players in camp this spring. In the following slideshow, we will break down each player's chance to remain with the major league club once the regular season begins on a scale of zero to 100 percent.
Zach Miner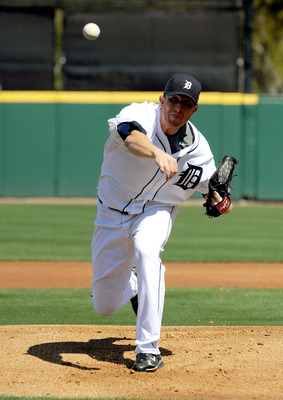 Sam Greenwood/Getty Images
Odds: 1 percent
Following his career progression, Zach Miner is likely to come into Phillies camp as a reliever this season after making 23 appearances for Triple-A Toledo (zero of which were starts), the Detroit Tigers' affiliate, last season.
While his ERA (2.50) would suggest that Miner found some success in the bullpen, do not be fooled. He struggled. Miner's Fielding Independent Pitching (FIP) was 5.14, and he walked (13.3 percent) more batters than he struck out (10.7 percent).
The Phillies could conceivably try him out as a starting pitcher, but whether it is as a starter or a reliever, Miner's chances of making the club are incredibly slim as spring training opens.
Adam Morgan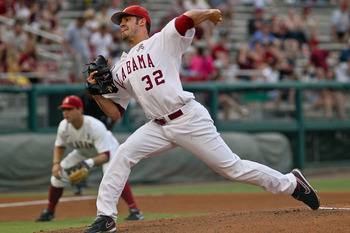 Derick E. Hingle-USA TODAY Sports
Odds: 1 percent
The odds of Adam Morgan actually making the club out of spring training are probably zero percent, but I'm not a brave enough soul to label something as "impossible" this early in camp. After all, look what he was able to do in 2012.
Morgan, drafted by the Phillies in the third round of the 2011 draft, climbed the ladder in a hurry for the organization last season, wowing scouts and earning a promotion to Double-A Reading. Entering the season, most prospect gurus have ranked Morgan in the Phillies' top five prospects, with some even going so far to call him the club's best prospect.
So, what is in store for Morgan this spring?
The Phillies are bringing him to camp to have a firsthand look at a player who could realistically be in the starting rotation by September should the Phillies call him up when rosters expand.
Until then, he could join the Triple-A rotation to start the season.
J.C. Ramirez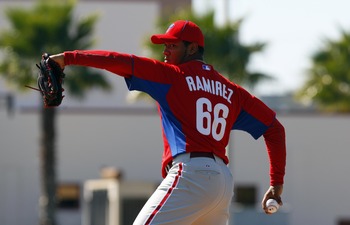 Kim Klement-USA TODAY Sports
Odds: 1 percent
J.C. Ramirez's fall from grace has been swift and harsh since he joined the Phillies as part of the infamous Cliff Lee trade in December 2009. Once one of the organization's most promising prospects, Ramirez is now one of the club's biggest disappointments.
His stint on the club's 40-man roster came to a close when the Phillies finalized their agreement with Chad Durbin and designated the right-handed reliever for assignment.
Ramirez, 24, first reached the upper levels of the Phillies' system in 2010 when he joined the Double-A Reading staff, but he struggled. In fact, he has struggled in each season since that promotion.
Now a full-time reliever, Ramirez is buried on the depth chart behind a number of exciting bullpen arms. He'll have his work cut out for him if he wants to ever have a remote chance of making the major league with this club.
Tommy Joseph
Denny Medley-USA TODAY Sports
Odds: 1 percent
Tommy Joseph isn't ready for MLB. While the Phillies will have a need for a backup catcher through the first month of the season with Carlos Ruiz suspended for 25 games, rushing Joseph is not something that the Phillies will chance, especially given their Domonic Brown experiment.
Joseph, who was acquired in the Hunter Pence trade last summer, is in camp to get a taste of the big league experience. He'll work with Ruiz and other catchers like Sebastian Valle and Erik Kratz as the Phillies attempt to groom him into their next starting catcher.
He still has some developing to do in the minors, so it wouldn't be a surprise to see him open the season in either Double-A or Triple-A.
Cody Asche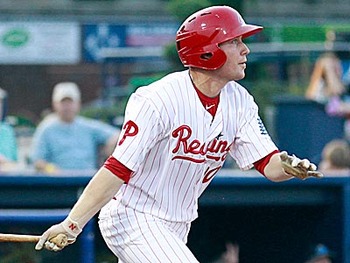 Photo via Philly.com
Odds: 1 percent
Third base will be a hotbed of activity for the Phillies this spring. Not only do they have to see what they can realistically receive, production-wise, out of Michael Young, but one of their best third base prospects, Cody Asche, will be in camp as well.
Asche, 22, was a fourth-round selection by the Phillies in the 2011 draft. After bouncing around the infield a bit, he's found a home at third base, giving fans hope that he'll be the first homegrown third baseman to do anything meaningful for the organization since Scott Rolen.
The University of Nebraska product had a fantastic season in 2012, but still has caused doubt among scouts, who cite a lack of power production and a frame that doesn't allow for too much growth.
But all Asche has done since joining the Phillies is prove the naysayers wrong, becoming both a solid hitter and defender at third base. He won't make the club this spring, but the Phillies want to evaluate him as a potential option in 2014.
Photo via Philly.com
Andres Blanco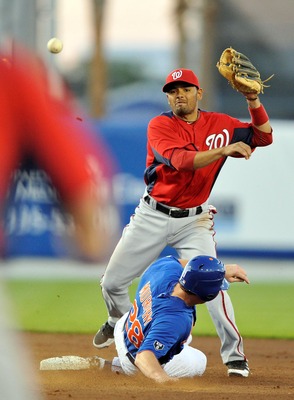 Brad Barr-USA TODAY Sports
Odds: 1 percent
Andres Blanco is a player that the Phillies are familiar with, as he spent the 2012 season playing for their Triple-A affiliate, the Lehigh Valley IronPigs.
This is a blessing and a curse for Blanco, as he didn't offer up the most impressive showing last season, posting a slash line of .235 /.301 /.346 to go along with subpar defense.
Given the condition of their starting infield, it is a good idea for the Phillies to bring a lot of infielders into camp, especially with Jimmy Rollins leaving to join Team USA for the World Baseball Classic later this spring.
However, when the regular season begins, expect Blanco to rejoin the IronPigs.
Michael Martinez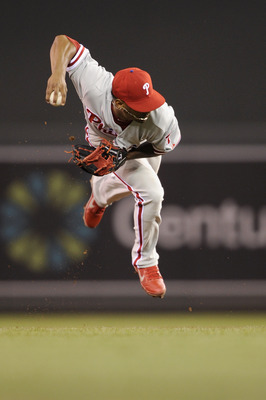 Hannah Foslien/Getty Images
Odds: 5 percent
Remember Michael Martinez? You should. The Phillies used a Rule 5 draft pick on him prior to the 2011 season, plucking him out of the Washington Nationals organization. He has somehow managed to appear in 133 games for the Phillies over a span of two seasons, and they still have nothing to show for it.
The Phillies out-righted him off of the 40-man roster last season, but have invited him to camp this spring as a non-roster player.
His odds of making the club are nearly non-existent, but his selling point is still that he can "play" multiple defensive positions, including center field, so he has a better shot than some of the other utility-types in camp.
Steven Lerud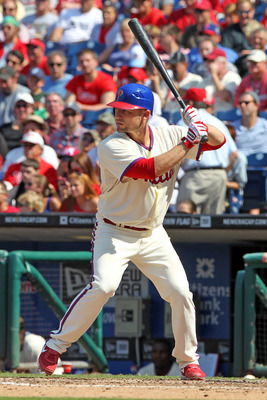 Hunter Martin/Getty Images
Odds: 5 percent
The Phillies will need a backup catcher to start the season, and Steven Lerud, who made his MLB debut last season when both Carlos Ruiz and Brian Schneider hit the disabled list, could be in the mix.
However, the more likely scenario is that the Phillies add a different catcher to the 40-man roster and Lerud opens the season in either Double-A or Triple-A as the backup to either of the Phillies' top catching prospects, Sebastian Valle or Tommy Joseph.
Lerud, who could be called the Phillies' "fourth-string" catcher in 2102, will likely find himself further down the depth chart when camp opens.
Rodrigo Lopez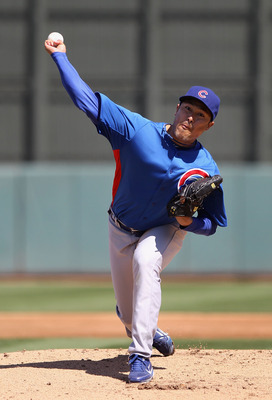 Christian Petersen/Getty Images
Odds: 5 percent
The Phillies are bringing quite a few starting pitchers to camp as non-roster invitees this spring, and one if a familiar face. Rodrigo Lopez last pitched for the Phillies in 2009, posting a record of 3-1 with a 5.70 ERA.
Now 37 years old, Lopez is coming off one of the worst seasons of his career in 2012, as he struggled both in Triple-A and at the major league level with the Chicago Cubs organization. In just four MLB starts, Lopez was 0-1 with a 5.68 ERA.
The Phillies are bringing Lopez aboard as minor league depth, and he'll likely open the season in Triple-A Lehigh Valley's rotation. He'll have to have all of the dominoes fall in his direction if he even has an opportunity of joining the club at the start of the regular season.
He will be a viable option in the event of an injury.
Joe Mather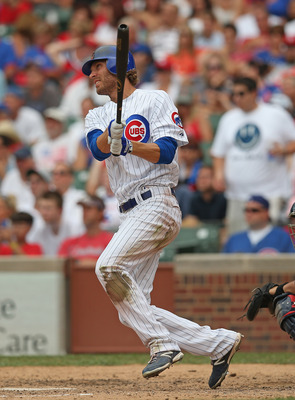 Jonathan Daniel/Getty Images
Odds: 5 percent
Joe Mather is an interesting name in camp this spring, but that's about where the intrigue ends. He'll serve a role similar to the one that Lou Montanez held in 2012. But while Montanez made it interesting, things didn't end so well for him in Philadelphia.
Mather, 30, is a former third-round draft pick of the St. Louis Cardinals. Since making his MLB debut in 2008, he hasn't done much of anything, playing an average defense—at best—while failing to tap into the raw tools that made him a solid prospect.
The Phillies could hope to catch lightning in a bottle, but Mather is likely bound for Triple-A in camp with the off chance that he can put it all together.
Aaron Cook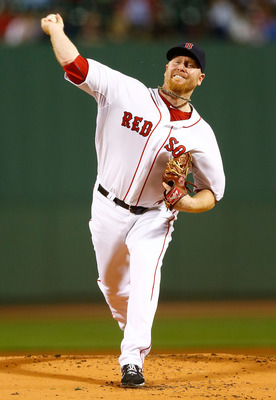 Jared Wickerham/Getty Images
Odds: 10 percent
The Phillies wouldn't have signed John Lannan to a guaranteed contract if they didn't want him to be in the starting rotation when spring training ends. But his inclusion is far from a certainty. He did struggle in Triple-A last season, and a relapse could invite a few non-roster invitees, including Aaron Cook, into the rotation.
Cook, 34, struggled mightily with the Boston Red Sox last season, posting an ERA of 5.65 in 18 starts. He is, however, an 11-year MLB veteran who brings a ton of experience to camp this spring.
The likely role for Cook this season is as a member of the Lehigh Valley IronPigs starting pitching staff. He's not a bad pitcher to have around in the event of an injury.
Josh Fields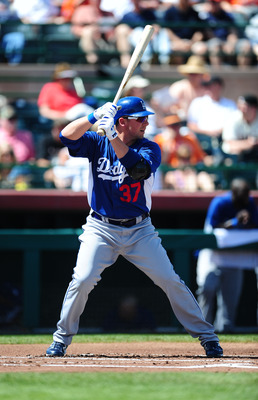 Mark J. Rebilas-USA TODAY Sports
Odds: 10 percent
One under-the-radar name to keep an eye on this spring is former highly-touted prospect Josh Fields. He is a right-handed, power-hitting third baseman who spent the 2012 season playing with the Los Angeles Dodgers' Triple-A affiliate.
While there is a conceivable role to be had on the club for a guy like Fields, you shouldn't put too much faith in his Triple-A slash line from last season. He played in a notoriously hitter-friendly ballpark in a league that is very kind to hitters.
Fields, however, could be an intriguing bench option assuming that the Phillies can make room for him. He has mashed left-handed pitching throughout his career and could spell Michael Young at third base and face tough lefties in the stead of Ryan Howard.
The more likely scenario is that he opens the season with Triple-A Lehigh Valley.
Cesar Jimenez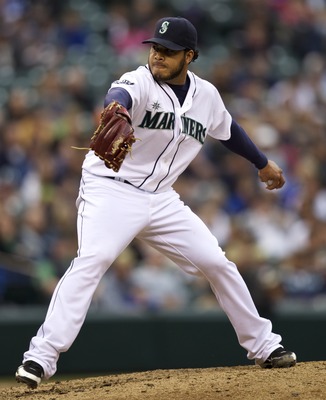 Stephen Brashear/Getty Images
Odds: 10 percent
There is always a room for a left-handed reliever with some upside in camp. Last season, it was Dontrelle Willis. This season, it's Cesar Jimenez (among others).
Jimenez, 28, has spent his entire career as a member of the Seattle Mariners, where his level of success has varied like a roller coaster ride on a mountain. He reached the big league for the first time in 2006 and spent the entire 2007 season in the minors before having his best year in 2008—a season in which he appeared in 31 games and posted an ERA of 3.41.
After struggling in Triple-A Tacoma, Jimenez did not appear in the majors last season and was granted free agency by the Mariners.
He has a small chance of making the club, but he'll have to outperform talented left-handed relievers like Jake Diekman and Raul Valdes just to have an outside shot of making the team.
Pete Orr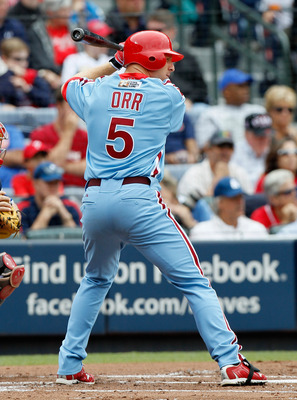 Kevin C. Cox/Getty Images
Odds: 10 percent
It's easy to say that, given the current design of this club, there isn't room for Pete Orr. But every time someone writes this guy off, he finds a way back onto the roster.
While making the Phillies is a long shot for Orr this spring, he is an invaluable depth player. He is a good defender and can play a couple of different positions. He is a very underrated runner and gives you a good bat against right-handed pitchers.
He probably isn't going to break camp with the club, but having a guy like Orr readily available at Triple-A is an excellent idea for this aging Phillies team.
Kyle Simon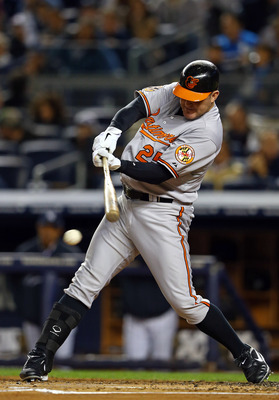 Kyle Simon was acquired in trade that sent Jim Thome to Baltimore.
Al Bello/Getty Images
Odds: 15 percent
One of the most underrated moves the Phillies made last season was dealing Jim Thome to the Baltimore Orioles in exchange for Kyle Simon and Gabriel Lino. They turned a spare part into a pair of nice prospects.
Simon, 22, has been exceptional for the Phillies. They stuck him right in the bullpen as soon as he arrived last season and immediately began reaping the benefits. After just seven dominant appearances for High-A Clearwater, the Phillies promoted Simon to Double-A.
He would make 13 appearances (25.1 innings) in Double-A, posting an ERA of 1.42 and collecting a pair of saves.
The Phillies felt as though his excellent stint in the bullpen last season warranted a trip to camp this spring and here he is. But the odds of Simon making the bullpen are not great. It's more likely that he opens the season in the Triple-A bullpen.
Photos of Simon aren't easy to come by, so one of an Orioles-clad Thome will have to suffice.
Juan Cruz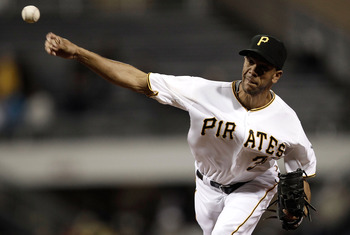 Jared Wickerham/Getty Images
Update: 2/13/13, 10:10 a.m.
According to several sources, including Matt Gelb of the Philadelphia Inquirer, the Phillies and Juan Cruz have mutually agreed to rescind his contract:
Phillies have released Juan Cruz.

— Matt Gelb (@magelb) February 13, 2013
Odds: 25 percent (now 0 percent)
One of the more common themes among non-roster invitees across baseball is bringing in an older player who could still have something left in the tank. While he isn't necessarily "old," Juan Cruz does fit that bill.
The journeyman relief pitcher will be in camp with the Phillies this spring, where he'll face an uphill battle for a bullpen position. The Phillies are loaded with talented young relievers and have brought in a good mix of veterans to keep things interesting.
Cruz, 34, got off to a hot start for the Pittsburgh Pirates last season but cooled considerably as the season progressed. He finished the year having made 43 appearances and posted an ERA of 2.78.
He is stuck in an interesting predicament this spring. Of all the names in camp, he would normally be among the most likely to make the club. But the Phillies' bullpen is stocked to the brim with high-upside arms, and they'd have to clear a spot on the roster to add Cruz.
Jermaine Mitchell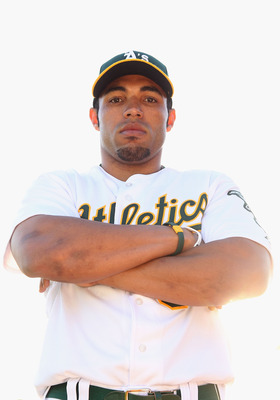 Christian Petersen/Getty Images
Odds: 25 percent
Jermaine Mitchell isn't a guy who has much of a shot at making the club on name value alone. But when you break down the Phillies' depth chart, the one thing that really stands out is the lack of left-handed bench options.
Laynce Nix comes into camp as the favorite. Ender Inciarte is the Phillies' Rule 5 pick. And that's it.
Looking over Mitchell's minor league career with the Oakland Athletics, he has shown a patient approach at the plate and the ability to work his way on base—valuable assets in late-game situations.
While Nix and Inciarte are the two names to watch closely, Mitchell is one to keep an eye on.
Yuniesky Betancourt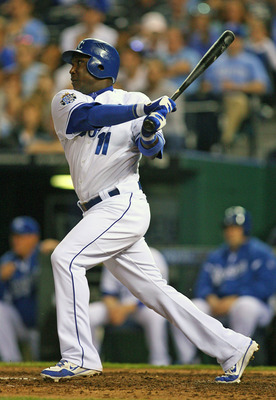 Tim Umphrey/Getty Images
Odds: 30 percent
Yuniesky Betancourt is an intriguing addition for the Phillies, who already have a pair of solid utility infielders in camp in Freddy Galvis and Kevin Frandsen, among others.
Betancourt, 31, had a putrid season as a member of the Kansas City Royals last season posting a line of .228 /.256 /.400 with seven home runs. While he did post a batting average on balls in play (BABip) of .226, suggesting he was very unlucky, Betancourt plays a miserable defense that easily negates any offensive value.
He'll likely open the season as a member of the Lehigh Valley IronPigs infield, but the Phillies have plenty of infielders already on the roster with more upside that Betancourt. Even as minor league depth, this addition is a bit of a head-scratcher.
I'm giving him a bit more of a chance than he should realistically have because he has hit for some power in the past and the Phillies have been known to make (inexcusable) exceptions for power in the past.
Justin Friend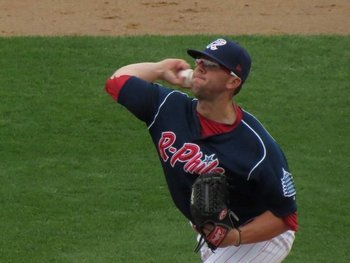 Photo via Marc Narducc, Philly.com (http://articles.philly.com/2012-07-13/sports/32649378_1_justin-friend-tyler-cloyd-minor-league)
Odds: 30 percent
There is a strong argument to be made that Justin Friend had the most underrated season by any Phillies minor league player in 2012, assuming, of course, that Darin Ruf's campaign is getting its fair recognition nowadays.
Friend, 26, was dominant as the closer for Double-A Reading last season, making 37 appearances and posting a nearly non-existent ERA of 0.23. He also converted 24 saves and struck out nearly 20 percent of all batters he faced.
The Phillies rewarded him with a promotion to Triple-A Lehigh Valley. And while some numbers would suggest that he struggled against the tougher competition, he posted a strong 2.92 FIP and a strikeout-to-walk ratio of 4.33 in 12 appearances.
If you're looking for a surprise among the non-roster invitees, Friend is probably the guy. At 26 years old, he doesn't have any more developing to do in the minors, although some would argue that he could use more seasoning in Triple-A.
The real battle for Friend is outshining the talented corps of relievers the Phillies have already assembled on the 40-man roster.
Humberto Quintero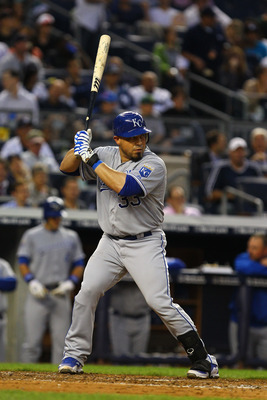 Al Bello/Getty Images
Odds: 95 percent
The Phillies won't have many non-roster invitees in camp with a real shot at making the club, but Humberto Quintero is about as safe a pick as you can make.
With Carlos Ruiz set to open the season serving a 25-game suspension, the Phillies find themselves in need of a temporary backup catcher, as Erik Kratz will grab the starting reins for the first month of the regular season.
Quintero, a 10-year MLB veteran who played for the Kansas City Royals last season, is a solid choice. He is a good defensive backstop who can handle a pitching staff, although he won't provide much offensively.
Keep Reading

Philadelphia Phillies: Like this team?