SF Giants: 1 Stat That Sums Up Each Giants Position Player's 2012 Season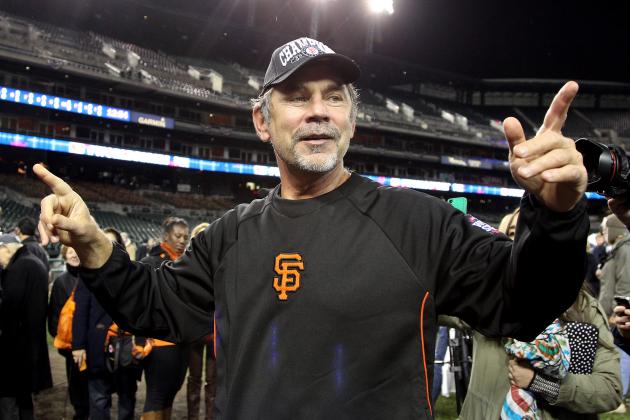 Christian Petersen/Getty Images
Bruce Bochy acknowledges the crowd, following the Giants' World Series victory.
The San Francisco Giants are the reigning world champions. The Giants won their second World Series title in the past three seasons.
Manager Bruce Bochy manipulated his roster masterfully, utilizing his entire 25-man squad. Due to injuries and performance, Bochy often had to mix and match his starting lineup based on the opposing pitcher and who was hot at the time.
Even with the juggling of the lineup, there were eight position players who saw the majority of the action down the stretch. Let's take a closer look at these core players by position. In each case, we can isolate one key stat that exemplified the player's 2012 season.
Begin Slideshow

»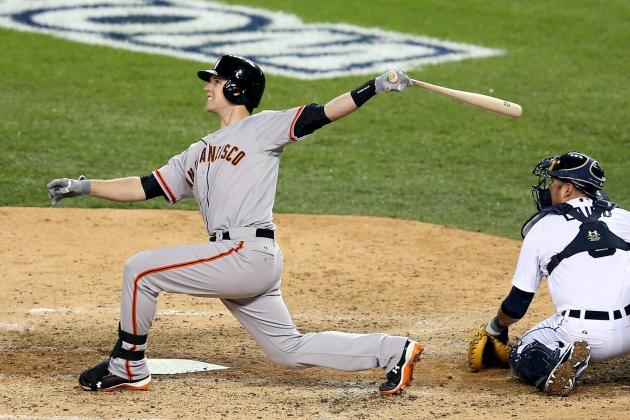 Christian Petersen/Getty Images
Buster Posey blasted a home run in Game 4 of the World Series.
Buster Posey had a tremendous season in 2012. He won the NL MVP award and the Silver Slugger and was an All-Star for the first time in his career. It's hard to fathom that in late May of 2011, Posey's ankle was so mangled that many questioned whether he would ever be the same player he was before the injury.
In Posey's case, there were two stats that stood out. First was his team-leading 103 RBI. The Giants were not an offensive juggernaut, so for Posey to eclipse the century mark was a tremendous accomplishment.
In addition to the RBI total, the second key stat was 114. This was the number of games Posey caught in 2012. The Giants were worried about Posey's ankle and questioned how many games he would be able to catch.
Not only did Posey catch the 114 regular-season games, but he also played in a total of 146 games. This was far more than the Giants expected heading into last spring.
Posey's presence behind the plate was beneficial for the Giants' pitching staff. In addition, his ability to play so many games enabled him to rack up his outstanding statistical season.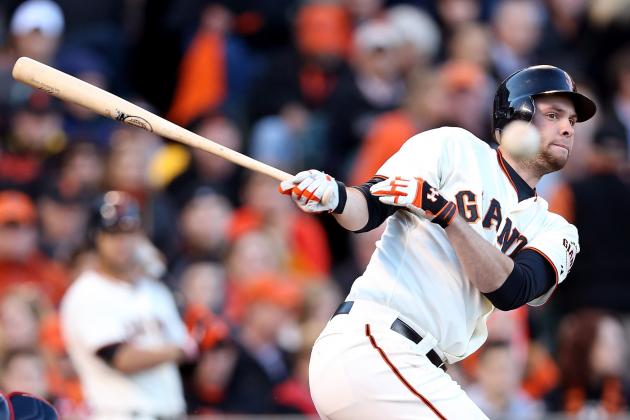 Christian Petersen/Getty Images
Brandon Belt became the Giants' every-day first baseman.
Brandon Belt claimed the Giants' starting first base job early in the season. He beat out Brett Pill and ended up starting 102 games at first.
The Giants also used Buster Posey at first and Pablo Sandoval even got a few games, prior to a hamstring injury he suffered stretching for a throw.
The stat that stands out with Belt is his 106 strikeouts in 411 at-bats. This is slightly greater than one strikeout every four at-bats. This is way too high, especially because Belt did not hit for power. He only had seven home runs over the course of the regular season.
Belt's defense was excellent and is one reason he remains the starter at first. However, Belt must improve his ability to make solid contact and put the ball in play.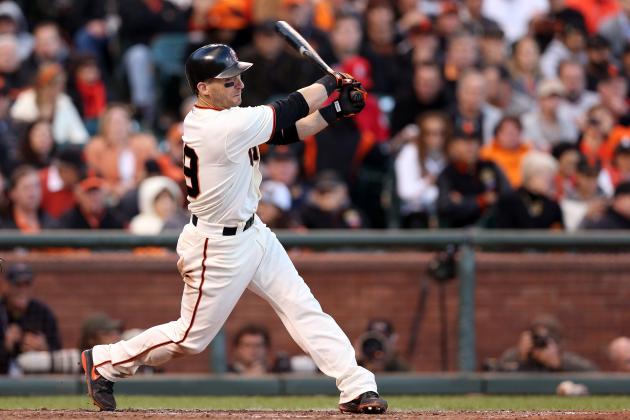 Christian Petersen/Getty Images
Marco Scutaro was the MVP of the 2012 NLCS.
Marco Scutaro played in 61 regular-season games for the Giants. General manager Brian Sabean was able to deal for Scutaro in exchange for mid-level minor league prospect Charlie Culberson.
This deal turned out to be a catalyst for the Giants' stretch drive and postseason success.
The one stat that sums up Scutaro's 2012 is his .500 batting average in the NLCS against the St. Louis Cardinals.
In this series, Scutaro went 14-for-28, scored six runs and had four RBI. In addition, Scutaro showed tremendous determination, as he was able to continue playing despite getting run over by Matt Holliday on a play at second base.
It was only fitting that Holliday made the final out of the NLCS, a pop-up to Scutaro.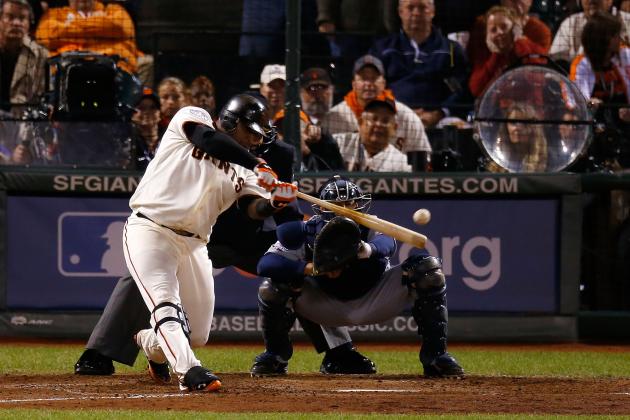 Jason O. Watson/Getty Images
Pablo Sandoval hit three home runs in game 1 of the World Series
Pablo Sandoval had an up-and-down season in 2012. He missed several games due to injuries, but also was the World Series MVP.
The key stat that stands out with Sandoval is 108 games played. This means that Sandoval missed 54 games over the course of last season.
Looking forward to 2013, the Giants need Sandoval to stay healthy and produce. He must report to camp in good shape and cannot have another injury-plagued year.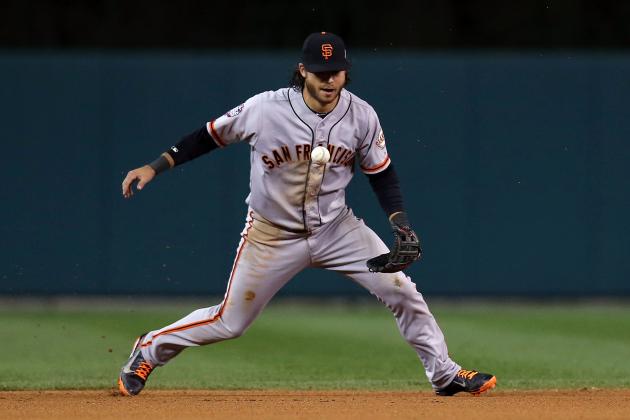 Jonathan Daniel/Getty Images
Brandon Crawford's defense was outstanding in the latter portion of the season.
Brandon Crawford settled in at shortstop and played his best baseball in the second half of the season. Veteran Ryan Theriot returned from injury and the pair started playing together regularly, which allowed Crawford to calm down and just focus on his own game.
The stat that best tells the story of Brandon Crawford's season is 18 errors. That is not a great number, but looking at it in more detail, we see a great deal of improvement in the second half of the season.
From Opening Day to the end of June, Crawford committed 12 errors. However, from July 1st to the end of the regular season, he made only six more errors. Crawford played well with both Theriot and Marco Scutaro, who was acquired in late July in a trade deadline deal.
Crawford also displayed his slick fielding in the postseason on a national stage. He has a chance to be a Gold Glove winner this year and throughout his career.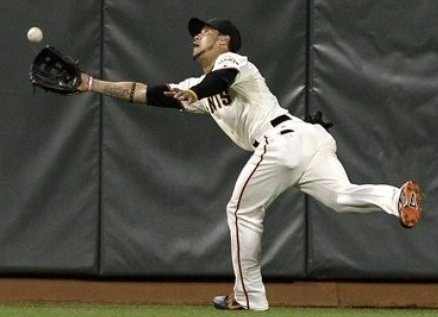 Gregor Blanco's catch saved Matt Cain's Perfect Game.
Gregor Blanco made several great defensive plays in 2012. His great lunging catch saved Matt Cain's perfect game in June. Blanco also made some highlight-reel plays in the Giants' postseason run to the World Series title.
In addition to his defense, the stat that stands out for Blanco is his 26 steals. Blanco utilized his speed on the bases to help generate runs for the Giants.
Blanco will most likely be the starting left fielder for the Giants to open the 2013 season.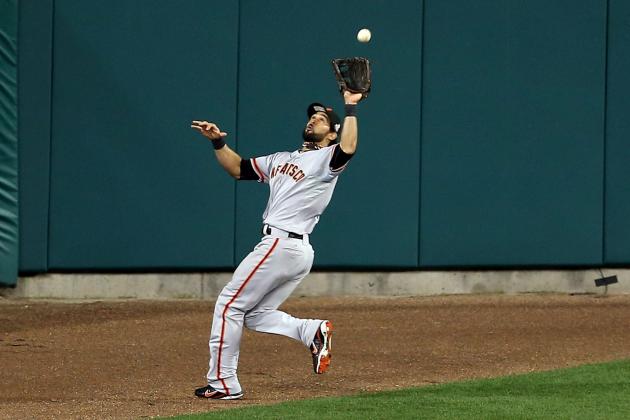 Christian Petersen/Getty Images
Angel Pagan makes a fine catch in deep center.
Angel Pagan had an excellent year for the Giants. His defense was excellent over the second half of the season and his offense was equally strong.
The stat that was most impressive with Pagan's game was his 15 triples. This was an all-time Giants record. It highlighted Pagan's gap-to-gap power and his tremendous speed.
Pagan actually led the Giants in steals, with 29.
Pagan was a fan favorite, as he played the game hard and really bonded with the fans. They liked to see a player who wore his emotions on his sleeve and that was indeed Pagan.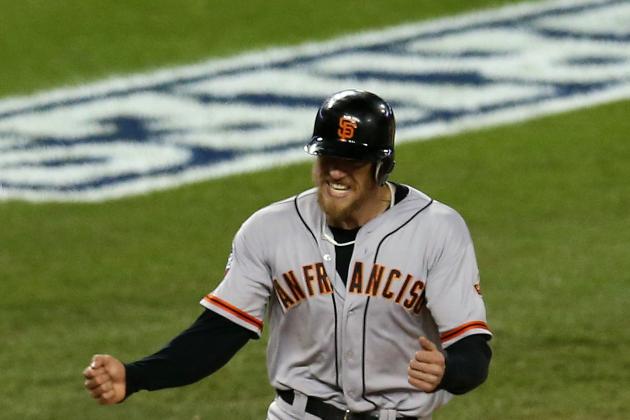 Jonathan Daniel/Getty Images
Hunter Pence is fired up after scoring in Game 4 of the World Series.
The acquisition of Hunter Pence was another trade deadline deal by Giants GM Brian Sabean.
Pence played 59 games for the Giants, and although he hit only .219, he had 45 RBI. That RBI total was the stat that jumped out when it came to Pence's time with the Giants in 2012.
Pence was an emotional leader for the Giants and his rah-rah speeches to the team were well-received in the postseason. On several instances, Pence gathered his teammates and gave rousing, emotional pleas for them to play for each other and never give up.
It was this emotional aspect to Pence's game that made him a fan favorite.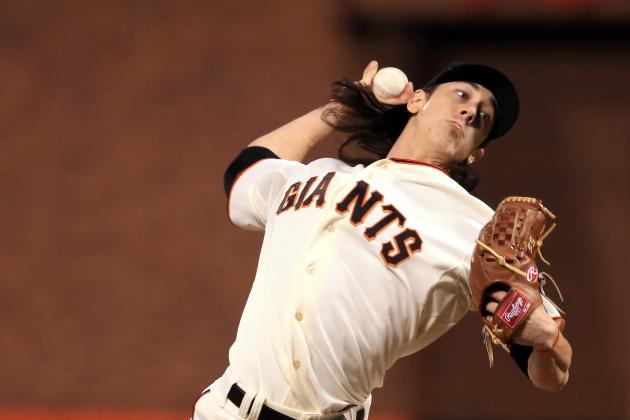 Doug Pensinger/Getty Images
Tim Lincecum recaptured his magic as a reliever in the postseason.
The Giants enter spring training in 2013 with the exact same complement of starting position players. In addition, the starting rotation and core relief staff is in place.
The Giants will be challenged for the NL West title by the Dodgers and Diamondbacks. Los Angeles has out-spent every team in the National League by far. The addition of Zach Greinke gives them two aces, in Greinke and Clayton Kershaw.
The Diamondbacks are young but extremely talented. The key for them will be how they replace Justin Upton and if their young pitching will hold up.
It will be another great race to the playoffs and with two wild-card teams qualifying, the Giants will have a chance to make the postseason and defend their world championship crown.