Most Exciting New York Mets Prospects to Look out for in Spring Training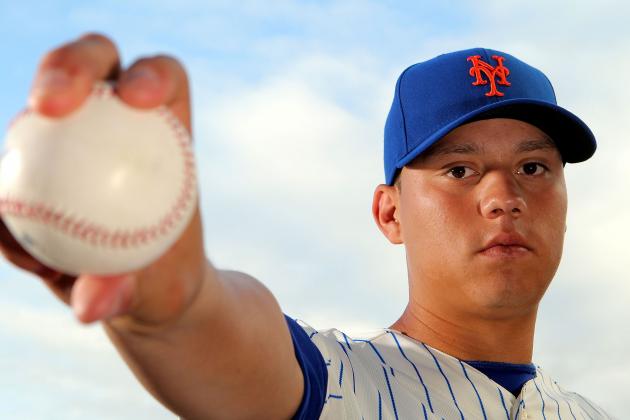 Marc Serota/Getty Images

For a number of years, the New York Mets have had the distinction of having one of the worst farm systems in Baseball. Between poor drafts and unwisely trading away prospects for washed-up Major Leaguers, the Mets have not had the luxury of tapping into homegrown talent.
Homegrown talent has been a source of good fortune that has benefited teams recently such as the Colorado Rockies, Tampa Bay Rays and Boston Red Sox. These teams all showcased deep farm systems and were eventually able to field teams that mainly comprised of homegrown talent.
But the Mets are improving tremendously in that area. In fact, during a game last season, the Mets had a starting lineup consisting of all homegrown players for the first time in 41 years—a game in which they won, 3-2. Plus, ESPN's Keith Law ranked the Mets' system as the 14th best in the game, which is the highest rank of any NL East division teams. Of course, this is all due in-part to having decent draft slots, thanks to finishing with a sub-.500 record each of the past four seasons.
Heading into 2013, the Mets have the deepest farm system they have had in quite some time. And while some of the top prospects are not necessarily homegrown, CitiField will be the first place these youngsters call "home" in their big league career.
Begin Slideshow

»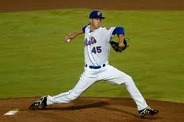 There probably isn't a prospect in the Mets' system that fans are more anxious to see than Zack Wheeler. The tall right-hander came over to the Mets from San Francisco in the middle of the 2011 season in the trade that sent Carlos Beltran to the Giants.
He split 2012 between Double-A Binghamton and Triple-A Buffalo. His first experience at either of those levels, and he didn't disappoint. He finished the year with a composite 3.26 ERA and 148 strikeouts in 149 innings pitched.
The former first-round draft pick is ranked the eighth-best prospect in Baseball by MLB.com, and should be giving Mets fans lots of hope for a young, talented rotation in the near future. While he will most likely begin 2013 season in Triple-A, he may very well find himself pitching in the big leagues by mid-season.

When the Mets traded away Cy Young Award winner R.A. Dickey to the Toronto Blue Jays, they made sure they weren't coming away empty-handed. And in terms of future investments, they may actually be the winner of the trade.
Among the return the Mets received for the 38-year-old knuckleballer was top-catching prospect Travis d'Arnaud. The 24-year-old out of Long Beach was originally a first-round draft pick by the Philadelphia Phillies in 2007, and was subsequently traded to the Jays for some guy named Halladay.
d'Arnaud suffered through an injury-shortened 2012 at Triple-A Las Vegas, but still managed to put up some solid offensive numbers. He launched 16 home runs while batting at a .333 clip. A season prior, he hit 21 home runs with a .311 batting average.
MLB.com has ranked him the sixth-best prospect in Baseball entering 2013, noting:
When healthy, he has the tools to be a top-flight all-around backstop. He's agile and athletic with a good arm and has worked hard to improve his throwing. He has the ability to hit for both average and power and is a natural leader behind the plate.
The Mets have been desperately seeking a permanent answer to their lack of catching depth ever since Mike Piazza departed. They have certainly found it in d'Arnaud, who should be making his mark behind home plate at CitiField some time during the 2013 season.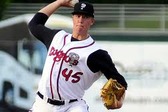 Along with d'Arnaud, the Mets also received right-hander Noah Syndergaard from the Blue Jays in the R.A. Dickey trade. The 20-year old's path to the Major Leagues is a bit longer than his trade partner, but his talent is certainly evident.
The Jays drafted him in the first round in 2010, and he spent 2012 playing in Class-A Lansing. He made 19 starts for the Lugnuts, finishing with a nifty 2.60 ERA and 122 Ks in just over 100 innings pitched.
Right now, he is projected to hit the big leagues by 2015, at a time where the Mets' rotation is expected to also include Zack Wheeler, Jon Niese and Matt Harvey. The future of the Mets' pitching is very bright.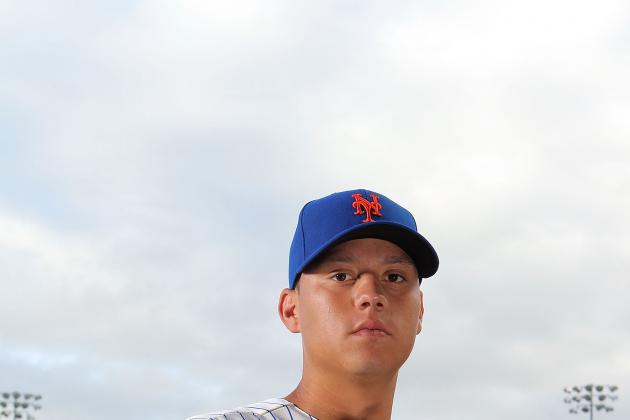 Marc Serota/Getty Images

After beginning his professional career in the Mets' farm system in 2008, Wilmer Flores has been as offensively consistent as it gets. Over five seasons in the minor leagues, Flores has maintained a .284 batting average with a .327 OBP. He's primarily played as a shortstop, but he lacks the range and speed that would normally be seen at that position.
In 2012, he moved to third base, where he performed fairly well. The problem for Flores is, third base is not a vacant position with the Mets. David Wright is locked up for the foreseeable future, meaning Flores will have to find a new position to stick around in Queens.
He spent the latter half of the 2012 season at Double-A Binghamton, the highest level he's achieved thus far. Overall, last season he reached a new high in home runs (18).
With little else to prove in the minor leagues, the Mets may have no choice but to bring the 21-year-old up at some point in 2013. As long as his hitting maintains, they will find a place for him to play in the field.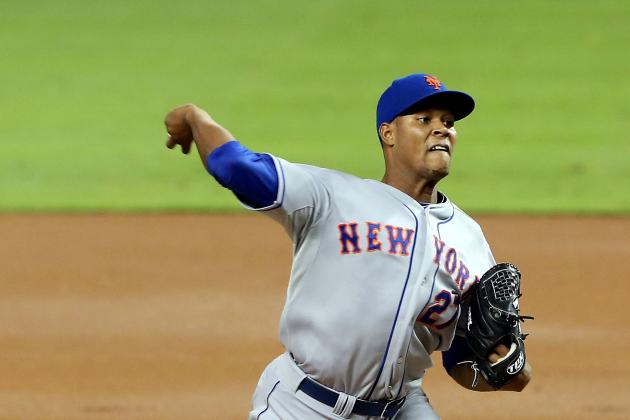 Marc Serota/Getty Images

Right-hander Jeurys Familia was signed as an amateur free agent in 2007 by the Mets. He spent the majority of his Minor League career as a starter, though he may actually project better as a reliever/closer in the long term.
He can reach the mid-90s on his fastball, and has a good slider. Over his professional career, he has amassed a strikeout rate of 8.6 K/9 and a lifetime 3.85 ERA.
Familia spent the 2012 season at Triple-A Buffalo, where he struck out 145 batters in 137 innings, with only 73 walks.
After a cup of coffee with the Mets towards the end of last season, Familia finds himself likely heading back to Triple-A to start 2013. But should any of the current starting five go down with an injury, Familia will get a long look as a possible replacement. Look for him also to get some chances coming out of the bullpen as a way to at least get him some more Major League innings.