20 Amazingly Awful Wrestling Theme Lyrics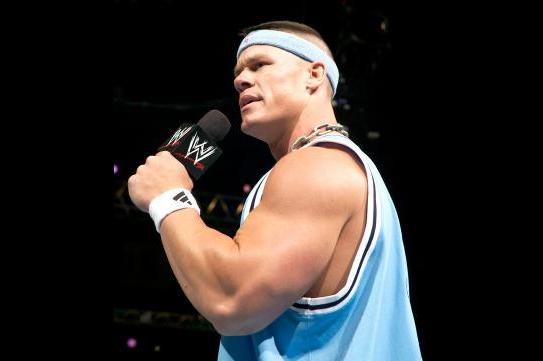 photo via wwe.com
Imagine for a moment that you are a professional wrestler.
You're a big tough guy or girl who is getting ready to engage in an unpredictable, violent battle.
Do you want a song to accompany you to the ring that strikes fear in the hearts of your opponents, or a song about your newly mowed lawn?
This is one of the many questions you'd have to ask yourself if you were to become a wrestler.
For as long as there have been wrestling theme songs, there have been terrible wrestling theme songs. This takes a look at 20 of the worst, strangest and most humiliating lyrics in wrestling theme song history.
These lyrics should not be wished upon your worst enemy, let alone someone who had to come out in front of millions of people every week to them.
Begin Slideshow

»
As a heel, singing about how you have boatloads of money is a good way to get heat.
But could that work for a baby-face? No, that's still just going to make people hate you.
Ted DiBiase turned face after he broke off from Maryse, but something wasn't quite right. Perhaps it had something to do with him still shoving his wealth in other people's faces.
It sure didn't help.
Most offending lyrics:
I come from money
I come from class
These ladies love me
For all my cash
Won't let nobody
Spoil my dream
'Cause I've got money and I can do anything.
Rob Conway was a good worker with a good look. He just didn't have a good gimmick.
After his run with La Resistance, WWE gave him a shot as a singles wrestler. Unlucky for The Conman, he was saddled with a lousy gimmick.
His theme song was destined to make sure that no one ever took him seriously. Though whoever sang it did an admirable Randy Newman impression.
Most offending lyrics:
Just look at me
YEAH!
Oh just look at me
Ain't I a sight to see?
The whole damn world wants to look like me
But they don't!
So just look at me
Here's the story of two brothers: Rick and Scott
They don't use drugs and they're always on top


The above lyrics are the very first two lines of the Steiner Brother's theme song.
The first line begins to set the stage for this story. We are told the individual names of the two brothers.
Okay, that's not really necessary, but so far so good.
The next line they feel the need to tell us that they don't do drugs and they're always on top.
Whoa, hold on!
No one was accusing them of taking drugs. Singing about it only raised suspicions that weren't there before.
It would be like Sting having a theme song that went:
His name is Sting and he's never killed a man
and buried him in his backyard last September
After Triple turned heel and broke off from DX to join The Corporation, he needed a villainous theme song.
He must have also got the singer of the DX theme, Chris Warren, to turn heel with him to bust out "My Time."
While the song is great, there is one questionable lyric at the end of the song that in retrospect is pretty funny.
Most offending lyric:
Who, whose sleeping with who around here?
At the time, Triple H was with Chyna, but was allegedly cheating on her with Stephanie McMahon. He was the one sleeping with the bosses' daughter.
I guess that answers that question.
The entire Kerwin White song could join this list for worst lyrics.
It has an old 50s style to it, but beneath the happiness of the singer is a big bucket of racism.
Beneath that is some garbage, and beneath that is another giant heaping of racism. Luckily the gimmick didn't last long (though unfortunately it was scrapped due to the death of Chavo's uncle Eddie).
Most offending lyrics:
I wake up every morning can't wait to embrace the day
I take my coffee by the pool
I pass my picket fence and gaze across my new mowed lawn
I never thought my life could be this good.
For a time in WWE, The Undertaker wasn't really a dead man.
He was alive and well, and had a theme song that helped him celebrate his new lease on life.
He was the American Badass, and in case we didn't believe it, the lyrics to his song made sure we knew.
Most offending lyrics:
Nice guys, it's said they always finish last
But bad-asses, always kicking asshole's ass
The question to ask is: do bad-asses really sing about how they're going to kick "asshole's ass?"
The Disco Inferno was a relatively entertaining mid-card act in WCW.
The man didn't want to fight though, he just wanted to dance. And dance he did.
While his opponents may not have been afraid of him, they probably couldn't help but want to join in on the fun.
Most offending lyrics:
You otta see him shake and shake his booty
Get down tonight and boogie oogie oggie!
The Man Called Sting
The Man Called Sting
He's a Man Called Sting
The Man Called Sting
Now just hold on a second. Could somebody clear this up for me? Is this guy's name Sting?
Most offending lyrics:
He does this, he does that
He's big as bull, and quick as a cat
Seriously, did a fourth grader rhyme this?
And all the kids, they go wild
And all the old people start to act like a child
I hear voices in my head
They come to me they understand
They talk to me
Randy Orton, as a good guy, had a song about voices talking to him in his head that tell him to do things.
So basically, he belongs in a mental institution and not in a wrestling ring.
Most offending lyrics:
I have a voice that is my savior
Hates to love and loves to hate
I have a voice that has the knowledge
And the power to rule your fate
The Oddities were a strange act.
Sure, their theme song fit them pretty well, but that doesn't mean it was penned by a poet.
In fact, the song is probably a bit polarizing due to the fact that many people just can't stand The Insane Clown Posse.
In this song the Posse shows off their refined skills of song writing by rhyming the word "it" with the word "it." Oh, and apparently one of their mother's has a beard.
Most offending lyrics:
We's a little bit twisted, I gladly admit it
I can unscrew my head off, and shoot hoop with it
And you can't, so you gotta label us weird
Even though your mama's got a beard. What!
As soon as you hear a woman screaming for Shawn, you know you're about to see a great performance.
"Sexy Boy" is one of the most instantly recognizable and iconic wrestling theme songs of all time.
But that doesn't mean that the lyrics don't sound like they were wrote by a horny and desperate teenage boy.
Most offending lyrics:
I think I'm cute, I know I'm sexy
I got the looks that drives the girls wild.
I got the moves that really move 'em
I send chills, up and down their spine
I'm just a sexy boy!
Believe it or not, a long, long time ago John Cena was cool.
When Cena first turned heel, he was one of the edgiest members of the roster.
As evidenced by "Basic Thuganomics" though, Cena was prone to silly puns.
In hindsight, we should have taken it as the first warning sign for his decade of impending lameness.
New Deadman Inc. - and we about to make you famous
Takin' over Earth and still kickin' in Uranus!
Hulk Hogan's "Real American" may be the greatest theme song in wrestling history.
Then Hogan went to WCW. He couldn't take the song with him, so WCW and Jimmy Hart cooked up something new for him.
Instead of being a real American, he was now "American Made", and it was awfully made.
The song was a shallow imitation of the original, and tried way too hard to let us know that he was indeed, American.
Most offending lyrics:
He was born and raised in the U.S. of A.
He's got to be inspected, he's US grade.
If you mess with the flag, it's like a slap in his face.
In the early 1990s, WCW had some horrendous theme songs.
These songs were basically stories that no one wanted to hear.
They were also performed by people that could probably only find work singing wrestling theme songs, which is slightly below singing commercial jingles on the professional musician's respect scale.
Steamboat's song in particular made him seem like a boring wuss.
Listen to it if you dare, though you may never be able to look at Steamboat the same way again.
Most offending lyrics:
Loves his wife and son and does the best he can.
The only wrestler whose not hard to understand.
Ricky Steamboat the dragon!
or this gem:
I'm not saying that women don't fall all over him
But he don't give in. He's a family man.
American Males,
American Males,
American Males,
American Males,
American Males,
American Males,
American Males...
Not much here in terms of actual lyrics, though 38 seconds into the song, we're informed that if we "see them coming, better run for cover, girls you don't need a weekend lover."
I'm not actually sure what that even means.
This entrance theme sounds more like a South Park parody song than it does a professional wrestling theme.
When you're the bosses' daughter, and the company's head writer, you can probably have any theme song you want.
What better way to endear yourself to fans than by having a theme that tells everyone how much you've overcome adversity, even though you were born into a multi-million dollar empire.
Most offending lyrics:
I'm all grown up now, and I've listen and learn
A true star and I'm finally gettin' my turn
Took my hell, earned my spot
No, no Stephanie you didn't really "earn your spot" like normal people in the world did. Your father owned the company and he hired you to be creative.
Hey, most people would have taken the job too, but "taking hell" to get there isn't really believable.
Here's some more lovable lyrics:
Got my money right
Fame's what I've waited on
For years I've been hated on, spit on, and kicked on
Wait, what? Who hated and spit on Stephanie McMahon? Maybe Shane McMahon?
Billy Gunn, "The One" Billy Gunn, Mr. Ass, The Outlaw, Kip James, Monty Sopp or whatever you want to call him, we can all agree that he had a strange choice of an entrance theme.
When Gunn broke out on his own from The New Age Outlaws he decided to become Mr. Ass full time.
Apparently, the company must have felt that the name Mr. Ass wasn't subtle enough. They needed to make sure that fans understood Gunn's love of the backside, so they made an entire song out of it.
Most offending lyrics:
So many asses, so little time
Only a tight one, can stop me on a dime
I'm a lover, of every kind
The best surprises always sneak up from behind
I'm an ass man
Yeah, I'm an ass man
Yes indeed Billy Gunn, you were an ass, man.
When Chyna got ready to fight, she just had a simple message for us:
Don't treat me like a woman
Don't treat me like a man
Don't treat me like you know me
Treat me for just who I am
Why this message couldn't wait until after the fight was a mystery, but fans everywhere heard the message loud and clear. And then were probably pretty confused by what it meant.
Did you know that before Viscera was an evil goth and the world's largest love machine that he just wanted to wave his hands in the air?
Men on a Mission weren't particularly talented at rapping, nor were they particularly talented at wrestling.
Lucky for them, they looked good in purple jump suits. Actually, that's not true either, which is why the group probably didn't have much success.
Most offending lyrics:
Men Men On a Mission
Got my man, his name is Moe
Moe's in the ring and he wants you to know
Moe? Yeah? Ready to slam
Do it like this he goes wham bam
All around the ring he's drop kicking
He's like a bomb that's tock tock ticking
(Boom) do it like this, don't cha all know
Step up to my main man Moe (yes)
Singing about biscuits and gravy is a sure-fire way to not scare your opponent.
No matter who you are, it's just not going to work.
Can you imagine Jon "Bones" Jones or Georges St-Pierre coming to the ring to "Biscuits and Gravy" in the UFC?
Although actually, that would be kind of awesome.
Most offending lyrics:
Biscuits and Gravy, made me a man
Oh biscuits and gravy, made me all that I am