Ranking the Most Trustworthy Arms in the Philadelphia Phillies Bullpen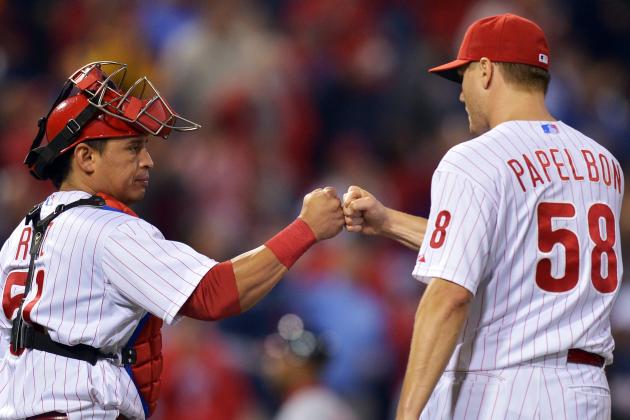 Drew Hallowell/Getty Images

One of the Philadelphia Phillies' biggest weaknesses in 2012 was their lack of reliable bullpen depth. Behind newly-signed closer Jonathan Papelbon, the Phillies lacked a true veteran presence to anchor their younger pitchers.
Options such as Jose Contreras and Michael Stutes, both pitchers who had experience out of the Phillies' bullpen, were injured for most of the season, rendering the Phillies without any proven options besides Papelbon.
In the offseason, the Phillies filled the need in grand fashion, signing veteran right-handed setup man Mike Adams to a two-year contract worth $12 million.
Adams has been one of the best relievers in baseball over the last five years or so, but he did have surgery to correct Thoracic Outlet Syndrome, making him a bigger risk. Luckily for the Phillies, that also means that Adams could come with a higher reward, and they signed him for a relative bargain as a result.
With Papelbon and Adams in tow, it seemed as though the Phillies were set internally to fill the remaining five bullpen spots. However, in an unexpected (and arguably redundant) move, the Phillies brought Chad Durbin back to town on a one-year deal early last week.
With three right-handed veteran arms and a relief spot likely guaranteed for left-hander Antonio Bastardo, only three relief positions remain for the Phillies. While the competition will be interesting to watch, it is a shame that some of the major league-ready arms the Phillies have will not have the opportunity to play at their skill level due to lack of space.
There are some arms who can be trusted in this Phillies bullpen and others who have a ways to go in that regard. The good news is that all the younger players who had experience last season have some major league experience under their belts and can be tweaked further if necessary in spring training.
For all intents and purposes, the seven arms I am going to rank in terms of dependability (and thus making the roster out of spring training) are Adams, Bastardo, Durbin, Justin De Fratus, Jeremy Horst, Papelbon and Stutes. Not all will be easy to rank in terms of statistics, so some subjectivity will have to be included in this piece.
Nevertheless, I give you the Phillies' bullpen arms ranked by trustworthiness.
Begin Slideshow

»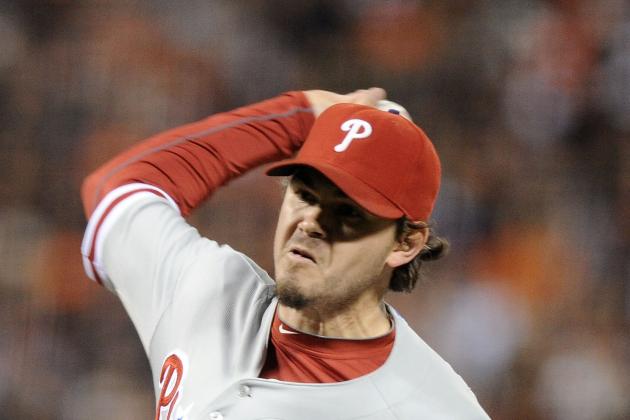 Harry How/Getty Images

I've always liked Chad Durbin. He was a great, savvy signing by Pat Gillick before the 2008 season and his abilities in 2008 on the mound impressed me.
Even though his 2009 was pretty awful and his 2010 was mediocre, Durbin was one of the Phillies I wasn't as upset with if he underperformed. Don't ask me why.
I was also a little disappointed to see him go after 2010 but I understood that he wasn't what the Phillies needed at that time. I supported the move (or lack thereof) in full, though I did miss having him in the Phils bullpen. He came across like a class act and a great clubhouse presence.
What was more discouraging for me was his season with the Cleveland Indians in 2011. His 5.53 ERA was flat-out horrendous and I quickly outgrew my admiration for Durbin then and there. He was no longer the semi-effective pitcher he once was. Or so it seemed.
The 2012 season started out rough for Durbin as well, but by the end of it his ERA had dropped to 3.10. The fact that he was on the Atlanta Braves had surprised me throughout the season, as their young and effective bullpen seemed not to have a need for someone like Durbin. I guess that's not why he's back in Atlanta.
When Durbin was brought back to Philadelphia, I saw it as bittersweet. It's nice to bring back that sentimental guy who won the World Series with you in 2008, but it's a move that just doesn't make any sense.
I could have understood a minor league deal with an invitation to spring training, but the Phillies have no business guaranteeing Durbin a roster spot. His command is shaky anymore and he'll either give you a really good day or a really bad one. And by the looks of it, you tend to see more of the latter out of Durbin.
I didn't get this signing a week ago. I still don't. Hopefully it works out for the best and he doesn't become the next Chad who blew up in the Phillies' faces.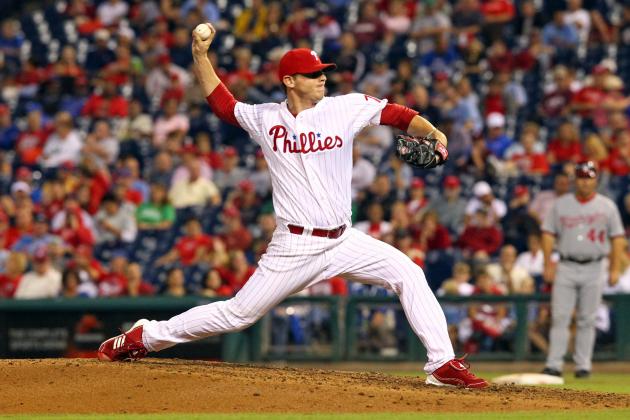 Hunter Martin/Getty Images

Justin De Fratus is someone who I've felt has been slighted from time to time.
He was stellar in 2011 in the minors and was all but guaranteed a major league bullpen spot for the start of 2012. In the minors in 2011, De Fratus posted a 2.10 ERA in 23 games at Double-A Reading and a 3.73 ERA in 28 games at Triple-A Lehigh Valley before a September call-up to the majors.
In limited major league action, De Fratus' ERA was 2.25 but his advanced stats suggested much worse performance, though it's worth noting that that's usually the case for a smaller sample size.
Then, disaster struck and De Fratus injured his elbow, costing him over half the 2012 season.
For a time the diagnosis wasn't clear, but the elbow soreness was a shame to see, as De Fratus has excellent control on his pitches. Back in action at Lehigh Valley, De Fratus posted a 2.49 ERA, showing that he had returned to form.
He did find his way into 13 games with the Phillies by season's end, but rather than being able to show his dominance over a full season, De Fratus now has to fight his way into the Phillies bullpen if he's to get a job in the majors.
Given his track history, De Fratus should be a good major league arm and I would likely rank him higher if he had more experience in the majors. Until he does, though, he sits near the bottom of the Phillies' reliable bullpen options, but his potential may be higher than many of his fellow relievers.
Rich Schultz/Getty Images

There was once a time where I believed that Antonio Bastardo was the real deal. I think I speak for everyone in my thinking that, for the first half of 2011, there may very well not have been any pitcher in the majors who was better than Bastardo. In my eyes, he was a All-Star snub that season.
Bastardo began his Phillies career as a starter and long reliever until getting hurt in 2009 and settling into a permanent relief role. He resurfaced out of the Phillies bullpen in 2010 and posted a 4.34 ERA in 25 games despite advanced metrics suggesting it should have been well below 4.00.
Bastardo then broke camp with the Phillies in 2011 and was lights-out for the first half of the season. His ERA for the first half of 2011 was 0.82 and his WHIP was 0.76 after 36 outings. It didn't come across as though Bastardo would regress as heavily as he did in the second half, posting a 5.04 ERA in 28 games. Ouch.
Perhaps arm fatigue was the reason for this, and expectations were high for the Phillies southpaw heading into 2012. Once again, his advanced metrics suggested improvement, as his FIP was 3.34 and his xFIP was 3.18.
However, Bastardo ended the year with a 4.33 ERA, and in the eyes of a Phillies front office which seemingly tends to use little more than the typical Triple Crown stats to judge talent, their patience with Bastardo could be wearing thin. He's still got immense potential, but he has to harness it in order to be successful. Thus far, Bastardo has failed to do that.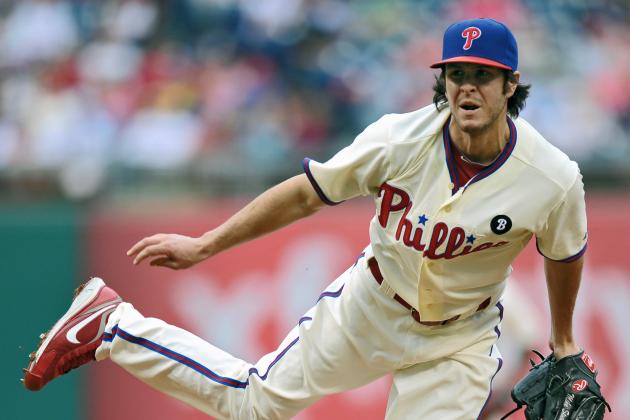 Drew Hallowell/Getty Images

Poor Michael Stutes.
For the most part, Stutes was your average reliever in the minors...that is, until the start of 2011. At Triple-A Lehigh Valley to begin the 2011 season, Stutes posted a 1.80 ERA, earning him a promotion to the majors by the end of April after then-closer Jose Contreras injured his arm.
Stutes suffered from the Bastardo effect as well, though to a much lesser extent. In 32 first-half games, Stutes posted a 3.26 ERA and soon established himself as one of the Phillies' best relief options. The second half wasn't as generous to Stutes, as his ERA increased to 3.98 and ended up at 3.63 on the season. Not bad at all, especially for a rookie.
An offseason of rest after an increased workload was thought to be the remedy for Stutes, but it became clear after six games with a 6.35 ERA in 2012 that something was wrong.
As it turned out, Stutes had muscle fraying in his right shoulder and had surgery in June to correct the problem. Sadly, it also ended any hope of Stutes coming back during the 2012 season.
Someone like Stutes, who had been entrenched in a major league job before, should not have to be in this position fighting for a job. But when the competition improves, sometimes you have to take a back seat, and unfortunately, if Stutes doesn't prove himself in spring training, he may start out the year in the minors.
I'm willing to give him the benefit of the doubt and say that he's trustworthy enough, though he could easily move up or down this list.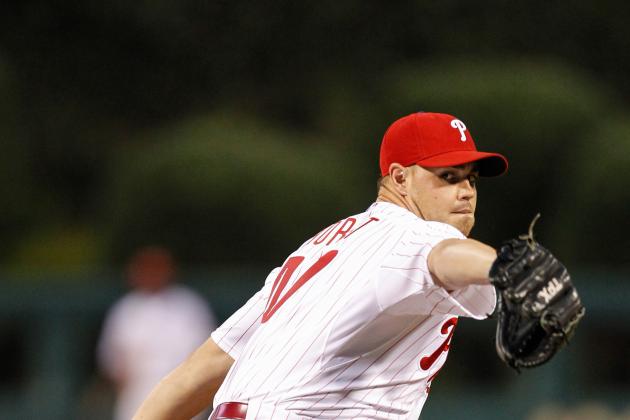 Brian Garfinkel/Getty Images

This is my bold prediction for the Phillies' relief corps: Jeremy Horst will have the lowest ERA of any Phillies reliever and will quickly establish himself as the team's best left-handed option.
Okay, maybe that's a little too generous for me to predict. But I do believe that Horst will prove to be better than Bastardo and Jake Diekman in terms of southpaw talent.
Horst, who was acquired in the 2011-2012 offseason from the Cincinnati Reds for fan favorite utility infielder (and occasional reliever) Wilson Valdez. It was a move that was scorned at the time and for a while afterward, as it left the Phillies without any dependable backup infielders to start the 2012 season.
After a midseason call-up, though, it didn't take long for Horst to establish his presence as one of the Phillies' better young relievers. In 32 games with the team on the year, Horst registered a ridiculous 1.15 ERA and a solid 11.49 K/9 rate.
What's more is that his FIP was 2.39 and his xFIP came in at 3.24, meaning that while Horst's incredible dominance may have been somewhat lucky, he still pitched extremely well.
Horst is ostensibly due for regression come 2013. However, with his success in 2012, Horst made his mark and likely has the inside track on a bullpen job for the upcoming season as a result. Of course, nothing's guaranteed for him, but if the Phillies decide to have two left-handers in their bullpen, Horst should be the go-to guy.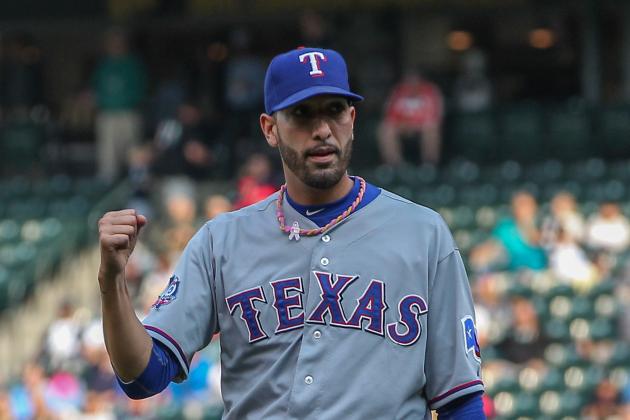 Otto Greule Jr/Getty Images

When the Phillies brought Mike Adams to town, I was thrilled. Adams has been one of my favorite pitchers in recent years and the only one I felt the Phillies should go out of their way and sign if the cost didn't get too out of hand.
Fortunately, the price was right, and Adams came to the City of Brotherly Love. But with ERAs of 0.73, 1.76 and 1.47 from 2009-2011, why shouldn't Adams be the number one guy on this list?
To be honest, I was tempted to put him there and in the original construction of this slideshow, Adams was number one. However, I quickly put a head on my shoulders and took into account that while Adams is good, he's not guaranteed to succeed just yet.
The 2012 season was a bit of an anomaly for Adams as his ERA ballooned to 3.27. Although that's respectable in all other aspects, for a guy like Adams it's below expectations.
It was due in large part to Adams surrendering three home runs in two thirds of an inning in his final outing of the season, something which Adams attested to his worsening Thoracic Outlet Syndrome.
The problem was surgically corrected this offseason and if Adams is healthy, all should go according to plan. The Adams-Papelbon combination is arguably one of the best in baseball if the former can achieve his former glory. If Adams is healthy, he should be effective and could very well move up to number one on this list. But for now...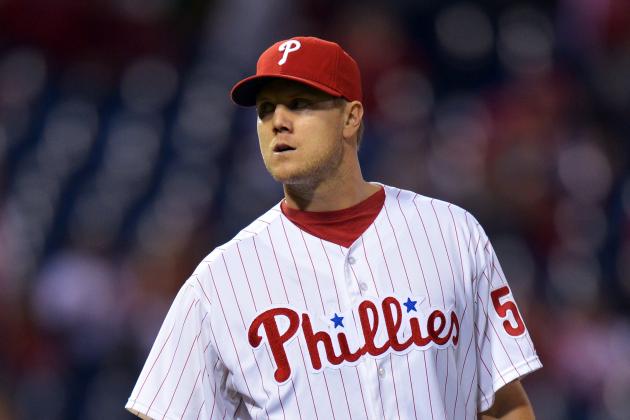 Drew Hallowell/Getty Images

...Jonathan Papelbon is top dog entering the 2013 season.
After being signed to a four-year, $50 million deal, the prize of the Phillies' 2011-2012 offseason lived up to expectations in 2012. He was one of the few on the Phillies' entire roster who could be depended upon in most situations, but he was nonetheless reliable.
Papelbon's biggest issues were his flyball rate and his ability in non-save situations. Manager Charlie Manuel refused to pitch Papelbon in non-save situations unless he had not been used for three days or so, which is a pretty terrible strategy.
As the closer, your job is to finish off the game, not just save it. Even if it's a one-run deficit, the closer should be keeping the team in the game for a potential ninth-inning rally.
Needless to say, it might be best if Papelbon avoids non-save situations for his own good, though this would of course reduce his opportunities to pitch. It's inevitable that he'll have to pitch in some non-save situations at some point during the season, so Papelbon should bring a mentality to those opportunities akin to those in his save situations.
What makes Papelbon number one on this list is that he did what he was supposed to do, and that's save games. Papelbon had 38 saves last year in addition to a solid 2.44 ERA. His HR/9 rate was a bit high at 1.03, but his K/9 rate of 11.83 wasn't bad at all.
If Papelbon does his job next year like he did last year, he should be the Phillies' best reliever. After all, his contract indicates he should be, no? As long as Papelbon throws strikes and gets more ground balls, he'll remain one of the best closers in baseball and the Phillies' most trustworthy relief option.