New York Yankees: Comparing Their Rotation and Lineup to Every AL East Squad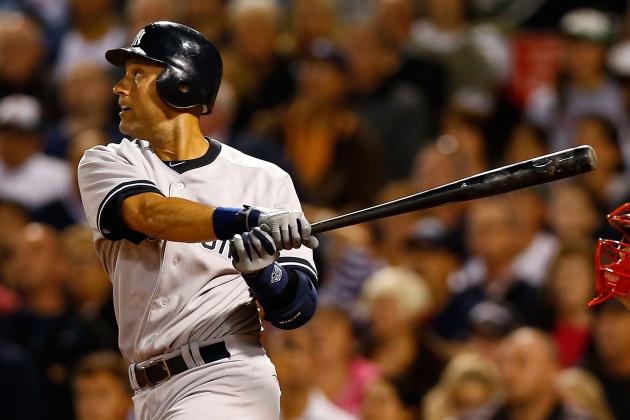 Jared Wickerham/Getty Images
How will the Derek Jeter-led Yankees fair in the ultra-competitive 2013 AL East?
The AL East, won by the New York Yankees in 2012, looks like it will be one of the best divisions ever this year, if not the best, since the current divisional format was adopted in 1994. All five teams are preseason playoff contenders, and each has just as good of a chance at finishing first as it does finishing last.
The Toronto Blue Jays are much improved after two mega-deals with NL East teams, the Tampa Bay Rays pulled off a blockbuster of their own in acquiring Wil Myers, the Baltimore Orioles return much of their lineup from last season and the Boston Red Sox, if healthy and after some key offseason signings, can give everyone in the division headaches as well.
Every team has the personnel to compete for the division crown and potentially make a deep playoff run. Ahead, I will preview how the New York Yankees compare to every AL East team.
Begin Slideshow

»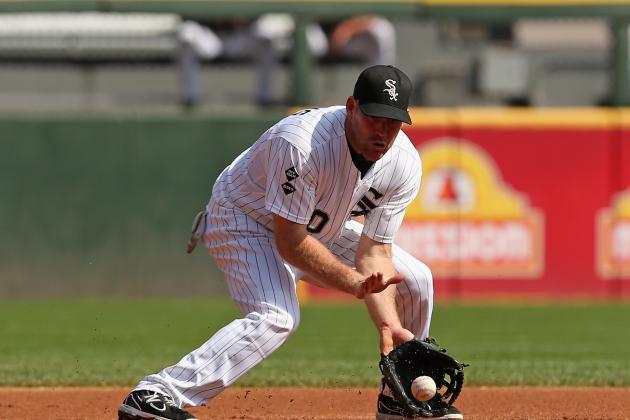 Jonathan Daniel/Getty Images
Kevin Youkilis will be the new starting third baseman for the Yankees in 2013
Before comparing them to the rest of the AL East, let's first preview the starters for the Yankees:
Catcher
Projected Starter: Austin Romine
This is perhaps the Yankees' greatest area of weakness. Russell Martin has departed in favor of the Pittsburgh Pirates, leaving the Yankees with no proven everyday major league catchers.
Their options are prospect Austin Romine, who is not yet completely ready to hit every day in a major league lineup, former backup Chris Stewart, who is a below-average hitter and fan favorite Francisco Cervelli, who seems to lack the overall skill set to play every day in the majors.
There is no defined starter going into this season, and it will be a battle between those three (barring a last-minute move by Brian Cashman) to determine who will start on opening day. I predict Romine will surprise people with his bat and win the job in late March.
Infield
Projected Starters: Mark Teixeira (1B), Robinson Cano (2B), Derek Jeter (SS), Kevin Youkilis (3B)
The Yankees infield is packed with All-stars. It is their greatest area of strength and will continue to be in 2013.
They do not have a weakness at any position, and it is very possible that all four starting infielders make the All-Star team this season. Even with third baseman Alex Rodriguez sidelined, for possibly the season, the Yankees found an ample replacement in Kevin Youkilis.
Not many teams will have a better infield in 2013.
Outfield
Projected Starters: Brett Gardner (LF), Curtis Granderson (CF), Ichiro Suzuki (RF)
Outfield is an area of transition for the Yankees. They lost Nick Swisher to Cleveland this offseason and are returning only one player who played in the Yankees outfield full time last season.
While Brett Gardner is speedy and one of the best defenders in the game, he missed most of last season with an injury and looked uncomfortable at the plate upon his return. Curtis Granderson looked lost against lefties at the end of 2012, and Ichiro, while revitalized after being traded midseason to New York, is 39 years old.
There is a lot of potential here, but also a lot of uncertainty.
Designated Hitter
Projected Starter: Travis Hafner
It looked as though the Yankees might spend all season rotating some of their older players at DH and giving Eduardo Nunez and Jayson Nix more extended playing time while they filled in in the field.
Instead, the Yankees signed Travis Hafner to a low-risk, high-reward deal that could pay dividends as Hafner's powerful left-handed swing seems to fit Yankee Stadium perfectly.
They will also still use it to rest some of their older players, such as Derek Jeter, against lefties.
Rotation
Projected Starters: CC Sabathia, Hiroki Kuroda, Andy Pettitte, Phil Hughes, Ivan Nova
The entire Opening Day rotation from last season returns for the Yankees in 2013.
Sabathia should be ready to assume his ace role once he is fully recovered from surgery, Kuroda is coming off of his best season to date, Andy Pettitte continues to provide quality outings, Phil Hughes will look to build on the progress he made late last season and Nova will look to bounce back after a down year.
David Phelps will also provide depth as a spot starter and could even steal Nova's spot if he falters.
The wild card here is the return of Michael Pineda, presumably near the All-Star break, that could either disappoint or give the Yankees a huge boost. Regardless of how Pineda fares, the Yankees should have a strong rotation in 2013.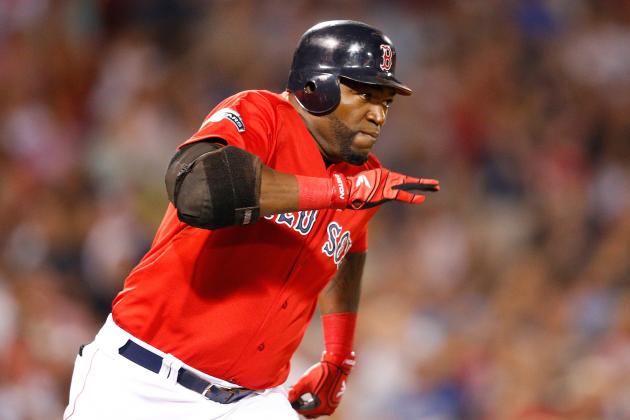 Jim Rogash/Getty Images
Big Papi and the Red Sox will try to unseat the 2012 division champion Yankees.
Catcher
Projected Starter: Jarrod Saltalamacchia
Saltalamacchia made a strong case for an All-Star bid last season, hitting 25 home runs in 405 at-bats. He has matured into a very good, all-around catcher and can defend his position adequately on top of his offensive prowess. He clearly beats any Yankees catcher currently on the roster.
Advantage: Red Sox
Infield
Projected Starters: Mike Napoli (1B), Dustin Pedroia (2B), Stephen Drew (SS), Will Middlebrooks (3B)
The Red Sox fielded a surprisingly good infield and did it very under-the-radar this winter.
Signing Mike Napoli gives them a strong power bat to pair with second-year third baseman Will Middlebrooks at the corners. Stephen Drew will provide them with a very capable offensive shortstop coming off of a down season, and Dustin Pedroia is the heart and soul of John Farrell's Red Sox team.
Despite what is sure to be a huge improvement over last season, the Yankees more proven and consistent infield edges out the Sox this year.
Advantage: Yankees
Outfield
Projected Starters: Jonny Gomes (LF), Jacoby Ellsbury (CF), Shane Victorino (RF)
The Red Sox outfield looked like it would be downright dreadful in 2013 before the acquisition of Victorino. He will play a good defensive outfielder in the spacious Fenway Park right field, but is coming off of a very down year at the plate in which he hit just .255.
Jacoby Ellsbury has potential to be an MVP candidate, but he can't seem to stay healthy. Jonny Gomes can provide some power in left field, but he is not a long-term solution.
Seeing as there is a lot of uncertainty in both outfields, I'm not sure either team has the edge in 2013.
Advantage: Draw
Designated Hitter
Projected Starter: David Ortiz
Big Papi has been giving the Yankees headaches for almost 10 years now and has shown no signs of slowing down. He will terrorize New York from the left side of the plate, yet again, in 2013 and give the Red Sox certainty at DH that the Yankees do not have.
Advantage: Red Sox
Rotation
Projected Starters: Jon Lester, Clay Buchholz, Felix Doubront, John Lackey, Ryan Dempster
While strong on paper, the Red Sox rotation has a lot of uncertainty.
Jon Lester is coming off of his worst season since reaching the Red Sox. Clay Buchholz has never made 30 starts or pitched 190 innings in one season. Felix Doubront is inexperienced (although he looked serviceable in his rookie season).
John Lackey missed 2012 recovering from Tommy John surgery and Ryan Dempster got knocked around after getting traded to Texas and pitched to an ERA over 5.00 after being a midseason NL Cy Young award candidate for the Cubs.
We don't know who, if anyone, will be effective in Boston's rotation in 2013.
Advantage: Yankees
Team Advantage: Yankees
The Yankees have a better rotation and a better collection of everyday players on the whole than Boston does. The Yankees should finish ahead of their archrivals in 2013.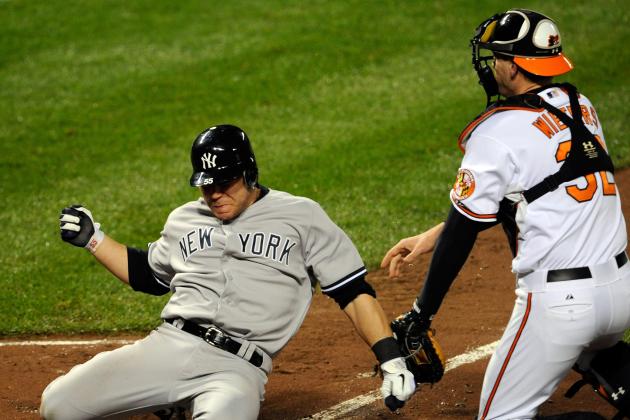 Patrick McDermott/Getty Images
All-Star catcher Matt Wieters will lead the Orioles back into playoff contention in 2013.
Catcher
Projected Starter: Matt Wieters
Wieters has started to live up to his potential as one of the former top catching prospects in baseball. He made his first All-Star appearance last season and is one of the top all-around catchers in baseball. This is an easy call.
Advantage: Orioles
Infield
Projected Starters: Chris Davis (1B), Ryan Flaherty (2B), J.J. Hardy (SS), Manny Machado (3B)
The Orioles have a good-but-not-great infield, with a lot of power coming from Chris Davis and J.J. Hardy. Manny Machado may someday be the best infielder in all of baseball with his bat, but he is sure to go through some growing pains in his first full season in Baltimore as a 21-year-old.
Advantage: Yankees
Outfield
Projected Starters: Nolan Reimold (LF), Adam Jones (CF), Nick Markakis (RF)
Adam Jones has turned into one of the best young outfielders in baseball and is a bona fide five-tool talent. Nick Markakis has always been an above-average player with good power and is also a career .295 hitter. Nolan Reimold will provide them with at least an average everyday left fielder with the glove and bat.
The emergence of Jones as an elite player gives this one to Baltimore.
Advantage: Orioles
Designated Hitter
Projected Starter: Wilson Betemit
Betemit is a fringe everyday player in the big leagues. Taking his glove—which is a liability—off the field makes it more bearable, but he is wildly inconsistent at the plate. He has good power and a quick swing, but his production has never been above average over a full season.
Given Travis Hafner's injury history, this one is a tie.
Advantage: Draw
Rotation
Projected Starters: Jason Hammel, Wei-Yin Chen, Chris Tillman, Miguel Gonzalez, Brian Matusz
The Orioles pitched themselves into the postseason last year and surprised the baseball world with their effectiveness.
However, only Wei-Yin Chen made over 30 starts, and the only other players to reach 20 were Jason Hammel and relief pitcher-turned-starter Tommy Hunter (20 starts each).
That is very unusual for a playoff team. Baltimore will not likely be able to sustain effectiveness long term without more stability in its rotation and without having at least two or three pitchers making 25 or more starts per year.
The depth is a strength, with prospects Zach Britton and Jake Arrieta providing quality spot starts, but not enough to overcome the team's lack of stability outside of Chen.
Advantage: Yankees
Team Advantage: Yankees
Baltimore was one of baseball's pleasant surprises in 2012 and will surely expect to contend in 2013, but questions in the rotation make me uncertain in the ultra-deep AL East.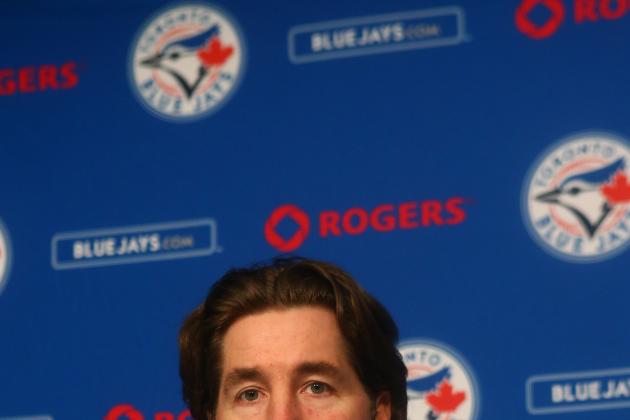 Tom Szczerbowski/Getty Images
The Blue Jays retooled most of their roster this offseason.
Catcher
Projected Starter: J.P. Arencibia
Arencibia is not the world's best defender, but his presence made Toronto comfortable enough to deal top prospect Travis d'Arnaud to the Mets for ace R.A. Dickey. He has very good power for a catcher and is durable as well.
Advantage: Blue Jays
Infield
Projected Starters: Edwin Encarnacion (1B), Maicer Izturis (2B), Jose Reyes (SS), Brett Lawrie (3B)
The Jays go toe to toe with the Yankees at every infield position, but Jose Reyes' down year in 2012, as well as Cano's clear advantage over the underrated Izturis at second base, gives the Yankees the edge.
Although New York's infield might be better, Toronto might have the second-best infield in baseball and could prove me wrong if it plays to its potential. Encarnacion showed his 40 home run power, Lawrie showcased his raw hitting tools, Izturis hit a respectable .280 and Reyes is two years removed from the NL batting title.
This team has potential, but Reyes's inconsistencies, as well as Robinson Cano's elite hitting ability at second base, give the Yankees the edge.
Advantage: Yankees
Outfield
Projected Starters: Melky Cabrera (LF), Colby Rasmus (CF), Jose Bautista (RF)
Center fielder Colby Rasmus has really come into his own, showcasing 20- to 30-home run power and above-average defense. If he could get his batting average up and cut his strikeouts, he would be one of the better all-around outfielders in baseball.
Melky Cabrera, before a 50-game suspension for steroid use, was an NL MVP and batting title candidate while Jose Bautista is a perennial All-Star and MVP candidate.
The Blue Jays have one of the better outfields in the game.
Advantage: Blue Jays
Designated Hitter
Projected Starter: Adam Lind
Lind, like Travis Hafner, has shown elite power (35 home runs in 2009), but he was very inconsistent last season and spent time in the minors trying to figure it out. Given that he has had only one season of inconsistency and hit a total of 84 home runs from 2009 to 2011, Lind edges Hafner, but by a small margin.
Advantage: Blue Jays
Rotation
Projected Starters: R.A. Dickey, Josh Johnson, Mark Buehrle, Brandon Morrow, Ricky Romero
This is where the Blue Jays improved the most this offseason.
They picked up the reigning NL Cy Young award winner in R.A. Dickey to front their rotation. Also, in one mega-deal with Miami, they acquired Josh Johnson, who is a true ace when healthy and consistent top-two starter Mark Buehrle.
Those three alone give the Jays a strong rotation, but they also return Brandon Morrow, who has flashed ace potential when healthy and struck out 203 batters in 2011, and Ricky Romero, who had a very down year in 2012 but can eat innings and pitched to a 2.92 ERA in 2011 in 32 starts.
J.A. Happ provides depth as a sixth starter and would crack the starting rotation on most teams in baseball.
Advantage: Blue Jays
Team Advantage: Blue Jays
Toronto retooled in two blockbuster trades with the Marlins and Mets and, on paper, have a team that should surely contend for a World Series.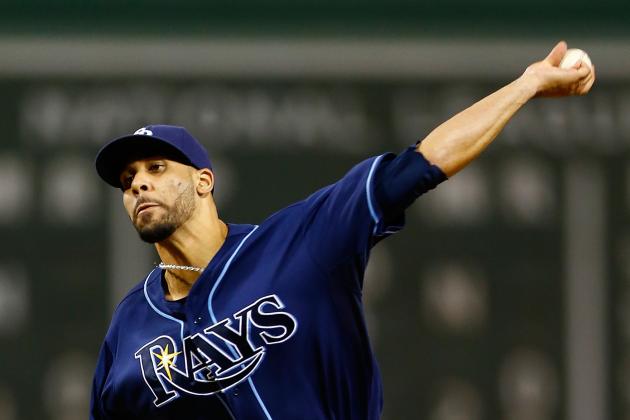 Jared Wickerham/Getty Images
David Price won the 2012 AL Cy Young award.
Catcher
Projected Starter: Jose Molina
Molina, a seasoned veteran, provides above-average defense and will throw out a very high percentage of would-be base stealers. Despite his below-average bat skills, his excellence, defensiveness and reliability with the pitching staff gives him the edge over Austin Romine.
Advantage: Rays
Infield
Projected Starters: James Loney (1B), Ryan Roberts (2B), Yunel Escobar (SS), Evan Longoria (3B)
The Rays have an underwhelming infield for a playoff contender.
James Loney never became the above-average hitter that many projected him to be. He is a .282 career hitter and has never topped 15 home runs, while reaching 90 RBI just twice in his career.
Ryan Roberts and Yunel Escobar are very serviceable players, but neither does anything particularly well. Longoria is an All-Star and MVP candidate, but he doesn't make up for the deficiencies around the Rays infield.
Advantage: Yankees
Outfield
Projected Starters: Matt Joyce (LF), Desmond Jennings (CF), Ben Zobrist (RF)
None of Tampa Bay's outfielders impress anyone with the bat, although Joyce and Zobrist do provide decent power from the corners. Jennings is a burner on the base paths but needs to get on base more to make up for the absence of B.J. Upton.
This is a very good defensive outfield that should get even stronger offensively when the Rays decide to call up top prospect Wil Myers, who they acquired in the James Shields trade. His bat is ready to contribute in the heart of their lineup right now.
With Myers, this might be an advantage for the Rays, but for now, the Yankees have a leg up on Tampa Bay.
Advantage: Yankees
Designated Hitter
Projected Starter: Luke Scott
Luke Scott, like many other Rays hitters, is nothing to write home about. He hits for average power and doesn't get on base particularly well. Given the Yankees' uncertainties at DH, this one is a tie due to the lack of an effective and proven option for either Tampa Bay or New York.
Advantage: Draw
Rotation
Projected Starters: David Price, Jeremy Hellickson, Matt Moore, Jeff Niemann, Alex Cobb
Their rotation is what makes the Rays playoff contenders.
David Price is the reigning AL Cy Young award winner, while Jeremy Hellickson and Matt Moore flash ace potential and could make the jump as early as this year. Jeff Niemann and Alex Cobb are two of the most reliable back-of-the-rotation arms and could be middle-of-the-rotation arms on other teams.
The Rays also have great depth in highly regarded prospect Chris Archer, who will likely make an impact this season.
Advantage: Rays
Team Advantage: Yankees
While the Rays rotation is leaps and bounds better than New York's, their lack of multiple elite hitters (they have only Longoria) makes it unlikely that they can hang around in the AL East this season. However, Joe Maddon's Rays always seem to defy the odds, and will surely outperform expectations.