The Biggest Offseason Priorities for the New Orleans Saints
Chris Graythen/Getty Images
As Drew Brees put it so eloquently during Super Bowl week, this is going to be a new era in New Orleans Saints football going forward from a forgettable 2012 season. Now, what's the best thing to do when starting a new era in one's life?
Make a priority list.
This isn't just any priority list, though, Who Dat Nation. The priorities on this list are the most vital to getting the city of New Orleans their sequel to Lombardi Gras.
The list goes from free agency to the draft when speaking of the depth having to be filled out for the Saints' new schematic change to the 3-4. It also includes coaching vacancies that need to be addressed and players whose development needs to be salvaged.
These are big things that need to be addressed if this new era is going to start off with a bang.
Adding Depth on the Defense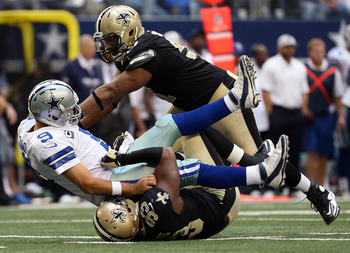 Tom Pennington/Getty Images
Whether it be through free agency or in the draft, the Saints need to fill the cupboard up on the defensive side especially since they will be incorporated a brand new scheme that some players just won't fit into.
You name the position, and chances are, the team could use some warm bodies there.
Defensive end in this new scheme could be bone dry outside of Akiem Hicks and Tyrunn Walker. I would like to see Tom Johnson back, but I just think his talent is wasted in a 3-4. (Yes, salary aside, I do think Will Smith would be a perfect 3-4 DE.)
Brodrick Bunkley becoming a cap casualty or not depends heavily on the defensive coordinator that is brought in. If an undersized nose tackle works for their scheme, then by all means, he would be back. But if not, there isn't much in that department either.
Behind Curtis Lofton and David Hawthorne lies no one who is capable of handling the inside position in a 3-4 linebacking corp. The only name that has experience in a 3-4 would be Scott Shanle, and who knows what the Saints decide to do with him now that they have made a switch that tailors to his game. He could be a valuable veteran backup.
Outside linebacker position is the key to this entire puzzle. Martez Wilson and Junior Galette have great potential but are unproven. Braylon Broughton, an undrafted free agent last year out of TCU, could be a name to remember.
The cornerbacks on this roster are just a cluster of muck. The ones who could be salvageable in a 3-4 are Patrick Robinson, Corey White and maybe Johnny Patrick, if he ever gets his head on straight.
Then we come to the safety position that is a strength and, more than likely, will remain untouched. My hope is that Isa Abdul-Quddus is given a chance to star in his third season.
There isn't much left behind the guys I named. That would leave the restocking of this defensive cupboard extremely high on the priority list.
Coaching Vacancies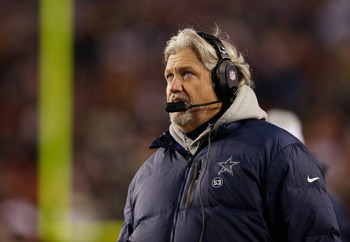 Rob Carr/Getty Images
Heavy attention is paid to the defensive coordinator void that was left when Sean Payton fired Steve Spagnuolo a couple days after being reinstated. But there are two other vacancies that are open on the Saints staff that are of big importance also.
Those are the offensive line and secondary coaches.
These are just as important as finding a defensive coordinator because there are young players who are already in those units that could go from middling reserve to top-notch starter with the right help.
Now I'm not dismissing the defensive coordinator search that looks like it has come down to Michael Myers' dad (Rob Ryan) and a coach who would leave a lot of money on the table to coach this year in Romeo Crennel. Throw in the Todd Grantham wild card out of Georgia and you have a mess of candidates, and I do mean mess, sans Crennel.
The secondary position should go to Darren Perry or Teryl Austin if they are not going to be considered for the defensive coordinator position.
The offensive line coaching vacancy is a little harder to predict. I feel like if they were going to promote from within then Frank Smith would already have the job.
These jobs need to be filled quickly since the heart of the draft and player evaluations period is here.
Player Development/Dealing with the Salary Cap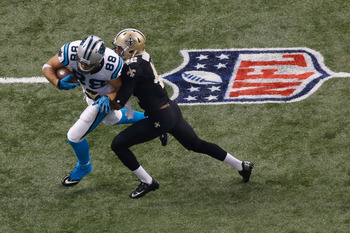 Chris Graythen/Getty Images
There are a lot of good, young defensive players, either on the active roster or the practice squad, who would surprise some people with the level of play if the right coach got their hands on them.
Historically, the Saints have never been to develop their own defensive players. The help on that side of the ball usually came via trade or free agency. That's strange considering how well the offensive players progressed during Sean Payton's tenure.
That is why it's imperative to hire coaches whose resumes are filled with a heavy dose of successfully developing defensive talent. The players are there to be molded, but this team has just never had defensive coaches that transformed talent to that next tier.
On the offensive side, Aaron Kromer's departure puts a lot of pressure on the next line coach with the amount of success he had in the developmental department. I mean he, eventually, got something out of Charles Brown. It wasn't his fault that Brown is made of glass.
Why do I focus so heavily on player development, you ask?
Because the Saints' salary cap situation is atrocious.
That has never deterred Mickey Loomis in the past. Maybe it should. Finagling around the cap can only work so long before you end up with overpriced, older veterans whose careers are on the decline. ( Ahem: Jonathan Vilma, Will Smith and Jabari Greer.)
Get your young talent in the door every year and start becoming a "pipeline" for successful talent. That way, you aren't scrambling for replacements when a player leaves via free agency or is just not cutting it anymore. In that case, you would just promote from within, and the circle would keep going.
Ask the Pittsburgh Steelers or Baltimore Ravens how that turns out for them.
Keep Reading

New Orleans Saints: Like this team?