The Georgia Bulldogs are closing out national signing day 2013 without much of a flourish. In the weeks and days leading up to today, the Dawgs were in the running for a number of top prospects, particularly from the state of Georgia, and were even favored for some.
As the letters of intent roll in, though, Georgia seems to be moving forward with its 2013 recruiting class without a single 5-star prospect. This class may not turn heads on paper, but when all is said and done, the talent being brought to the table by these new Dawgs will far exceed the needs being addressed at each position.
Defensive Backs
The Dawgs' secondary, the area of the field that posed the most immediate problem due to players graduating and leaving for the NFL, is now full of young players with plenty of upside. Georgia will round out this recruiting class with ten players that can fit into defensive back positions. In fact, three of the Dawgs' top four recruits will play in the secondary.
Considering Georgia was never seriously in the hunt for any higher grade defensive backs, this shows just how well the Bulldog coaches assessed their defensive situation and gave themselves the best chance to win heading into 2013.
With athletes like Shaq Wiggins and Tramel Terry (among many others) joining the ranks with Damian Swann, Josh Harvey-Clemons and the like, the Georgia Bulldog secondary can come into next year's season hopefully without even missing a beat.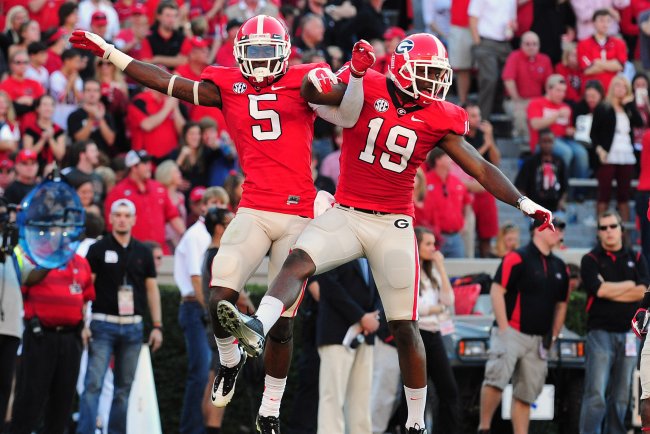 Scott Cunningham/Getty Images
Quarterback
Brice Ramsey seems to be all you could ever want in a prototypical pocket passer. Listed at 6'3" (ESPN) he has the size that you look for to play behind center plus the accuracy and overall ball skills that college coaches drool over. In the Under Armour All-American Game, he had his struggles, but also showed flashes of brilliance like his long ball to Jalin Marshall in the second quarter.
Ramsey will most likely be the future quarterback of the Georgia Bulldogs when Aaron Murray leaves next year.
Offensive Line
I'm sure the late blow of losing Laremy Tunsil will not be easily forgotten, but those who seem like they have been forgotten are the stud offensive linemen already picked up by the Dawgs this year. Brandon Kublanow and Josh Cardiello are expected to be two new big men up front that are even better than advertised.
Add to that Aulden Bynum, a new 6'5" offensive tackle, as well as 2012 redshirts Xzavier Ward, Eddie McQuillen, Kolton Houston and Zach DeBell, and the Dawgs offensive line depth just grew immensely.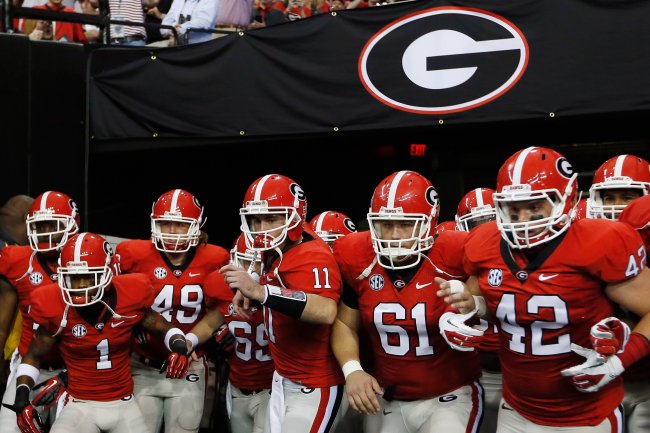 Kevin C. Cox/Getty Images
Georgia also received a letter of intent from DeVondre Seymour, former Bulldog Richard Seymour's adopted son, who will attend in the fall if his grades permit (ESPN). Seymour would be an outstanding addition to an already tremendous group of young men.
Offensive Skill Players
The inability to haul in Alvin Kamara is definitely a bummer, but the Georgia Bulldogs will not fret with the players they have in their skill spots next year. Gurshall will rule the backfield with the help of new recruits A.J. Turman and Brendan Douglas.
The receiver position will also gain some much-needed help—with the departures of Tavarres King and Marlon Brown—in Jonathon Rumph, Reggie Davis, Uriah LeMay, Brendan Langley and Rico Johnson. Reggie Wilkerson may also get tapped to play a role in the receiving game. Georgia will luckily have the opportunity to redshirt a good number of these players to get them ready to go in 2014.
The Dawgs also add depth at tight end with Jordan Davis. As more of a blocking tight end, Davis will leave most of the route running and pass catching to Arthur Lynch and Jay Rome for a bit, but with some work, he has the potential to take over for the Dawgs as a premier player in the next few years.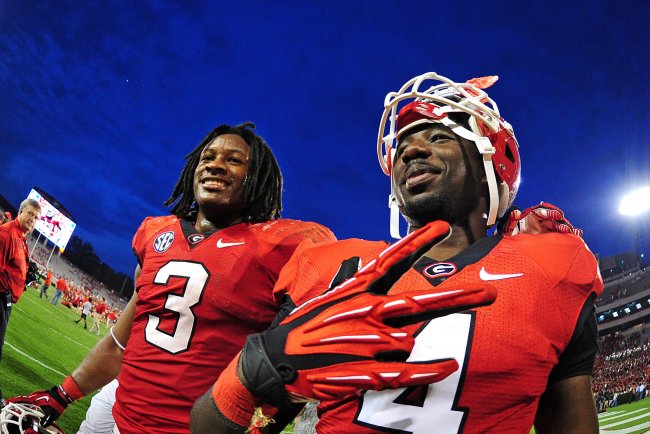 Scott Cunningham/Getty Images
Defensive Tackle
Montravius Adams was the defensive lineman the Dawgs were after the hardest. With the departure of Rodney Garner to Auburn, however, so came the switch for Adams as well. Fortunately for Georgia, they already have some big bodies ready to take the place of former stars John Jenkins and Kwame Geathers.
Jonathan Taylor is a mammoth of a defensive tackle who will play a big role for the Dawgs this year and create mismatches all season long. Georgia had to wait a year for him, but John Atkins will finally make it on the field in Sanford Stadium this fall as well.
These young men, along with junior college prospect Chris Mayes and 3-star DT DeAndre Johnson, seem to be all the Dawgs will need to fill that big hole left in the middle of the defense.
Linebacker
Jarvis Jones is one player who you just can't replace. Davin Bellamy sure is going to try though. Both Jones and Bellamy fit the OLB slot in the 3-4 scheme, and, like Jones, Bellamy has the size and speed to wreak havoc all over the field.
Will These New Recruits Help the Dawgs Make It Three SEC East Titles In a Row?
Georgia will also need to replace inside linebacker Alec Ogletree. Being able to plug Reuben Foster in the middle would have been nice, but this is a problem with a pretty simple solution: Tim Kimbrough and Johnny O'Neal.
Both of these 4-star recruits look ready to take the field and step right in to whatever role they must fill. The Dawgs will benefit from the talents of Ryne Rankin and Reggie Carter as well.
The Dawgs will also return Amarlo Herrera, who will play a crucial role in the center of the Georgia front seven in 2013.

Conclusion
The Georgia Bulldogs certainly did not come away with a recruiting class for the ages, but they ended up with exactly what they needed.
One thing is for certain, the upstanding young men that signed with the Dawgs today look hungry and ready for battle in the SEC.
Georgia will not finish with the number one recruiting class; however, they will be a team on the rise, ready to take the division reins and be championship-bound.