National Lacrosse League Week 6: Previews and Predictions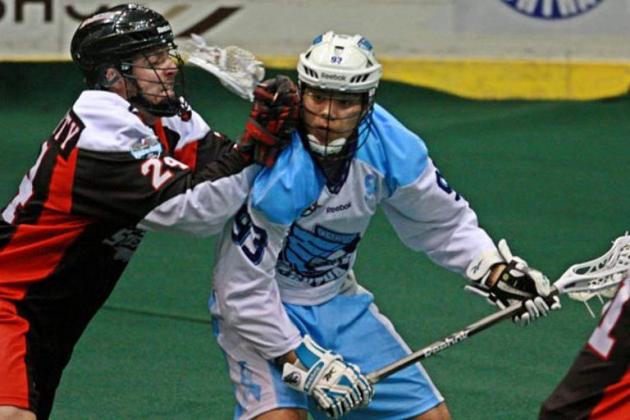 (Photo: nll.com)
Week 5 of the NLL schedule saw the Toronto Rock extend their lead in the East and the defending champion Rochester Knighthawks earn their first win.
Week 6 sees five games on the schedule, with all nine teams involved. Rochester is the only team playing twice, and they'll be looking to extend their winning streak and get back into the hunt for first place.
I had a pretty slow start in my predictions, only getting one game right in the first three weeks. But I've gone 9-2 in the last two weeks, so I seem to be on a bit of a roll. Let's see how I do this week....
Begin Slideshow

»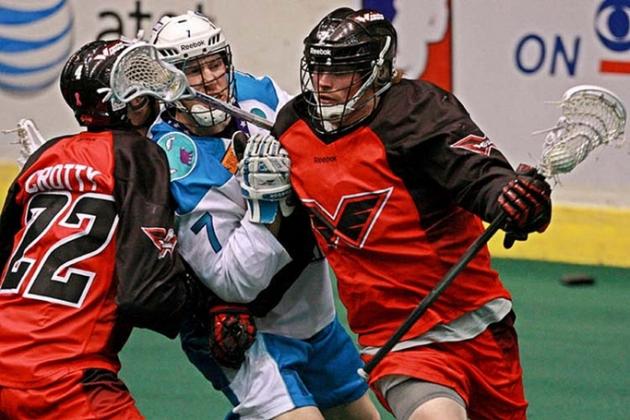 (Photo: nll.com)
The Rochester Knighthawks finally got their first win of 2013 and their first win since taking the Champion's Cup last year. The Philadelphia Wings are headed in the opposite direction, having lost their last two.
Matt Vinc had an outstanding night in net for the Knighthawks, giving up just 6 goals to earn the NLL's Defensive Player of the Week award.
The challenge for Rochester will be scoring some goals of their own. The 9.75 goals per game they're scoring this year is worst in the NLL.
Philadelphia has similar issues.
The Wings have the second lowest goals per game—10.5—while goaltender Brandon Miller is having an excellent season, with 10.06 goals against.
This is the first matchup between Rochester and Philadelphia since their blockbuster pre-season trade that saw Dan Dawson go to the Knighthawks and Paul Rabil head to the Wings. While both teams were pretty happy at the time, it hasn't translated into a ton of success for either squad yet.
I'd say this game is too close to call, but not calling it isn't really my style. I'm looking for Rochester to finally burst out of their offensive funk and take this one 13-11.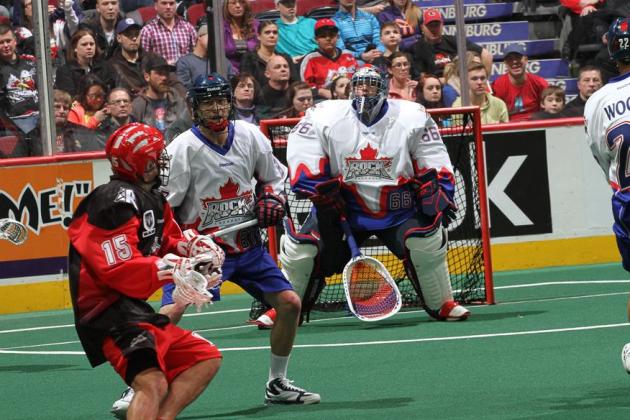 (Photo: Brad Watson, calgaryroughnecks.com)
The Toronto Rock are off to a fantastic start. The Minnesota Swarm...not so much.
The Rock have been rolling on the strength of the goaltending play of Nick Rose. The young netminder is leading the league in goals against (9.76), save percentage (.809), and total saves (246).
Toronto's offense has been powered by Garrett Billings (36 points) and Colin Doyle (31 points), who are second and third in NLL scoring to date.
Ryan Benesch is on top of Minnesota's scoring, with 22 points. Rookie of the Week Shayne Jackson is not far behind with 19.
The big question is whether or not Callum Crawford will be back after missing last week with a hamstring injury. If he's good to go, he'll provide a huge boost to a Swarm offense that only managed nine goals last week.
Evan Kirk and Tyler Carlson have yet to show off the goaltending prowess that they displayed last year. Together they've given up almost 14 goals per game. That has to improve if they hope to start picking up wins.
If Crawford can play some effective minutes, he'll make the Swarm better. However, the Rock seem to be rolling right now. I'm looking for a 12-11 win for Toronto.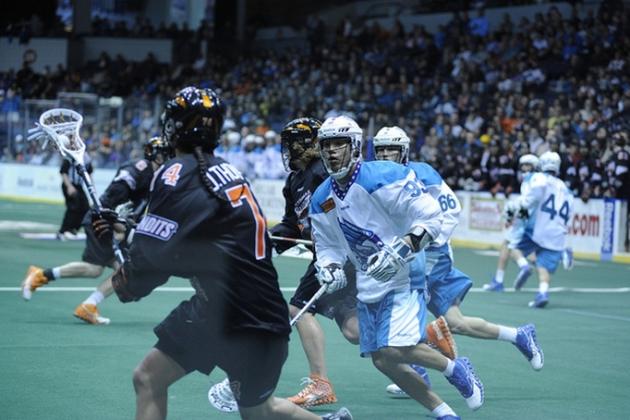 (Photo: Ward Laforme, nll.com)
Rochester travels from Philadelphia on Friday to Buffalo on Saturday for their second game in as many nights.
The Buffalo Bandits are coming off a tough loss at home to the Toronto Rock last week and will be itching to get back into the win column.
The Knighthawks will be trying to push upward in the standings and will be hoping to earn a weekend sweep to bring them back to .500 lacrosse.
Cody Jamieson has been the top dog on offense for Rochester so far, with 17 points, and is looking just as good as last year.
Teammates Dan Dawson and Casey Powell, who were both expected to do big things for the Rochester offense, have simply not been getting it done. The Knighthawks need a lot more from those two if they're to remain competitive.
Buffalo's offense has been led all year by Shawn Williams (26 points), who also continues to extend his all-time ironman streak, now over 200 games.
If the game comes down to goaltending, Rochester should have the advantage. Matt Vinc (10.75 goals against average) has looked better this year than Buffalo's Anthony Cosmo (14.19 goals against).
I think it's going to come down to effective offense, though, and Buffalo has been scoring with far more regularity. I'll give this one to the Bandits, 12-11.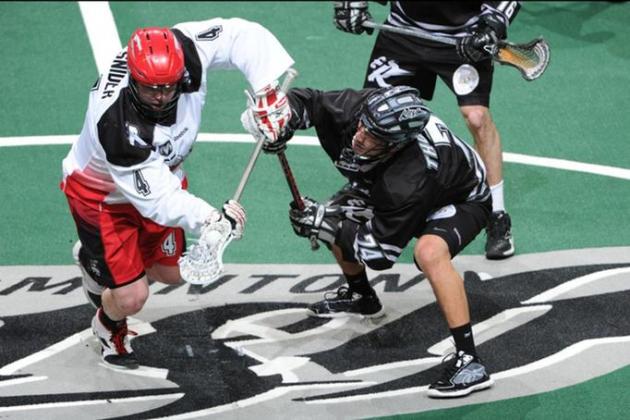 (Photo: nll.com)
The Battle of Alberta got underway last weekend in Edmonton with the Calgary Roughnecks taking an 18-15 victory. The two teams travel south on Saturday to Calgary for the second of four meetings this year.
Edmonton jumped out to a lead in the first quarter, but the Roughnecks' offense would not be denied, eventually chasing the Rush's starting goaltender, Aaron Bold, from the game.
Bold (12.71 goals against average) had an outstanding 2012 campaign and will likely be back to form this weekend. If he isn't up to the task, big Brodie MacDonald (8.92 goals against) showed last week that he can handle relief duties.
Veteran Ryan Ward and rookie Mark Matthews are tied for the Rush lead in scoring, both with 21 points. They'll be called upon once again to take on the bulk of the scoring load.
Calgary's Geoff Snider won the Transition Player of the Week award for the second week in a row after scoring a hat trick, collecting 22 loose balls and winning 27 of 36 faceoffs against Edmonton.
Snider is now leading the NLL in loose balls (78) and forced turnovers (11) and is second in faceoff wins (111), behind his brother Bob of the Washington Stealth.
Shawn Evans continues to lead the Roughnecks offense—and the NLL— with 37 points. Not too far behind is Jeff Shattler, with 23 points.
In fact, Calgary's top six scorers are all in the top 30 in the NLL—no other team is as well represented at the top of the charts.
Goaltender Mike Poulin was shaky in the first half of last week's tilt, but got stronger as the game went on and has a solid 11.83 goals against average on the season to show for it.
I don't think this game will be as wide-open as last week's affair, but Calgary has been averaging 17.7 goals per game since they started their three-game winning streak and Edmonton has been averaging 14.3 goals per game in their last three as well, so you never know. Still, I'm expecting a slightly more conservative 14-12 win for the Roughnecks.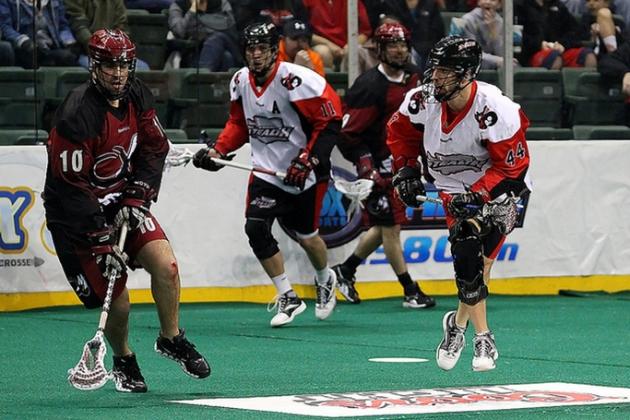 (Photo: Richard Olson, nll.com)
The Washington Stealth took a tough loss last weekend at the hands of the Rochester Knighthawks while John Grant, Jr. led the Colorado Mammoth to a big win over the Minnesota Swarm.
Grant, Jr. had an 11-point night against Minnesota to pick up the Offensive Player of the Week award. That gives him 30 on the season, good for fourth in the NLL, with games in hand on the players ahead of him. On his current pace, another scoring title is well within reach.
Colorado's Achilles' Heel to date has been their goaltending.
With Chris Levis released, Matt Roik is now the No. 1 guy. He acquitted himself pretty well against the Swarm, but got thrown out late for wearing illegal equipment, a ruling that the league has now admitted was incorrect.
Roik and his 12.50 goals against will likely start this game, with Dan Lewis ready to step in if things go wrong.
Washington lost a heart breaker to Rochester last weekend but will be looking to bounce back.
Tyler Richards has been performing well between the pipes for the Stealth, posting an 11.01 goals against to date.
Bob Snider is leading the league in faceoff wins (115) and is second in loose balls (75), just behind his brother Geoff of the Calgary Roughnecks.
Rhys Duch has been his usual self offensively. "Clutch" Duch has picked up 28 points in the Stealth's first six games.
Cliff Smith, who exploded for 15 points in the first two games, has cooled off significantly since then but is still second on the team in scoring with 24 points.
On paper this is another game that look like a dead heat, but my gut says this one is Colorado's to lose, so I'm calling it a 13-12 Mammoth win.
Follow me on Twitter @calgaryjimbo