5 Biggest Needs for the Washington Redskins Heading into the Offseason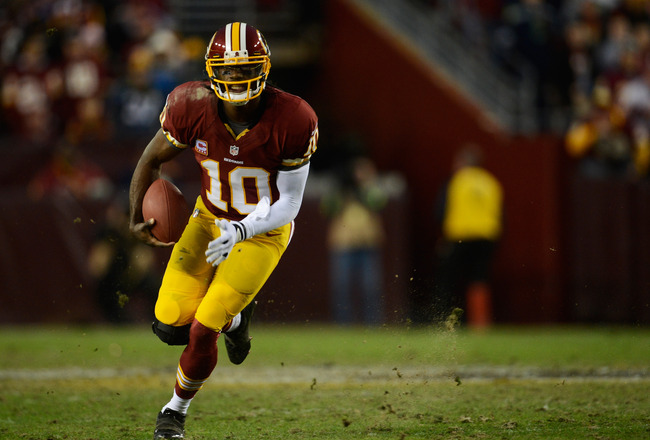 Patrick McDermott/Getty Images
Just because the Washington Redskins improved their winning total by five games and finished on top of the NFC East for the first time in 13 years doesn't mean there's no room to build.
As a matter of fact, there are plenty of ways the Redskins can become even better in 2013.
In pursuit of a second consecutive NFC East crown (which would be the first time since 1982-84), a few glaring spots need improvement. Others aren't so obvious, but still could use some fixing.
Here are the five most vital needs for the Washington Redskins this offseason.
Safety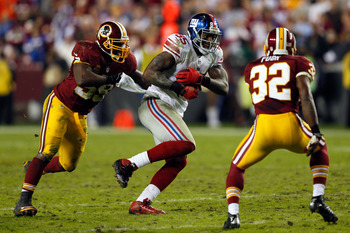 Rob Carr/Getty Images
If Brandon Meriweather can return to full health and play an entire season at strong safety, then that would be fantastic for the Redskins.
However, having a contingency plan never hurt anyone. Since a healthy Meriweather would be hard to replace through free agency, it would be more important to have a draftee in the backup spot behind Reed Doughty.
At the free safety position, things get a little sloppier. Currently, Madieu Williams is in line to be the starter. That may not be the case, though, after his mediocre 2012 season, and he could be replaced rather easily.
That is, unless the Redskins are convinced that Jordan Pugh is ready to play the role, but I don't see that happening just yet.
Jairus Byrd and Louis Delmas are two names that could be available (with Delmas being more likely), or the Redskins could sit back and wait until Round 2 of the 2013 NFL draft to go after someone like Eric Reid of LSU.
Either way, don't rely on the Redskins to express desire in having a defensive backfield with Jordan Pugh and Reed Doughty starting at the safety positions.
Cornerback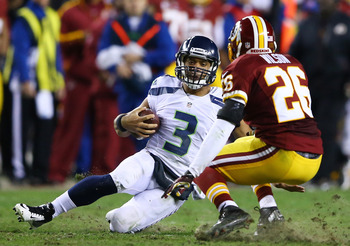 Al Bello/Getty Images
Much like the safety positions, the cornerbacks had problems containing passing attacks in the 2012 season.
Therefore, if the Redskins can not restructure the contract of DeAngelo Hall, it may be time to cut ties with the veteran. Josh Wilson will be back with the Redskins in 2013 as a starter; there's not much question to that.
As for the reserves, it gets a bit dicey. Cedric Griffin is a free agent, and it may not be in the Redskins' best interest to re-sign him after an abysmal 2012.
With all of the talented cornerbacks in free agency (Brent Grimes, Aqib Talib, Cary Williams, Dominique Rodgers-Cromartie, etc.) and options that could be available in the Redskins' first draft selection (even the "Honey Badger" Tyrann Mathieu in later rounds), it is highly likely the Redskins will make this position a priority.
Right Tackle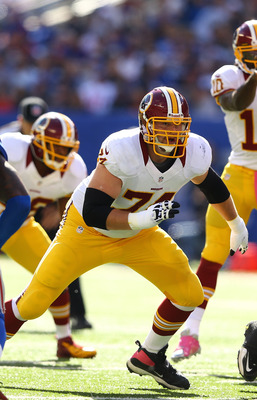 Al Bello/Getty Images
Let's just go ahead and say the Jammal Brown experiment is over in Washington.
With Tyler Polumbus and Jordan Black both set to hit the free-agent market (although probably not with much fanfare), it may be time to add someone new to the mix.
If Polumbus can not be re-signed, the market has slim pickings after Sebastian Vollmer (currently of the Patriots) unless the Redskins think they have the money to sign someone from the left tackle position and then move him over.
That would be a lot of money, though. Especially considering the names at the position: Ryan Clady, Jake Long, Andre Smith, etc.
Andre Smith would make the most sense, as he is a much better run-blocker than pass-blocker, and that's where the Redskins excel.
Tight End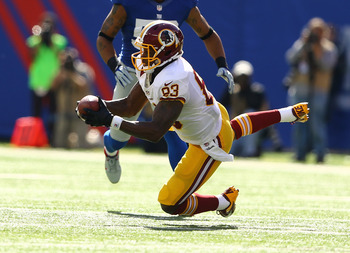 Al Bello/Getty Images
Logan Paulsen was a pleasant surprise for the Redskins in 2012, but ideally, the Redskins wouldn't have him at No. 1 on the depth chart in 2013.
If Fred Davis and the Redskins decide to part ways, then expect the Redskins to look for another tight end in free agency or the draft.
Assuming the Redskins can take care of their other needs in free agency, then the team could be in the market to possibly move up a few spots to take a playmaker like Tyler Eifert or even Zach Ertz in the second round in the draft.
Jared Cook, Brandon Myers and Dustin Keller are some of the names that could be available, but with that considered, it might be better to try and sway Davis to stay in Washington.
A New Field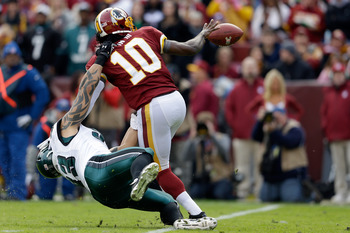 Rob Carr/Getty Images
It's nice that the Redskins added high definition video boards in each end zone and added party decks for fans, but the field has to go.
In the playoff game against Seattle, it was brown, clumpy and just plain dangerous.
With that said, it should be easy just to implant artificial grass that will stay safe throughout the entire year, especially if the Redskins get to play another home game in January of 2014.
Korey Beckett is a Featured Columnist for the Washington Redskins, Fantasy Football and the Chicago Cubs. Like him on Facebook here or e-mail at koreydbeckett@gmail.com
Keep Reading

Washington Redskins: Like this team?