IRB Sevens Preview: A Look Ahead At The USA 7s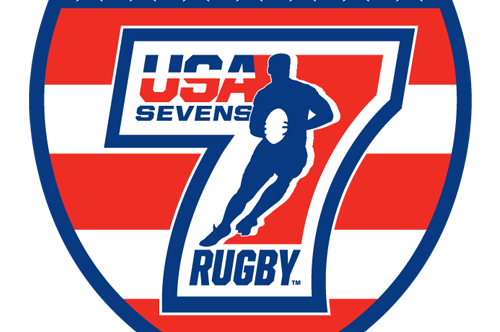 The IRB 7s Series arrives in the USA this weekend in Las Vegas.
The HSBC IRB Sevens Rugby Series makes its only North American stop this weekend in Las Vegas.
The continent's biggest rugby festival is home to hundreds of avid rugby teams and fans, many of whom will no doubt have as good a time off the field as they will on it. But at the heart of the action will be 16 elite national teams who will battle in front of of 30,000 screaming rugby supporters in Sam Boyd Stadium in an attempt to win the fifth leg of the 2012/13 international series.
Series leaders New Zealand arrive in Sin City having just suffered the indignity of watching England claim the Wellington Cup title on their home ground. The All Blacks managed a third-place finish in Wellington, which is good enough to see them maintain a substantial 22-point gap between themselves and their closest competition in the IRB Sevens standings; however, New Zealand head coach Gordon Tietjens will certainly be expecting a more ferocious performance from his troops this weekend.
The country's biggest rugby showcase demands big-time analysis, and this exclusive Bleacher Report preview brings you all you need to know about each of the tournament's four pools.
We begin with a very interesting Pool A, where the reigning Wellington champions from England will look to continue their dominance.
Let's get to it!
Begin Slideshow

»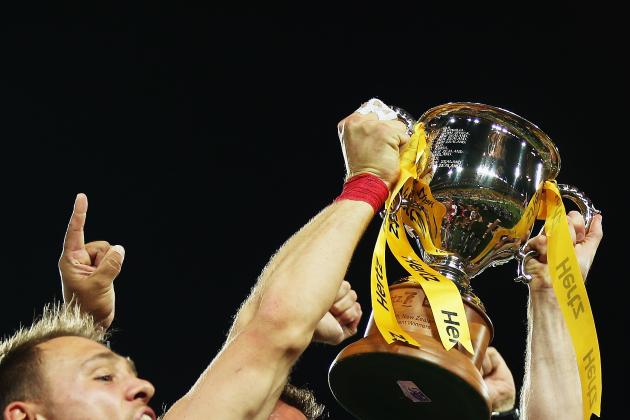 Hannah Johnston/Getty Images
England won the 2013 Hertz 7s in Wellington last weekend.
In theory, there are two teams in Pool A that hold IRB Series wins during the 2012/13 season; however, only one currently looks like a champion.
England looked like world-beaters in New Zealand, even though they had vastly underperformed at previous tournaments. The English should certainly be favoured to top their pool, given that their victorious squad will remain relatively settled.
Had these predictions been made at the time of the Gold Coast Sevens last October, one would have certainly given that honour to Fiji instead. However, after winning the Cup title in Australia, the flying Fijians have looked like anything but champions.
Any result but a top-two finish in their pool will likely see the Fijians fall out of the top-eight in the IRB standings—an unheard of ranking for one of the world's elite sevens nations.
Looking to make sure that Fiji are given a run for their money in Vegas will be two ever-improving sides in the form of Scotland and Portugal. The Scots are coming off their best showing of the season in Wellington, while the surprising Portuguese have shown they are capable of beating some of the series giants on their day.
At first glance, it would seem as though all the pressure rests with Fiji in Pool A.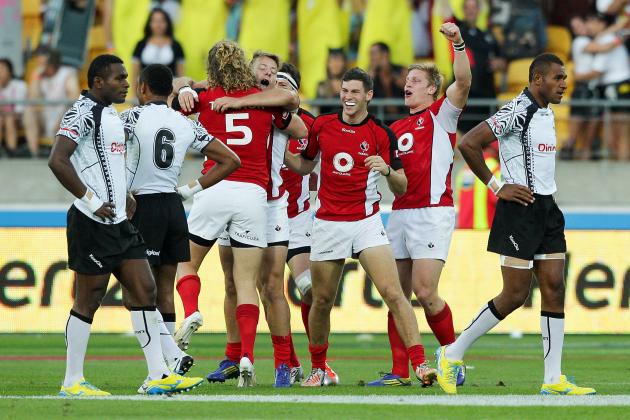 Hagen Hopkins/Getty Images
Canada looked strong in claiming the Bowl Championship in Wellington.
There is no IRB Sevens Series stop in Canada, and so every year thousands of rugby-mad Canadians flock to Las Vegas to support their national team and soak in the atmosphere of North America's biggest rugby party.
Their country's on-field results have not always given them cause to celebrate, but something new is in the air where Canadian rugby is concerned. The Canadians topped their pool at the Dubai Sevens and went on to the Plate final of that tournament as well.
After four events Canada boasts the competition's leading try-scorer in the form of the lightning-fast Sean Duke, while veteran Nathan Hirayama has quietly moved into third position in the series individual points race.
Coach Geraint John and his staff are in the midst of evaluating a string of injuries that struck the squad in New Zealand, but if Canada can retain the core of their roster, they retain the ability to beat any team on the circuit, as South Africa and Fiji discovered last weekend.
The South Africans, who just managed to squeak past Canada and into the Wellington Cup quarterfinals on points differential—and who now must face them again in Pool B—will surely be looking for a chance to avenge that defeat, but danger lurks everywhere in this highly competitive pool.
Kenya, who are enjoying an incredible comeback season, are currently ranked second in the world and will be fancying their chances against both Canada and South Africa—they would be wise to take both very seriously.
Bringing up the rear in this pool with be Uruguay who, although spirited and well-trained, will not have the firepower to stay with the more experienced nations they have been drawn against this weekend.
Only two of the three big players in Pool B can advance to the Cup quarterfinals. The throngs of Canadian fans who will be waving maple leaves across Sam Boyd Stadium will certainly be hoping that this is their year to make waves.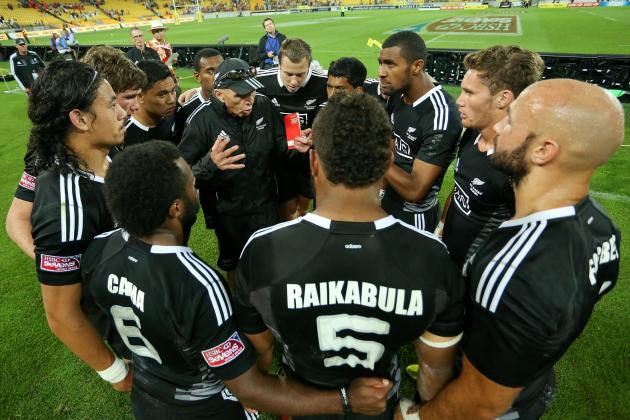 Hagen Hopkins/Getty Images
New Zealand should have a fairly easy time with Pool C.
New Zealand did not manage to defend their title in Wellington this year, but by looking at their pool draw in Las Vegas, you might be excused for thinking they had.
The mighty All Blacks will play France, Wales and Argentina on day one of the USA Sevens, none of whom would normally be considered a serious threat to the coach Gordon Tietjens and his men.
The true battle here will be for the final Cup quarterfinal place, and there things get a little more interesting. Only five rankings points separate Argentina from the fifth-place French at the moment—both of whom will be targeting wins over a struggling Welsh side during pool play.
That leaves the head-to-head collision between France and the Argentines as the contest most likely to decided who will advance.
Give the edge to France.
Although they performed poorly in Wellington, France are enjoying a fine season and were actually the second-ranked team in world sevens rugby heading into the New Zealand leg of the series.
Nothing is certain in the increasingly competitive world of sevens rugby, but look for a perfect Saturday from New Zealand in Pool B, with France edging their way into the final Cup quarterfinal berth.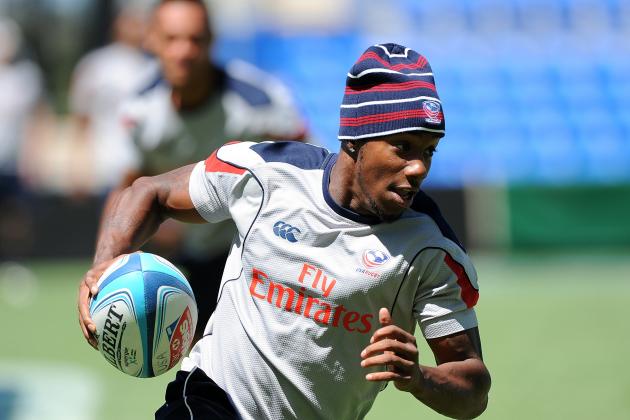 Matt Roberts/Getty Images
Ohio's Carlin Isels is considered the fastest man in world rugby.
The United States may boast the fastest man in world rugby in the form of Ohio's Carlin Isles, but that fact made little difference to their results in Wellington.
The USA Eagles always bring their game up a notch on home soil and have pulled off some famous upsets in Sam Boyd Stadium in the past; however, this year's tournament sees them matched against the might of Samoa and Australia in Pool D.
It is a daunting prospect.
Samoa are one of four nations to have claimed a Cup championship on the IRB Sevens Series already this season in Dubai, and the Australians are coming off of their finest performance of the year last weekend in Wellington.
To have a chance at advancing, the Eagles will have to convincingly handle Spain—a team that sits one spot ahead of them in the world rankings—and go on to upset one of the other powerhouses in their pool.
If such an upset comes, it might very well come against the Aussies, who have suffered from injuries all season and have a rather young and inexperienced squad. Still, Carlin Isles and his USA teammates will have to be at their very best if they are to give their home crowd the upset.
Both Samoa and Australia will certainly expect themselves to advance with relative ease.
With four different winners from four different IRB Sevens Rugby events during the 2012/13 season, trying to pick a winner for this weekend's USA Sevens would be a losing bet—but one thing is certain. The sport of rugby in North America cannot help but benefit from the continued success of the game's leading showcase—something that seems assured with this year's tournament again set to appear on NBC network television.
For those of you who can't wait, we leave you with a video of the IRB's top scores from last weekend's tournament in New Zealand.
Our pool analysis made be over, but the great debate is just beginning. Bleacher Report is your home for fantastic discussion, along with all of the sports news you can handle.
So make your picks and state your allegiances. This year's USA Sevens event in Las Vegas is sure to be, on this weekend at least, the Sin City's finest show.


Follow the U.S.A. 7s on Twitter using #USA7s

Jeff Hull is a Featured Columnist for Bleacher Report. Follow him on Twitter by clicking on the link below.