New York Yankees: What to Expect from Every Starter in 2013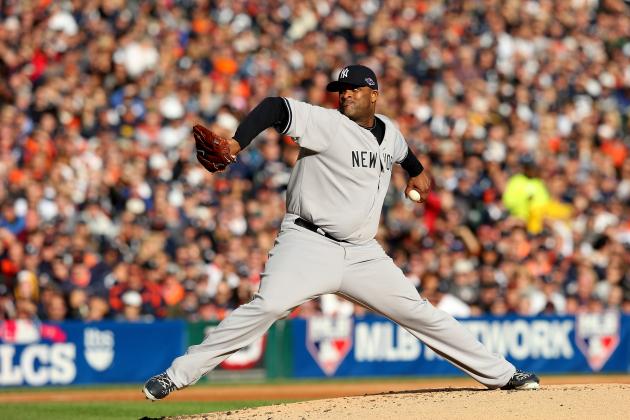 Jonathan Daniel/Getty Images
Will CC Sabathia return to his Cy Young form in 2013?
The 2013 New York Yankees starting pitching will look to build off the success they had throughout most of last season.
The Yankees were so confident in their rotation last season that their main focus this offseason was resigning two starters, Hiroki Kuroda and Andy Pettitte, for another season regardless of their advanced age.
The overall starters ERA last season was 4.05. With a full year of Pettitte and a healthy CC Sabathia, there is no reason that this season's number can't improve.
With an offense that is dealing with a few holes and a lot of question marks, the Yankees will have to rely heavily on their pitching this season.
With that said the expectations will be set high for several of the pitchers taking the mound in the Bronx this summer.
Begin Slideshow

»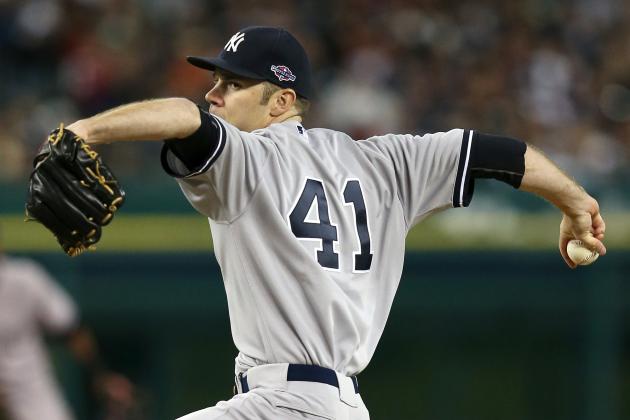 Jonathan Daniel/Getty Images

David Phelps made 11 starts for the New York Yankees in 2012 and pitched pretty well as a spot starter.
In just under 100 innings, he went 4-4 with an ERA of 3.34.
Phelps showed a lot of promise with his stuff and ability to strike men out. Only Sabathia had a higher K/9 rate than Phelps last season.
Phelps is only 26 and will more than likely be needed this season to replace an injured or ineffective starter. That is of course if he doesn't beat out Ivan Nova for the fifth spot out of camp.
Expect Phelps to make close to 20 starts this season and provide the same type of production he did a season ago.
The best part about Phelps is he is eager to contribute, and he is willing and ready to fill a full-time position in the Yankee rotation.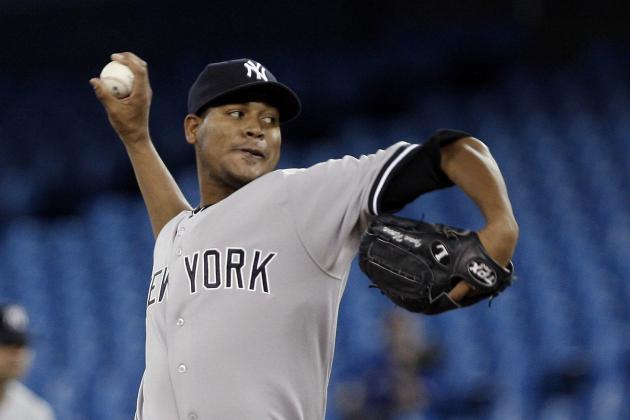 Abelimages/Getty Images

The fifth spot in the Yankees rotation is Ivan Nova's to lose entering the spring.
Nova told Anthony McCarron of the New York Daily News that he expects to make the rotation in 2013.
For that to be true: Nova will need to find the form he had in his rookie season that led to a 16-4 record with a sub-four ERA.
Last season Nova struggled mightily. In 28 starts, Nova went 12-8 with an ERA of 5.02.
Nova was so ineffective in the second half of last season that he was left the postseason roster.
The 26-year-old is still young, and this will be his third season as a starter. The Yankees have not given up on him and they shouldn't.
Expect Nova to find his form and find a happy medium between his first two seasons. 15 wins and an ERA around 4.2 shouldn't be a stretch for the talented right-hander.
The worst thing for Nova would be to struggle to start the season as a team that needs to contend they won't have patience with losing.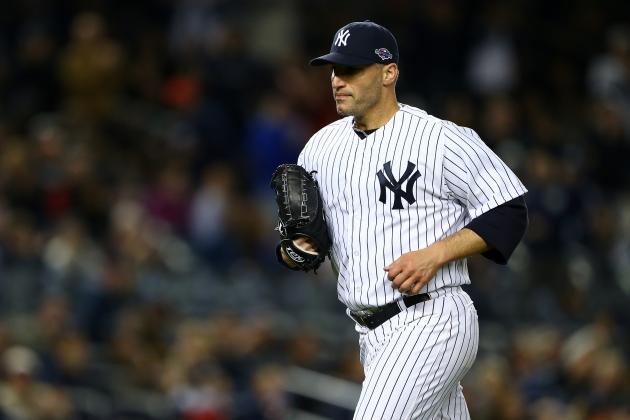 Al Bello/Getty Images

Andy Pettitte was a bit of a saving grace for the Yankees last season.
He joined the team late in the year and provided them instant innings and production.
In 12 starts, Pettitte went 5-4 with an ERA 2.87. That was the second-lowest ERA in his career.
Pettitte has learned to be crafty and is getting more batters out via the strikeout. He had his second-highest strikeouts per nine innings in his career in his limited starts last season.
Expect much of the same from Pettitte when he is on the mound this season. He is a smart, veteran pitcher who is aware that his time is coming to an end.
Unfortunately, a 30-start season seems unlikely from the soon-to-be 41-year-old. 25 starts and 15 wins seems about what to expect from Pettitte.
It'll be nice to see if he can pick up where he left off in terms of finishing batters off.
In what will likely be his last ride, if the Yankees can return to the postseason, Pettitte should be able to pick up playoff win No. 20.
Gregory Shamus/Getty Images

Phil Hughes has a lot of factors working in his favor to begin the 2013 season.
He will turn 27 this year, entering the prime of his career and a year where a lot of major leaguers make their leap.
He is also on the last year of his original contract. The former first-round pick will enter free agency following this season so it behooves him to have a big year.
Hughes was effective last season, rebounding from a miserable 2011. He pitched the most innings in a single season in his career last year, coming up just short of 200.
Hughes also won 16 games, the second time he has won at least that many.
The Yankees would enjoy nothing less than to see Hughes become the pitcher they envision he would be.
The wins for Hughes will come again this season, as playing for the Yankees will provide those opportunities.
Expect Hughes to finally finish a full season with a sub-four ERA and reach the 200-inning mark for the first time ever.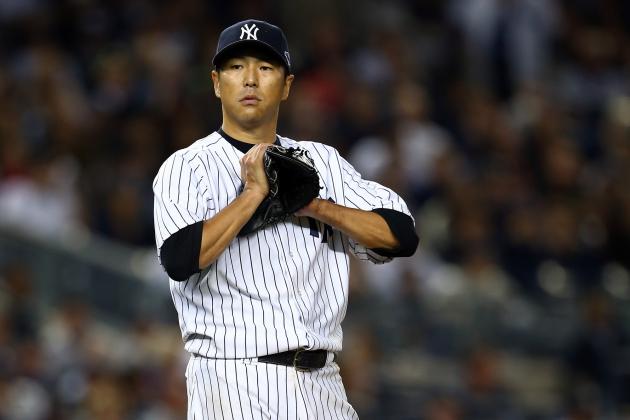 Elsa/Getty Images

The Yankees couldn't have asked for much more out of Hiroki Kuroda last season.
He led the team in wins, ERA, and innings pitched. He was as consistent as any pitcher in the American League.
Kuroda had three complete games last season. He had none the prior three seasons combined.
He was as big of a part of the Yankees success last season as anyone and he deserved to be brought back for at least one more season with the team.
With that said, it seems difficult for Kuroda to repeat that performance.
He will be 38 when the season starts and the innings thrown will begin to take their toll eventually.
Figure the AL has another season to get a book on Kuroda, it'll be difficult to match his success from a season ago.
That is not to say he won't be effective. Expect a slight uptick in ERA a few less innings of the course of the year.
It wouldn't be surprising if he missed a start or two as well, though he has made at least 30 starts the last three years.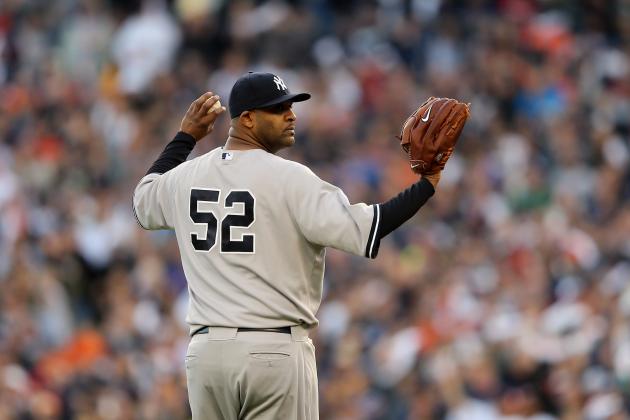 Leon Halip/Getty Images

CC Sabathia had his first down year since signing with the Yankees.
Last season Sabathia posted his fewest wins and highest ERA with the Yankees
He battled a couple of injuries throughout the season and never seemed fully right. It was the first season since 2006 and only the second time ever that Sabathia did not make at least 30 starts.
Outside of last season, Sabathia has pitched every bit like the ace he is. He has finished in the top four in Cy Young voting three times with the Yankees. He is yet to win one in New York.
Sabathia had elbow surgery this offseason to remove a bone spur. He is expected to be ready for spring training.
As mentioned earlier, the Yankees are going to rely on their pitching this season because of the holes in their batting lineup.
That means they are going to rely on their hefty lefty to return to form. Sabathia has always accepted a challenge, and with a new bill of health, he could be in for a big season.
Twenty wins and a sub-three ERA is not only what the Yankees need from him, but what they should expect from him going into 2013.