Ranking the 10 Drivers Who Have the Best Shot to Unseat Brad Keselowski in 2013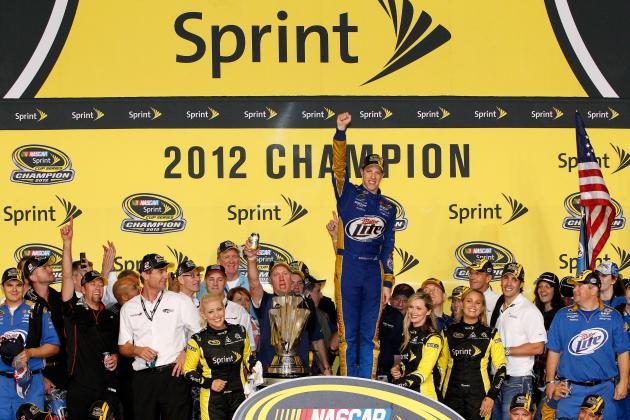 Tom Pennington/Getty Images

Brad Keselowski was able to win the NASCAR Sprint Cup Championship in only his third full season of competition in 2012. He will be a marked man as each driver will try to take the championship from him in 2013.
Jimmie Johnson made winning multiple championships look easy as he won five in a row from 2006-2010. So, how difficult is it to win back-to-back championships?
Going back-to-back occurs more often in NASCAR than it does in most sports.
Nine drivers have been able to win back-to-back championships. This list includes: Jeff Gordon (1997-1998), Dale Earnhardt (1993-1994, 1990-1991 and 1986-1987), Darrell Waltrip (1981-1982), Cale Yarborough (1976-1977-1978), Richard Petty (1971-1972 and 1974-1975), David Pearson (1968-1969), Joe Wheatley (1962-1963), Lee Petty (1958-1959) and Buck Baker (1956-1957).
When you look at the history of NASCAR, Keselowski should have a chance to win another title in 2013. As good as the 2012 season was for the No. 2 Penske Racing team, there are questions going into the new season.
How will Keselowski adjust to the changes at Penske Racing?
Penske Racing will make the change from Dodge to Ford in 2013. The engines will be manufactured by Roush Yates Engine Department. Will the best Ford equipment go to Keselowski or be kept for the drivers at Roush Fenway Racing? Time will tell.
Keselowski will have to adapt to a new teammate this season. A.J. Allmendinger and Sam Hornish are out of the No. 22 car at Penske Racing and Joey Logano is in.
The two young drivers have a lot of talent and may become a dynamic duo that the rest of the series will have to deal with.
Keselowski is one of the smartest drivers in the garage and his relationship with crew chief Paul Wolfe makes the team a good bet to win back-to-back championships. Keselowski and Wolfe are the only driver and crew chief combo to win a championship in both the Nationwide and Sprint Cup Series.
As each driver works in winter testing to get their cars where they need to be to win the championship, Keselowski and the Blue Deuce team will work to stay on top.
Here is a list of 10 drivers I think will compete for Keselowski's championship in 2013…
Begin Slideshow

»
Jared C. Tilton/Getty Images

Dale Earnhardt Jr. will be looking forward to a fresh start after his horrible end to the 2012 season. Earnhardt suffered a concussion at Talladega Superspeedway last October and missed the next two races. His best finish in the Chase came at Texas Motor Speedway where he finished seventh.
If Earnhardt wants to compete for the championship this season, he must start the season like he did last year and avoid another bad finish. Earnhardt finished in the top 10 in 12 of the first 15 races. He ended the season with only two top-10 finishes in the last 10 races.
Hendrick Motorsports will provide Earnhardt the equipment to compete for a championship. The introduction of the Generation 6 car should give Hendrick Motorsports an advantage over the competition because of the financial advantages the organization has over the other teams.
Crew chief Steve Latarte is just the type of person Earnhardt needs on the pit-box. Latarte is not the best crew chief when it comes to knowledge about the car, but he is one of the best cheerleaders in the sport. Earnhardt has a tendency to get down on himself in races and Latarte is good at keeping his driver focused throughout the race.
Earnhardt and Latarte are lucky to share a garage and information with one of the best crew chiefs in the sport. Chad Knaus and the No. 48 team are under the same roof at Hendrick Motorsports.
Earnhardt will have the equipment to compete for a championship in 2013, but can he beat his teammate Jimmie Johnson while sharing information with the No. 48 team? So far in Earnhardt's career the answer has been no.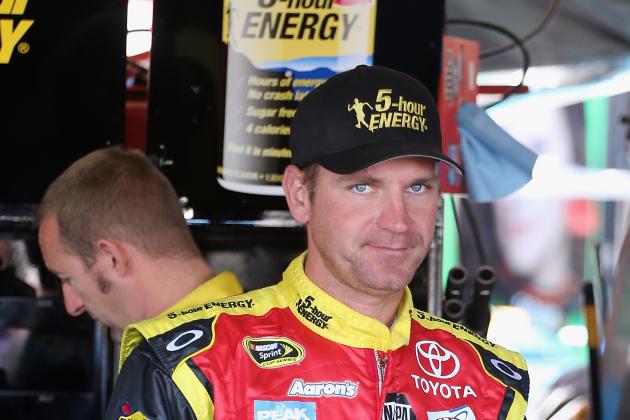 Christian Petersen/Getty Images

Last year Clint Bowyer had his breakout season. Bowyer finished second in the point standings and won three races in his first season at Michael Waltrip Racing. If he is to improve in his second season at Michael Waltrip Racing, he will be holding the championship trophy at the end of the season.
Bowyer will not fly under the radar this season as he did in 2012. Other NASCAR teams realize the talent Bowyer has.
One driver Bowyer must keep an eye on is Jeff Gordon. After a season-long feud ended in Gordon wrecking Bowyer at Phoenix, no one knows if the two drivers are ready to put their differences behind them.
If Bowyer is racing for a championship at the end of the 2013 season, he will not want to see Gordon anywhere near his car.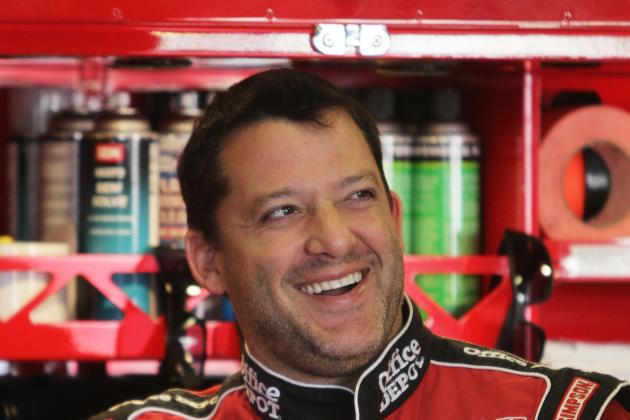 Jerry Markland/Getty Images

Tony Stewart is a three-time NASCAR Sprint Cup Champion. He proved he has the talent to be the best in the sport. The problem is he is too inconsistent.
When Stewart gets on a hot streak, as he did at the end of the 2011 season, he is almost unbeatable. Will this be the season when Stewart gets hot in the Chase and wins his fourth Championship?
Stewart comes into the 2013 season with many distractions. Danica Patrick will join the Stewart Haas organization as a full-time driver. Stewart must be ready to answer many questions if Patrick gets off to a bad start.
Sponsorship will also be a problem for Stewart Haas Racing. Currently Stewart has nine races without sponsorship for his No. 14 Chevy. It should not be difficult for one of the top drivers in the sport to gain sponsorship for the nine missing races, but it could be a distraction if the problem lingers on too far into the season.
Kevin Harvick will also join Stewart Haas Racing in 2014. Stewart will have to spend time this year getting ready for his new driver. How much focus will that take off of his run for the championship in 2013?
Stewart has proved in the past that he can deal with distractions and still win a championship, but he has his work cut out for him this season.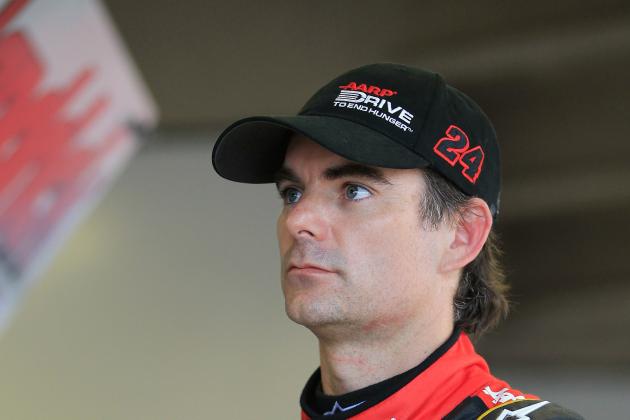 Chris Trotman/Getty Images

Jeff Gordon enters his 21st season in NASCAR. While Gordon may be viewed as one of the "older drivers" on the circuit, he is only 41 years old. The four-time NASCAR Sprint Cup Champion is the third-winningest driver in NASCAR history. It would be foolish to count Gordon out in 2013.
Like his Hendrick Motorsports teammates, Gordon will be provided equipment to compete for the championship. Hendrick Motorsports equipment has won six of the last seven championships. There are no signs indicating Hendricks Motorsports will not dominate again in 2013.
When NASCAR switched to the Car of Tomorrow in 2007, Gordon won six races and finished No. 2 in the point standings. His ability to adapt to a new car will give him an edge in 2013 as NASCAR switches to the Generation 6 car.
Gordon's biggest problem entering the 2013 season is Hendrick Motorsports's rule to share information equally among its four teams. Gordon has proved he can beat the competition from other organizations, but he has yet to prove he can beat his teammate Jimmie Johnson. It is no secret Gordon is no longer the No. 1 driver at Hendrick Motorsports.
Gordon must take advantage of his equipment and figure out a way to beat the No. 48 car in order to win his fifth championship in 2013.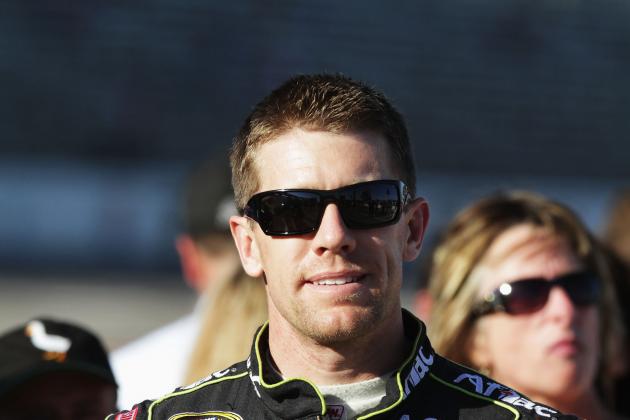 Jerry Markland/Getty Images

Where did Carl Edwards go?
After nearly winning the NASCAR Sprint Cup Championship in 2011, Edwards was the popular pick to win the title last season. Edwards failed to make the Chase and finished No. 15 in the point standings.
Edwards is too talented to stay down long. Look for Edwards to have a bounce back year in 2013 and once again compete for a championship.
The question for Edwards in 2013 is how well he will work with his crew chief Jimmy Fenning?
Fenning will move over to the No. 99 car after Matt Kenseth left Roush Fenway Racing for Joe Gibbs Racing. Fenning is a "do it my way" type of crew chief. Edwards likes to be in control of what happens to his car. It will be interesting to see how the two strong personalities work together.
Maybe the Edwards-Fenning combo will be what the team needs to win its first championship in 2013.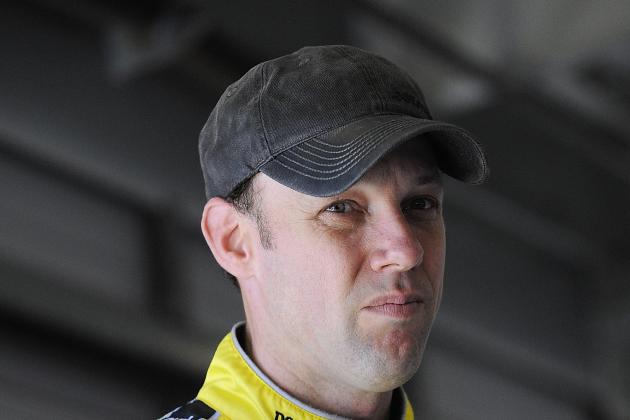 Jared C. Tilton/Getty Images

After 13 seasons at Roush Fenway Racing, Matt Kenseth moves to the No. 20 Joe Gibbs Racing Toyota. Kenseth will be trying to get the No. 20 car back to where it was when Tony Stewart drove the car to the championship in 2002 and 2005.
Kenseth won the championship in 2003, so he does know how to get the job done. The question is can he do it in his first season with his new team?
Kenseth will be partnered with crew chief Jason Ratcliff. The two do not have a history of working together, but the extended winter testing should give them a chance to know what each expects out of the car.
Teammate Denny Hamlin and Kyle Busch will be helpful in getting Kenseth to the top. Kenseth will bring over information from Roush Fenway Racing to share with his new team at Joe Gibbs Racing.
Kenseth is good at flying under the radar. He may not lead the point standings all season long, but he will be one of the drivers competing for the championship at the end of 2013.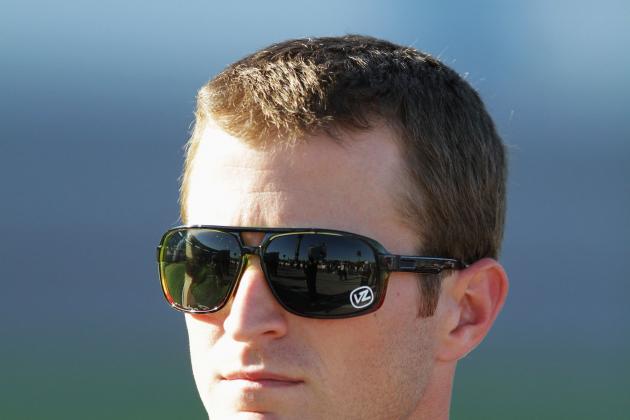 Jerry Markland/Getty Images

In his first season at Hendrick Motorsports, Kahne got off to a horrible start in 2012. Kahne failed to finish two of the first six races. His best finish in the first six races was No. 14 at Auto Club Speedway. He fell to No. 31 in the points.
Kahne quickly turned his season around. He finished the season with two wins and finished No. 4 in the point standings. Kahne was one of the hottest drivers in the Chase. He will have a lot of momentum coming into the 2013 season.
Kahne has been paired with crew chief Kenny Francis for most of his NASCAR career. Their ability to work together should give them an advantage as NASCAR rolls out a new car this season.
Kahne has not always been at the top of the list for drivers who will compete for a championship, but if he is able to get off to a better start in 2013, he could be the driver holding the trophy in November.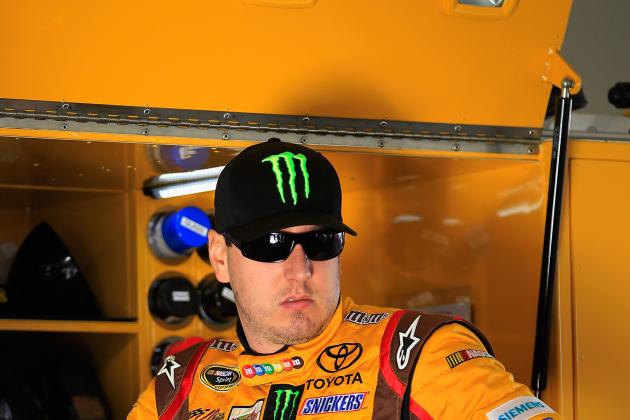 Chris Trotman/Getty Images

Last season Kyle Busch cut down on the number of races he had in the Nationwide and Camping World Truck Series. The thought was if Busch concentrated more on the Sprint Cup Series, he would be unbeatable.
It did not work.
Busch failed to make the Chase and ended the season No. 13 in the point standings.
Although Busch did not finish at the top in 2012, he does have momentum coming into the 2013 season. Busch scored seven top-five finishes in the Chase. He was one of the hottest drivers down the stretch.
Busch has as much raw talent as any driver in the sport. Combine that with his desire to prove that missing the Chase last season was a fluke, and Busch could be the driver everyone is chasing in 2013.
Busch's downfall in 2012 had a lot to do with mechanical issues. Busch failed to finish two races because of issues with his car. If he can keep his car running, he will be at the top of the NASCAR Sprint Cup standings in 2013.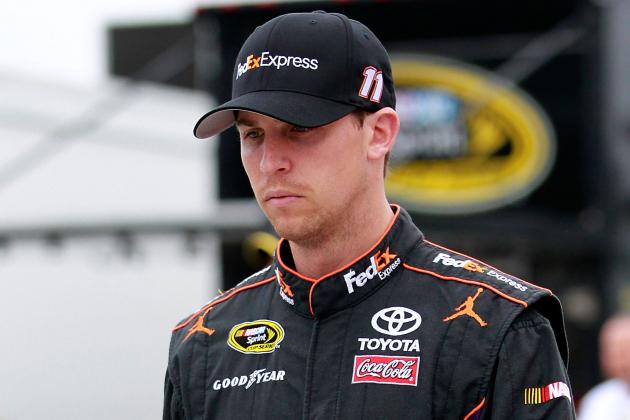 Geoff Burke/Getty Images

Denny Hamlin is often considered to be a threat for the championship, but he has not been able to get the job done on the racetrack.
Hamlin has made the Chase in all of his seven full seasons in the NASCAR Sprint Cup Series. There is hardly a question if he will make the Chase in 2013. Hamlin must be able to figure out how to dominate the competition once the Chase begins. His new teammate, Matt Kenseth could help Hamlin figure it out during the Chase.
Hamlin has a championship crew chief in his pits as he led Tony Stewart to the championship in 2011. Grubb has a knack for deciding when is a good time to gamble and go for a win, and when to play it safe and take the points.
Hamlin is good on all types of racetracks. This could be the season he figures out how to win the championship.
Jared C. Tilton/Getty Images

How can you pick against the five-time NASCAR Sprint Cup Champion?
Las Vegas has Johnson listed as the favorite to win the championship in 2013 and it is for a good reason.
Johnson has never finished worst than No. 6 in point standings. Johnson is a good pick to win at any race on the schedule, but he usually heats up even more when the Chase begins.
Johnson and crew chief Chad Knaus work better together than any team in the garage, but the secret behind the No. 48 team is car chief Ron Malec.
Malec is the best in the business when it comes to providing cars that are ready to go when the team shows up at the racetrack. Knaus and Johnson are also the best at taking what Malec provides and making it even better.
There is no doubt Johnson will have some of the best equipment in 2013. The question is can Johnson stay out of his own way and win his sixth championship? You would be crazy to bet against him.
Follow me on Twitter @HuskerMagic