The Biggest Offseason Priorities for the Pittsburgh Steelers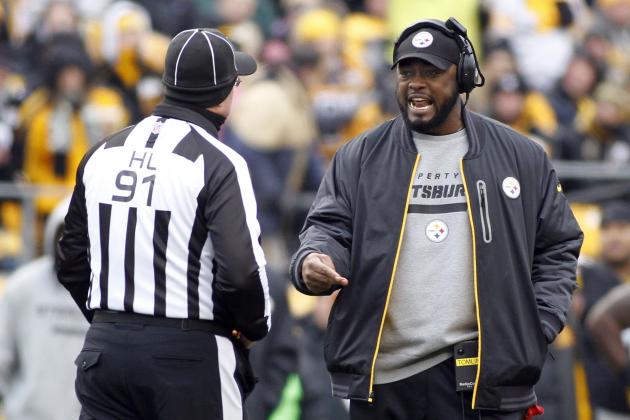 Justin K. Aller/Getty Images

For a team that prides itself on winning Super Bowls, missing out on the playoffs and watching its top rival win the championship could be a hard pill to swallow. Not for the Pittsburgh Steelers.
When the Steelers miss the playoffs, it is not for long.
Pittsburgh has missed the playoffs only four times in the past 12 seasons and hasn't missed in back-to-back seasons since it missed the postseason three years in a row from 1998 to 2000.
Not only do the Steelers bounce back from missed playoff appearances, but they bounce back in a big way.
The Steelers followed postseason misses in 2003, 2006 and 2009 with Super Bowl appearances in 2005, 2008 and 2010. That doesn't mean that they will be in the Super Bowl within the next two seasons, but the Steelers should once again be competitive.
But unlike the past years, the Steelers do not have the same veteran leadership to help them recover from a down season. Gone are Hines Ward, James Farrior and Aaron Smith, and players such as Max Starks, Casey Hampton and others could soon follow.
It will take a collective effort from the front office, coaching staff and players to make the necessary improvements for the Steelers to make a return trip to the playoffs in 2013.
Here are the biggest offseason priorities for the Steelers.
Begin Slideshow

»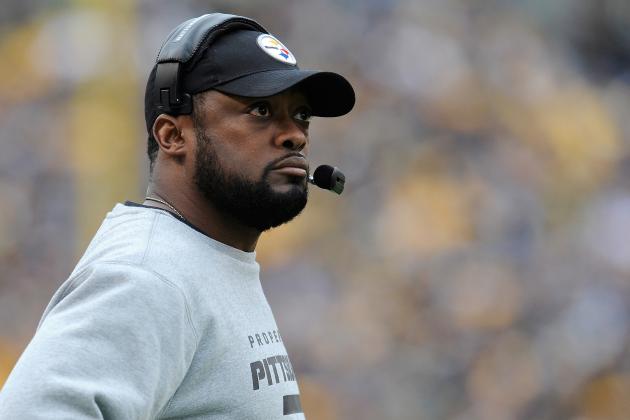 Joe Sargent/Getty Images

The 2013 season was one to forget for Mike Tomlin.
It was only the second time the Steelers missed the playoffs under Tomlin, and it may have been his worst coaching job since joining the Steelers in 2007.
Tomlin made some questionable calls from the onset, such as his decision to relieve special teams coach Al Everest from his duties just prior to the start of the season and in-game management decisions when it came to time management and use of challenges.
There will need to be major improvements in these areas as well as others, especially when it comes to making decisions in crucial moments of games.
Tomlin had trouble on several occasions when it came to his decisions on field-goal attempts.
Against the New York Giants, Tomlin called for a fake field-goal attempt—which failed—that could have cost the Steelers the game. Then there was a 54-yard attempt against the Tennessee Titans and a 53-yard attempt against the Cincinnati Bengals that he did try.
It is one thing to have confidence in your kicker, and it's another to force an attempt that is clearly out of his range.
But Tomlin's worst choices were his failure to attempt a two-point conversion in the game against the San Diego Chargers and his handling of the running backs against the Cleveland Browns.
These choices were all poor judgments on his part, and he has to do a better job of recognizing the limitations of his players and making important calls in situational football. He also needs a better handle on his roster and how he manages it.
Most important of all, Tomlin needs to do a better job preparing his team, especially for road games.
All too often the Steelers looked unprepared for games against lesser opponents. This was even more evident on the road than it was at home.
Pittsburgh has too much talent on its roster to lose a road game to the Browns and to struggle at home against a team like the Kansas City Chiefs.
Tomlin is widely recognized as one of the best coaches in the league. It is time that he starts coaching like it and stops living off the reputation.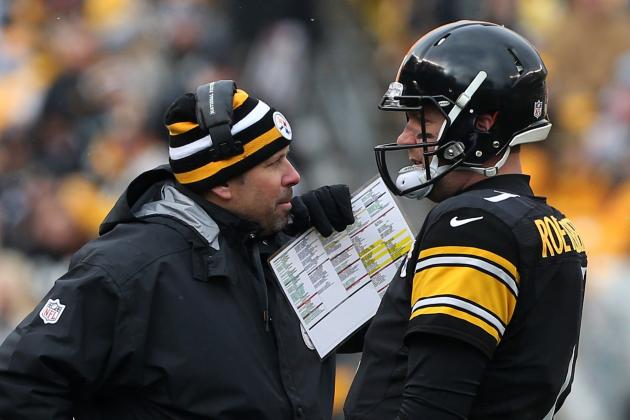 Karl Walter/Getty Images

Tomlin is not alone on the coaching staff when it comes to making improvements.
Dick LeBeau needs to continue to adjust his defensive scheme to adjust to the lack of pass-rushers currently on the roster. They must do a better job at getting to the quarterback.
The Steelers did do a great job adjusting to the passing attacks they faced in 2012, but at some point, the lack of pass rush is going to get to them as teams look to expose the secondary.
This may require LeBeau to design new blitzes to utilize the talent that he has, or he will need to find new players who can get to the quarterback.
But the defense is the least of the worries. Instead, it is the offense that the Steelers need to be worried about.
Pittsburgh could potentially lose Mike Wallace and Rashard Mendenhall, leaving the team very thin on playmakers. That puts a lot of pressure on Todd Haley.
Haley must continue to develop the short passing attack to take advantage of the quick receivers he has with Antonio Brown and Emmanuel Sanders, as well as Heath Miller.
But the offense has to do more than throw short. Haley needs to find a way to allow Ben Roethlisberger to make plays with his feet and get the ball downfield. It is what he does best, and he did not have enough opportunities last season.
Besides continuing to develop the passing game, Haley must get the ground game in gear, and a lot of this will come down to the development of the offensive line.
New offensive line coach Jack Bicknell Jr. will implement a new philosophy this upcoming season.
Bicknell has a lot of young talent to work with, as the Steelers have invested high draft picks on Maurkice Pouncey, Marcus Gilbert, David DeCastro and Mike Adams.
A positive change that Bicknell will be making is putting an emphasis on linemen who are athletic and can move. Pouncey, DeCastro and Adams fit the bill, and with some offseason workouts, Gilbert could get himself into better condition to fit this style of play.
The Steelers also hired a new special teams coordinator to replace the departed Amos Jones.
Danny Smith has been a pretty successful coach with the Washington Redskins and will have his work cut out for him improving Pittsburgh's coverage units. The success of the return units will largely depend on whether or not the Steelers find a new returner to replace Chris Rainey.
But it will take more than a good returner to have a successful return game. Smith will need to eliminate the costly holding penalties that plagued the Steelers special teams all season.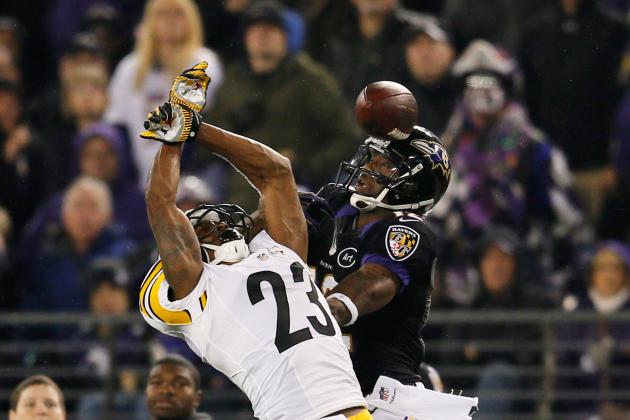 Rob Carr/Getty Images

The Steelers will have a fair amount of work to do to get under the salary cap, but once they do, there are only a few moves that they'll need to make.
The top priority will be to re-sign cornerback Keenan Lewis to a long-term contract.
Lewis established himself as the Steelers' second-best cornerback and has potential to get even better. He helped solidify the pass defense last season, and the Steelers will have a huge void to fill if he's lost.
Mike Wallace will likely leave for a huge contract, and the Steelers have young players ready to replace veterans Max Starks and Casey Hampton.
That leaves Rashard Mendenhall as the most intriguing free agent.
Pittsburgh's ground game struggled last season with Jonathan Dwyer and Isaac Redman getting a majority of the carries. Mendenhall is clearly the most talented running back on the roster, but he has also underachieved throughout his career.
However, if the Steelers get their offensive line together, Mendenhall could put up huge numbers. Besides his running ability, he is also a good receiver out of the backfield and is the team's only big-play threat from the position.
Any potential deal for Mendenhall should be short-term and not have a large financial commitment.
The Steelers won't look for many free agents outside of their own, but finding a young quarterback to play behind Roethlisberger needs to be a priority.
Charlie Batch would be a wise signing as a player who can compete for the third-string job, but the Steelers need a young, durable backup who can come in and run the Steelers offense for a week or two without being a complete liability.
Any other signings would be to fill the roster and for depth purposes only.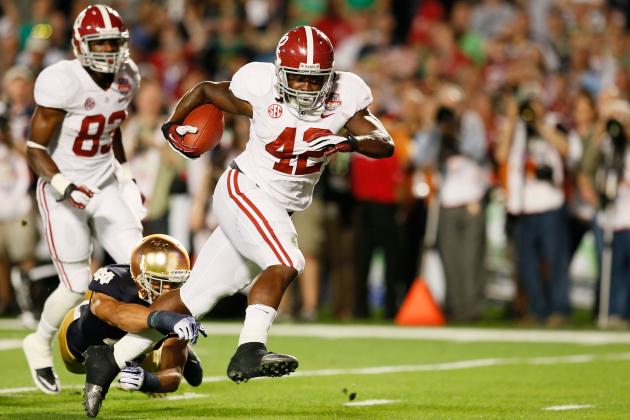 Kevin C. Cox/Getty Images

Where the Steelers will need to make their move is the draft. Though they have already lost several players from last year's draft, they did have five major contributors from that class, including two starters—DeCastro and Adams.
So, what do the Steelers need from this year's draft? There are several positions that they must address.
On offense, the Steelers need to find a big, physical receiver with speed who could potentially develop into a top option.
There are a number of good prospects available in the first three rounds who would fill this need.
The benefit of having a bigger receiver is a wide catching radius as well as a receiver who can beat press coverage. He doesn't have to be the fastest guy in the league to be a deep threat as long as he knows how to use his body and size to locate and bring in the ball.
Some of the tall receivers include Cordarrelle Patterson, Keenan Allen, DeAndre Hopkins, Terrance Williams, Justin Hunter and Da'Rick Rogers.
Besides adding a top receiver, the Steelers need to find a feature running back.
Quality running backs can be found all throughout the draft, and the Steelers will likely select one between the second and fourth rounds.
Unlike last season, they need to find a player better than a Chris Rainey, who was a role player. The Steelers need a running back who can carry the ball 20-25 times per game. A player such as Eddie Lacy or Stepfan Taylor would fill that need nicely.
Of course, the Steelers should always select at least one lineman in the draft, especially considering the injury issues they've had at the position. If they get lucky, they'll find another late-round gem like Kelvin Beachum last season.
There is also a need to get younger on the defensive side of the ball, especially at linebacker and safety.
At some point, the Steelers should try to find a safety of the future, with Troy Polamalu and Ryan Clark both in their 30s.
The top safeties in the draft are Kenny Vaccaro and Eric Reid, but the Steelers could also trade down or wait until the second round to select Matt Elam. Other quality options include Bacarri Rambo and Jonathan Cyprien.
Linebacker may be the more important position, as the Steelers don't know what they have with inside linebacker Sean Spence coming off of an injury or Jason Worilds as an outside linebacker.
It may be tempting to select an inside linebacker such as Alec Ogletree or Kevin Minter in the first round, but there will be quality options later, including Arthur Brown, Kevin Reddick, Sean Porter, Nico Johnson, Gerald Hodges and Michael Mauti.
In today's NFL, you can never have enough good pass-rushers, which will make that position very tempting in the first round for the Steelers, even if they won't start for a year or two.
The outside linebackers are a bit tougher to judge prior to the combine, considering that their workout numbers will be important in projecting who can transition to an outside linebacker in a 3-4 defense.
The wild-card position for the Steelers will be nose tackle.
Steve McLendon appears to be a great fit for the position, but a dominant nose tackle is essential for the Steelers defense to succeed, and it is important that the Steelers have quality depth at the position.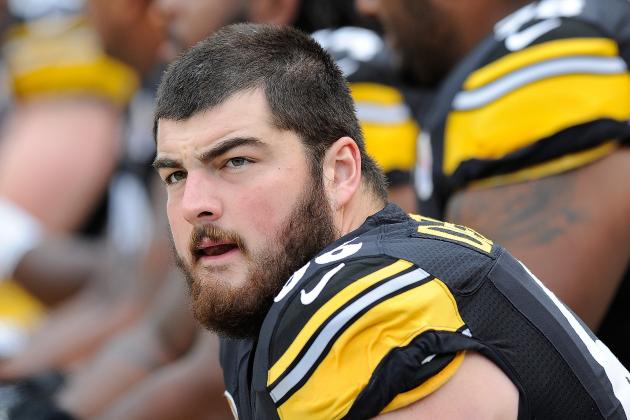 Joe Sargent/Getty Images

With veterans on the way out and young players on the way in, it is important that the coaching staff does an adequate job at developing the young talent on the team.
There are a number of young linemen on both sides of the ball who will be depended upon if the Steelers are going to make it back to the playoffs.
But in general, the Steelers need to continue to get young, dynamic players onto the field and contributing faster. This is especially the case on defense, where the Steelers sometimes take upwards of three years to develop early draft picks.
That is not acceptable with so many players aging. Even if a young player doesn't start, he should get significant playing time in situational downs.
In recent years, the Steelers have been doing a better job at getting rookies and other young talent onto the field sooner, but they must do even better, as they have a number of holes to fill on the roster and could use some immediate impact players.
Players with fewer than four years of experience who should have major roles with the Steelers this season include Cameron Heyward, Cortez Allen, Will Johnson, David DeCastro, Mike Adams, Sean Spence, Alameda Ta'amu, David Paulson and Drew Butler.
Even Kelvin Beachum could potentially be a starter at guard and Adrian Robinson could compete for a spot at outside linebacker.
There is a lot of young talent already on the roster, and along with the incoming draft class, there is potential for the Steelers to get young in a hurry.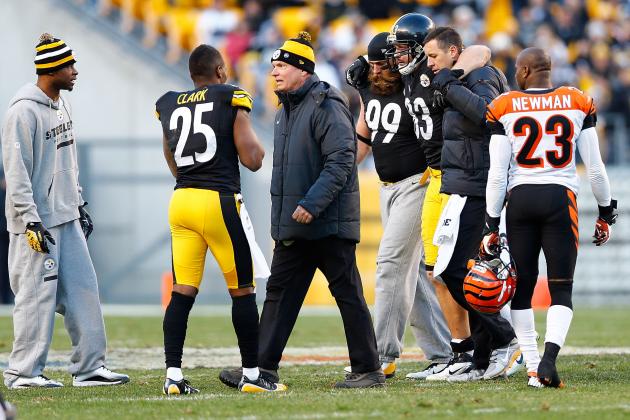 Jared Wickerham/Getty Images

According to Ed Bouchette of the Pittsburgh Post-Gazette, the Steelers lost 78 starts to injuries last season and team president Art Rooney II wants to address this issue.
"We will look at everything we are doing from a training and conditioning side of things and a practice side of things and see if there are things we can do to get better."
Injuries could be the top reason why the Steelers missed the playoffs in 2012.
The loss of Ben Roethlisberger, Troy Polamalu, James Harrison, LaMarr Woodley, Ike Taylor, Antonio Brown, David DeCastro, Mike Adams and others was huge. While all teams lose starters, at some point it becomes too much to overcome.
Last season, the Steelers tried to keep Roethlisberger healthy by adjusting the offense, but there is only so much you can do.
A lot of the problems revolve around the offensive line and their sloppy play.
When big guys fall on their teammates, the odds of getting injured are much higher. Too many times we have seen a lineman fall and either hurt himself or a teammate. This falls on both conditioning and technique.
LaMarr Woodley appeared to be a little overweight this year, which could have contributed to his injury issues, and he is a player that the Steelers need to play at a high level if they want to be successful.
The training staff may need to look at new stretching and lifting routines. It could even fall on a player's diet as well. There are so many factors that are necessary to maintain your body throughout the season.
Adjustments by the coaching staff to their practice routines could help as well.
Whether that means going harder at practice or easing off at various points throughout the season, the Steelers need to find a way to keep their best players on the field.
When the Steelers are healthy, they are as good as any team in the league and can compete with anyone.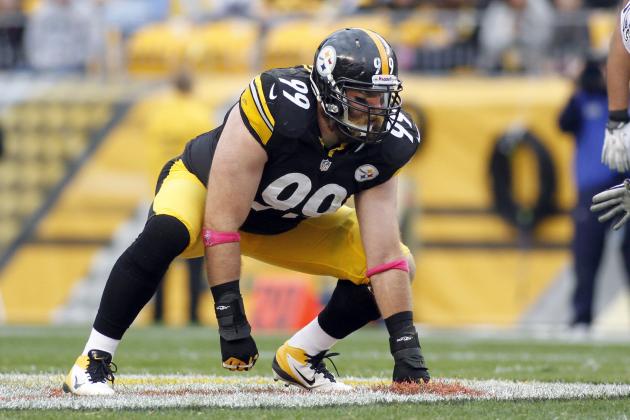 Justin K. Aller/Getty Images
Brett Keisel represents the bridge between the second-greatest era of Steelers football and the next generation.
It may sound like I am oversimplifying things here, but the Steelers need to re-establish a winning mentality with this team.
What will achieve this? A physical and mental toughness that this team has lacked over the past couple of seasons.
A team that is mentally tough does not blow late-game leads. They do not throw game-deciding interceptions or drop a ball that hits them right in the hands.
A team that is physically tough attacks on defense. They can dictate the tempo of the game and intimidate their opponents.
Physically tough teams can impose their will and run the ball whenever they want. If they need one yard on fourth down, they'll get it. They can pound the ball inside the 5-yard line for a score.
The Steelers were famous for being mentally and physically tough under Bill Cowher and at the start of Tomlin's career, but that has slowly faded.
There are enough veterans on this team who know how to play football with a mental and physical toughness. They'll have to lead the way for the young players so that there is not a repeat performance of last season.
The coaching staff can do their part by setting the standards high in offseason workouts and bringing in high-character players through free agency and the draft who have winning mentalities.
The Steelers have enough talent to be successful on the field next season. They just need to get back to doing things the "Steelers way," and when they do, good things will follow.