Oakland Raiders Candidates to Get the Franchise Tag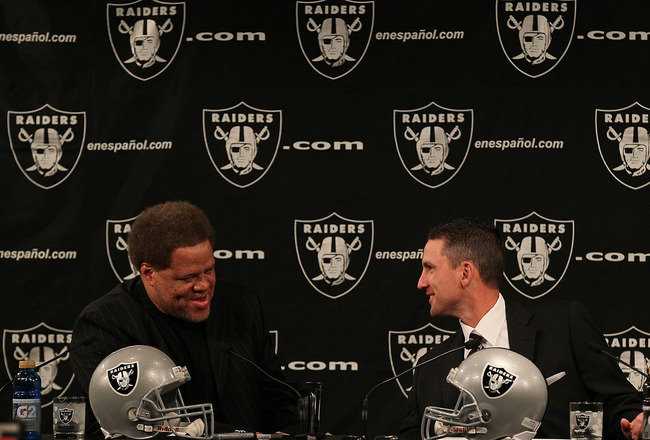 Justin Sullivan/Getty Images
With the Super Bowl now in the books, the 2012 NFL season is officially over, and now all 32 organizations will begin evaluating their teams as we get closer to the start of free agency.
Sometimes the most important part of free agency is keeping your own players at any cost and preventing them from hitting the open market.
One of the tools that a team has is the franchise tag, which basically forces a player to stay with that team for another year barring a trade.
The tag can be used as an extension to get a long-term contract signed with that one player to avoid paying the hefty cost of the tag's salary, which is the average of the top five highest paid players in that position around the NFL.
With the tag in mind, let's look at who the Oakland Raiders should consider tagging in case of a failure to sign a new contract.
Brandon Myers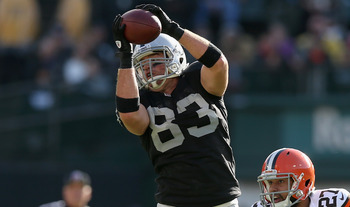 Ezra Shaw/Getty Images
Perhaps the brightest spot, or the only bright spot, on the Raiders' offense was tight end Brandon Myers, who was their leading receiver in catches and yards in 2012.
Myers tied a Raiders record with 14 receptions in a single game and now shares the record with the legendary Tim Brown in franchise history.
While Myers had the best receiving stat line in 2012, that was highly thanks to two coaches: Al Saunders and Greg Knapp.
Saunders worked with the tight ends and helped to develop Myers, while Knapp's playbook has always been reliant on the tight end as a receiver.
Knapp is gone now and so is his offense. The new offensive coordinator, Greg Olson, has historically had offenses that feature a running back. Look at Steven Jackson's success under Olson in the mid-2000s or look to Tampa Bay, where LeGarrette Blount had a solid rookie year under Olson.
Olson seems like a player's coach, meaning he will suit the offense around what the players do best. With the Raiders returning to a power-blocking rushing attack with Darren McFadden, the Raiders could be another Olson-led offense to feature a threat on the ground.
Another thing the Raiders are good at is the deep ball as opposed to a West Coast offense with shorter routes and more checkdowns. That could mean less passes to Myers.
The tag number for tight ends in 2013 should be about $5.55 million. Is Myers worth that much to a team that may not need him as much as they did last year?
Philip Wheeler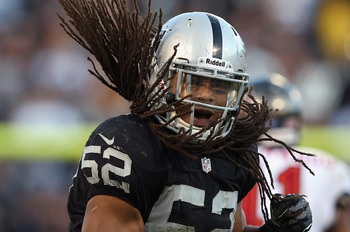 Ezra Shaw/Getty Images
One of the two best players on the Raiders defense in 2012 was Philip Wheeler (along with Lamarr Houston).
Wheeler came to Oakland for less than $1 million for one season, and after his strong showing this past season, he will be worth much more than what he was paid in 2012.
Wheeler became the on-field leader of the defense as he was given the "green dot helmet" to communicate with the sidelines.
Wheeler could be that leader that every team needs on their defense. The two teams who just played in the Super Bowl both have a strong leader in the linebacker corps.
Wheeler has experience with a winning team from his early career days with the Colts.
Looking at Wheeler's stats, he doesn't stand out as an elite player at his position, and the tag price for linebackers in 2013 could be more than $9 million.
Wheeler is good, but not worth $9 million for a year, and neither is any player on that defense.
Wheeler is still valuable to the team, though, and if Reggie McKenzie feels he can get Wheeler on a long-term contract with extra negotiating time, Wheeler could get the tag to buy time to work on a new deal.
Shane Lechler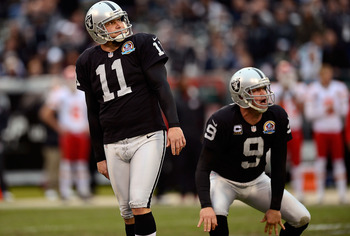 Thearon W. Henderson/Getty Images
The third and final player possibly worth getting the franchise tag is the man who has been booming punts for the Raiders since the turn of the millennium.
Shane Lechler has been one of the best, if not the best, punter in NFL history.
Lechler is 36 and had a decline in punt yardage in 2012 as he averaged 47.2 yards per punt. When a punter's numbers come down to 47 yards on average, you know he is in elite company.
As if the numbers aren't enough to call him elite, he has been named an All-Pro nine times during his career.
The tag number for the punter should be around $2.7 million for 2013.
That would normally be a simple decision to make in case a long-term contract can't be agreed upon.
But always be careful when you say "normal" when talking about the Raiders.
Lechler is coming off a contract that paid him $16 million over four years. It is not known to the public if he would take a pay cut or how large of a cut he would accept to remain a Raider.
If Lechler were tagged and not happy about it, he could be a holdout and become a distraction that the Raiders don't need right now.
It could hurt the morale of the whole team to see him treated unfairly after all he has done for the franchise.
Another factor in determining Lechler's future is Marquette King, who the Raiders put on the I.R. list to avoid cutting him, and it guarantees the Raiders that he will remain on the team.
King would be making less than $1 million in 2013. That's less than a quarter of what Lechler was just getting per season.
Unfortunately, even with the option to use the tag, it looks like a long shot that Lechler remains a Raider.
Keep Reading

Oakland Raiders: Like this team?