6 Under-the-Radar Players on the NBA Trading Block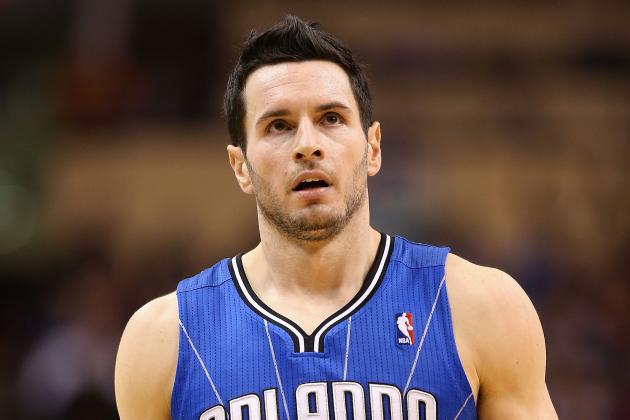 Christian Petersen/Getty Images

Under-the-radar players have an aptitude for providing overlooked contributions to their team, often on the biggest stages the professional sports world has to offer.
Whether it's Mario Chalmers pouring in 25 points for the Miami Heat during Game 4 of the 2012 NBA Finals or Jacoby Jones racing 108 yards on the second-half kickoff of Super Bowl XLVII, there are constant reminders that great teams (not great individuals) win championships.
It's why there is so much interest in trade rumors that may otherwise fail to excite a fanbase.
With the Feb. 21 trade deadline just weeks away, teams are now identifying available targets to help bolster their rosters for a sustained postseason push. Big names will still draw the majority of the coverage between now and then, but that won't stop analysts and fans alike from appreciating the significance of these lower-tier acquisitions.
Begin Slideshow

»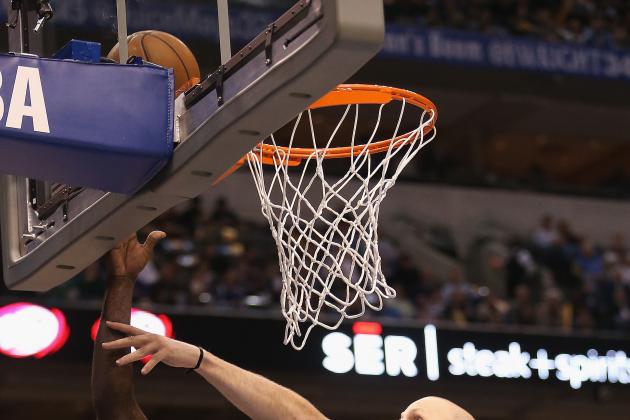 Ronald Martinez/Getty Images

Blair has long been rumored available; the productive reserve has struggled to find consistent minutes in San Antonio's crowded frontcourt.
His limited activity has clouded his trade value, but a 22-point outing on Jan. 25 (via the absence of Tim Duncan) and an expiring $1 million contract should make him an attractive asset on the market.
Blair enjoyed a productive first three seasons with the Spurs, averaging at least 7.8 points and 5.5 rebounds per game in each year. Prior to this season, his player efficiency rating never dropped below 17.1 and his field-goal percentage remained above 50 percent.
But the emergence of Tiago Splitter and last year's addition of Boris Diaw have kept Blair glued to coach Gregg Popovich's bench, save for 14.1 minutes per game in 35 outings.
With the Brooklyn Nets, Memphis Grizzlies, Portland Trail Blazers and Chicago Bulls in need of bench depth, there are a number of logical landing points for Blair.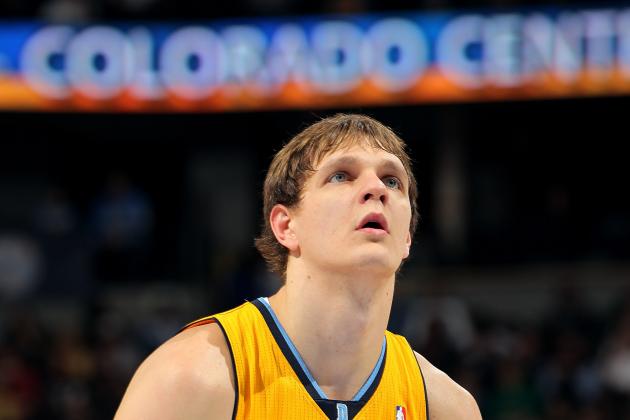 Doug Pensinger/Getty Images

Like Blair, Mozgov has been largely crunched out of his rotation.
With JaVale McGee and Kosta Koufos anchoring the surging Nuggets, there simply haven't been enough minutes left over for Mozgov to impact this franchise.
His move to Denver in 2010-11 offered his best chance at production, as the big man averaged career highs with 5.4 points (on 52.6 percent shooting from the field), 4.1 rebounds and 15.6 minutes per game the following season.
But the midseason arrival of McGee restricted Mozgov to the bench.
That hasn't diminished his potential, though. Still just 26 years old, the 7'1", 250-pound big man offers reliable two-way production for any club looking to bolster its reserve frontcourt. His own $3.14 million expiring contract offers even more financial flexibility for whichever team can land him.
Marcus Thompson II of the San Jose Mercury News reported that the Golden State Warriors would "love" to land either Blair or Mozgov, but it's safe to assume they're not the only suitors for either player.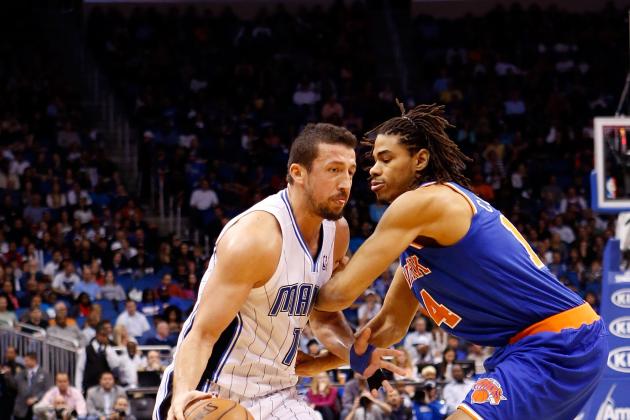 Sam Greenwood/Getty Images

When the massive rebuilding project began with the Magic's offseason trade of Dwight Howard, the team faced a laborious task of identifying key components of the franchise moving forward.
Turkoglu is not alone on the trade market, but he's clearly one of the main pieces that Orlando is looking to unload.
His age (he'll turn 34 next month) and contract ($11.8 million for this season, $12 million player option for next) make him a logical casualty in the coming weeks.
Considering that he's played just 10 games in 2012-13 due to a nagging hand injury and subsequent conditioning concerns, he won't be the easiest player to unload. And the games that he has appeared in have done little to build that trade value, given his pedestrian averages of 2.9 points, 2.4 rebounds and 2.1 assists per game.
But at the right price, he could be a productive addition for any franchise looking to strengthen their current roster.
With his size (6'10", 220 pounds), ability to create off the dribble and shooting stroke (career 38.1 three-point percentage), he has the perfect makeup to succeed in today's undersized NBA.
He has to prove himself healthy, though, and thus far that's been an issue. But he has played in each of Orlando's last four games in a possible audition for his next employer. Veteran NBA columnist Peter Vecsey listed the Nets as possible suitors in a recent appearance on "The NBA Crossover" podcast.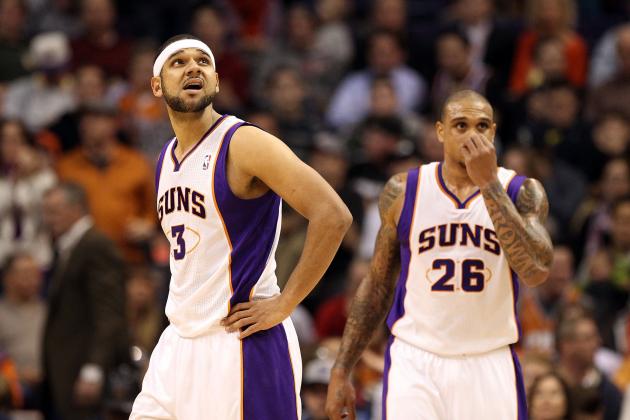 Christian Petersen/Getty Images

Like the Magic, the Suns face their own roster overhaul in the wake of Steve Nash's departure.
But they're looking to shorten the time frame of their rebuilding project, as evidenced by their star-gazing interest in Rudy Gay and Josh Smith over the past month.
While that's potentially great news for Suns fans, it does not bode well for any player on the current roster. If GM Lance Blanks can find an interested trade partner in any potential superstar trade, he'll hold no bones about cutting ties with any of his players.
Assuming Blanks is able to lure an interested ear of a rival executive, the 27-year-old Dudley will undoubtedly garner some discussion.
A savvy five-plus-year veteran, he has the ability to strengthen any roster on both ends of the floor. Defensively, he uses his smarts and instincts to overcome his lack of great athleticism. Offensively, his perimeter threat (career 40.6 three-point percentage) helps to space the floor, and he's shown a willingness to attack the basket.
Throw in the fact that he's due just $4.25 million for each of the next two seasons, and he may emerge as one of the more desirable candidates on the rumor mill. He was mentioned as one of the key cogs in the Suns' ill-fated attempt to land Gay (via Comcast SportsNet's Ric Bucher) before the former Memphis Grizzlies star was dealt to the Toronto Raptors.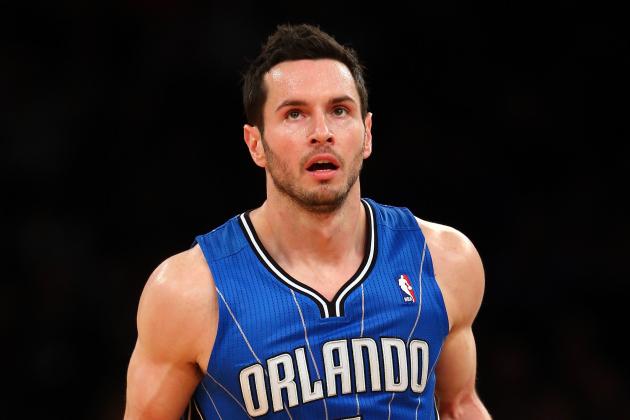 Elsa/Getty Images

If Dudley does emerge among the most coveted players over the next three weeks, he'll be joining Redick.
He doesn't top the list of players that the Magic would like to part with, but his versatile play and expiring $6 million contract means he'll almost certainly need to be paired with one of Orlando's more expensive, less productive players.
His name carries its greatest weight on the strength of his three-point shooting, and for good reason. He has attempted the seventh-most threes in the league this season (283), and his 39.9 percentage ranks fifth among the 20 players with the most long-range attempts on the year.
But he's more than just a shooter and space creator. When defenses fight to take away his outside looks, he can break down defenders off the dribble and finish plays inside the three-point line or find available teammates (4.5 assists per game).
He'll have more than his share of individual suitors, but that potential contract albatross expected to be paired with him may restrict how much talent the Magic will find in return.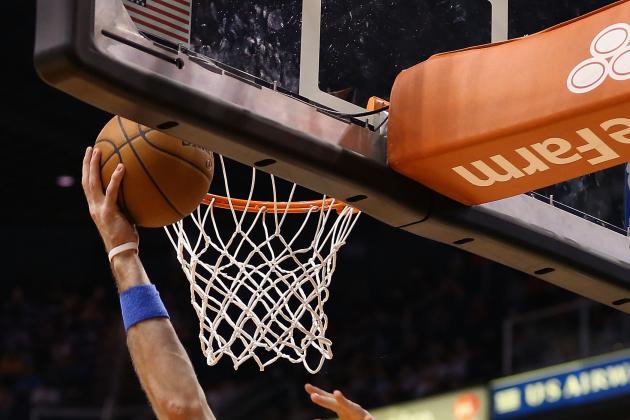 Christian Petersen/Getty Images

With the importance of the Suns' season transformed from chasing wins to developing their young talent, the soon-to-be 29-year-old center appears on his way out.
While his numbers have dipped from last season's career-bests 15.4 points and 10.0 rebounds per game (to 11.5 points and 8.9 rebounds), those statistics won't scare any rival GMs. With the subtraction of pass-happy Nash and addition of scoring point guard Goran Dragic, Gortat has nearly 2.5 fewer field-goal attempts per game this season (9.4, down from 11.7).
The Suns are clearly open for business, and their 6'11", 240-pound interior anchor is perhaps their biggest trade chip. Even with a slight drop in production, he's on pace for his fifth consecutive season with a 52-plus field-goal percentage.
Gortat would likely be an important piece of any Phoenix package going to the Atlanta Hawks for Josh Smith, but he has also been rumored as an option for the Boston Celtics (according to what a league source told Alex Kennedy of USA Today).