Did Jim Harbaugh's Whining Ultimately Cost the 49ers a Super Bowl Championship?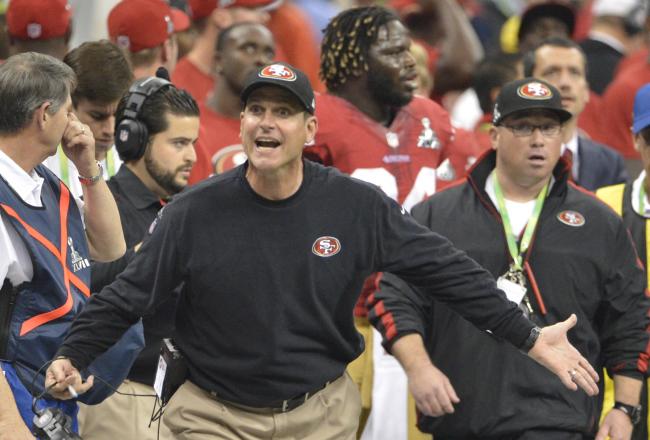 Kirby Lee-USA TODAY Sports
In the wake of the San Francisco 49ers' 34-31 loss in Super Bowl XLVII, it's worth pondering if the incessant complaining and recurrent temper tantrums from head coach Jim Harbaugh played any factor in the 49ers not getting an important call at the end of this year's biggest game.
The 49ers head coach was in typical Harbaugh form Sunday night in New Orleans, screaming at officials and putting on ridiculous pouting displays for every call he didn't agree with.
However, he saved his best tirade for the game's most controversial play—an incomplete pass on fourth down that all but sealed the game for the Baltimore Ravens.
Down three points with less than two minutes to go, 49ers quarterback Colin Kaepernick fired high and wide of wide receiver Michael Crabtree. There was clearly contact from Ravens cornerback Jimmy Smith on Crabtree, who was running a fade into the end zone to beat the pressure brought by Baltimore. The ball landed incomplete, no flag was thrown and the 49ers were stopped five yards from potentially winning Super Bowl XLVII.
Harbaugh was livid.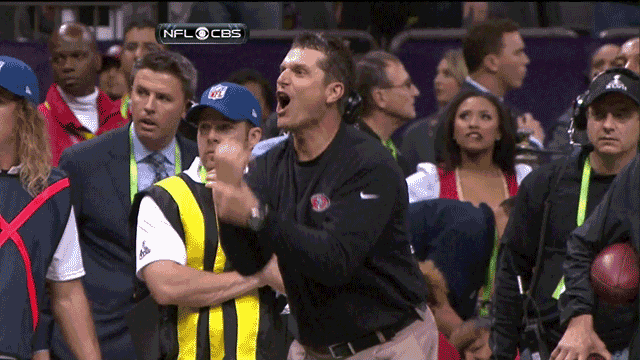 Despite emphatically pleading with Jerome Boger's crew, the no-call stood and the Ravens were a few plays away from hoisting the Lombardi Trophy.
After the game, Harbaugh said he wanted to stick with the "class and grace" route. Instead, he went after the officiating (via the Boston Globe).
Yes, there's no question in my mind that there was pass interference and then a hold [against] Crabtree on the last one...felt like he was grabbed and held.
In all fairness, Harbaugh was answering a reporter's question.
But might the no-call have at all stemmed at all from 60 minutes of constant screaming from Harbaugh, on top of a regular season filled to the brim with his abuse of the officials?
Referees are trained to have no bias, but at some point, human nature must play a small part in the split-second decision-making of an official. It's not unreasonable to think Harbaugh could have slowly turned the officials against his team with his emotion from the sidelines.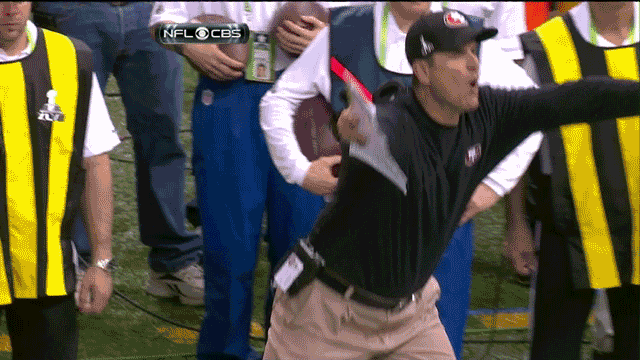 Certainly, Super Sunday wasn't the first instance of Harbaugh attacking an officiating crew.
His long list of complaints against officials this season began in August, when he felt that the replacement referees made some "wild, crazy calls" and had others that "weren't even in the ballpark" during a preseason game against the Houston Texans, according to Matt Maiocco of CSN Bay Area.
Harbaugh made those complaints despite the league asking teams on several occasions to not publicly criticize the replacement officials. However, nearly every head coach—at some point or another—made a public statement about the replacements' accuracy (or lack thereof).
After a loss to the Minnesota Vikings in which the replacement officials made a number of errors and head-scratching changes, Kevin Lynch at the San Francisco Chronicle surmised that Harbaugh's "intimidating" ways might have given the 49ers an advantage with the inexperienced referees.
Even once the regular officials came back, Harbaugh continued to see the game through his biased prism. The sideline antics and dissatisfaction remained, likely at a rate that dwarfed any other NFL head coach.
Not everyone in the league has been impressed.
Later in the season, Seattle Seahawks head coach Pete Carroll accused Harbaugh of attempting to "get help" from the officials by questioning the rule-book legitimacy of the Seahawks' coverage.
After Harbaugh said he would take up his concerns with the NFL office, Carroll had this to say, according to Maiocco:
I did go back and look at the film to see what Jim was talking about. And I had trouble seeing why there was a complaint. But the fact that he did, he was just trying to get some help from the officials, I think.
Have Harbaugh's complaints actually done the opposite?
Even in the postseason, Harbaugh has been uncontrollable on the sidelines. Against the Atlanta Falcons, Harbaugh exploded when he learned of a failed challenge. The video can be seen below.
Emotion is an important part of football, and there may be no coach in the NFL as visibly passionate as Harbaugh. Competitive nature is a very difficult beast to contain, especially for a former player.
However, NFL officials are human beings too, and no matter how hard one can try to eliminate all bias, constant harassment from one side can tip the scales ever so slightly.
A season's worth of abuse from Harbaugh—likely against a number of the crew members working Sunday's Super Bowl, including Boger—certainly could have played a factor in Crabtree not getting the all-important and game-defining call in the fourth quarter.
This article is
What is the duplicate article?
Why is this article offensive?
Where is this article plagiarized from?
Why is this article poorly edited?

San Francisco 49ers: Like this team?