Washington Basketball: 5 Keys to Beating UCLA in Pac-12 Game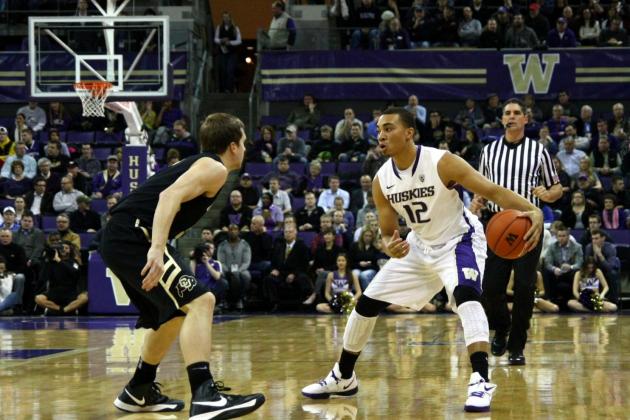 Husky guard Andrew Andrews.
The Huskies (13-9, 5-4 Pac-12) stopped a four-game losing streak last Saturday by beating Arizona State 96-92. The Sun Devils shot an impressive 64 percent from the field, yet still managed to lose.
UCLA last played on Jan. 30 and is in the midst of a two-game losing streak.
Washington is an up-and-down team that can be defensive stalwarts one game and run-and-gun in their latest home win.
Head coach Lorenzo Romar has made some adjustments by giving sophomore Shawn Kemp Jr. and guard Andrew Andrews more minutes. Both scored career highs in the Arizona State matchup.
As the Huskies prepare for the Thursday-evening encounter at UCLA, they'll face an impressive group of freshmen who can rebound, score and steal the ball. It will require Washington to have a complete game offensively and defensively.
Senior center Aziz N'Diaye is a "big" presence under the boards and will have his hands full with UCLA's Kyle Anderson jostling for rebounds. It should be an interesting battle between two of the Pac-12's top rebounders.
The Bruins could "steal" this one away if the Huskies become turnover prone. Should this matchup be close and tense, Washington's ball-handlers will need to be on guard.
Washington remains an enigma game by game. If Romar's strategy is to go up-tempo with the inclusion of Kemp and Andrews, this could be another high-scoring affair at Pauley Pavilion.
Statistics from Pac-12.com
Begin Slideshow

»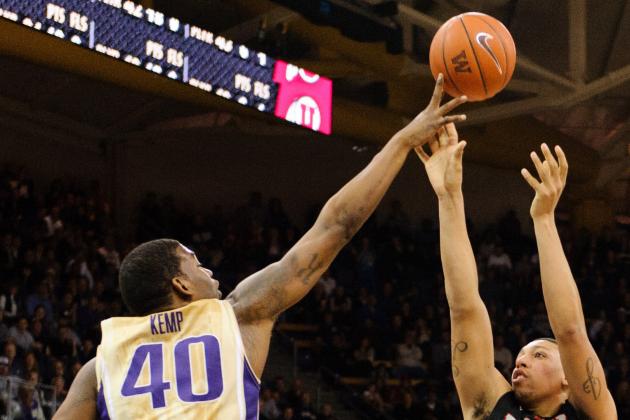 Steven Bisig-USA TODAY Sports
Shawn Kemp Jr. goes for the block.
Over the past three games, head coach Lorenzo Romar increased the number of minutes played by forward Shawn Kemp Jr. He's been rewarded with Kemp averaging a dozen points a game and providing a physical presence under the boards. The sophomore transfer pulled down six boards against Arizona State.
"I've constantly said that Shawn Kemp as a low-post scorer was a really good option for us," Romar said after the Arizona State game. "He had 12 points against Arizona, and he comes back with 18 again tonight. Those are the things we envisioned Shawn Kemp doing. Now, he probably has a little more confidence, so hopefully he can come out and play a little closer to that level all the time.
The combination of Kemp at 6'9' and seven-footer center Aziz N'Diaye gives the Huskies a formidable rebounding duo. "He's just playing his game," N'Diaye said of Kemp's play. "Being physical and going on the offensive glass, it all helps a lot, just having him there. He did a really good job offensively finishing on the rim."
Kemp knows he's on a roll and wants to build on his recent success. "It gives us a lot of momentum," the Georgia native said. "They are a good team, so it shows we can do it."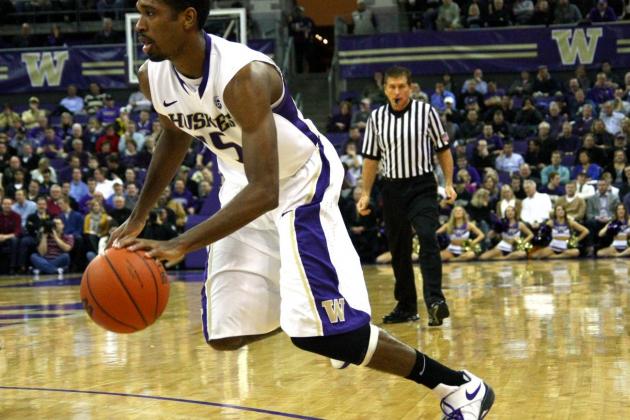 Scott Suggs driving to the basket.
The Arizona State win saw the Huskies go up-tempo compared to their previous focus on defense. Unfortunately, Washington also gave up a season-high 92 points to the Sun Devils. They'll face a UCLA group that's first in Pac-12 scoring (76.8 points).
Guard Andrew Andrews hit for a career-high 20 points against the Sun Devils, while five other Huskies were in double digits.
Romar would like to see an improved defensive effort from his team.
"I think we have to do a better job defensively against a team (Arizona State) that wants to push it like that," Romar said. "That's how we practice, that's how we play, that's what we talk about all the time. Teams do a good job at getting back on us, and defensively, if we can't impose our will and create turnovers, we don't get in transition as much."
The Bruins are next-to-last in scoring defense in the Pac-12. They give up an average of 69.2 points. If Washington can maintain its recent offensive barrage against UCLA, the Huskies could exploit the Bruins' primary weakness to earn an important conference win.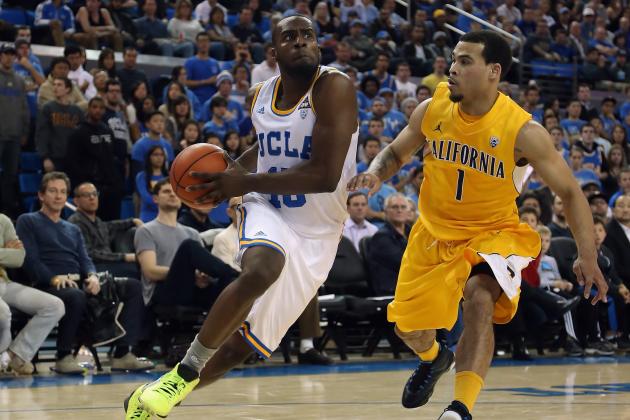 Jeff Gross/Getty Images
UCLA freshman Shabazz Muhammad.
The Bruins have an impressive group of freshmen on the floor. Guard Jordan Adams is a defensive specialist with a knack for stealing the ball. He is the conference leader with 2.7 steals per game.
Kyle Anderson is second-best rebounder in the league. Shabazz Muhammad averages 17 points a game, or fifth best in the Pac-12.
UCLA's first-year quartet of Adams, Anderson, Muhammad and Tony Parker have combined to score more than half of UCLA's points in each of its conference games. They tallied 95 of the team's 144 points (66 percent) during the recent Arizona road swing.
The Huskies have to figure out a way to stop Muhammad's scoring, Anderson's rebounding and Adams' thievery. Otherwise, Washington could be heading home with a .500 win-loss conference record.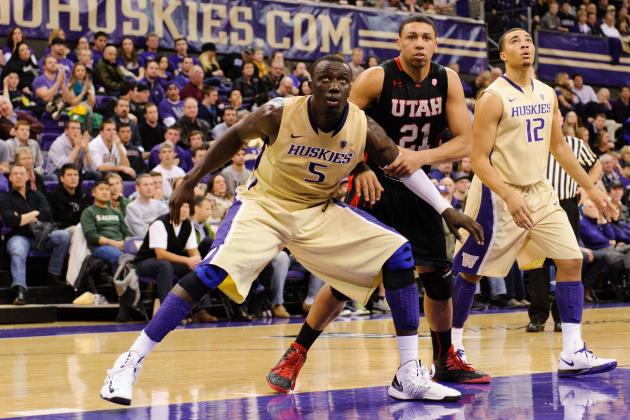 Steven Bisig-USA TODAY Sports
Aziz N'Diaye blocking out his opponent under the basket.
Washington is ranked first in the Pac-12 offensive rebounding category with a 12.8 average. UCLA is ninth with an average of 10.1 rebounds each game.
UCLA's Kyle Anderson (9.9 rebounds) and Aziz N'Diaye (9.4 rebounds) are second and third in the conference, respectively.
N'Diaye is better than his UCLA counterpart pulling down the ball while the Huskies are on offense. He's averaging 3.1 offensive boards each game, or second best in the conference.
Anderson has the edge for defensive rebounds, the second best record in the Pac-12 with 7.9 per game. N'Diaye pulls down 6.3, or seventh best in the league.
The Anderson and N'Diaye matchup could be a key element in determining who walks away with a "W" on Thursday.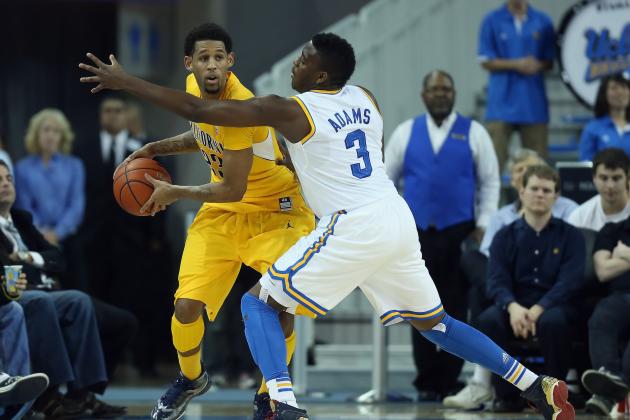 Jeff Gross/Getty Images
UCLA's Jordan Adams on defense.
The Bruins average 8.4 steals per game, the highest in the Pac-12 Conference. UCLA also leads the leads the conference in turnover margin. They give up 10.8 turnovers while their opponents average 14.3, or a +3.56 advantage per game.
Jordan Adams, Kyle Anderson and Larry Drew all rank in the top 10 in steals. They accounted for nearly 70 percent of UCLA's total.
The Huskies will need to be disciplined when on offense. If the Bruins are able to convert a majority of Washington's turnovers into points, UCLA could end up "stealing" the game.