2013 MLB Preview: Predicting the Tampa Bay Rays' Batting Order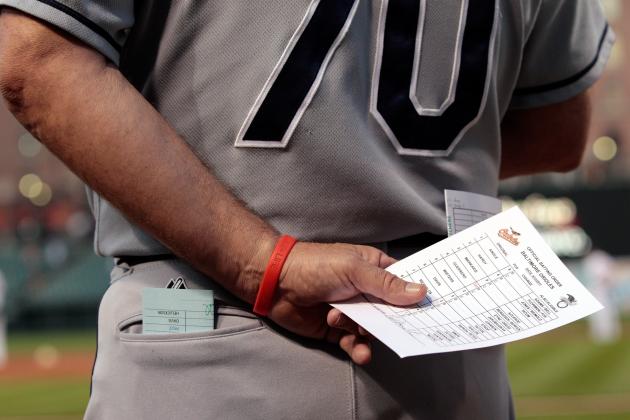 Rob Carr/Getty Images

The weather is starting to warm up (in the wrong parts of the country), and people are starting to book their vacation trips to Arizona and Florida. Every baseball fan is starting to come out of hibernation and is ready for spring training to get started.
We're going to see lots of speculation about who this year's World Series champions will be and who the the front-runners for all the major awards are.
Before one can talk about any of those things, we need to first know the teams that we are dealing with.
Everyone knows that Tampa Bay Rays manager Joe Maddon loves to tinker with his lineup as much as any manager in the majors. And chances are that the obvious lineup choices may not be the ones that he decides to choose. However, we're going to try to get into the mind of the skipper as best as we can.
Will we see Wil Myers and Hak-Ju Lee carrying the load for the Rays this season? Read on to find out.
Begin Slideshow

»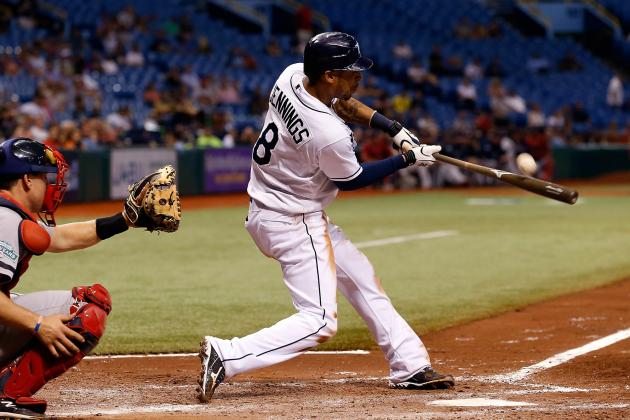 J. Meric/Getty Images
Jennings looks to show Rays fans that he's not another BJ Upton.
2012 MLB Stats: 132 games, 505 AB, 85 runs, 13 HR, 47 RBI, 31 SB, .246 BA, .314 OBP
Disappointment. That is the one word that Tampa Bay fans would use to describe Desmond Jennings' first full season in the majors.
At first glance, Jennings did not appear to have that bad of a season. He scored 85 runs, stole 31 bases and hit a baker's dozen of home runs.
But after Jennings' rookie season, in which he hit 10 home runs and stole 20 bases in only 63 games, Tampa Bay was expecting to get more out of its future center fielder.
One of the biggest knocks on the outfielder is the fact that he is quite injury-prone. Last season, Jennings missed almost a month of playing time due to a sprained left knee—something that could have arguably hurt his base-running and sapped some of his power for most of the season.
According to the splits on Baseball-Reference.com, DJ actually played considerably better during the second half of the season, batting .258 with a .329 OBP.
While these still aren't the numbers the Rays would ideally get from their leadoff batter, it does show that Jennings was trending in the right direction at the end of the year.
I'm going a little more on the hopeful end for Jennings this year and assuming that he will make it through an entire season healthy. We should see more of the 2011 Jennings than the 2012 version.
2013 Prediction: 151 games, 560 AB, 89 runs, 21 HR, 57 RBI, 42 SB, .264 BA, .329 OBP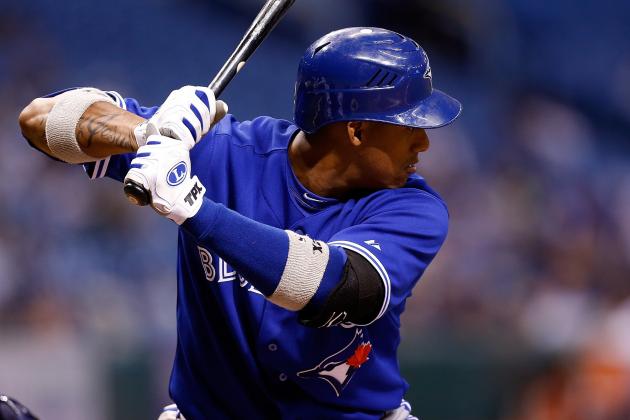 J. Meric/Getty Images
Can Escobar behave himself this season?
2012 MLB stats: 145 games, 558 AB, 58 runs, 9 HR, 51 RBI, 5 SB, .253 BA, .300 OBP
Yunel Escobar has played over 240 games of his career batting in the No. 2 spot, hitting .292 with a .360 OBP.
Tampa Bay would do well to replace Upton's spot in the order with a batter who will be able to get on base a little more often, albeit with less pop in his bat and not as much speed.
Escobar will look to rebound from a controversial 2012 season, in which he was suspended for writing a homophobic slur on his eye black and was ultimately sent packing because the Blue Jays brass felt he was more of a headache than he was worth.
The Rays will look to pull Escobar in and try to bring out the player that was with the Braves from 2007-2010. When he's on his game, Escobar presents to be a tough out and is a very adept runner on the basepaths.
Look for him to bounce back from last year's disappointment to become a valuable piece for Tampa Bay this season.
2013 Prediction: 132 games, 497 AB, 65 runs, 12 HR, 58 RBI, 8 SB, .287 BA, .337 OBP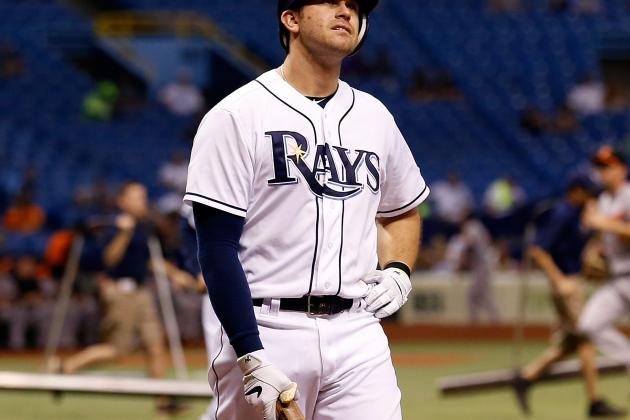 J. Meric/Getty Images
The Rays don't question Longoria's ability at the plate. But can he stay healthy enough to lead the team back to the playoffs?
2012 MLB stats: 74 games, 273 AB, 39 runs, 17 HR, 55 RBI, 2 SB, .289 BA, .369 OBP
The face of the franchise, Evan Longoria, signed a six-year contract extension with the Rays, which will keep the third baseman in Tampa through 2022 for a total of $144 million.
Longoria's talent has never been the question, as he has consistently been one of the best third basemen in baseball. And he may now be one of the top two, along with Miguel Cabrera.
Durability has been an issue for Longo, as he has not played in a full season since 2010. After having surgery in November to clean up the partially torn hamstring that he suffered at the beginning of 2012, Longoria said that he expects to be 100 percent by the time spring training starts.
I'm not completely sold that Longoria will make it through an entire season without getting hurt, but I don't think he's going to miss extensive time. The Rays' captain will lead a potentially potent offense in 2013.
2013 Prediction: 148 games, 506 AB, 92 runs, 34 HR, 118 RBI, 8 SB, .291 BA, .358 OBP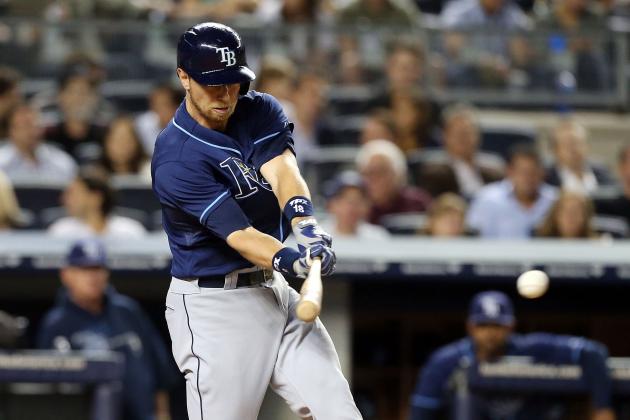 Jim McIsaac/Getty Images
Ben Zobrist will look to prove that 2010 was a fluke and build off his 2012 season.
2012 MLB stats: 157 games, 560 AB, 88 runs, 20 HR, 74 RBI, 14 SB, .270 BA, .377 OBP
Ben Zobrist has been everything that the Rays could have possibly wanted and more when they traded Aubrey Huff to the Houston Astros for him and former prospect Mitch Talbot.
Since joining the Rays, Zorilla has played every position on the field except for pitcher and catcher. Not only has he contributed very well with his versatile glove, he has also been a force at the plate.
During his first four full seasons in the league, Zobrist has a .268 average and .369 OBP while averaging 89 runs, 19 home runs and 83 RBI a year.
There is no reason to believe that he will not be able to keep up his offensive production while playing right field and second base this season. Look for Zobrist to actually increase some of his numbers with Wil Myers hitting behind him.
2013 Prediction: 156 games, 552 AB, 94 runs, 22 HR, 86 RBI, 16 SB, .277 BA, .384 OBP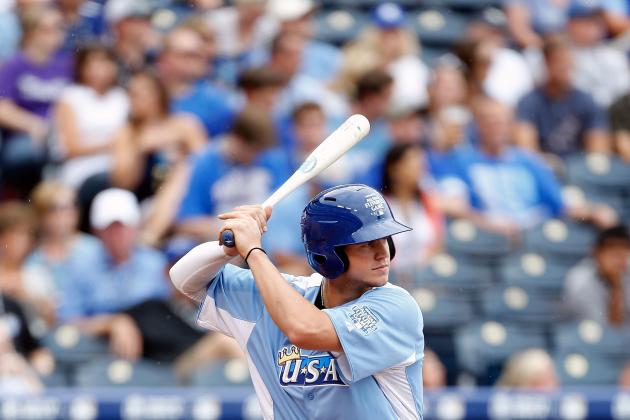 Jamie Squire/Getty Images
Is Myers ready for the spotlight yet?
2012 MiLB stats: 134 games, 522 AB, 98 runs, 37 HR, 109 RBI, 6 SB, .314 BA, .387 OBP
Wil Myers is the fourth-best prospect in baseball going into the 2013 season, according to MLB.com, and for good reason. He hit the second-most home runs in all of minor league baseball last season and won the MiLB Player of the Year award.
With what projects to be plus power and an above-average batting average, Myers may be the spark for the Rays this season that Evan Longoria was back in 2008.
While Myers did see a huge increase in his power output last season, he also saw an uptick in his strikeouts. That being said, he should be able to keep his home run power up while keeping his strikeouts manageable.
I don't believe that Myers will be up with the Rays to start the season, and he most likely will not be slotted into the No. 5 hole when he is called up in early May. But once he settles in, I think manager Joe Maddon will have no problem moving Myers into the No. 5 spot for the remainder of the season.
Don't expect Myers to put up superstar numbers yet, but you'll be hearing his name in the Rookie of the Year running.
2013 Prediction: 120 games, 434 AB, 71 runs, 21 HR, 76 RBI, 8 SB, .266 BA, .329 OBP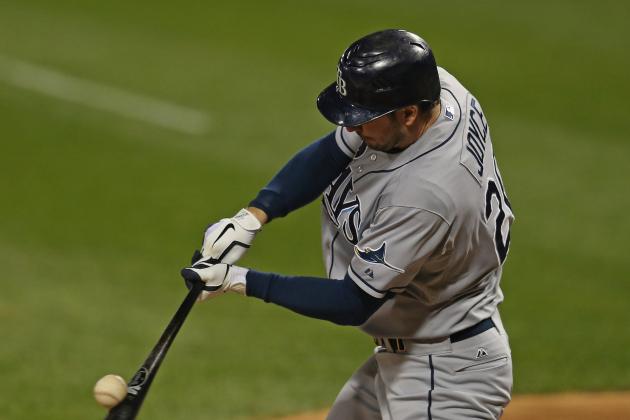 Jonathan Daniel/Getty Images
The Rays will try to cure Matt Joyce's free-swinging ways this season.
2012 MLB stats: 124 games, 399 AB, 55 runs, 17 HR, 59 RBI, 4 SB, .241 BA, .341 OBP
Matt Joyce has always been an interesting player for Tampa Bay.
While he's never been a guy that's going to completely wow you with his offensive numbers or put up spectacular play in the outfield, he has done enough to warrant a starting job.
Joyce was not able to capitalize on his playing time last season after being named an All-Star in 2011. His strikeout rate (22.1 percent) was the highest that it has been since he first broke into the majors with Detroit in 2008.
He has also turned himself into more of a free swinger as each year passes. That is not an approach that he should take if he wants to be successful, as he does not have the plate coverage that a free swinger such as Vladimir Guerrero had.
To start the season, we will probably see Joyce split time between left field and DH. Once Myers is called up, he will most likely be moved to a fourth outfielder/DH role. If he can be a bit more selective with his pitches, Joyce could find success again.
2013 Prediction: 120 games, 375 AB, 48 runs, 14 HR, 52 RBI, 5 SB, .255 BA, .349 OBP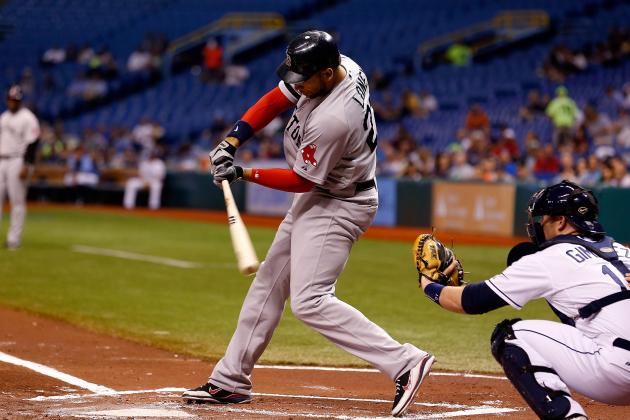 J. Meric/Getty Images
Which Loney is going to show up for Tampa?
2012 MLB stats: 144 games, 434 AB, 37 runs, 6 HR, 41 RBI, 0 SB, .249 BA, .293 OBP
How quickly someone's career can turn around.
Between 2006 and 2011, James Loney averaged .288, with a .346 OBP, 11 HRs, 70 RBI and 54 runs scored. He was never known as a power threat at first base, but he was a guy that could get on, bat some guys in and play some solid defense.
After a slow start in 2012 and the chance to make a blockbuster, the Dodgers shipped Loney to the Red Sox in a mega-deal for Adrian Gonzalez. Loney did not take well to Boston, and he saw the worst numbers of his career with the Red Sox.
Tampa Bay isn't looking for him to be a long-term answer at first base. Rather, the team is looking for the lefty to merely hold his own in the spot while hoping he can return to driving runners in like he's throughout the majority of his career.
Loney isn't great at hitting left-handed pitching, so the Rays may try to play Sean Rodriguez a little at first base against left-handed pitching. Or, they may let Loney try to get back to being an everyday starter like he was with the Dodgers.
He may deal with adjusting to American League pitching at the beginning of the season, but look for him to improve during the second half off the season. Even so, chances are that Loney will never be put in the situation to be a 70 RBI player again.
2013 Prediction: 121 games, 385 AB, 42 runs, 8 HR, 51 RBI, 1 SB, .258 BA, .313 OBP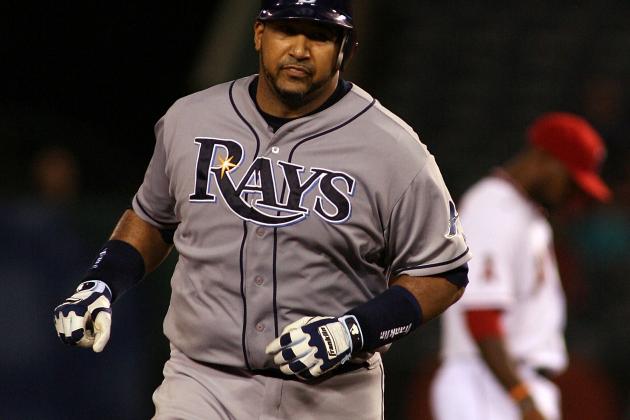 Jeff Golden/Getty Images
The Rays will be happy if they can get the same type of season out of Molina that they had last year.
2012 MLB stats: 102 games, 251 AB, 27 runs, 8 HR, 32 RBI, 3 SB, .223 BA, .286 OBP
Jose Molina is not going to win you baseball games at the plate. He has never had the offensive prowess that both of his brothers, Yadier and Bengie, possess.
Where Jose does hold his own with his brothers is on defense. Jose is currently fourth in active leaders for caught stealing, having thrown out 39.1 percent of attempted base stealers.
Joe Maddon won't expect much out of Molina at the plate, and neither should you. Jose played a career-high 102 games last season and responded with numbers around his career averages. Expect more of the same this season.
2013 Prediction: 98 games, 235 AB, 22 runs, 4 HR, 23 RBI, 2 SB, .219 BA, .279 OBP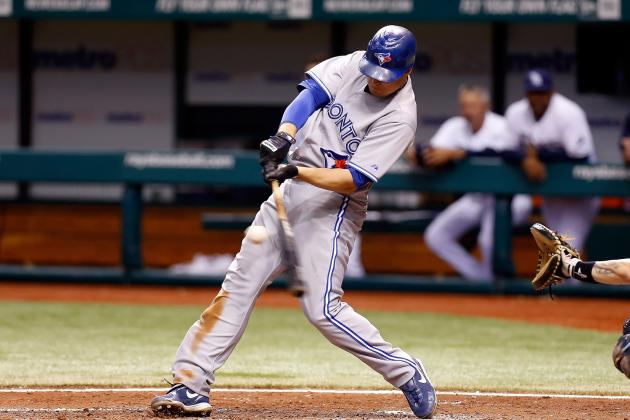 J. Meric/Getty Images
Will Kelly Johnson hit well enough this year to push him to the top of the order?
2012 MLB stats: 142 games, 507 AB, 61 runs, 16 HR, 55 RBI, 14 SB, .225 BA, .313 OBP
Kelly Johnson is the type of player that Joe Maddon loves.
Over the course of his career, he has shown some considerable pop and a penchant for getting on base, averaging 19 home runs per 162 games played and an OBP of .338.
In 2012, Johnson had a bit of a down year in the batting average department, only hitting .225, which is 30 points below his career average. However, he still proved to be a productive player, generating a total of 116 runs with his offense.
The Rays love to have a second leadoff batter at the bottom of the order, and with the makeup of this year's roster, Kelly Johnson looks to be that man. Look for him to return closer to his career averages this season.
2013 Prediction: 146 games, 532 AB, 61 runs, 16 HR, 54 RBI, 16 SB, .252 BA, .334 OBP