Illinois vs. Michigan State: Live Score, Updates and Analysis for B1G Game
Michigan State needs a win tonight against Illinois in order to stay on pace with other B1G contenders. Keith Appling and Derrick Nix will be, as usual, key to the Spartans' success.
Gregory Shamus/Getty Images
If the Michigan State Spartans thought they were in for an easy ride Thursday night within the friendly confines of the Breslin Center, they were wrong.
Dead. Wrong.
The 13th-ranked Spartans barely scraped their way to an 80-75 win over the unranked Illinois Illini, a team that won just once in its prior five games. A strong second half was preceded by a dreadful first.
Down 37-27 at the half, the Spartans (18-4, 7-2) were dangerously close to suffering back-to-back losses for the first time this season.
However, great players score when their team needs them to most, and such was true for junior point guard Keith Appling, who poured a game-high 24 points -- along with eight rebounds, seven assists and a block -- on the Illini (15-7, 2-6).
Appling's heroics were put on center stage late in the game as the Spartans desperately clung to a minimal lead. Like he has thrice before this year, Appling found his way to the line, made acrobatic layups and dished out jaw-dropping assists Thursday to ensure victory for coach Tom Izzo, who turned age 55 on Wednesday.
Illinois jumped out to an 8-0 lead within the opening minutes. With confidence at an apex, the Illini commanded each offensive possession and turned over the ball just once in the first 20 minutes.
Myke Henry scored eight of his 11 points in the first half, sinking 3 of 3 attempts from the field. However, he was rendered ineffective by the Spartans' defense in the final 20 minutes, struggling to find an open lane to drive to the hoop or a suitable spot to shoot a jumper from.
Illinois' guard production was respectable, with J.J. Abrams leading the way with a team-high 16 points. D.J. Richardson chipped in with 14 points and Brandon Paul finished the night with 13.
Spartans freshmen Gary Harris and Denzel Valentine each scored 14 points. Harris' intensity coming from the break helped the Spartans spin a 14-0 run. However, he later left the game with a "tweaked foot," according to ESPN announcers.
Valentine's points were scored quietly, but his much-needed hustle energized his once-lethargic team.
Branden Dawson, in true Branden Dawson fashion, scored 12 points. His alley-oop dunk (assisted by Appling) electrified the Izzone, the Spartans' student section, and sent a shockwave through the Illini.
Adreian Payne and Derrick Nix each scored eight points.
Follow Bleacher Report's Adam Biggers on Twitter @AdamBiggers81
Final: MSU 80, Illinois 75
Looks like the Spartans will slide by with a win, but the sloppy play has to stop. Michigan State is a far better team than it showed tonight.
Not much time left (22.9 seconds), but Michigan State can't afford to make this a one-possession game with costly fouls.
Put the ball in Keith Appling's hands; he'll get the job done.
Score update: MSU 74, Illinois 70 (35 seconds to play)
Dave Dombrowski has interest in bringing in Keith Appling as a closer for the Detroit Tigers.
All kidding aside, Keith Appling has taken over this game. Good players can score, great players can score when it's all on the line.
Score update: MSU 72, Illinois 68 (1:20, second)
MSU 70, Illinois 67 (2:25, second)
Keith Appling draws contact well. Time to shoot three, kid.
Typically, he's great from the line...missed 2 of 3 (78 percent on the year)
Score update: MSU 69, Illinois 64 (3:07, second)
Illinois uses timeout. To emerge the winner, aggressive attempts to the rim are necessary -- for Illinois and Michigan State.
What time is it?
It's Keith Time.
Appling has been so clutch for Michigan State in tight games. Whether in the final minute, or the final few minutes, Appling seems to shine the brightest when it's his night to make things happen.
MSU 68, Illinois 62 (4:10, second)
We're going to see what each team is made of during these final minutes. I can't stress enough how much Illinois -- although it's had a poor second half -- has impressed me throughout this game. Going to the Breslin Center is tough. Facing a good Spartans team is tougher.
Factor those in, and a win is hard to come by, obviously.
MSU 63, Illinois 60 (5:03, second)
Denzel wasn't elbowing on the floor, he was just looking for his Valentine.
#Duh
#HashTaggingForNoReasonBecauseIThinkTheyAreCool
Score update: MSU 63, Illinois 57 (6:00, second)
"Chippy" jam pile going on in East Lansing. Clean the floor afterward, please.
ESPN asked viewers which freshman was the best in Big Ten.
Michigan State's Gary Harris wins by a landslide in field of five, garnering 50 percent of the votes. I can't lie, I #BigTenFresh'd Gary Harris.
He is the best frosh. Period.
MSU 60, Illinois 57 (7:30, second)
Keith Appling's "it wasn't me face" amuses me. Yes, Keith. It was you! Backcourt violations are embarrassing, especially for sure-handed point men like Appling.
Spartans are falling like flies: Gary Harris and Travis Trice aren't active. Harris "tweaked his foot," according to ESPN analysts. Trice took a tough hit in the first half.
Big Ten...football?
MSU 53, Illinois 48 (10:30, second)
Illinois' Myke Henry was phenomenal in the first half with eight points. He's been a no-show in the second half -- zero points, too.
Update: As soon as I posted this, Henry made a nice layup and hit his free throw. #SpokeTooSoon
Jay Bilas doesn't make me want to eat Wendy's. Just a thought. Wendy's hamburgers make me want to eat Wendy's...
Back to the game.
If the Spartans can string together this type of play through a complete game, I have no qualms when it comes to forecasting a deep, deep run into March.
I don't want to use the double-F word just yet...but you know...it could happen.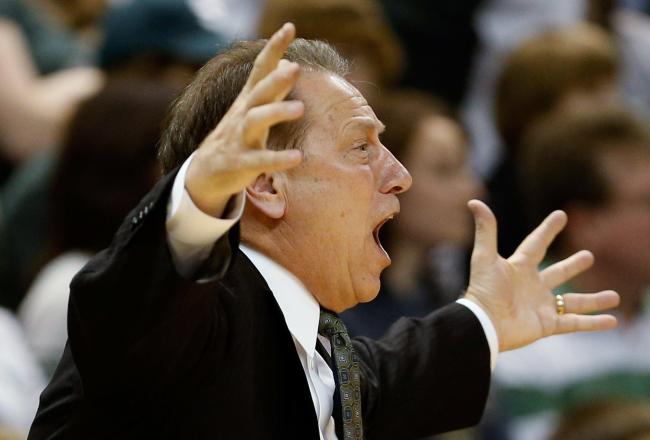 MSU 49, Illinois 43 (12:52, second)
If this game were a novel, it'd be entitled "The Tale of Two Halves."
Michigan State doesn't look anything like it did in the first half -- that's good for Spartans fans. However, Illinois looks nothing like it did in the first, and that's bad for Illini fans.
MSU 47, Illinois 43 (13:30, second)
Illinois could use Meyers Leonard right about now. The Illini are having trouble getting good looks in the paint.
MSU 43, Illinois 40 (14:30, second)
Work the ball into Nix. That's a great idea. A little late, but a great idea, nonetheless.
Big fella may have gotten away with a travel, but the Spartans certainly need his contributions from the charity stripe (14 percent better this year than he was last year from line)
MSU 41, Illinois 40 (15:00, second)
D.J. Richardson: one, two, three; easy as A, B, C (did he hum that when shooting his three free throws?)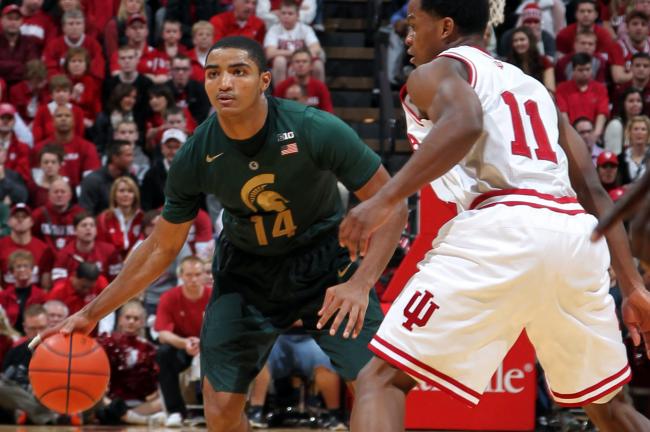 MSU 41, Illinois 37
Gary Harris has responded to Izzo's assumed, fiery speech at the break. Someone has to lead. Harris, along with Keith Appling and Adreian Payne have upped the intensity.
And there goes Derrick Nix...Michigan State is looking like Michigan State for once tonight.
Spartans are clicking after 37-27 halftime deficit.
Illinois 37, MSU 36 (16:30, second)
I challenge you to find a more athletic guy that's the same size as Adreian Payne. It'll be difficult. When he's in full tilt, he's one of the best bigs in the country.
But he lacks consistency, some of which can be attributed to an up-and-down team that surrounds him. Keith Appling knows how to get the ball to Payne, so watch for more Appling-Payne connections.
Illinois 37, MSU 31 (17:30, second)
Illinois has to take advantage of all these freebies from the Spartans. Losing count of miscues by Michigan State. But trust me, there have been a lot (two turnovers in less than two minutes in second half).
This article is
What is the duplicate article?
Why is this article offensive?
Where is this article plagiarized from?
Why is this article poorly edited?

Michigan State Basketball: Like this team?