Mapping out the Blueprint for a Saints Super Bowl Run in 2013-2014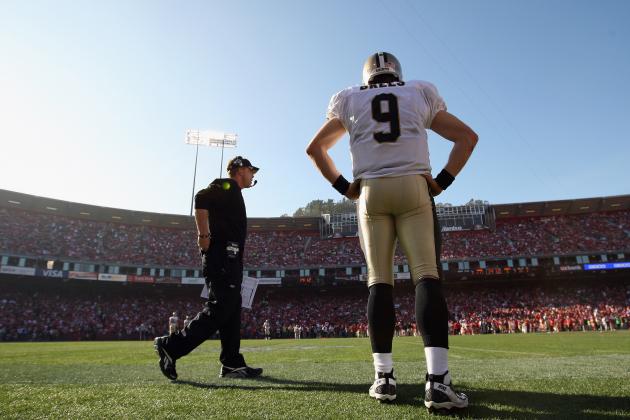 Ezra Shaw/Getty Images

The NFL is a copycat league, and reaching the Super Bowl in 2014 will come as a result of copying some of the blueprint that the San Francisco 49ers and Baltimore Ravens followed this season, while also adding a slight blend of your own style.
For the New Orleans Saints, that style will not require huge schematic changes—though, to some extent, the team is prepared to do that with the impending move to a 3-4 defense. It will, however, require a slight change in overall mentality.
Yet it will not require a huge personnel shift. The Saints already have one of the most talented rosters in the NFL, and Will Smith, Jonathan Vilma, Brodrick Bunkley and Jermon Bushrod should all be allowed to walk, primarily for salary cap reasons.
Even without those four "star players", the Saints will remain an immensely talented team. And if Smith is willing to cut his salary by about 75 percent, then the Saints will be even better off.
It is obvious that the team needs a great young outside linebacker to get after opposing quarterbacks, and it needs an elite nose tackle to occupy blockers. Also, it will need a young offensive tackle to keep Drew Brees upright and unabated on his blindside if Bushrod is allowed to leave.
Aside from that, the team does not have too many needs heading into next season. Most of the team's needs center around depth and building for the future.
The team's mentality, though, must change. Production in key areas will determine if the Saints are able to make it to New York for the Super Bowl in February 2014.
Here are four guidelines that the Saints must follow in order to accomplish that goal next season.
Begin Slideshow

»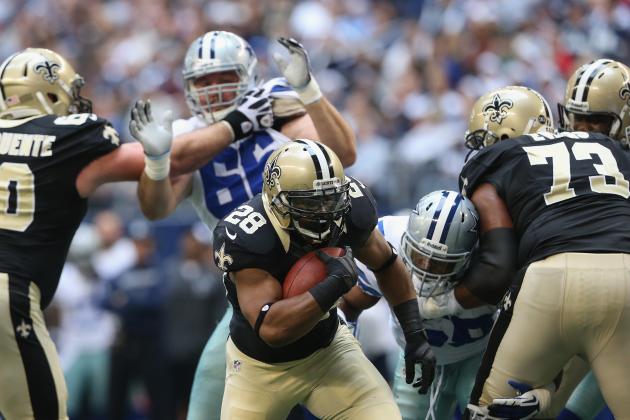 Ronald Martinez/Getty Images

In the 2012 season, the New Orleans Saints threw the football more than any team in the NFL, except one. As a result, Drew Brees and the Saints recorded more net passing yards than any team in the league—landing just three yards short of 5,000.
Yet, the Saints' offense was streaky. It was second in the league in total yards and third in points. A few games come to mind, though—Denver, at Atlanta, San Francisco and at New York (NFC)—where the offense struggled mightily.
In each of those games, Drew Brees was ineffective and/or made huge mistakes (more on this later).
Now take a look at Sunday's Super Bowl contestants.
Believe it or not, the NFC representative, the San Francisco 49ers, threw the ball the second fewest times in the league. Still, the team finished 23rd in net passing yards. That number certainly isn't great but it proves that San Francisco was tremendously efficient when either Alex Smith or Colin Kaepernick dropped back to pass.
The AFC champion Baltimore Ravens were not as modest. The Ravens threw the football the 15th most times in the league—which places them almost exactly in the middle-of-the-pack. Interestingly, the teams' net passing yardage also ranked 15th.
Despite the common assertion that in today's NFL, a team "must throw the ball to win," Baltimore and San Francisco earned trips to "The Big Easy" by throwing the ball efficiently and effectively—not simply more often than other teams.
These two teams also ran the football with great volume and efficiency.
The 49ers ranked in the top-10 in every meaningful offensive rushing category in 2012. With 492 attempts on the year, it ranked seventh. The team's 2,491 yards placed them fourth in net rushing yards, and their 17 rushing touchdowns were good for the sixth in the league. Finally, their 5.1 yards per carry ranked as the third best mark in the league.
Some of the effectiveness can be explained in greater detail by more intelligent men (such as Trent Dilfer or Bucky Brooks). It is clear, though, that Colin Kaepernick, Frank Gore and LaMichael James (after Kendall Hunter was lost for the year with an Achilles injury) keyed the most dynamic and explosive rushing offense the NFL has seen since…maybe ever.
It is not up to Sean Payton and Pete Carmichael to copy the ever popular "Pistol" offense to increase rushing effectiveness. Instead, the team should simply heed Jim Harbaugh and Greg Roman's commitment to the run game.
It should then take a look at the way Baltimore runs the ball with power run formations—either from 21 personnel (two backs, one tight end) or 12 personnel (one back, two tight ends). It needs to understand that Pierre Thomas is eerily reminiscent of Ray Rice, and Mark Ingram can reprises the role of Bernard Pierce.
It should be noted that Baltimore ranked no lower than 12th in any of the rushing categories used to describe San Francisco's rushing success this season. Also, it should be noted that since the beginning of the 2010 playoffs (when the Saints captured their lone Super Bowl championship), the team who has run the ball more successfully in the playoffs is 33-10.
In other words, rushing success not only helps a team make the playoffs, but it is crucial to who wins and loses once in the "tournament". Sean Payton and his offensive staff must heed that advice.
Chris Graythen/Getty Images

Drew Brees threw 19 interceptions in 2012, and the Saints offense also lost five fumbles in 2012. Somehow, though, the team still finished plus-two in turnover differential.
Brees was also sacked 26 times for 190 yards—which equals 7.3 yards lost per sack. Those numbers dropped Brees' yards per attempt more than half-a-yard to 7.17 (down from 7.7).
Baltimore was less effective this season protecting Joe Flacco. It gave up 38 sacks for 257 lost yards (three of those were accredited to backup Tyrod Taylor). Baltimore's net passing yards per attempt was 6.34.
But Flacco threw just 10 interceptions in 531 passing attempts (Taylor threw one as well). That, of course, equates to one interception every 53.1 attempts. Compare his interception percentage (1.9) to Brees' percentage (2.8), and it is pretty obvious why the Saints struggled at times on offense this year.
Interestingly, the 49ers gave up more sacks than either Baltimore or the Saints with 41. But between Alex Smith and Colin Kaepernick, it had three fewer interceptions than Baltimore on the year. And despite taking three more sacks than Baltimore, the 49ers did not lose as many yards on sacks as Baltimore did.
The memo should, again, be to throw the ball less. The team should shorten Brees' drops so that when he is sacked, the team is not losing as much yardage. And most importantly, they need to keep pressure away from Drew Brees.
Though statistical data does not prove that Brees was less effective versus pressure, film review makes it clear that Brees faced much pressure in 2012, and the result was often quite ugly.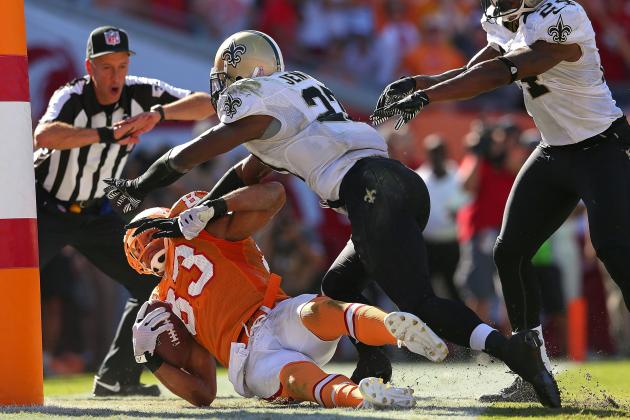 Mike Ehrmann/Getty Images

In the middle of the 2012 season, a pretty neat little narrative arose from the Saints camp. It was that Steve Spagnuolo's defense had become a bend-but-don't-break unit.
It was based primarily on New Orleans' multiple goal line stops in a Week 7 narrow victory at Tampa Bay, and it was enhanced by a key goal line stop that the unit made in ending the Atlanta Falcons' perfect record back in Week 10.
Yet, statistically, the defensive unit ranked 31st in the league in terms of points allowed, and the unit could not overcome its' place as the worst team in NFL history in terms of yards allowed.
If the unit had not given up so many points, then this abysmal record could have been overlooked. But giving up 454 points in a season—which amounts to 28.4 points per game—is awful.
A huge part of the problem was the league-worst rushing defense, which allowed 5.2 yards per carry this season. Despite seeing only the 23rd most rushing attempts, it gave up the most rushing yards. More damning, though, was the fact that the unit gave up 18 touchdowns, which ranked 28th in the league.
That is a major red zone issue. To be fair, though, a few of those touchdowns were tremendously long runs—not that that's any better.
Most likely, it was the atrocious performance of the Saints' rush defense which led to Sean Payton's decision to move away from the 4-3 defense in order to implement a more stout 3-4 defense next season.
It is reasonable to assume that Payton is looking to play a two-gap style, in which the nose tackle commands double team blocks while the defensive ends require a double team and/or an extra tight end.
Such a style would free Curtis Lofton—and whoever starts along with him at inside linebacker spot—to fly sideline-to-sideline to chase down ball-carriers.
The style also figures to take advantage of the skills of Martez Wilson and Junior Galette (as a sub-package player), who should be able to set the edge more regularly against fullbacks and tight ends with their 4-3 defensive end experience.
Those two at outside linebacker can also use their explosiveness to get after the quarterback, which will cause for more hurried and errant throws.
The primary benefit to running the 3-4, though, is better leverage and the ability to slow down the opponents' running game. In the red zone, that is absolutely crucial.
Baltimore was a bend-but-don't-break defense, and they may have redefined the term altogether. The unit gave up 5,615 yards (17th in the league) but gave up only 21.5 points per game (12th in the NFL).
The Saints wouldn't mind copying the Ravens in that regard.
Chris Graythen/Getty Images

Aldon Smith had 19.5 sacks for the San Francisco 49ers in 2012, which accounted for 144 lost yards for opposing offenses. That followed a rookie season in which Smith exploded onto the big scene with 14 sacks.
This year, Smith also managed to haul in one interception and forced three fumbles. The second-year star is a playmaker, and he is a nightmare for opposing offensive line coaches.
To put that into perspective, Cameron Jordan led the Saints with eight sacks in 2012. That followed his rookie campaign where he earned just one quarterback takedown.
Granted, Jordan was always projected to be a better fit for a 3-4 defense, but he probably will not become J.J. Watt, who had 20.5 sacks in his second year for Houston. Though explosive, Jordan is more of a run-stopper who can create pressure when he is not the featured pass-rusher.
In other words, Jordan would become better if the Saints can unearth an elite pass-rusher in the 2013 draft. The most likely and palpable culprit to fit that role is LSU defensive end Barkevious Mingo.
Mingo could go anywhere from the No. 6 slot to No. 15. Only time will tell if he is attainable for Mickey Loomis and Co. There are other potential options later in the draft, but Mingo is definitely the best option in the first round, though.
The draft is also very important this year because that dynamic pass-rusher is certainly not going to be found in free agency.