5 Reasons Tiger Woods Will Finally End His 5-Year Major Drought in 2013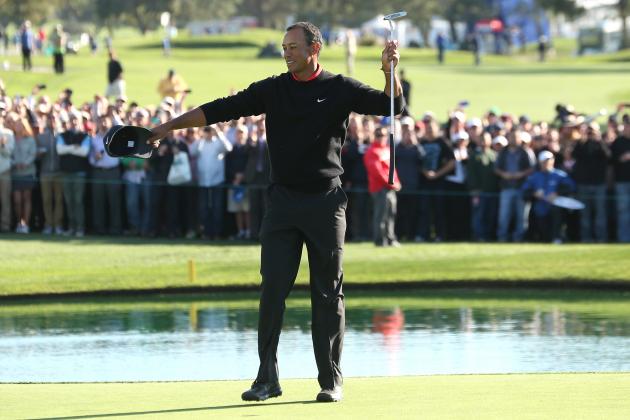 Stephen Dunn/Getty Images
There is a good chance Tiger Woods can bring his major drought to an end this year.
It is hard to believe five years have gone by since Tiger Woods battled multiple leg injuries to win the 2008 U.S. Open.
But fans of the PGA Tour will not have to wait much longer for the living legend to secure the 15th major championship of his storied career.
Woods showed significant progress en route to winning the Farmers Insurance Open at Torrey Pines last week, which will set the No. 2-ranked golfer in the world up for success in each of the four majors this year.
There are several reasons to be optimistic about Tiger's chances of finally getting over the hump in a major for the first time in his last 15 starts.
Five in particular stand out above the rest after Woods' first PGA-sanctioned event of the year.
Why should you be picking Tiger to win a major in 2013? Click ahead to find out!
Begin Slideshow

»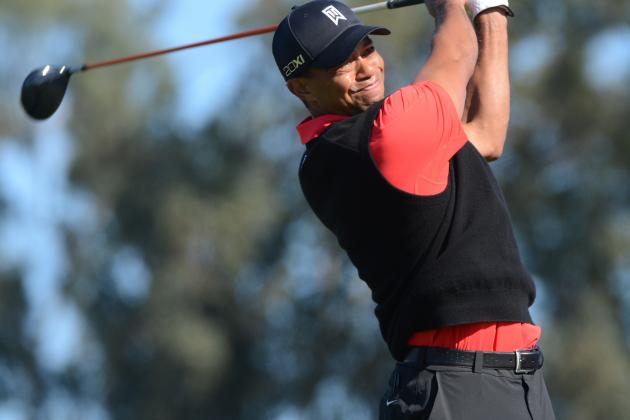 Donald Miralle/Getty Images
Tiger may not have hit some wayward shots off the tee, but overall he had a great week driving the ball.
Yes, Tiger Woods definitely hit some errant tee shots in his 2013 PGA debut, but the 14-time major champion did lead the Farmers Insurance Open field in total driving and managed to hit 32-of-56 fairways.
All of the work Woods put in over the offseason paid off when it came to his driving distance as well. Tiger averaged 307.3 yards in that department, which is 10 yards better than he fared a year ago.
The extra distance off the tee will help Woods dominate the various par-5s he will encounter in the four majors this year. One of the biggest reasons Tiger won majors at a startling pace in the early and mid-2000s was because of how well he played on the par-5s.
Woods only managed to finish No. 43 among all the players on tour in par-5 performance last season, but Tiger outperformed everyone except Jason Day on those holes last week.
Overall, Woods carded nine birdies and two eagles on the par-5s to pick up his 75th victory on tour.
For Tiger to win a major this year, he will have to perform well on the longest holes in the four tournaments, and the distance Woods has added to his game is only going to help him in that respect.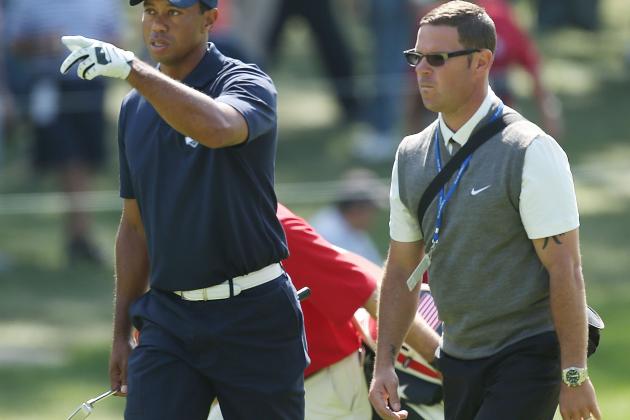 Andy Lyons/Getty Images
Tiger Woods looks more comfortable with the swing he's created with Sean Foley.
Even though Tiger Woods is one of the greatest golfers in the history of the PGA Tour, not even he can expedite the process of adopting a new swing. Injuries have hampered Woods' implementation of the swing changes, but it appears Sean Foley's adjustments have finally become routine for Tiger.
Now that Woods is more comfortable with his swing, he can get back to worrying about shot selection and distance control rather than his mechanics.
"Advanced performers are unconsciously competent," psychologist Bob Rotella told Scott Eden of ESPN The Magazine. "But any time you make a change, you kind of go back to being a beginner."
Tiger's ball striking and iron play were exceptional in his most recent victory, which is a product of Woods' level of confidence with the swing changes Foley has instituted since taking over as his coach in the summer of 2010.
This is not the first time Tiger has needed some time to iron out the kinks of a new swing, either. Woods endured a two-year major drought after changing his swing in 1997, and he failed to win one in 2004 while making adjustments to his stroke.
Look for a more confident Tiger this season thanks to the completion of his transition from former swing coach Hank Haney's philosophies to Foley's.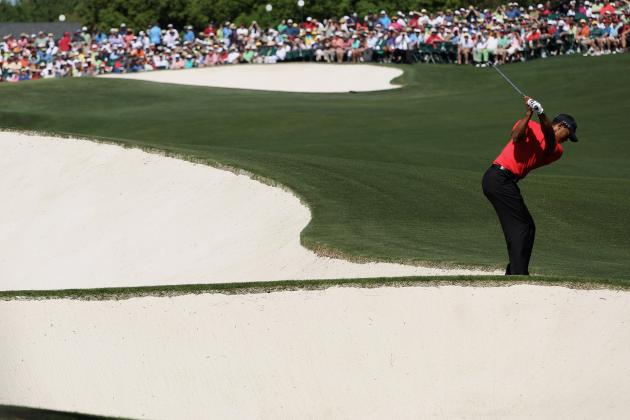 Scott Halleran/Getty Images
Augusta National has been kind to Tiger Woods over the course of his career.
As Tiger Woods has displayed over the course of his career, it helps to fall back on past success and positive experiences at certain venues to generate some confidence before heading to the first tee.
In 2013, there will be a lot of that for the 37-year-old at the four major championships.
Since 1997, Woods has finished in the top 10 at The Masters, which is played annually at Augusta National Golf Club, all but four times. Tiger has already won four Green Jackets, the last coming in 2005, so expect Woods to be a serious contender in the first major of the year.
The Open Championship is back at Muirfield Golf Links for the first time since 2002, and although Woods is mostly remembered for firing an 81 there in the third round of the tournament, he put together solid scores of 70, 68 and 65 as well.
The only time Woods teed it up in a major at Oak Hill Country Club was in the 2003 PGA Championship. Tiger finished tied for 39th at the event, though this also happened to be during the longest major drought of Woods' career.
The Rochester, N.Y., course will host the 2013 PGA Championship, and Woods will undoubtedly be looking to make amends for his rough week there 10 years ago.
Merion Golf Club's East Course is the only unknown for Woods at this point, since it is hosting the U.S. Open for the first time since 1981.
This combination of venues sets Tiger up well for success in 2013.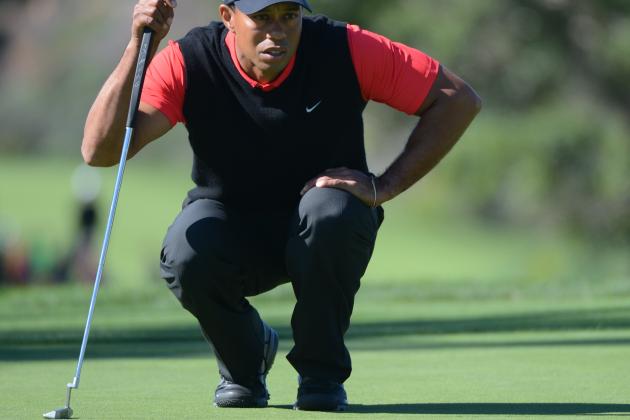 Donald Miralle/Getty Images
It appears as though Tiger Woods has regained his touch around the green.
Shortly after Tiger's eighth victory in a PGA Tour event played at Torrey Pines, the 6'1", 185-pounder informed the media his short game is better than it has been for quite some time.
"My short game was back to how I know it can be," Woods said, according to ESPN.com's Bob Harig. "My shots that I hit, especially out of these nasty lies, I hit some really good ones this week. And that allowed me to save some pars, save some birdies and move my way up the board, and that's basically what I did."
Woods only three-putted once all last week and drained several putts inside of 10 feet during the final round to maintain his lead.
Additionally, Tiger converted 7-of-10 sand-save opportunities and averaged a proximity of four feet from the hole on shots between 10 and 20 yards out.
One of the most difficult things to do in golf is maintaining an excellent short game, but Woods appears to be on the brink of returning to vintage form with the putter in his hand, which is a bad sign for his competitors at this year's major championships.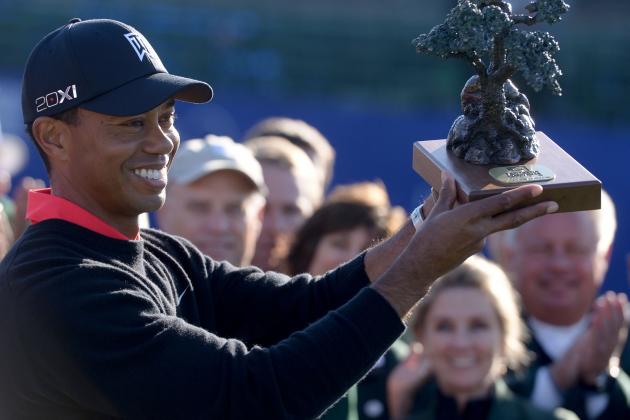 Donald Miralle/Getty Images
Tiger Woods tends to do great things after winning the Farmers Insurance Open.
If you wish to write Tiger Woods' victory off as nothing more than a fluke or simply attribute it to the fact he has dominated Torrey Pines ever since his days as an amateur, here is a statistic I suggest you consider:
Tiger Woods has won the Farmers Insurance Open 6 previous times. In 5 of those years he went on to win at least one major tournament.
— ESPN Stats & Info (@ESPNStatsInfo) January 28, 2013
This is not intended to assert that Woods will break out of his major championship slump simply because of his most recent win on tour, but it never hurts to have a little bit of history on your side.
It has been a long road back to success for Tiger following the scandal that forever changed his life both on and off the golf course.
Nevertheless, Woods' journey back to the top of the PGA Tour will not be complete until he wins one of the four most important tournaments of the year.
Expectations will be higher for Woods in the coming months than at any other point in his post-scandal career, and this writer believes he will surpass those demands by winning a major in 2013.