The Boston Celtics just wanted to snap a six-game losing streak. Now they're dealing with the loss of their best player. Rajon Rondo is out for the season with a torn right ACL. Questions are swirling around whether the Celtics can survive without their fearless leader, let alone contend for a title.
Despite the obvious setback, the Celtics still have two powerful weapons: Kevin Garnett and Paul Pierce. Together, the veterans can save the Celtics' season.
Rondo is the floor general of the Celtics. The team can no longer rely on his league-high 11.1 assists per game to initiate the offense. Moving forward, the Celtics need to rely on veteran experience and leadership to carry them through the second half of the season.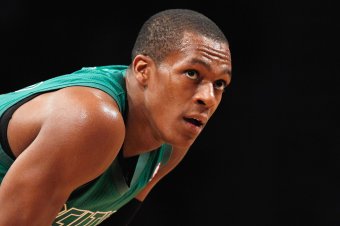 Mike Stobe/Getty Images
Without Rondo on the floor to see the game develop and call out plays, Doc Rivers will most likely simplify the team's offense. While guards like Jason Terry, Courtney Lee, Avery Bradley and Leandro Barbosa will probably see increased roles in rotation, Pierce and Garnett's roles will change in a different way.
Since Ray Allen's departure, Rondo has taken a front seat in Boston's game plan. Now that he's out, the Celtics will need to go back to Pierce and Garnett leading the team, like they did during the 2008 NBA championship season. It's back to being their team now.
Paul Pierce is in a bit of a shooting slump. His 42-percent field-goal average is at its lowest since the 2003-04 season, which is subpar for an offensive machine like him. Now that Rondo is out, Pierce will be forced to step up to the plate. He registered his second triple-double in the past six seasons during Sunday's double-overtime win against the Miami Heat, with 17 points, 13 rebounds and 10 assists over a game-high 49 minutes.
Paul Pierce's triple-double vs. Miami Heat
Pierce has to continue to have more games like that. With Rondo done for the season, the team will look to their captain to resume the role as team leader, especially on offense. The Celtics have struggled on the offensive end all season—they are ranked 21st in offensive efficiency.
Looking forward, Boston has to find a way to improve their offense without their point guard, and a chunk of that responsibility falls on Pierce. He has to be more of a facilitator. Pierce has a career average of 3.8 assists. If he can increase that number this season, it will temporarily mask his shooting slump until he finds his groove again.
On the other hand, Kevin Garnett is one of the most consistent players on the Celtics team. He's averaging 15 points and 7.3 rebounds over 30.4 minutes this season. While Garnett is clearly the emotional leader of the Celtics, he is more importantly the defensive leader as well. He is the anchor of the team's defense, which now ranks seventh in the league, according to NBA.com's stat database.
The Big Ticket's energy on the court is unmatched, and the Celtics play significantly better when he's on the floor. The Celtics allow 97 points per 100 possessions with KG on the floor, which would hypothetically give them an overall third rank. When KG sits, the Celtics allow 105.6 points per 100 possessions, which would give them a 26th overall rank.
Kevin Garnett denies Kemba Walker
In Rondo's absence, Garnett will have to step up his scoring game. He's at his best in the post, where his long limbs give him an advantage over opponents.
Paul Pierce and Kevin Garnett are more than capable of keeping the Celtics' season alive. Garnett said it best:
No one's going to going to walk through these doors and save us. We have to save ourselves.
Truthfully, the Celtics don't need to make any major changes to the roster. They proved they can still compete without their best player by beating the defending champs and arch-rival Miami Heat. With the leadership of Pierce and Garnett, along with a talented supporting bench and superb head coach, the Celtics will be okay.