With conference play in full swing, and the NCAA tournament just a few weeks away, it's certainly time to take another look at our updated big board.
As we've been doing for much of the 2012-13 college basketball season, we'll be ranking the top NBA draft prospects in order of grade—not projected draft position.
Obviously, things will change drastically up until the actual event in June, but here's a look at some players whose stock is rising and falling due to their recent performances.
Last week's big board can be found here. Changes noted to right of player name.
No. 1: Nerlens Noel, C, Kentucky (Remains No. 1)
Who is the top prospect on your big board?
Unless Noel stops giving 100 percent effort, he's likely going to retain this spot for the remainder of the year and up until the draft.
It's just too hard to find a legitimate big that has as a serious motor, something the Wildcats' PF/C possesses.
Grade: A+
No. 2: Ben McLemore, SF, Kansas (Up from No. 3)
McLemore's incredible freshman season is getting better and better, and he's making a case to become the No. 1 overall pick.
The Jayhawks star has range on his jumper, immense athleticism and a knack for defense. He's the complete package.
Grade: A+
No. 3: Shabazz Muhammad, SF, UCLA (Down from No. 2)
Muhammad grades out as one of the best scorers we have seen in quite some time.
He has a big body, a relentless motor and the natural ability to score. Any franchise that needs a primary scorer should take a chance on the Bruins star early.
Grade: A+
No. 4: Alex Len, C, Maryland (Remains No. 4)
Len's Terps team may not be the best in basketball, but this kid's post game certainly is.
At 7'1", he's going to find a home early in the lottery, but it remains to be seen if he'll have success pulling off those low-post moves against bigger NBA competition.
Grade: A
No. 5: Anthony Bennett, PF, UNLV (Remains No. 5)
Jeff Bottari/Getty Images
When Bennett isn't around the hoop, he's not effective—but it's seemingly impossible to keep him away.
The bulky big man may not have prototypical height, but he possesses mass and strength—plus enough finesse—to make a huge impact down low.
Grade: A
No. 6: Michael Carter-Williams, G, Syracuse (Remains No. 6)
Carter-Williams isn't a great athlete or terrific jump-shooter, but he's easily the best assist man in college basketball and will find a home in the NBA.
At 6'6", he has great size for a playmaker. If he can improve his outside shot and ball-handling ability, the sky is the limit.
Grade: A
No. 7: Otto Porter, SF, Georgetown (Remains No. 7)
Porter doesn't stand out in any particular category, but he's an incredible utility forward who does it all and finds a way to impact a game.
No one is expecting the Hoyas sophomore to become a star, but he'll become an integral part of a good NBA team.
Grade: A
No. 8: Cody Zeller, C, Indiana (Remains No. 8)
Zeller has some polished moves, but his strength and bulk leave something to be desired.
Fortunately, he's extremely fast, smart and ready to make the leap to the NBA, so we expect a team that needs immediate help in its frontcourt to take a chance on him in the lottery.
Grade: A-
No. 9: Alex Poythress, SF, Kentucky (Up from No. 11)
Poythress has to get motivated if he wants to become a top swingman at any level.
He's been blessed with all the physical tools and athleticism to be a top-tier player, but his perceived lack of heart leaves something to be desired.
Grade: B+
No. 10: Marcus Smart, PG, Oklahoma State (Down from No. 9)
Smart's on the big board for his abilities as a floor general and leadership capabilities, as well as his playmaking, athleticism and scoring talents.
The Pokes are fortunate to have recruited such a talented and mature young star.
Grade: B+
No. 11: Mason Plumlee, PF, Duke (Down from No. 10)
Plumlee is a hard-nosed player who finds a way to get his numbers regardless of the competition.
He is going to give 100 percent on a nightly basis, do all the little things and help his team succeed at the next level.
Grade: B+
No. 12: Archie Goodwin, SG, Kentucky (Remains No. 12)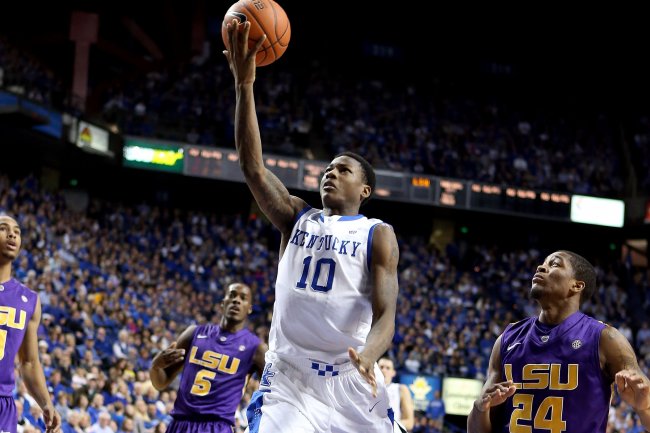 Andy Lyons/Getty Images
Goodwin is a freak athletic guard who could be the answer to containing electrifying players such as Derrick Rose or Russell Westbrook.
If Goodwin develops his handles, becomes more patient and makes better decisions, he could potentially become as deadly as those superstars.
Grade: B
No. 13: Isaiah Austin, PF, Baylor (Remains from No. 13)
The Bears "big man" plays like a small forward and seems to covet a shooting guard role.
Unfortunately, as a rail-thin 7-footer, NBA teams are considering him a PF, and he needs to add some weight. If he could do that, Austin has a chance to become a game-changer.
Grade: B
No. 14: C.J. McCollum, SG, Lehigh (Remains No. 14)
This dynamic scorer is sidelined for a while (foot surgery), but it shouldn't hurt his draft stock. As long as he proves he has fully recovered by June, McCollum should be a lottery pick.
Grade: B
No. 15: Victor Oladipo, SG, Indiana (Unranked last week)
Oladipo put himself on the map against Michigan State the other day and should be considered a top prospect from here on out.
At 6'5" and 215 pounds, he has the prototypical size to play the 2 at the next level, plus the work ethic and motivation to make an impact.
Grade: B
No. 16: Trey Burke, PG, Michigan (Down from No. 15)
Like Oladipo, Burke is one of the most impactful players on a good team, and scouts certainly have to be taking notice.
This prototypical point guard can facilitate with the best of them and has the skills to take it to the cup when he has to get a bucket.
Grade: B
No. 17: Glenn Robinson III, SF, Michigan (Up from No. 23)
Robinson has an NBA pedigree and has been slowly rising up our big board as a member of a solid Wolverines team.
If he keeps improving, this dynamic freshman will find he gets selected in the lottery in 2013.
Grade: B-
No. 18: Tony Mitchell, SF, North Texas (Down from No. 16)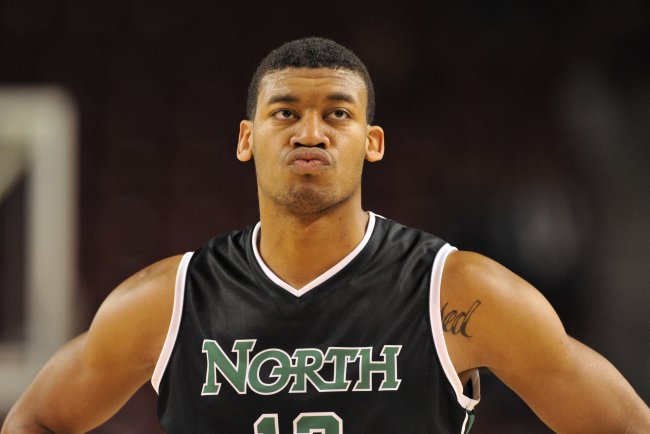 Andrew Fielding-USA TODAY Sports
Mitchell has been a relative disappointment during his time with the Mean Green, but that won't stop a team from gambling on his upside.
We'd like to see the kid destroy some of the lousy competition his squad faces on a regular basis before anyone uses a top-15 pick on him.
Grade: B-
No. 19: Rudy Gobert, PF, France (Down from No. 17)
Scouts are apparently blown away by Gobert's 7'9" wingspan, but he has to prove he's more than just a pair of long arms.
The jury is still out on the Frenchman, and he will have to earn a first-round selection by working out in America.
Grade: C+
No. 20: Dario Saric, SF, Croatia (Down from No. 18)
Saric is an extremely youthful player who has creative playmaking skills and a lot of upside.
It's doubtful that anyone will gamble on the prospect too early, as he likely isn't going to make an appearance in the NBA for at least a few seasons due to his rawness.
Grade: C+
No. 21: Willie Cauley-Stein, C, Kentucky (Down from No. 19)
Cauley-Stein has been steadily rising up the draft board—even if he did fall a few spots this week—due to his upside and solid play in limited minutes for the Wildcats.
Grade: C
No. 22: Jamaal Franklin, SG, San Diego State (Down from No. 20)
Franklin is one of the best rebounding guards in the game—a testament to his insane athleticism—and that should certainly garner him some lottery consideration come June.
Grade: C
No. 23: James Michael McAdoo, PF, UNC (Down from No. 21)
McAdoo has continued to disappoint in 2012-13, which is a shame, considering his NBA pedigree and high expectations.
Had this youngster come out in 2012, he would have likely been a lottery pick. We're not so sure he has a chance to come off the board before No. 14 now.
Grade: C
No. 24: Myck Kabongo, PG, Texas (Down from No. 22)
The jury is still out on Kabongo because the NCAA has suspended him until mid-February.
If the pure point guard still displays his same playmaking abilities and court vision, he's a great first-round prospect.
Grade: C-
No. 25: Jeff Withey, C, Kansas (Down from No. 24)
Withey is a top-notch defender with size and shot-blocking capabilities, but needs to show more on the offensive end. Otherwise, he will be a liability during his time on the floor and will never be more than a reserve option.
Grade: C-
No. 26: Gorgui Dieng, C, Louisville (Down from No. 25)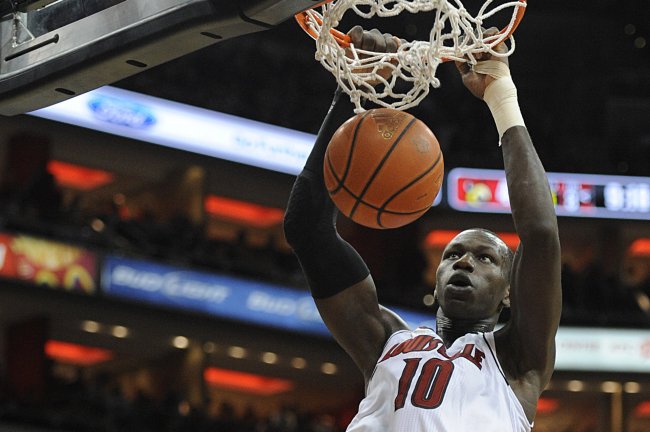 Jamie Rhodes-USA TODAY Sports
As with Withey, Dieng is a defensive-minded shot-blocker with a bit more athleticism and less height. He also has the same problems in the low post and needs to develop some go-to moves to become a true force.
Grade: D+
No. 27: B.J. Young, PG, Arkansas (Down from No. 26)
Young is simply too much of a ball hog to be considered a true point guard, but there is a place for someone with his skill set in the NBA.
Although he's not going to get his teammates involved or make the best passes, he could provide explosive scoring and energy off the bench as an undersized 2 or ball-dominant PG.
Grade: D+
No. 28: Brandon Paul, SG, Illinois (Down from No. 27)
Speaking of energy off the bench, a streaky shooter like Paul could find great success as a sixth man down the road.
He's not the hyped player he was when he initially arrived on the Illinois campus, but Paul knows how to generate points in a hurry and could provide instant offense off the pine.
Grade: D
No. 29: C.J. Leslie, PF, N.C. State (Down from No. 28)
Leslie is maddeningly inconsistent but looks as if he could be a steal late in the first round.
The Wolfpack forward has the ceiling of a star player, but he fails to show it on a regular basis. If he ever gets it together, watch out.
Will Adams make it as an NBA player?
Grade: D
No. 30: Steven Adams, C, Pittsburgh (Down from No. 29)
Adams is a prospect purely based on size (7'0", 250), but he clearly needs time in the D-League or the end of the bench to develop into a serviceable player.
Grade: D-