New York Yankees: 5 Bombers with the Most to Gain in Spring Training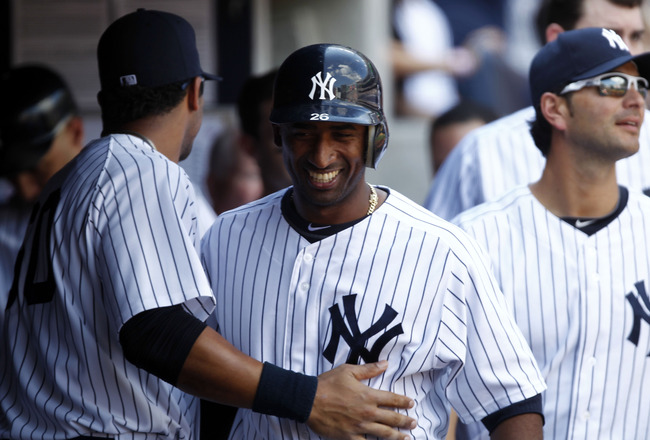 Jeff Zelevansky/Getty Images
The countdown is on for spring training.
In just a few weeks, the New York Yankees will be reporting to Steinbrenner Field in Tampa, Florida and prepare for the 2013 season.
Last year, the Yankees were able to hold off the Baltimore Orioles to win the American League East, then eliminated the same Orioles in the American League Division Series in five games, but were then swept by the Detroit Tigers in the American League Championship Series.
For Joe Girardi's group, there will be some new faces and names you might see when the players report to Tampa.
Most of the regulars like Robinson Cano and Mark Teixeira will be looking to get the rust off their swings and get into baseball shape.
And then there are guys like Derek Jeter who will be playing for the first time since suffering a broken ankle in Game 1 of the ALCS back in October
And then there are those players who will be fighting for jobs and looking for a chance to make the roster.
For some, the spring is like their playoffs and World Series and will be going all out in order to make the team.
Which Yankees have the most to gain this spring?
Francisco Cervelli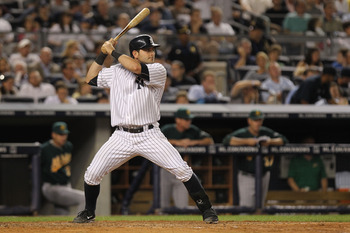 Nick Laham/Getty Images
What a difference a year can make.
Last year, just as spring training ended, Francisco Cervelli was surprisingly sent down to Class-AAA and the Yankees acquired Chris Stewart to be the backup catcher.
For most of the spring, everyone thought Cervelli would be the backup to Russell Martin, but instead, he spent most of the 2012 season in the minors.
Now, one year later, Cervelli has the chance to win the starting catching job for the Yankees.
With Martin now catching for the Pittsburgh Pirates, the Yankees will have a competition this spring for the job vacated by Martin.
Along with Cervelli is Stewart, former Angels backstop Bobby Wilson and Austin Romine.
Romine is expected to start the season in Class-AAA, so that leaves the other three with the chance to be the everyday starter.
Of those three, I think Cervelli would have the best chance to be the everyday starter, although honestly, Cervelli is best suited as a backup due to his lack of power.
But hey, maybe he'll prove a lot of people wrong and do some damage down in Tampa that wins him the job.
Matt Diaz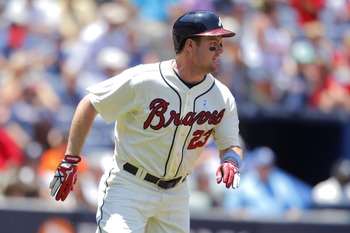 Todd Kirkland/Getty Images
The Yankees still have yet to officially fill their fourth outfield spot.
The team did sign former Atlanta Braves outfielder Matt Diaz to a minor-league deal with an invitation to spring training.
Diaz has a chance to win a roster spot that was vacated with Nick Swisher, Raul Ibanez and Andruw Jones' departures, all outfielders who started quite a bit for the Yankees in 2012.
In 2012, Diaz played in just 51 games for the Braves and hit just .222 with two home runs and 13 RBI. Diaz missed time during the season because of thumb surgery
His best season was back in 2009 when he hit .313 with 13 home runs and 58 RBI while playing in 125 games for the Braves.
By the time spring training gets going, Diaz, who will have just turned 35 years old, is coming off a surgery that could affect the way he handles a bat, so this could very well be one of his last chances to make a roster.
If Diaz makes the most of his spring, he could see quite a bit of time and be used a lot in pinch-hitting situations and games where a lefty is starting.
David Aardsma
Tom Szczerbowski-USA TODAY Sports
In 2012, David Aardsma pitched for the first time in over two years.
Aardsma, who once was a very good closer with the Seattle Mariners, missed a lot of time due to having Tommy John Surgery and spent most of 2011 and 2012 recovering.
The Yankees signed him to a deal before 2012 that was going to be centered around him playing in 2013, which is exactly what he will do.
With the loss of Rafael Soriano to the bullpen, Aardsma has a chance to show Joe Girardi and pitching coach Larry Rothschild that Soriano's presence won't be missed at all.
Back in 2009 and 2010, Aardsma was a solid closer in Seattle who saved 69 games with an ERA that ranged between 2.52 and 3.44 during that time.
If Aardsma can pitch anywhere near that kind of level, then the Yankees bullpen just got even stronger.
With Mariano Rivera back as the closer and David Robertson as their setup man, Aardsma could be the Yankees seventh inning guy along with Joba Chamberlain and really shorten games for the Bombers.
What Aardsma needs to do is use the spring to work the kinks out, as he was barely used in the 2012 season, pitching in just one game and working one inning.
David Phelps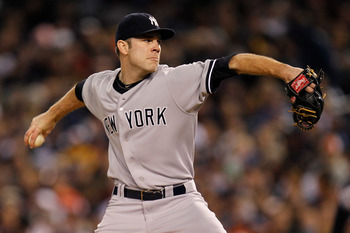 Gregory Shamus/Getty Images
In 2012, David Phelps made a decent name for himself pitching both in the rotation and out of the bullpen.
He posted a 4-4 record with a 3.32 ERA in 99.2 innings for the Yankees, although he did struggle in the postseason with an 0-2 record and a 8.10 ERA.
Now in his second year, Phelps is basically the pitcher on the bubble when it comes to the Yankees rotation.
If there is an injury to any of the starters, Phelps will likely be the first fill-in for that spot.
But what Phelps needs to do is come out in the spring and fire on all cylinders.
Phelps needs to be lights-out for the Yankees and give Ivan Nova a run for his No. 5 starter spot in the rotation.
In all likelihood, Phelps will begin the season as the team's long reliever and spot starter.
But don't be surprised if he gets more chances to start games for the Bombers and flourishes in those opportunities.
Eduardo Nunez
Alex Trautwig/Getty Images
Of all the players who have the most to gain this spring, Eduardo Nunez has a glaring opportunity to make the most of his chance.
Alex Rodriguez is out for at least six months while recovering from hip surgery and his return date is no guarantee in 2013.
The team brought in longtime Red Sox first/third basemen Kevin Youkilis, and he will be an everyday player for the Bombers.
What Nunez needs to do is show the team he has improved in the field and deserves a chance to play everyday.
If in fact Nunez can be a steady fielder and not be a liability every time he's playing, he could be an everyday player.
We know he has a decent bat, but his glove is what has been holding him back and has kept him from reaching his full potential.
But if Nunez can get it together and use the spring to show the Yankees that he can be an everyday fielder, he could in fact start the season at third base and Youkilis could be used as the DH.
At 34 years old, Youkilis might be able to stay healthy if he gets used more often as the DH, while the younger Nunez plays in the field everyday.
Or, if the team needs to rest Derek Jeter or give him a day to DH, Nunez can also be their backup shortstop if needed.
These situations all depend on Nunez and his progress, which will be determined by how much he impresses the Yankees coaching staff down in Tampa.
Keep Reading

New York Yankees: Like this team?