Attention NBA: Get These Guys in the 2013 Slam Dunk Contest!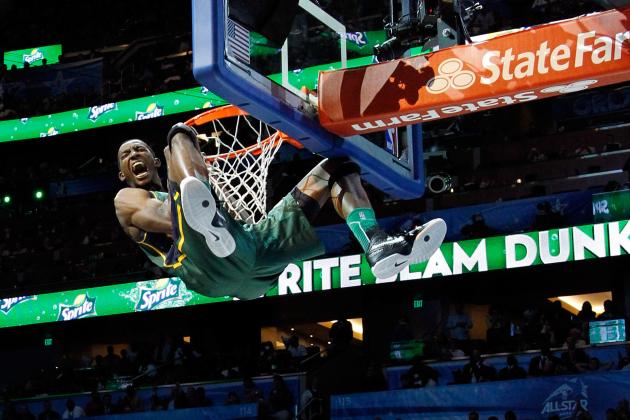 Mike Ehrmann/Getty Images
Jeremy Evans should headline the group as defending champion.
With the NBA All-Star rosters set, the specialists are on deck.
While it has had its share of highs and lows, the Slam Dunk Contest has always served as the main event during All-Star Saturday night.
Celebrities and NBA players alike pack the crowd in anticipation of seeing a new generation of dunkers push the creative envelope.
The format has changed several times since its inception in Denver back in 1984, when Phoenix Sun forward Larry Nance outlasted Philadelphia 76ers legend, Julius Erving.
Historically, the contest has undergone several makeovers, both subtle and extreme. The number of dunks attempted, the allotted time per contestant per round and who ultimately judges the show have all been tweaked in the past.
From 1984 to 1993, at least seven players were chosen to participate. That number has fallen to just four in recent seasons.
Regardless of the format, the key is the performers.
Quality over quantity is the name of the game.
Who can improve upon what has already been done? Who has the stones to try something crazy?
Who will add his name to the likes of Dominique Wilkins, Michael Jordan, Kobe Bryant and Vince Carter?
The league has tended to lean toward showcasing its younger, less-established players in this contest in recent years, but that trend will need to be bucked if those most deserving are to be selected.
Whether you're a former dunk champion or a career journeyman, this contest is all about the potential to amaze your peers and inspire your fans.
Here, I offer five strong choices for who should represent the league's aerial artists in Houston on February 16.
Begin Slideshow

»
Warriors rookie Harrison Barnes is having a solid opening to his first season in the NBA, averaging nine points and 4.3 rebounds per game.
However, it is his aerial assaults that have hoops fans taking notice.
It helps when you're 6'8", 210 pounds and can levitate through the lane. Just ask Nikola Pekovic.
Who can forget Gerald Green dunking in his socks or blowing out a candle on a cupcake en route to dunking the ball back in 2008?
As a former dunk champion both in high school (2005) and the NBA (2007), Green should be granted clearance for take-off in Houston.
He made it back to the league last season after nearly three years away. Now it's time to welcome him back to the Dunk Contest.
After all, he is a Houston native.
Ross' 6'6", 195-pound frame has been on full display in several arenas this season, including Houston's Toyota Center back in November and again versus Orlando Dec. 21 in a win against the Magic.
With hang time like he shows off in the video above, this Raptors rookie has served notice that he deserves a spotlight on All-Star Saturday night.
Evans may not be getting a ton of run in Utah, but he deserves a chance to defend his 2012 dunk crown in Houston.
His two-ball dunk over teammate Gordon Hayward in last year's contest was incredible.
As for the video above, it may be the only time in his career that Ronny Turiaf, a noted hustler, regretted getting back on defense.
The free throw line is not James White's finishing move: it's his starting point.
This guy was ridiculous just a few years ago. NBA fans deserve to see what he has left in the jets.
At about the 4:45 mark of the above 2008 video, White jumps from just inside the free throw line, takes the ball between his legs and dunks it with ease. He does a full windmill dunk from beyond the free throw line as well.
In 2009, he was at it again in the NBA D-League's Slam Dunk Contest.
He went up against Gerald Green in Russia in 2010 (see next slide).
Like Green, White has struggled to stay in the league, but he seems to have found a home in New York for the time being.
This video is from nearly five years ago, but please, give this man a look.
In just a few days, we'll learn which players get a chance to add to the fabled lore of the NBA Slam Dunk Contest.
Let's hope the league chooses wisely.