Arsenal vs. Liverpool: Breaking Down the Rivalry
Brendan Rodgers and Arsene Wenger are the current custodians of clubs locked in a long-term rivalry.
Alex Livesey/Getty Images
This week, Arsenal and Liverpool meet for the second time this season.
The game will take place at the Emirates Stadium. It is a relatively new venue, opened in just 2006, but the roots of this rivalry go much further back.
Although not geographically close, a mutual enmity comparable to that of local rivals has long existed between the two sides.
Over the new few slides, we discuss why. The first clue is to take a look at the history books.
Arsenal vs. Liverpool: The History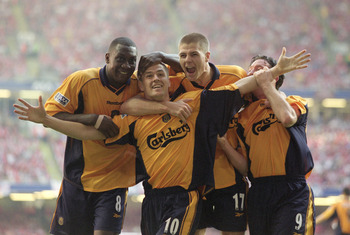 Michael Owen scored the winning goal in the 2001 FA Cup Final between the clubs.
Ben Radford/Getty Images
Arsenal and Liverpool have slugged it out at the top of English football for the best part of a century.
The clubs hold an incredible 31 league titles between them, and often tussled over English football's top prize, particularly in the 1970s.
The teams have met in three FA Cup Finals.
In 1950, Arsenal emerged as 2-0 winners.
In 1971, they were victorious again—Charlie George's winner and subsequent celebration is remembered as one of the old Wembley's most iconic moments.
Liverpool got their revenge 30 years later, when Michael Owen scored in the 83rd and 88th minute to steal victory from under Arsenal's noses. The anguish of defeat was compounded by an earlier handball on the line by Liverpool's Stephane Henchoz, which went unpunished.
The history of these two clubs is littered with classic games, but as we'll discover on the next slide, none of these bear comparison to one particular night 23 years ago.
Arsenal vs. Liverpool: Anfield 1989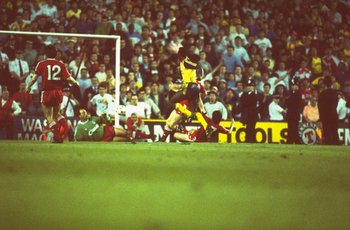 Michael Thomas scores the goal that won the league in 1989.
Getty Images/Getty Images
Until last season's magic moment for Manchester City, there was no dispute about the greatest end to a season in English league history: Anfield, May 1989.
Table-topping Liverpool met chasing Arsenal in a game that was essentially a playoff for the championship.
The Gunners needed to win by two clear goals. Having obtained a lead through Alan Smith, they snatched the title in the most dramatic circumstances imaginable, scoring in stoppage time through Michael Thomas.
Thomas went on to become a legend at Arsenal, and the game went down in history.
Liverpool fans have never forgotten it, and Arsenal fans are not inclined to let them.
Arsenal vs. Liverpool: The Goals
Andrey Arshavin scored four goals in just one game at Anfield.
Alex Livesey/Getty Images
In recent seasons, games between Arsenal and Liverpool have become high-scoring affairs, which is unusual between two sides at the top end of English football.
There was a 4-2 in 2004, a 4-2 in 2008, a 4-4 in 2009 and a 6-3 in 2007.
Incredibly, both Andrey Arshavin and Julio Baptista have notched a quartet of goals in the fixture inside the last six years. Sadly, neither player really improved beyond that point, but their Anfield heroics mean they will always be remembered at Arsenal.
The sheer volume of goals makes any clash between Arsenal and Liverpool a mouth-watering prospect.
Arsenal vs. Liverpool: The Stars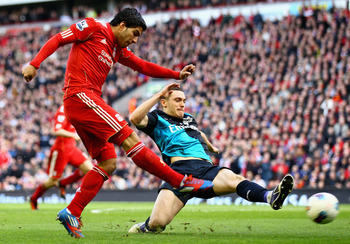 Thomas Vermaelen will have to be at his best to stop Luis Suarez.
Clive Mason/Getty Images
Over the years, both Arsenal and Liverpool have had some of Europe's most outstanding players.
Names such as Kenny Dalglish, Kevin Keegan, John Barnes, Liam Brady and Dennis Bergkamp have etched themselves in to this rivalry's story.
Although neither club is currently at the height of its powers, there will still be some terrific talents on show when they meet at the Emirates Stadium.
Jack Wilshere and Santi Cazorla are good enough to grace any midfield. Meanwhile, in Luis Suarez, Liverpool have a striker at the peak of form who looks to be a worthy inheritor of their fabled No. 7 shirt.
It will be fascinating to see them do battle as the clubs go head to head once more in the race for Champions League qualification.
Keep Reading

Arsenal: Like this team?