Buffalo Sabres: 3 Reasons Giving Darcy Regier an Extension Was a Mistake
Regier was hired in the summer of 1997.
Bruce Bennett/Getty Images
Before they began their shortened season this past Sunday, the Buffalo Sabres announced that they had signed GM Darcy Regier to a contract extension. It was a surprise move for a team that badly underachieved last year under his watch. So why would they reward him for another disappointment?
2011-12 marked the third time in five years the Sabres have missed the playoffs.
The thinking in Western New York when new owner Terry Pegula took over the team in February 2011 was that he'd want to bring in his own GM and coach. That thought-process has been the furthest thing from the truth.
It's no secret that Buffalo fans are not happy about this move. Check the comments on WGR550.com (the radio home of the Sabres) for a sample of the negative reaction this news brought.
Ahead, we're going to examine three reasons why this extension was a mistake and the effect it could have on the Sabres in the future.
1. The Timing of It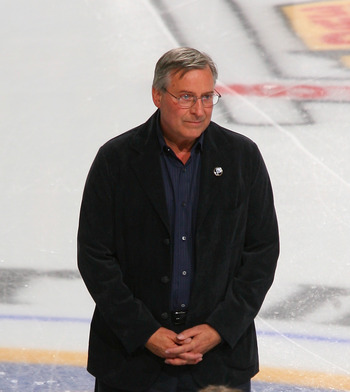 Owner Terry Pegula has shown a lot of faith in Regier and coach Lindy Ruff since taking over the Sabres.
Rick Stewart/Getty Images
The biggest question that arose with this announcement is, why now?
The Sabres were expected to be a lock as a playoff team last year and possibly a contender to come out of the East.
Instead, they tanked the season by collapsing in November and December. That was after they had become the laughingstock of the NHL for allowing their goalie to get run over and not doing anything about it.
Regier's free-agent signings underwhelmed as well, especially Ville Leino, whose deal seemed like a knee-jerk reaction to Buffalo missing out on Brad Richards. The GM shelled out $27 million to a guy who only tallied eight goals and 25 points.
Pegula should have waited until after this season to make any decision about Regier and head coach Lindy Ruff.
What if Buffalo misses the playoffs again? Or what if Regier, like in so many years past, drags his feet at the trade deadline and fails to make the Sabres better for the stretch run?
The timing of the extension made no sense and deflated many fans who were amped up for the 2013 opener.
2. Regier and Ruff Should Be Looked at as a Package Deal
It's hard to imagine Regier firing Ruff.
Rick Stewart/Getty Images
Rarely does a coach or general manger last 15 seasons with the same team. Yet, in Buffalo, both positions have been held by the same men over that timespan.
Ruff and Regier are the longest-tenured GM/coach combination in pro sports.
After the struggles the Sabres went through last year, everything pointed to this being a make-or-break campaign for the pair. Don't forget either, that their 15 seasons together have yielded a total of zero championships.
But giving Regier an extension now could mean that if Buffalo slips up again, the coach—and not the GM—will be the one held accountable.
However, it's difficult to believe that Regier would fire the guy who's basically been his partner for the last decade-and-a-half.
It's always seemed like Ruff and Regier were a package deal. There was no chance of one staying while the other one got axed, right?
If the Sabres want to start a new era, they need to do that by moving on from both Regier and Ruff.
3. He's Just Now Catching Up with the Rest of the NHL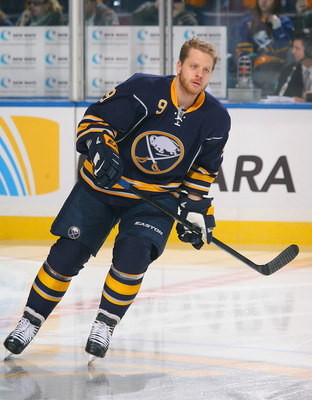 The Sabres' GM finally added some toughness when he acquired Steve Ott from Dallas.
Rick Stewart/Getty Images
Buffalo enters the 2013 season a much different team than the one that missed the playoffs last year.
Finally, Regier realized the NHL was shifting back to a style of play that revolved more around size and hitting. It only took him two first-round exits and a concussed Ryan Miller to catch on to that.
Sure, he deserves credit for building an incredibly speedy team coming out of the last lockout when the focus was on increasing offense. But he also deserves just as much criticism for lagging behind once the game began to evolve again.
It was obvious after the 2009-10 division-winning Sabres bowed out in the first round to Boston that they were outmatched physically.
Yet, Regier continued to assemble a team of small forwards and unimposing defenseman. That alone should have cost him his job two years ago.
So it remains to be seen what the next 46 games hold for Buffalo. And if it's not at least winning one playoff series, it should have meant that someone else would be leading the Sabres into the future as their GM.
However, that won't be the case now, so Terry Pegula had better be ready for the backlash if this turns out to be the wrong decision.
Keep Reading