Chicago Cubs: Analyzing the Proposed Renovations to Wrigley Field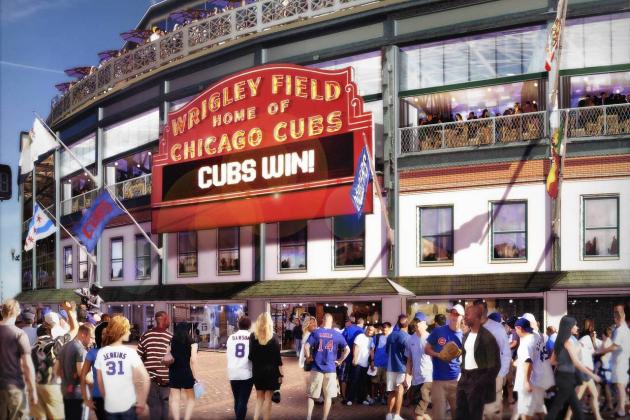 Chicago Tribune/ Chicago Cubs Handout
The Chicago Cubs revealed plans for over $300 million in renovations to iconic Wrigley Field on Saturday, causing an uproar among some Cubs fans and applause from others. As an architecture major and lifelong Cubs fan, I am having an internal crisis as to how I feel about the plans for the beloved ballpark.
Here is a breakdown of some of the renderings and plans proposed.
Begin Slideshow

»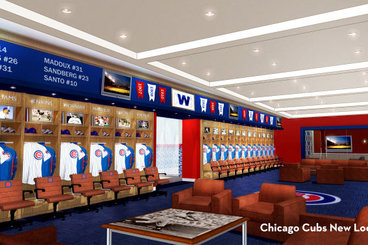 Chicago Tribune/ Chicago Cubs Handout
I think it is hard for anyone to disagree on this one.
The current Cubs' clubhouse is about as luxurious as an unfinished basement, and the visitor's clubhouse is even worse. General Manager Jed Hoyer, for instance, compared it to a Double-A clubhouse upon his arrival at Wrigley Field from San Diego.
During my tour of Wrigley Field, I noticed stacks of boxes above the players lockers, barely any room to lounge, and only one television, located on the far end of the narrow room. The new Cubs' clubhouse will consist of a much more finished look, with plenty of room to move around and sit comfortably, as well as more spacious lockers.
Hopefully, it will provide a sense of home and comfort for the Cubbies.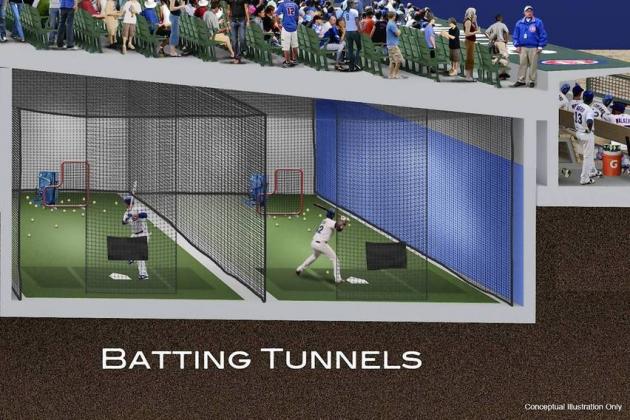 Chicago Tribune/ Chicago Cubs Handout
In essence, the Cubs don't have actual batting cages.
The Chicago Sun-Times detailed the first time Cubs president Theo Epstein and General Manager Jed Hoyer toured Wrigley Field, saying they couldn't believe the only "batting cage" in Wrigley Field was a net hanging from the wall that the team would hit into.
The new plan would implement batting cages for both the Cubs and visiting teams. Perhaps the Cubs would actually be able to hit the ball on a regular basis if they had a sufficient batting cage.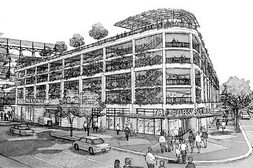 Chicago Sun-Times
For years, there has been speculation of a "Triangle Building" located at the corner of Waveland and Addison, which was expected to house a parking garage, green roof, retail space, a restaurant, team offices, and below-ground batting cages.
Under the new plan announced Saturday, the Triangle Building would be scrapped from the plans, leaving the space at Waveland and Addison open for outdoor events such as movie screenings and the popular Rink at Wrigley.
From an architectural standpoint, I am a fan of eliminating the Triangle Building. Since it was expected to be seven stories, it would take away too much attention from the actual ballpark itself and. from many angles, would entirely block the stadium.
The plan of having outdoor space seems much more fan-friendly than a hulking commercial building.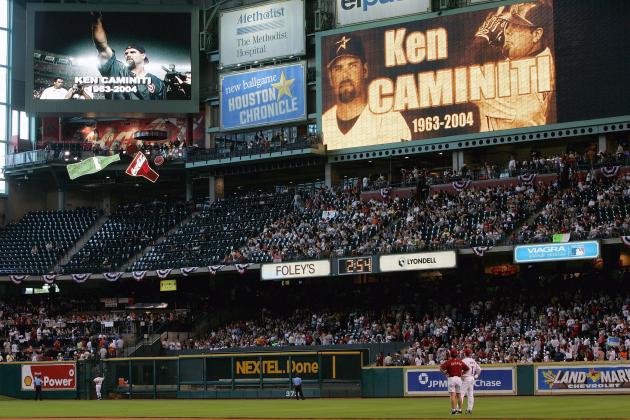 Jamie Squire/Getty Images

This part disturbs me.
Wrigley Field should NEVER have a Jumbotron, no matter how small or technologically advanced it is. According to the Chicago Tribune, the team is considering adding a "mini-Jumbotron," which could be placed in front of or on top of a rooftop.
No. No, no, no, no, and no. A Jumbotron would drastically take away from the nostalgia and charm of the old-school ballpark.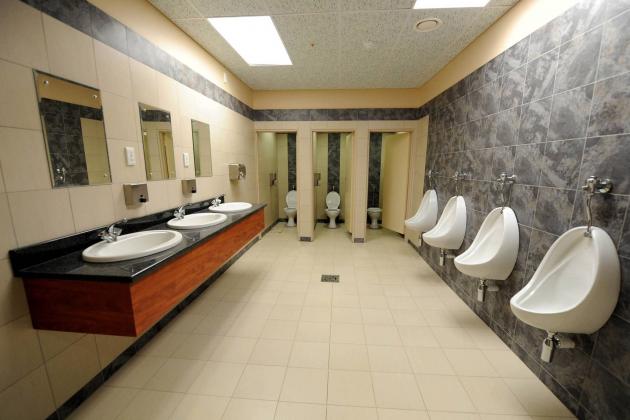 Handout/Getty Images

I do find it difficult to disagree with this one.
I don't think the phrase, "Wow, there is way too many locations to go to the bathroom!" has ever been mentioned, especially at a sporting event.
I just hope they keep the troughs in the men's room. Talk about efficiency!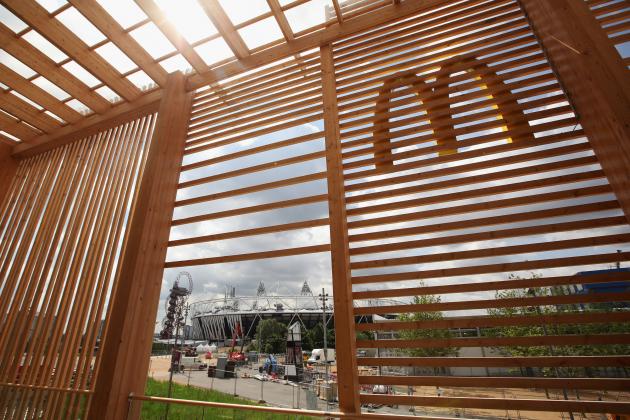 Oli Scarff/Getty Images

This one I disagree with. Although exact details of the hotel are not set in stone, the hotel would be too much of a distraction from the ballpark.
As I mentioned earlier, none of the proposed changes should take away from the appearance of the ballpark, and a tall structure would most definitely divert one's eyes from the stadium. I also am disappointed that there will still be a McDonald's in the hotel.
My suggestion?
Build underground! Perhaps a low-rise building that is sunk into the ground would be less of an eyesore without eliminating the business side of the mission.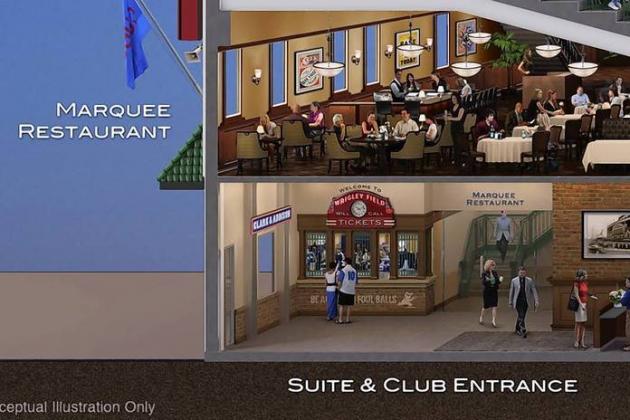 Chicago Tribune/ Chicago Cubs Handout
More food? Of course I'm on board!
The proposed plan would create space for a restaurant behind first base, as well as in the now-vacant area behind home plate, which formerly housed the front offices for the team.
One thing that has always bothered me is how difficult it is to get into Wrigley on non-game days. One idea would be to have a restaurant open year-round that has a view into the ballpark.
The possibility of eating a meal while staring at the majesty inside Wrigley is sure to bring in business.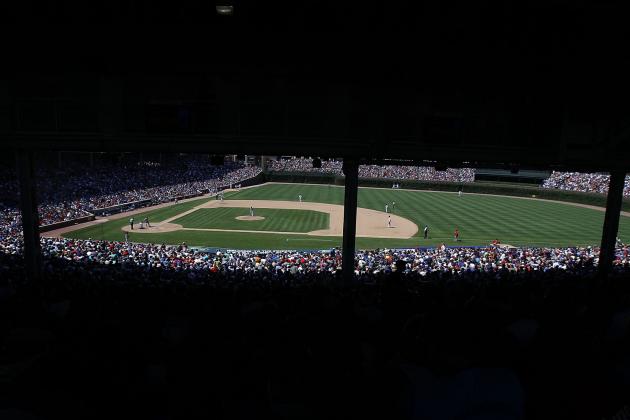 Jonathan Daniel/Getty Images

It is slightly ironic that the one aspect of Wrigley that makes it so old-school is one of the most disappointing parts to anyone who has to deal with them—the dreaded obstructed view seats.
It is essentially impossible to keep Wrigley's roof and upper deck intact without removing the poles, and Cubs Vice President of Ballpark Operations Carl Rice has already said they will stay.
I know that's a disappointment for anyone who was hoping for the elimination of the posts, but physics requires that they stay in place. Although we all wish there were no obstructed views, there is really nothing that can be done here.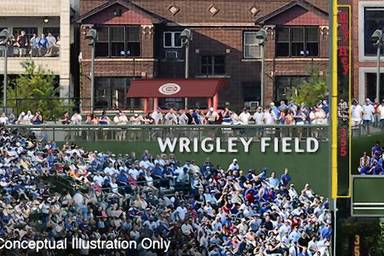 Chicago Tribune/ Chicago Cubs Handout
This part really bothers me. Take a close look at the picture.
Look familiar? Of course it does! It's Fenway Park's Green Monster with a Wrigley Field sign plastered on it!
Nothing bothers me more than an architect copying an original work of architecture. To me, that is exactly what they did here.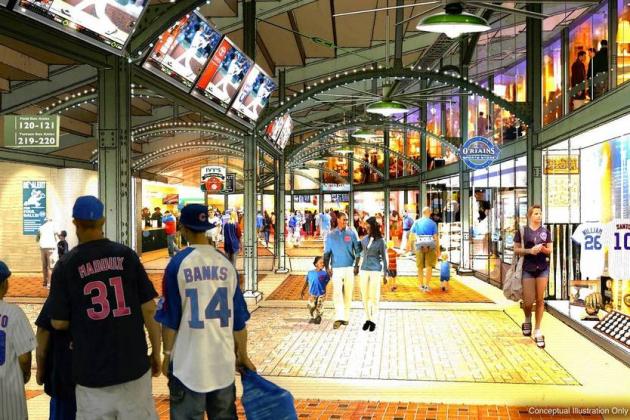 Chicago Tribune/ Chicago Cubs Handout
Upon first glance at the rendering here, I can't decide if that is supposed to be the Wrigley Field concourse or a shopping mall. The arches look very odd with the lights on them, and there is too much glass and retail area.
Although the concourse is indeed quite crowded during games, there are certainly better ways to improve the concourse than this.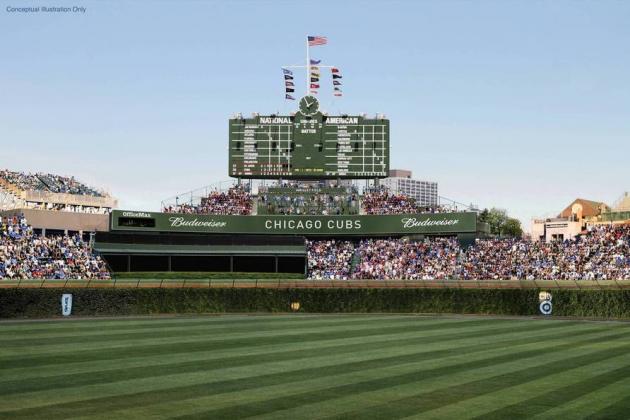 Chicago Tribune/ Chicago Cubs Handout
Upon hearing the Cubs were planning on a major renovation of the beloved ballpark, I was terrified as to what the team had in mind.
Overall, I support the proposed plans for the stadium, despite a few aspects such as the Jumbotron and the hotel, which I feel could drastically take away from the overall appearance of the ballpark.
However, the bottom line is that the team needs fixing even more desperately than the ballpark.
Here's to a beautiful Wrigley Field and a successful Cubs franchise. Us fans deserve it!